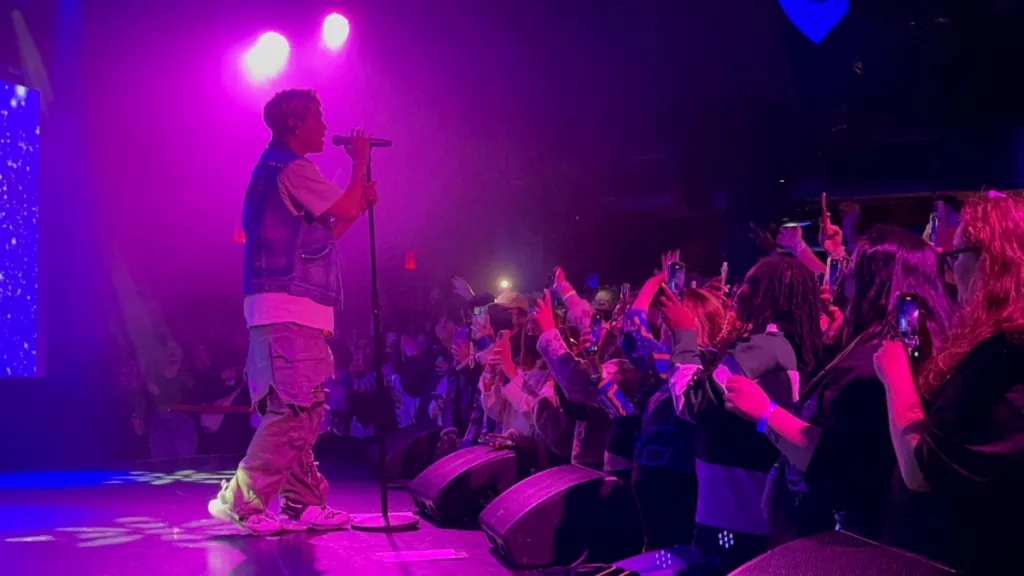 Though it was a cold, wet evening on Tuesday, February 21 in New York City, the atmosphere of Le Poisson Rouge in lower Manhattan was anything but dreary. Canadian-Korean artist JUNNY kicked off part two of his blanc tour in New York and his fans, JUNNIVERSE, welcomed his return. 
Girl Power-Filled Opening
To get the show started, Irene Wong, a social media star who rose to fame on TikTok with over two million followers, came to the stage first. Sporting dual-colored pants and a black crop-top, the young star performed several songs, including "Cross My Mind," by SeoulFly (featuring Irene Wong herself), "KAZINO" by BIBI, and "Talking to the Moon," by Bruno Mars. Though she admitted she was nervous, fans gave her endless love, which she reciprocated. Even with nerves, Wong was able to deliver a fun performance complete with her bubbly personality and captivating vocals.
Next up came RIRI, a Japanese singer-songwriter who electrified the stage with several songs including "Sugar Free," "RUSH," and a cover of Zedd's "Stay." She lit up the stage as she danced from one end to another, exuding endless confidence. DJ Minjeong then concluded the opening acts with a set list that left the fans craving more. She included several viral tracks such as "Hype Boy" by NewJeans and "VIBE" by TAEYANG featuring Jimin. The artist even danced a bit, sending fans into a frenzy and built the excitement for JUNNY's entrance.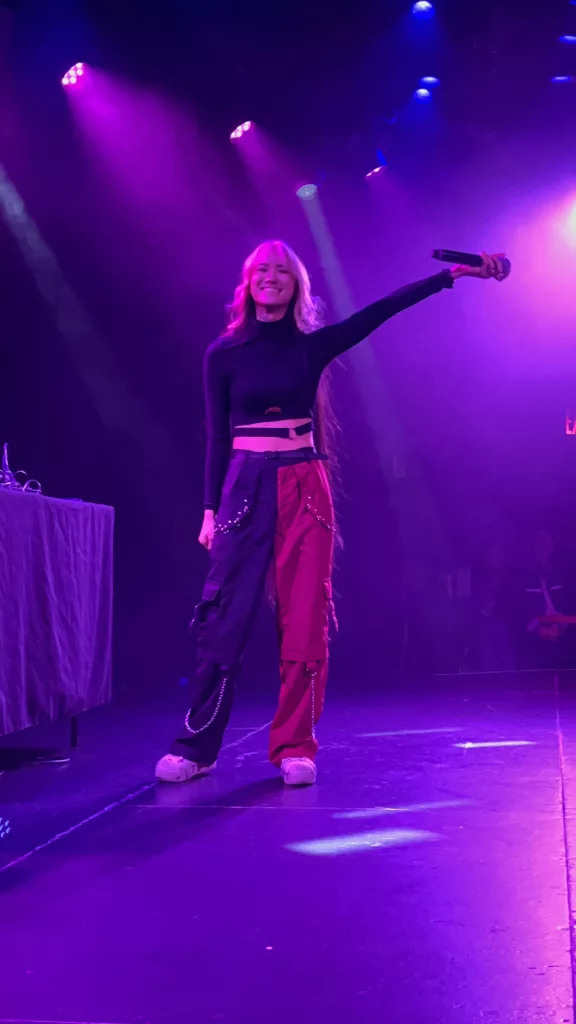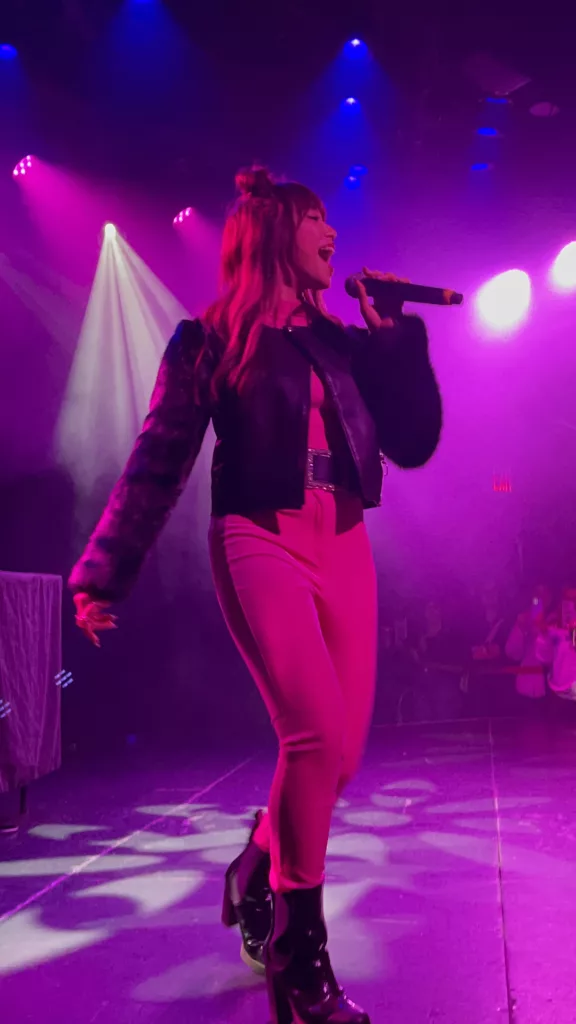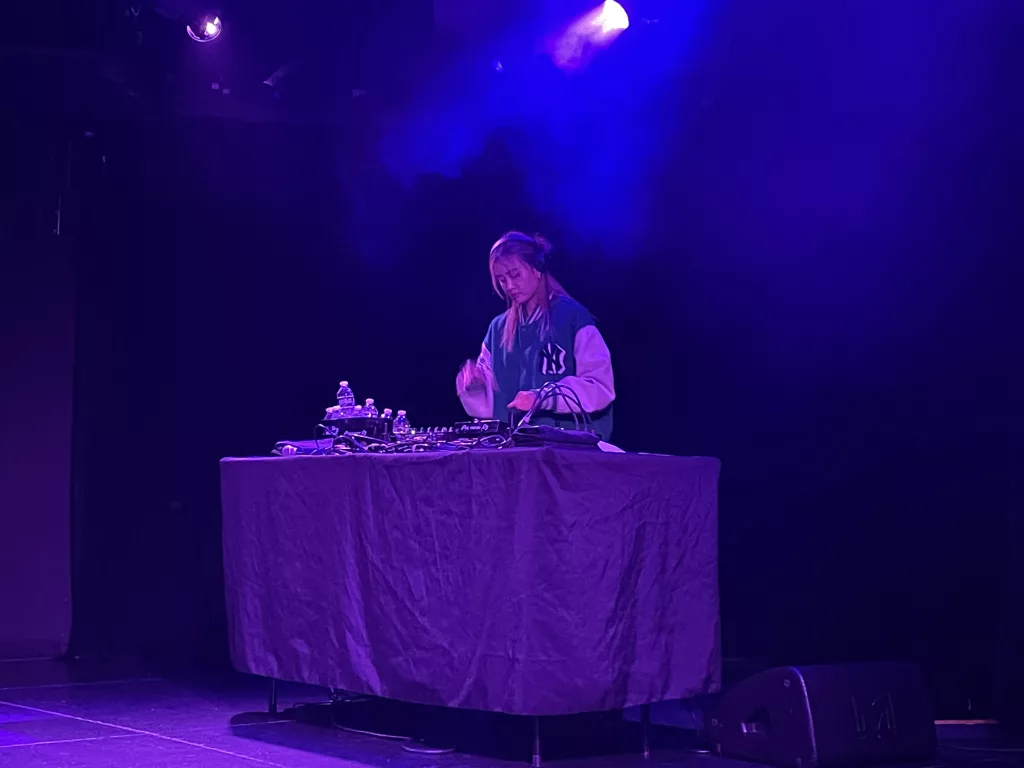 "Are You Ready?"
Unlike the last NYC show where JUNNY ran out on the stage bursting with energy, this time the young artist walked onto the stage exuding confidence. After a few seconds of looking into the audience, JUNNY grabbed the microphone stand and simply asked, "are you ready?" This led to a deafening scream and launched us into the first track, "Color Me." He worked the stage like a seasoned performer and did not let the excitement drop as he transitioned to "Obvious" and "Not About You."
Despite the longer setlist and many adlibs throughout his songs, the R&B artist never lost sight of his fans. He completed countless hand hearts, took selfies, and interacted with fans, but his clear vocals never wavered. He often got fans to join him in singing along. At one point, the singer's voice was drowned out by the audience singing "Not About You" with JUNNY at his request.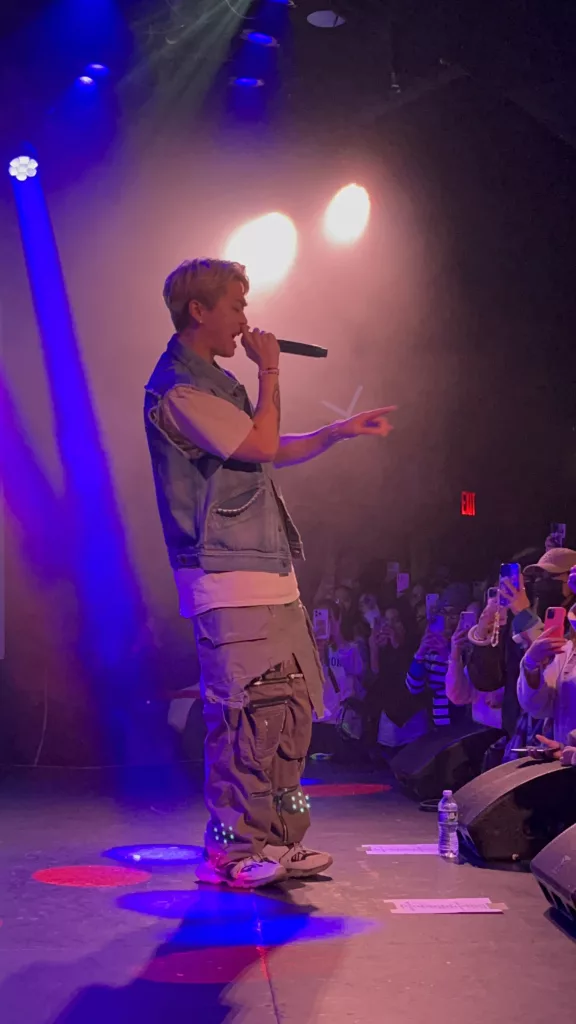 Surprise from JUNNY
At the previous concert, there were several fans that requested for JUNNY to sing songs that were not part of the set list. The artist heard his fans well and included several new songs into his setlist, including "sober," "solo," and "FAME." But the surprises did not end there. He even performed a few unreleased songs and teased that one will soon be released in March. The most notable unreleased track, "#8barrelay," was previously heard on a TikTok video that went viral and sent fans in an uproar.
Love from JUNNIVERSE
From fans asking JUNNY why he is so beautiful to giving gifts and flowers, there is no question that the NYC JUNNIVERSE at the show loved the artist. A fan handed a gift bag to JUNNY during the show. Inside was a painting of him and his dog, Leo, along with a hoodie with a meaningful design related to his tattoos of a stopwatch and leaves. The fan explained, "It may be full, but it's not finished, meaning JUNNY has a lot more to give." Touched, JUNNY thanked the fan and gave her a hug before singing a song she requested.
Unexpectedly, the fan also requested the artist to sing the demo version of NCT DREAM's "Graduation" which JUNNY helped compose. True to his word, JUNNY gave a live, impromptu performance of his demo version of the track. He also graciously accepted a hand knit beanie, took a BeReal picture, and signed an inhaler for another fan after she wittingly said "that took my breath away."
From singing fan favorites including "MOVIE," "nostalgia," and "Distance," to bringing a sexy vibe to the show with tracks like "Say," "Zone" and "Feel That" (complete with throwing water into the audience,) JUNNY gave a show that truly captivated the audience. He kept everyone engaged and excited throughout the night. As we neared the end of the NYC show, JUNNY serenaded the crowd with "OH!!" and "Thank You," reinforcing how grateful he is for his fans.
Check out JUNNY's music on Spotify and Apple Music. Be sure to follow him on Instagram, YouTube, and Twitter to keep up with his latest updates!
Want more JUNNY? Check out EnVi's previous exclusive interview with the singer-songwriter here and last concert recap here!