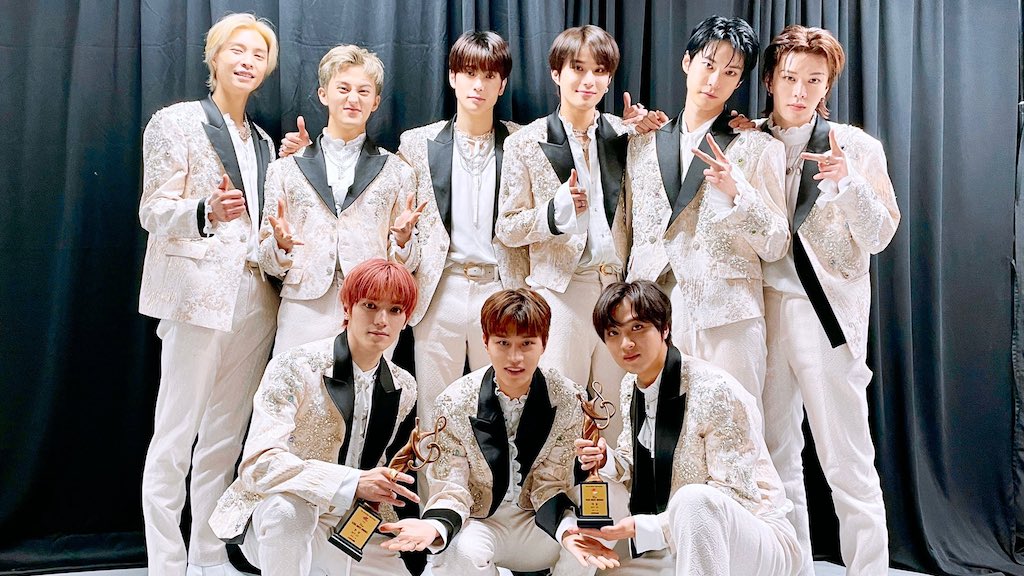 2021 marked a year of limitless expansion for the South Korean group NCT 127. Stacking milestone after milestone, the nine-member act set new records, swept music charts, and sold over three million albums. In 2022 the group is still reaping the rewards of their successful year. At the 31st Seoul Music Awards, NCT 127 made history when they took the first Artist Daesang (Grand Prize) of their career. 
💚💚💚💚🏆💚🏆💚💚💚💚#NCT127 #NCT #서울가요대상 #대상 #본상 pic.twitter.com/sHuAIK7AAP

— NCT 127 (@NCTsmtown_127) January 23, 2022
NCT 127's Daesang + Performances
The release of their third full-length album, Sticker, and its repackage, Favorite, has earned NCT 127 several bragging rights. With the title of "Triple Million Sellers" and other impressive accolades, the group has notched some of the most important wins of its career. The winning streak continued at the 31st Seoul Music Awards, held on January 23, where the group was awarded the Bonsang (Main Award) and closed the night claiming their first-ever Artist Daesang. That's it, of course, after performing a ten-minute medley that kept people at the edge of their seats. Starting with Doyoung's solo performance of "The Reason Why It's Favorite," a rap portion of "Lemonade" by Mark and Taeyong, followed. After a full group performance of "Sticker," NCT 127 took an orchestra on stage for a spectacular rendition of "Favorite."
A Tear-inducing Acceptance Speech
When the time came to fetch their thropy, the members of NCT 127 were visibly moved.  "All nine members here have run really hard to reach where we are now." Said the leader of NCT, Taeyong, in his acceptance speech, "When I think about it, I think perhaps 2021 was a year that we could really shine because all members of NCT: NCT 127, NCT Dream, WayV, and NCT 2021, were together." Taeyong added, "Really if it wasn't for these members, who are cool, charming, and have so much to show, I don't think it would have been possible for us to reach where we are now. I am really proud of the members. 
In between tears, the vocalist, Doyoung, also took the mic to thank fans. "I want to say that it is all thanks to Czennies that we are able to receive a great award like this. Actually, I thought to myself, is it fine for us to receive an award like this? We will continue to work hard in order to become singers befitting this award," he said. Before closing his speech, he also took the chance to thank his parents and the parents of his bandmates.
When it was his turn to speak, Johnny echoed Doyoung's thoughts. "Mama, we made it!" he jokingly shouted. In a more serious tone, he added, "I really want to thank all of our parents, they're the reasons we actually were able to make it all the way here. They were the start of everything and they were the people who supported us, they still support us." 
An Unforgettable Moment for Fans
Needless to say, this big award was emotively received by fans of NCT 127. Elated, they shared their excitement online. Some went down memory lane, recalling the group's achievements and recapping past feats. Meanwhile, others highlighted what this award meant for each of the members—in Yuta's case, for example, becoming the first male Japanese celebrity to win a Daesang at the Seoul Music Awards!
Daesang Winner* at Seoul Music Awards (SMA).

🏆 1997 – H.O.T
🏆 1998 – H.O.T
🏆 2002 – BoA
🏆 2006 – TVXQ
🏆 2010 – SNSD
🏆 2011 – SNSD
🏆 2012 – Super Junior
🏆 2014 – EXO
🏆 2015 – EXO
🏆 2016 – EXO
🏆 2017 – EXO
🏆 2020 – SNSD Taeyeon
🏆 2022 – NCT 127 (new)

👏😭🎉

*from SM

— SooMan Stan 🔱 | #aespaLiveAtCoachella (@smstan_tuwir) January 23, 2022
Thanks for everything nct 127 pic.twitter.com/Ml3QlYirhW

— daniela is studying (@Ohhhoko) January 23, 2022
NCT 127 won the Grand Prize (DAESANG) at the 31st Seoul Music Awards (SMA) 🎉👏🏻🏆

CONGRATULATIONS 😭!!!!!!!!!!#NCT127_대상_축하해 #NCT127_SMADaesang @NCTsmtown_127 pic.twitter.com/hV3r0HSyHj

— NCT 127 CHART (@127chart) January 23, 2022
Congratulations Yuta for being the first male Japanese artist to win a Daesang 🎉

Proud of your achievements 👏 #YUTA #유타 #ユウタ #中本悠太 pic.twitter.com/mtUTcqzbav

— NCT YUTA SQUAD (@SQUADNYT) January 23, 2022
taeyong introduced nct 127 as ''daesang artist nct 127'' I KNOW THAT'S RIGHT pic.twitter.com/furXPImVjo

— 竜ryu〖Love Theory〗 (@nct_127) January 23, 2022
#NCT127 receiving their Bonsang!!
Taeyong gave the Korean thank you speech; he even mentioned NCT 127, #NCTDREAM , and #WAYV 🥺; Yuta gave the Japanese thank you speech, and Johnny gave it in English 💚pic.twitter.com/WLZSqbf8k7

— gaiety (@snowyyuno) January 23, 2022
NCT 127 At The Seoul Music Awards
Looking back at NCT 127's history at the Seoul Music Awards, the group has landed some of their most important awards at the ceremony. From taking home the Rookie Award at the 26th Seoul Music Awards—just months after their debut—to notching Bonsangs in 2019 and 2021, and finally taking the Grand Prize in 2022, the group has shown their consistent growth. 
The Seoul Music Awards is one of the biggest music award ceremonies in South Korea. In its 31-year history, the ceremony has awarded some of the biggest Korean acts and continues to enjoy great prestige. NCT 127's recent win turned the group into the 10th boy group—and the overall 5th artists in this decade—to receive this recognition. NCT 127, thus, has joined a list that includes legendary groups like Seo Taiji and Boys, Shinhwa, H.O.T, TVXQ, Big Bang, and EXO. Congratulations, NCT 127!
Want to read more about NCT 127's achievements in 2021? Check out How NCT Ascended The Ranks Of The High Fashion Realm.