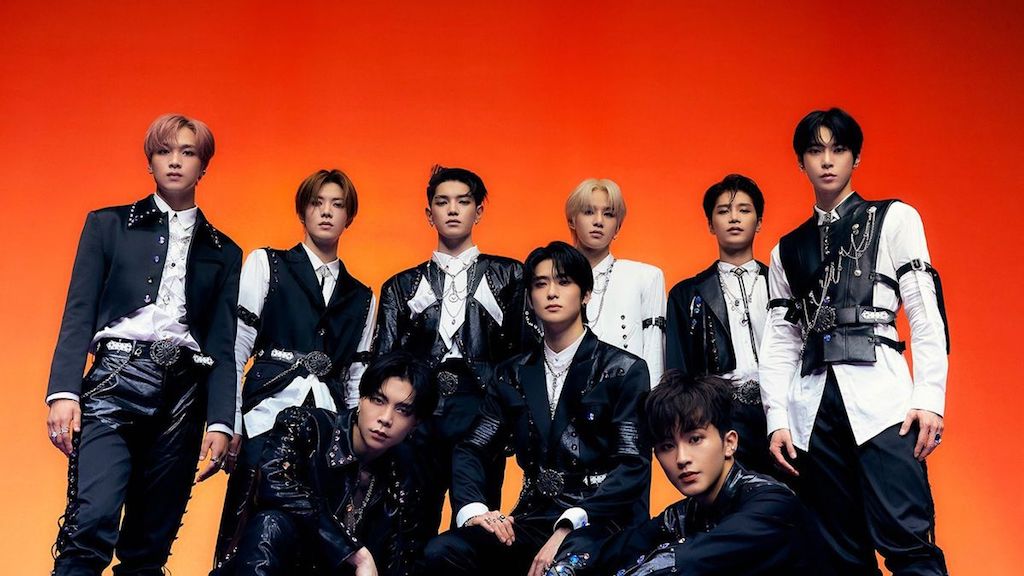 Even before its release NCT 127's third album, Sticker, was setting records for the Korean group. Soaring to new heights, the 9-member act swept music charts with an album that has not stopped reaching new milestones. Just a few days after turning NCT 127 into the only K-pop artist to spend 10 consecutive weeks on Billboard 200 with an album released this year, Sticker notched another achievement. At the 2021 Asian Artist Awards, it was recognized as the best album of 2021.
오늘 우리칠
상 받았어요. 정말 과장과 거짓말 하나도 보탬 없이 시즈니들이 만들어준 상이라고 생각해요.
수상소감에서도 말했던 것처럼 늘 우리를 위해 마음 쓰고 시간 쓰며 사랑해 주고 있다는 거 알아요.#NCT127 #NCT#AsianArtistAwards2021#AAA_올해의앨범_NCT127#AAA_포커스배우_DOYOUNG pic.twitter.com/tcqqNvPiyx

— NCT 127 (@NCTsmtown_127) December 2, 2021
Album Of The Year
Claiming that 2021 has been a prolific year for NCT's Seoul-based subunit might be an understatement. NCT 127 has not only seen unprecedented success, they have also consolidated their influence beyond music. With several accolades piling up, the group has not stopped reaping the rewards of success. On December 2 (KTS), NCT 127 scooped one of the daesangs (grand prizes) of the night in the Asian Artist Awards. 
Unfortunately, NCT 127 was not in full attendance at the ceremony. On their behalf, member Doyoung, who was also awarded for his acting forays, fetched the trophy for Album Of The Year. During his speech, the vocalist thanked fans for the love NCT 127 has received. "To the extent that an artist receives such a great award, I think that we should acknowledge the time and effort that fans make. I also think that we need to repay that love with good music and performances," he said.  
Fans' Elation
Unsurprisingly, this award was emotively received by fans. Elated, they shared their excitement online. Some went down memory lane, recalling NCT 127's past feats at the Asian Artist Awards. 
Grand Prize Album of The Year Award NCT 127 Sticker WHO ELSE SMILED pic.twitter.com/nyjrf0HAHn

— ً✿ (@nctymisfit) December 2, 2021
NCT 127

2016 AAA – Rookie of the Year
2020 AAA – Best Artist Award
2021 AAA – Album of the Year (Daesang)#Sticker_AlbumOfTheYear

— aya (@jeongyunonly) December 2, 2021
Congratulations on your outstanding achievement. You deserve every bit of it. You have made us proud.

NCT 127 'STICKER' ALBUM OF THE YEAR#NCT127#Sticker_Daesang#Sticker_AlbumOfTheYear@NCTsmtown_127 pic.twitter.com/cKhxstPLJX

— •ʂɳσσρყ~Glitch mode 📟 (@kjw_snoopyy) December 2, 2021
This trend made me cry.#Sticker_AlbumOfTheYear pic.twitter.com/NHIEwdguvc

— NCT127 MADE ITT!! (@ncthunger) December 2, 2021
NCT 127 AAA:

2016 – Best Rookies Awards 2016
2020 – Best Artist Awards 2020
2021 – Albums Of The Year 2021 (DAESANG)

Congratulations for taeyong and all the member of 127, you have worked really to this point 💗 pic.twitter.com/DICwuNs4tA

— KUN SOLO COMING SOON (@Yourdaiisy) December 2, 2021
Sticker's Extraordinary Success
This important win comes after an extraordinary year for the nine-member act. NCT 127's third full-length album debuted at 3 on Billboard's Top 200 chart, just below Drake and Lil Nas X. Additionally, Sticker reached the top spot on Billboard's World Albums Chart, with the homonymous title track peaking at number five on the World Digital Song Sales, in its first week. The accomplishments did not stop there. "Sticker" became the first song to achieve an "All-Kill" on Korean music programs, since 2017. 
With award season upon us, "Album of the Year" might be the first of many distinctions for the Seoul-based unit of NCT. In the meantime, you can read more about NCT's impending comeback here.