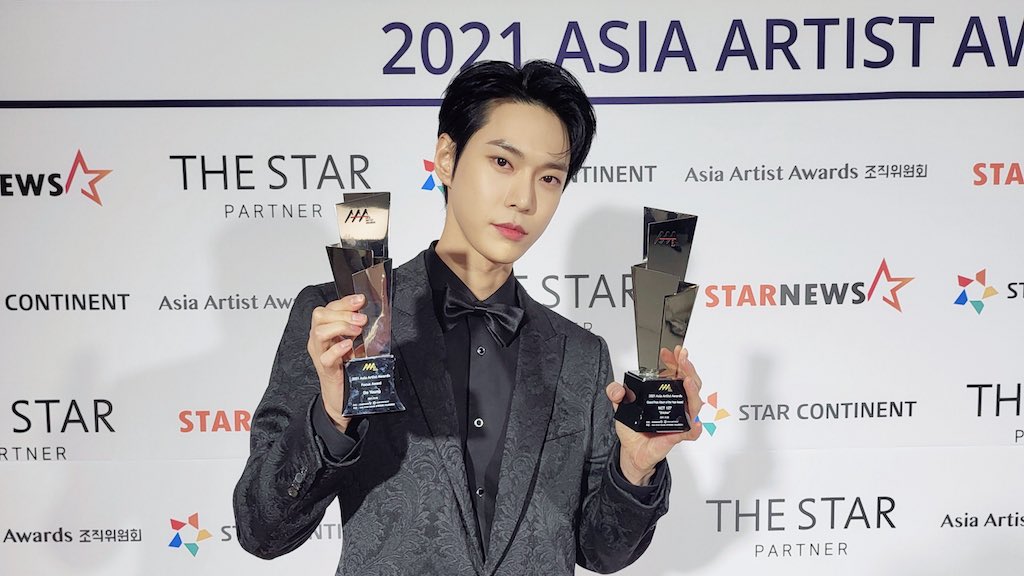 Kim Doyoung might be better recognized for his role as one of NCT's power vocalists. In 2020, however, the member of NCT made a flawless transition from performing on stage to onscreen. The newly-debuted actor later took upon his first musical through the Korean adaptation of Marie Antoinette. Doyoung has since come under the spotlight through acting awards nominations — and wins. On December 2 (KTS), Doyoung added another achievement, taking the Focus Award, in the actor category, at the 2021 Asian Artist Awards. 
오늘 우리칠
상 받았어요. 정말 과장과 거짓말 하나도 보탬 없이 시즈니들이 만들어준 상이라고 생각해요.
수상소감에서도 말했던 것처럼 늘 우리를 위해 마음 쓰고 시간 쓰며 사랑해 주고 있다는 거 알아요.#NCT127 #NCT#AsianArtistAwards2021#AAA_올해의앨범_NCT127#AAA_포커스배우_DOYOUNG pic.twitter.com/tcqqNvPiyx

— NCT 127 (@NCTsmtown_127) December 2, 2021
Transition To The Small Screen
In addition to a fully packed schedule as part of NCT, Doyoung has made space to expand his career. At the beginning of the year, the star made his small screen debut in the third season of the web drama Cafe Midnight: The Curious Stalker. The singer-turned-actor played the role of Son Ji Woo, a young student who is granted the chance to look into the future. The fantasy story earned him a nomination — and first acting award — at the 2021 Seoul Webfest, where Doyoung was recognized as Best Actor. Furthermore, the artist lent his voice to the OST of Cafe Midnight, receiving high praise for his interpretation. The soft ballad, "Night Air," landed the Best Original Music Award at the Marseille Web Fest.
The Focus Award
To add to this career-defining year, Doyoung received the Focus Award at the 2021 Asian Artist Awards. The idol was honored in the actor category alongside the former Supernova member, Park Geon Il (Lonely Enough To Love). Doyoung, who walked the red carpet in a stunning black jacquard suit, delivered a sweet speech upon receiving the award. "This is the first time coming to a big award ceremony without the [NCT] members, so I'm very nervous," he said. "I am also feeling weird about receiving an award not as a singer, but as an actor, but I thank you for giving me such an award. I had a lot of fears and worries about challenging acting, but thanks to the fans that cheered on me, I was able to complete everything smoothly," Doyoung added. 
IM SO PROUD OF U KIM DOYOUNG AWARD WINNING ACTOR pic.twitter.com/YBiUUpH3Zd

— gail (@valentinesdaily) December 2, 2021
Later on the night, Doyoung returned to the stage to fetch the award for Album of the Year on behalf of NCT 127. Representing his group, the singer thanked the fans who turned Sticker into a Daesang recipient. 
Fans Love It
Naturally, NCTzens were ecstatic to see Doyoung taking home an acting award. Fans took to Twitter to congratulate the star on this important career milestone.
Congratulations to DOYOUNG for winning the 'Focus Award (Actor)' at the 2021 Asia Artist Awards 🎉#NCT127 #DOYOUNG @NCTsmtown_127 pic.twitter.com/B9ghhtYKmb

— NCT 127 Fan Union (@NCT127Union) December 2, 2021
#DOYOUNG has now WON 3 Awards in his acting debut! 👏🎉

🏆 Best Actor Award – Seoul Webfest
🏆 Best Music Award (OST) – MARSEILLE
🏆 Focus Award (Actor) – AAA

— NCT Charts (@nctcharts_) December 2, 2021
AAA focus award.
Seoul webfest best actor.
Marseille webfest best music.

infinitely proud of doyoung 🙁 pic.twitter.com/ljKjUgDpIl

— it's bitterney bitch. (@bitterney) December 2, 2021
[PRESS] 211202 #DOYOUNG accepting #NCT127's 'Album of the Year (Daesang)' trophy at the 2021 Asia Artist Awards (AAA) pic.twitter.com/hHyZrZhaO8

— SM_NCT (@SM_NCT_BACKUP) December 2, 2021
Looking Forward
Though Doyoung is just getting started as an actor, he has already received high praises for his ability to portray complex characters. In particular, his performance as Axel von Fersen in Marie Antoinette has earned positive reviews from experts. In the shoes of the queen's lover, Doyoung proved his acting and vocal chops and his ability to move audiences. With 2022 fast approaching, there's no doubt Doyoung will have more chances to solidify his career and continue to wow critics and fans.
Craving for more Doyoung coverage? Read about his journey in Marie Antoinette here.
Thumbnail courtesy of NCT 127 on Twitter