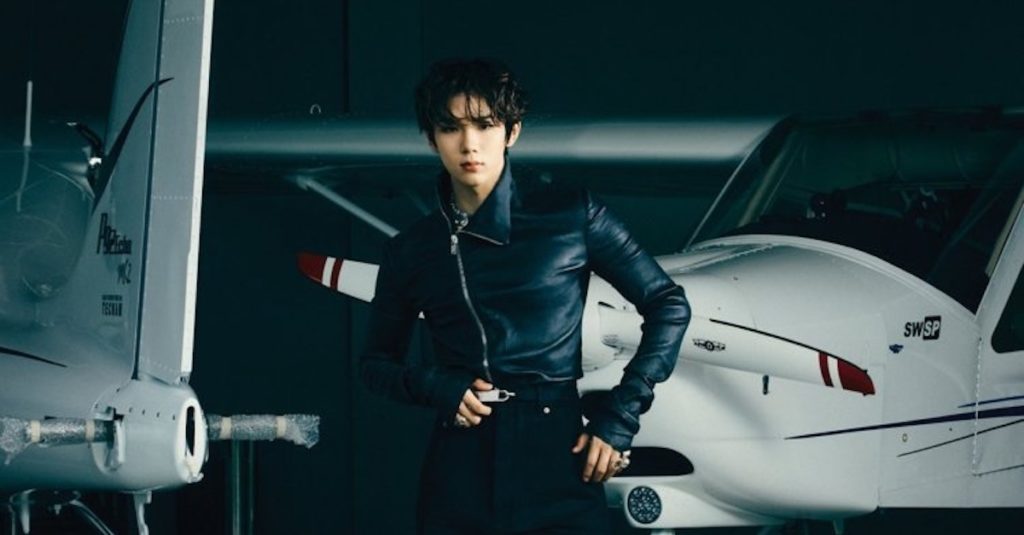 In 2017, Vogue anticipated NCT's "limitless fashion potential." Four years later, the group's list of achievements in fashion only keeps growing. From invitations to exclusive shows to fronting global campaigns, the members of the group have shone on their own throughout the last season. Joining his groupmates, the latest to hit a major accomplishment is Shotaro, who just debuted as a model on the pages of Vogue Korea.
View this post on Instagram
First Steps as a Model
Although Shotaro is one of the most recent additions to NCT's lineup, the talented rapper and dancer has already caught attention for his sleek sense of style. Now, lending his image for an editorial in Vogue Korea's August Issue, he's starring in his first solo magazine photoshoot. 
In an aeronautical-themed pictorial lensed by Go Won-tae, the 20-year-old posed confidently, wearing a selection of looks curated by Kim Young-jin. The star offered a taste of fashion trends for the upcoming fall and winter seasons with clothes from Alexander McQueen, Mokoo, Dior Men, Saint Laurent, and accessories from Swarovski, Rick Owens, and Oliver Peoples. He did not disappoint. 
#SHOTARO #NCT #쇼타로 #VogueKorea pic.twitter.com/mLGS9Cxb8P

— NCT (@NCTsmtown) July 23, 2021
Shotaro Opens Up About His Debut
In addition to modeling iconic looks from the runways, Shotaro also sat for an interview, where he spoke about his dreams, how debuting felt like, and, of course, fashion. The Japanese dancer opened up about his first performance with NCT U at M Countdown. "​​I was so nervous that I almost cried," he recounted. Shotaro added, "I guess I was worried that I might be doing something wrong. It was my first stage, and it was a pity that there were no fans because of Corona [virus]."
When asked about his experience as a member of NCT, he explained that the announcement of his debut came in as a surprise. "For a moment, my heart was pounding and I repeated the words, uh? really?" he said. Shotaro also shared the reason why it was hard to believe he would be joining the group. "Before coming to Korea, I had seen the NCT 127 tour when I was in Japan. It was so cool that it made me wish to be that kind of singer. I was both happy and scared to be able to do something together on stage with [some of ] those members," he stated. 
Looking Forward
However, Shotaro is now looking forward to the future. In the interview, he expressed his desire to be considered an artist with the ability to deliver strength, happiness and have a good influence on people. Naturally, he is also anticipating the time he can perform in front of an in-person audience. "I want to stand in front of the fans," he emphasized. 
Shotaro, whose sensational dance moves have gained a great deal of attention and made him a trending topic, evidently mentioned dancing as well. The artist shared his goals when it comes to becoming a dancer who can try different genres, "without limits." Furthermore, he spoke about the person who inspired him to dance. "When I was in middle school, my dance teacher taught students and also stood on a big stage as an artist. I thought I wanted to be like that teacher," he told Vogue Korea. 
Fashion and Costume Design 
Besides dancing, Shotaro expressed his interest in fashion. "I often see other people's styles on social media, and it's fun to find cool clothes in the store. I like vintage, I like hip-hop styles, and I enjoy various fashion [trends]," he said. Although he also admitted not to be prepared to create a brand anytime soon, Shotaro shared that he would like to dabble in stage costume design at some point. "I think it will be exciting," he pointed out. 
#SHOTARO #NCT #쇼타로 #VogueKorea pic.twitter.com/vwJr8ShWi2

— NCT (@NCTsmtown) July 23, 2021
Dancing Shoes
Additionally, Vogue Korea gifted fans with a video where Shotaro danced to Aminè's 2017 hit, REDMERCEDE. In the clip, the Japanese star also discussed various topics, including his hobbies. "Since I came to Korea, I started to collect shoes," he revealed, acknowledging that the most recent addition to his closet is a pair of Travis Scott Air Jordan 6.
#8PMCONCERT#보그코리아 와 #NCT #쇼타로 와 함께한 'Aminé – REDMERCEDES' 댄스 비디오를 공개합니다🦦🦦💕
아래 링크를 통해 지금 바로 확인하세요!
▶️▶️ https://t.co/jEWTydgXGL@NCTsmtown #shotaro #엔시티 pic.twitter.com/GIMy749jf9

— VOGUE KOREA (@VogueKorea) July 24, 2021
As NCT continues its quest toward fashion world domination, fans have a lot to look forward to from the members' individual exploits. So far, Shotaro has offered a sneak peek of his style sensibilities through his Instagram account, where he shares aesthetically pleasant takes of his outfits. After his first-ever magazine pictorial, there's no denying that he is also shaping up for a great future in the fashion scene.
Interested in more fashion content? You can also read how Pre-debut To Present, Shotaro Shines With Bright Style.
Thumbnail courtesy of Vogue Korea.