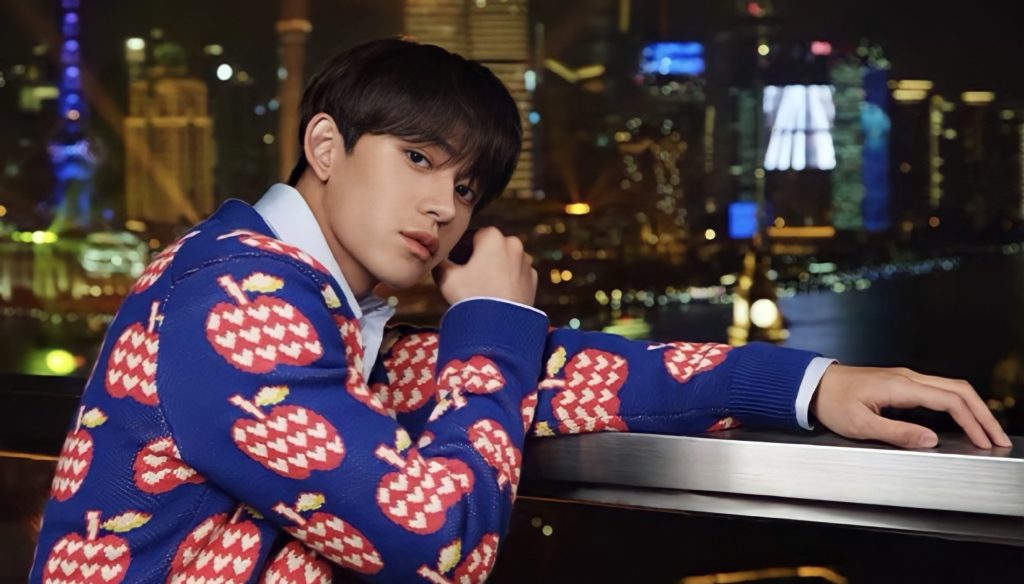 The members of NCT are on a roll. From exclusive invitations to shows to stealing the spotlight at events, 2021 has seen the multicultural group fostering connections with luxury brands. The 23 member act has continuously made headlines throughout this fashion season, becoming a force to be reckoned with in the international scene. And apparently, there are no signs of stopping. Chosen as a model by the Italian fashion house Gucci, WayV/NCT/SuperM's Lucas is carrying out a completely new feat with his first fashion advertising campaign. 
View this post on Instagram
The Power of Gucci
According to Lyst, a search platform that analyses the performance of fashion labels — taking into account sales, search data, and social media engagement — Gucci is currently the hottest brand in the world. Behind the house's success, there are major moves like the collaboration with Balenciaga for the "Gucci Aria Collection," the introduction of a homeware line, and the launch of "Gucci Beloved." 
At a special fashion show that took place in Shanghai, China, Gucci revealed exclusive, never-before-seen looks from the #GucciAria collection designed by #Alessandro_Michele. pic.twitter.com/iMzMTNxLf8

— gucci (@gucci) June 23, 2021
In the House's #GucciBeloved campaign, @Harry_Styles shares a laugh with James Corden @JKCorden as they reminisce about a certain incident at a diner. #GucciBeloved #HarryStyles #JamesCorden #AlessandroMichele #GucciJackie1961 pic.twitter.com/CUNq205xJo

— gucci (@gucci) June 6, 2021
Reaching Asia
In addition to these global initiatives, Gucci has dabbled into the capsule collection trend and expanded its focus in Asia. Whether it is by taking fashion shows to China or opening flagships stores in Seoul, the brand has strengthened its efforts to connect with "young affluents in Asian markets." So far, the Italian powerhouse has experienced a major social media boost through its collaboration with EXO's Kai. Commemorating 100 years of the fashion house, the Kai x Gucci capsule collection made waves in the world of fashion and earned Gucci the most responses on a social media post. 
K-pop star #KAI is the inspiration behind the new #KAIxGucci
collection designed by #AlessandroMichele. Debuting in
Korea, the collection will soon be available in #GucciPins temporary
stores in Mainland China, Hong Kong SAR, Vietnam, Singapore and Thailand. #KAI pic.twitter.com/H6vPXcVf3b

— gucci (@gucci) February 28, 2021
However, Gucci's brand strategy has grown beyond featuring stars and has incorporated important cultural elements. Take as an example, the Doraemon-inspired capsule collection that they presented during the Lunar New Year or the marketing strategies geared to connect with customers on local festivities like "Chinese Valentine's Day." 
The Business Of Love
Just like Vogue Business states, "love is big business in China." The country celebrates at least four special dates related to love and romantic relationships. Three of those festivals take place in the first half of the year and reports suggest that Gucci was at the forefront of social media buzz during the most recent Cyber Valentine's Day (520). Now, Gucci has gone the extra mile and created a special collection to celebrate the Qixi or Seventh Night (Tanabata) Festival.
This year the festivity dedicated to lovers — and one of the biggest sales-driving holidays in China — falls on August 14th. For the occasion, Gucci presented a selection of items with an apple patterned motif that makes allusion to the "apple of my eye" proverb. Surprisingly — or not really — Lucas Wong, member of NCT and WayV, is fronting this special campaign.
Lucas, the "Fashion Darling"
Hardly a newcomer in the fashion scene, Lucas has received the attention of brands and specialized media since his debut days. In 2018, Lucas modeled during the Seoul Fashion Week and was invited to the launch of Moschino's collaboration with H&M, where he was named the "Latest Fashion Darling" by L'Officiel Singapore. Just a year later, the rapper was a guest in several Burberry events, culminating with a front-row seat at the SS20 show in London, and a mention in Vogue Paris. Ever since Lucas is a regular at fashion gatherings. 
This year alone, he attended the GQ Connect Muse Night, with fellow group member WinWin, with whom he also visited the opening event of Maison Margiela's Legacy House. On June 22, Lucas joined a fashionable crowd at Gucci's latest fashion show in China. Seated at the front row, Lucas caught the attention dressed in a casual look highlighted by Gucci staples like the Jackie 1961 mini bag, a G buckle belt, and the iconic Lion Head ring.
#LucasWong, #LaiGuanlin, #LiuYaowen and #JuXiaowen are
captured in front of the Savoy Club, a fictional locale from the #GucciAria film that was recreated for a
special fashion show held in Shanghai. #AlessandroMichele pic.twitter.com/45RCvOjCe7

— gucci (@gucci) June 23, 2021
Lending His Image for #HowWeMet
Although Lucas was spotted at the "Gucci Aria" presentation in Shanghai, the news of his recent fashion endeavor still caused a stir among fans. Titled "How We Met," and promoting the signature line "Gucci Les Pommes" (Gucci Apples in French), the fashion campaign is Lucas' first as a model. Besides a few stills, the artist starred in a promotional video shown on Gucci's social platforms and official page. Styled in an apple patterned blue cardigan and denim jeans, Lucas dives into the role of a celebrity who fatefully meets a fan and shares a short, romantic moment with her. The campaign was photographed by Leslie Zhang, under the creative direction of Alessandro Michele, and portrays different scenarios of "the gradual coming together of boys and girls in Shanghai."
In the new #HowWeMet campaign to celebrate Chinese Valentine's Day, a group of characters including singer #LUCAS and supermodel #XiaowenJu are filmed wearing Gucci Les Pommes as they walk, lost in their own worlds. Video by Zhuzi. #AlessandroMichele pic.twitter.com/m5t2krxIRL

— gucci (@gucci) July 15, 2021
#HowWeMet: A new campaign presents Gucci Les Pommes, the collection to celebrate Chinese Valentine's Day. Shot by #LeslieZhang, the campaign also stars singer #LUCAS, from @WayV_official and @superm. Creative direction by #AlessandroMichele, art direction by 23.. pic.twitter.com/U9UF7ToNdE

— gucci (@gucci) July 15, 2021
Fans Frenzy
Even before any official announcement from Gucci, fans promptly noticed Lucas gracing the How We Met Campaign. Taking to Twitter, they shared the news and exchanged praises for the singer on his first global campaign.
wow Lucas is the first thing you see when you open the OFFICIAL Gucci CH website?https://t.co/m6RhknsJDJ #LUCASxGUCCI pic.twitter.com/3VZdgDM5B0

— lia; (@taeoxuxi) July 14, 2021
that smirk is sending me to heaven
Today is the better days that SuperM always singing about
LUCAS x GUCCI#LUCASxGUCCI

#루카스 #黄旭熙 https://t.co/XCGVtT726C

— ptto_xuxi🌈🦁☀️ (@potat___o) July 15, 2021
Gucci promoting the lucas model AND actor agenda in one go. They clearly have some very well thought out plans for him and I'm here for it pic.twitter.com/cSrIwFsdIM

— ` (@jujutsucas) July 14, 2021
Gucci is really careful and does a lot when looking into brand reps/collaborations and people who they want in their ads. Them picking Lucas wasn't just because of his handsome face but because he has all the characteristic their brands aesthetic/vision/message entails

— char 🧚🏼‍♀️ (@bbyhyunlix) July 14, 2021
okay but imagine Lucas and Kai for Gucci together?! The visuals they would serve 🔥 pic.twitter.com/2eJcUv7MEC

— leo | ia (@supremeleeee) July 15, 2021
GUCCI BOY LUCAS ON THE MAIN PAGE GUCCI CHINA?? YES #LUCASxGUCCI @GUCCI @WayV_official#LUCASxGUCCI #LUCAS #黄旭熙 #루카스 pic.twitter.com/g4IAAhLuvF

— ptto_xuxi🌈🦁☀️ (@potat___o) July 14, 2021
Other than his charming personality and strong presence on stage, Lucas is also recognized for being a rising star in the world of fashion. With his established links with luxury powerhouses like Gucci, fans surely have a lot to look forward to regarding Lucas' expansion beyond music.
Interested in more fashion coverage? Check out how WinWin stole the spotlight at Louis Vuitton's store opening.
Thumbnail courtesy of Gucci