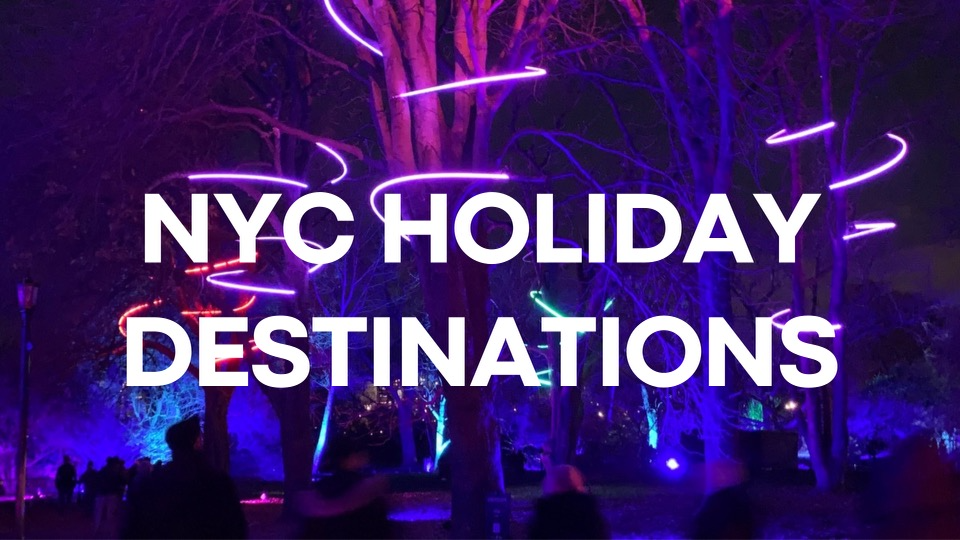 New York City always pulls off the best decorations when it comes to the holiday season and winter activities. If you are new to NYC or looking for winter wonderlands to immerse yourself in, check out these destinations below!
New York Botanical Garden's GLOW and Holiday Train Show
Located in the Bronx, New York Botanical Garden is hosting the second season of their GLOW outdoor holiday light installations. The trail is approximately 1.5 miles long and is filled with various displays and illuminated plants and trees. The garden also offers tickets for their annual Holiday Train Show which is held indoors at the Haupt Conservatory. It is the show's 30th anniversary this year. The Holiday Train Show mimics the idea of a Christmas train set but much more spectacular. Scaled miniature replicas of NYC's most popular attractions such as the Brooklyn Bridge and the World Trade Center are displayed. Visitors will also see 25 miniature trains and trolleys zooming through these landmarks. These structures were carefully constructed by Applied Imagination. They are known to use plant materials such as bark, leaves, and acorns for the replicas and their other works.
Winter Village at Bryant Park
Right behind the New York Public Library, Bryant Park is known amongst New Yorkers for being a great picnic spot. But in the winter season, a large portion of the park is transformed into an ice skating rink. A 50-foot tall Christmas tree is stationed right next to the rink making it more magical for visitors.
Brooklyn Botanic Garden's LIGHTSCAPE
In partnership with Sony Music and WAD Entertainment, Brooklyn Botanic Garden's LIGHTSCAPE illuminates their trails for the first time ever to create a winter wonderland for their evening visitors. The trail features various outdoor art installations from Pitaya, Jacob M Fisher, TILT, and Mandylights , just to name a few. Visitors will be able to see written works by award-winning poet Jacqueline Woodson projected on parts of the trail. Music will also be playing softly in the background from the garden's own curated playlist to give off the festive feel.
Rockefeller Christmas Tree
For more than 80 years, Rockefeller Center had a long standing tradition of setting up their own Christmas tree. This year's tree (and past 30 decades') was picked by Erick Pauze, the head gardener of Rockefeller Center. The tree towers over the rest of New York City standing at an impressive height of approximately 80 feet. It adorns more than 50,000 Christmas lights with a Swarovski star sitting at the very top. The star is covered in three million crystals and is designed by the architect, Daniel Libeskind. Visitors can also go ice-skating beneath the tree, all while having an unbeatable view of the Prometheus sculpture.
Saks Fifth Avenue
Saks Fifth Avenue is a luxury department store that houses well-known brands such as Balenciaga, Gucci, Bulgari, etc. But what makes this luxury store so special this holiday season is its stunning window displays. Located across the street from the Rockefeller Center Christmas Tree, the display has over 700,000 LED lights. This year's display has the theme of reconnecting with your family and friends.
Bronx Zoo Holiday Lights Show
Another popular Bronx destination, the Bronx Zoo returns with another season of their Holiday Lights show. The zoo features life-sized light displays of animals, lanterns, costumed characters in stilts, ice sculptures, and a holiday train. Over 340 of these displays represent around 100 animal and plant species across five geographic destinations.
While the pandemic limited New York City's 2020 holiday decorations, 2021's decorations definitely made up for the long-awaited festivities. Destinations are sparkling more than ever as if to show the continued perseverance of the city. Hopefully, visitors will be able to see all the decorations before the holiday season is over!
Want more for the holiday season? Find out what to gift the K-pop stan in your life here.