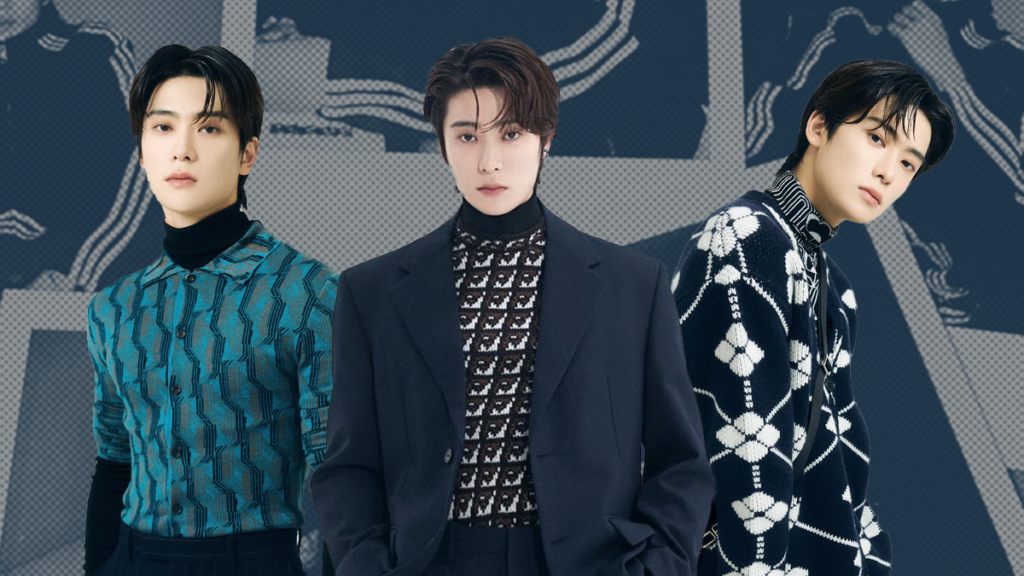 To say Jeong Jaehyun is a star on the rise would be an understatement. The singer and actor, better known as a member of the K-pop group NCT, is nowadays — in the words of Prada's representatives — one of the most sought-after K-pop artists. The title does not only come from the talents he's flaunted as a performer, but also from his fast advance toward fashion fame. Through a strong association with the Italian house of Prada, Jaehyun is currently making waves in the world of fashion. Following his announcement as Prada's South Korean Ambassador, EnVi revisits the blooming fashion love affair between Jaehyun and Prada.
The House of Prada
For those unfamiliar with the history of the Italian fashion brand, Prada was founded in 1913 by Mario Prada. Originally dedicated to the creation of leather goods, it became the Official Supplier of the Italian Royal House in 1919. In the years that followed, it turned into a coveted label among the Italian aristocracy. Prada, however, remained a business with little innovation until the 1970s, when Mario's granddaughter, Miuccia, took over the brand. Miuccia Prada's understanding of marketing and her genius creativity pushed the company in a different direction. First adding handbags and footwear and then introducing a womenswear line, the fashion house found global success. After conquering Europe, in the 1990s Prada's expansion reached Asia and the United States. The Prada Group then launched a menswear line and a sister label called Miu Miu — an affectionate nod to Miuccia's nickname.
Nowadays, Prada enjoys great popularity with a style that is often described as ambiguous. Inherently modern, yet classic, the fashion powerhouse mixes Italian elegance with the eccentricity Miuccia Prada is recognized for. In 2020, opening a new chapter in the brand's history, the Belgian designer Raf Simmons joined Miuccia Prada as co-creative director. 
Jaehyun x Prada's SS 2022
A season after the debut of Miuccia Prada and Raf Simmons' partnership, Prada presented its Spring-Summer 2022 menswear collection. It was June 2021, and fashion brands were slowly returning to in-person events. Prada, however, stuck to an online format that favored remote front rows. For the occasion, several Korean stars, including Lee Jong Suk, Monsta X's Shownu, BamBam, and Yugyeom joined the event digitally. Among the star-studded list of VIP attendants, NCT's Jaehyun caused an Internet frenzy when he took to Instagram to share pictures of his front-row look. Decked in a black mohair suit and a patterned turtleneck from Prada's Fall 2021 runway, the idol invited fans to tune in for the online show. Needless to say, reactions were overwhelmingly positive as fans promptly turned Jaehyun and Prada into trending topics. It became the first of many invitations to come. 
Jaehyun, however, was no stranger to the world of fashion. Noted for his outstanding visuals and clean, sophisticated style he had previously been invited to Burberry's Autumn/Winter 2021 show.
Jaehyun's Iconic Prada Live Stream
A few months later, amid Milan's Fashion Week, Prada showed its Spring/Summer 2022 Womenswear collection. Marking their return to physical events, the show was highly anticipated and it was simultaneously presented in Milan and Shanghai. However, loyal to the premise of reaching beyond borders—after all, the collection was titled Synchronic Views—the runway was also broadcast online. While many celebrity friends and ambassadors of the brand shared their looks and best poses on Instagram, it was NCT's Jaehyun who set social media ablaze. Not only did the star showcase his deftness as a model, showing off a full Prada outfit, but he also took his friendship with the brand to the next level. Surprising fans, Jaehyun live-streamed the fashion show on his personal Instagram account. The singer, thus, became the only celebrity in the world to broadcast Prada's collection that season. This buzzy collaboration might have left some slightly confused, but an official from Prada Korea later explained, "Jaehyun is currently the most sought-after K-pop artist. We decided to proceed with this project because we thought Jaehyun's luxurious image fits well with the brand."
Jaehyun's Prada Holiday Campaign for GQ Korea
Before 2021 came to an end, GQ Korea tapped NCT's vocalist for a video campaign. Building upon the established ties with Prada, the idol modeled a selection of holiday items from the Italian house. The heartthrob introduced sequined items, Re-Nylon pieces, and iconic accessories like the Brique Leather Bag and Prada's Bolo Tie. Jaehyun's work with the magazine proved so popular on the Twitterverse that it overshadowed Prada's international holiday campaign.
Adidas X Prada Re-Nylon collection
In 2022, the relationship has grown from strength to strength. On January 7, Jaehyun once again brought attention to Prada. Clad in a look from the then-unreleased Adidas for Prada Re-Nylon collection, Jaehyun shared an Instagram post that amassed impressive numbers in only one hour. The star's fandom quickly took to social media to celebrate his first publication of 2022. In addition, some eagle-eyed fans were quick to notice that Jaehyun had exclusively sported pieces from the collection prior to its reveal. The excitement reached all corners of Twitter where fans pointed out that Jaehyun had become the first celebrity to wear items from the "Pradidas" collaboration—even before Prada's official ambassadors!
At this point, it is worth noting that Jaehyun's successful friendship with Prada has been partly powered by the buzz his fans generate online. There's not a time Jaehyun's activities go unnoticed on social media, but his fashion endeavors seem to be special for his fandom. The administrator behind @jaehyuncharts, a Twitter account dedicated to recapping the singer's chart data, explained, "I think it's exciting because usually fans of K-pop—which utilizes a lot of conceptual styling—enjoy fashion. Seeing their favorite idol work with brands is like seeing two of their favorite things come together." Regarding Jaehyun's association with Prada, they added, "The excitement for Prada, in particular, is because it's a well-known luxury brand with cool campaigns that Jaehyun would look great participating in. There is potential for it to lead to further opportunities in the world of fashion and beyond." 
Prada FW 2022 Menswear
Jaehyun and Prada's fashion love affair continued on January 16. The singer shared the spotlight with other Korean and international stars, as they flaunted their invitations to Prada's Fall-Winter 2022 menswear show. Modeling a head-to-toe Prada look taken from the brand's SS 2022 collection, the idol joined a diverse line-up that included Song Kang, Noah Beck, and Brent Rivera. Despite attending only virtually the unveiling of Prada's most recent collection, the idol surely turned into the main event on online spaces. Jaehyun not only generated a new fashion talking point, but he also accumulated new bragging rights. For one thing, he was featured on Prada's official Instagram account for the first time. For another, he bagged ​​a fashion film on Vogue Korea, advertising the fashion house.
FW 2022 Womenswear and Vogue Korea
Adding yet another invitation to his blooming friendship with Prada, Jaehyun created more Internet buzz when he took to Instagram to anticipate the brand's Fall-Winter 2022 Womenswear Collection. Sporting a rather casual look accessorized with a Prada Saffiano Triangle bag, the singer proved that he can turn any setting into his personal runway.
Months later, Jaehyun starred in a video campaign in collaboration with Prada and Vogue Korea to promote the luxury house's summer releases. Decked in looks from the SS2022 collection, the heartthrob flaunted his acting skills and swoon-worthy visuals. It goes without saying that fans didn't miss out on the cinematographic quality of the video and film references.
First Milan Fashion Week and Official Ambassadorship
In June 2022, Jaehyun set to Milan, Italy to attend his first Prada show in person. Invited to the unveiling of the brand's Spring-Summer 2023 collection, the star embraced his inner rock star for his front-row debut. On his arrival at Fondazione Prada, Jaehyun commanded all attention dressed in an all-black look consisting of a nylon jumpsuit and a double-breasted coat. The nod to Elvis Presley—whose upcoming biopic counted with Miuccia Prada's costume design—was hard to miss. At the event, Jaehyun mingled with the high fashion elite and posed side by side with the legendary design duo Miuccia Prada and Raf Simons.
The announcement of Jaehyun's appointment as Prada's South Korean ambassador followed right after. "Through several collaborations with Jaehyun, we were able to fully feel his powerful influence, and because he is an artist with a luxurious image and a unique fashion sense, we selected him as an ambassador to represent our brand," Prada explained.
The association, however, didn't come as much of a surprise to fans. They already had well-founded reasons to expect the partnership with Prada to be finally formalized. As @jaehyuncharts put it, the fashion brand is known for its "classic silhouettes, as well as the strong, modern takes on color and pattern choices." Meanwhile, Jaehyun flaunts a universally appealing look with a "laid-back edge." If we take a look at Prada's current brand ambassadors, Jaehyun seems to fit right in. "He is also very passionate about overcoming hurdles and continuing to work towards his goals. That is a strong statement that fits Prada like a glove," @jaehyuncharts emphasized.
We strongly agree.
Eager for more Prada coverage? Check out how stars are styling Prada's new It Bag here.