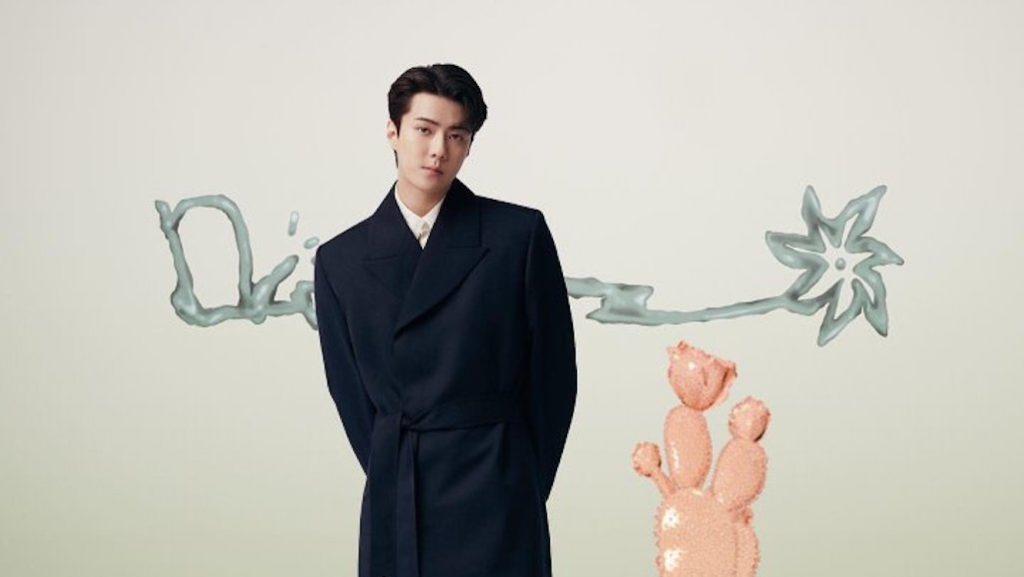 South Korean singer, actor, and Dior's Dearest, Oh Sehun knows how to keep the fashion crowd entertained. Throughout a busy kickstart of 2022 — with a big-screen release, magazine pictorials, and other commitments — the star has flaunted a noteworthy lookbook of fashion choices. It can't be otherwise. After his front-row debut at Paris Fashion Week in 2017, Sehun has proven to own a style worthy of all buzz and attention. To celebrate the idol's birthday, we revisit Sehun's journey to fashion fame.
Recognized for his role as the youngest member of K-pop royalty EXO, Sehun is no stranger to sartorial experimentation. Since the group's debut in 2012, the singer has transitioned from casual, streetwear-inspired group aesthetics to a refined and polished personal style. Embracing a wardrobe full of luxury brands including Louis Vuitton, Ermenegildo Zegna, and Dior, the singer is now, one of the most sought-after stars in the fashion industry. Understandably, in recent years, Sehun's approach to fashion has granted him access to the high fashion circles.
Louis Vuitton's Golden Boy
For instance, in 2017, Sehun's quintessential smart dressing earned him the title of Best Dressed Man at Louis Vuitton's Fall RTW show. A major feat, if we consider that celebrities such as Jaden Smith were in attendance. Vogue described Sehun's outfit as "simple, sexy, and perfect for a trip to the Louvre to sit in the front row."
The next year, Sehun repeated the feat when he joined a group of A-listers for the Louis Vuitton's Resort show in Saint-Paul de Vence. Sitting side by side with actresses Jennifer Connelly, Léa Seydoux, and Emma Stone, Sehun earned the praises of specialized media. "Authentic dandy" and "Louis Vuitton's Golden Boy" were only some of the monikers he received that day. And yes, he also had fashion editors and industry professionals from around the world lining up to snap a picture with him.
Vogue's Favorite
In addition to collecting the Best Dressed Man title from US Vogue, in 2018 Sehun made Vogue history on the cover of the magazine's Korean edition. Celebrating the publication's 22nd anniversary, Sehun graced a special issue that turned him into the second male idol to land on the front of Vogue Korea. The results were nothing short of impressive. Sehun's cover became the highest-selling issue in the history of the magazine since its inaugural publication in 1996. Dubbed as one of the  "Faces of Korean pop," Sehun shared the spotlight with the American model Sara Grace Wallerstedt. For the pictorial, both donned coordinated looks from Louis Vuitton's runway. 
Collecting Zegna and Berluti
Keeping his fashion momentum, in 2018, Sehun was also selected as the face of Ermenegildo Zegna's capsule collection, XXX. In a press release, the brand's Artistic Director, Alessandro Sartori, explained Sehun's participation. "To celebrate the most daring expression to date of Ermenegildo Zegna, William Chan, and Sehun, genre-defying stars whose styles challenge conventional rules and codes, will proudly represent the brand's international, multi-tiered campaign," he said. As you can witness below, the collection's unique take on tailoring undoubtedly suited Sehun and his brand of modern elegance.
Sehun demonstrated once again his strong friendship with LVMH — the fashion conglomerate owner of brands like Louis Vuitton, Berluti, and Dior — in 2020. Invited to Berluti's Winter show in Paris, Sehun caused havoc with his arrival at Ópera Garnier. Amid the fan frenzy, the idol was spotted mixing a printed shirt with a leather bomber jacket and snapping pictures with the likes of American rapper Tyga. Ahead of the show, Sehun had visited Berluti's Creative Director, Kris Van Assche's studio.
Sehun, Dior Dearest
After capturing the attention of the fashion industry time after time, Sehun was appointed ambassador of Dior Men in Korea in October 2020. For the big reveal, Sehun posed for Esquire Korea dressed in looks from the brand's Winter 2020 collection. Channeling the aesthetics popularized by iconoclast Judy Blame, Sehun oozed sophistication for his introduction as Dior's celebrity partner. 
Naturally, 2021 saw the superstar turn heads left and right in his role as brand ambassador.  Sehun's rising influence earned him coveted campaigns, fashion editorials, and a super-exclusive Dior wardrobe. However, the fashion adroit singer proved to be more than just a well-dressed celebrity when he graced the digital front row of Dior's menswear shows. Securing a spot in a narrow list of relevant faces in the industry, Sehun was one of the most-watched celebrities during the fashion cycle. In the course of Paris Menswear Fashion Week SS 2022, a single post on Sehun's Instagram generated 1.43 million dollars in Media Impact Value for Dior. It turned him into the second most valuable celebrity placement on social media that week and the most relevant for Dior. An almighty star of all sorts!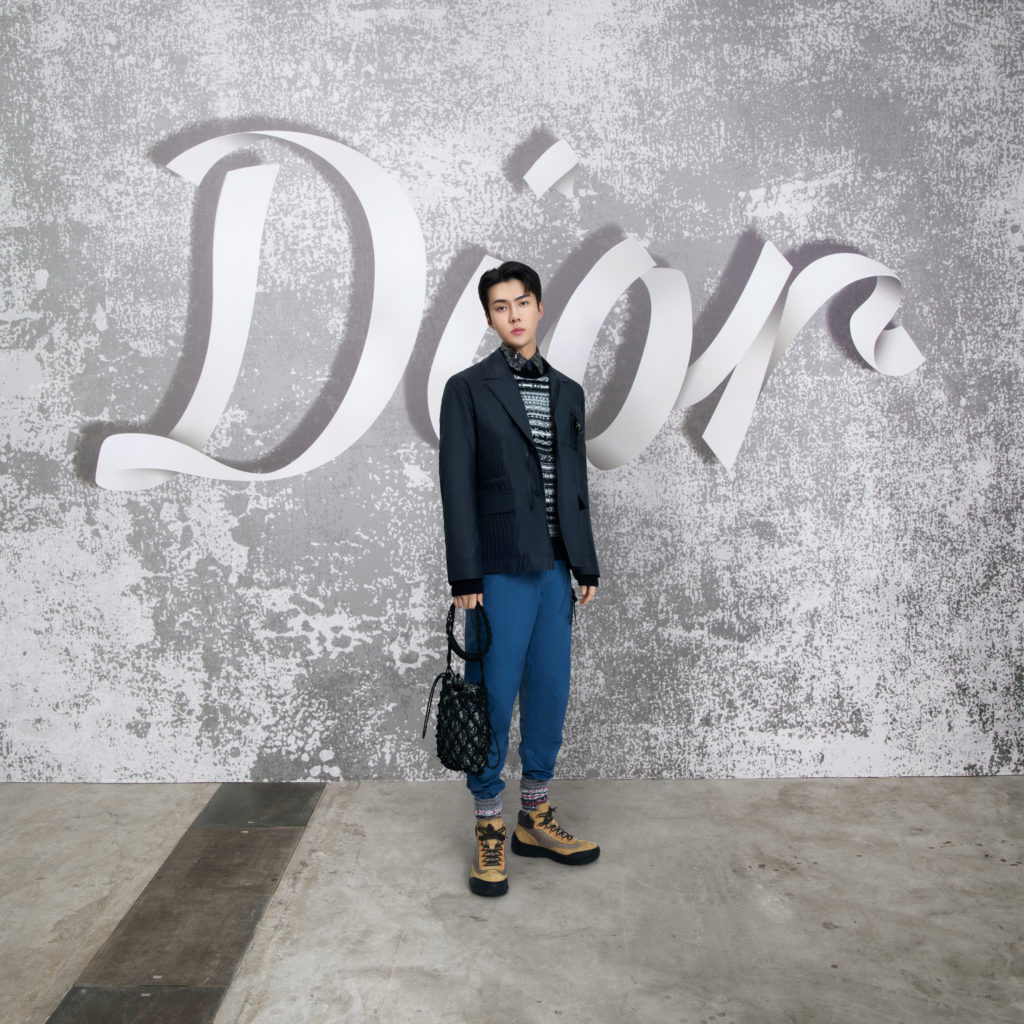 Sehun's fashion prowess is undeniable and definitely not limited to the list above. The EXO member owns a larger portfolio that includes other fashion endeavors and personal feats.  Nevertheless, Sehun is part of a very select group of Korean artists leaving a mark on the international fashion scene. As his partnership with the legacy house of Dior continues, we look forward to more of the star in his role as Global Ambassador. 
Want more? Check out BLACKPINK's JISOO latest visuals for Dior's SS22 campaign here.