EnVi is back with another K-pop small business spotlight! We had the pleasure of speaking with our very own D, who is the owner of DegeCreative. Based on the East coast, DegeCreative is a business that sells handmade resin art, specifically keychains and bookmarks.  A few of the keychains are K-pop-inspired, but D also offers keychains that pair well with a cute bag or set of keys, and the bookmarks come in a range of different colors and feature phases of the moon.
Creating the resin art is a tedious process and requires time and patience to achieve the Finished product. "To create a bookmark or keychain piece, I have to mix a 1:1 ratio of resin and hardener and mix well for about a minute. After, I add either a mica pigment color or foil flakes, then pour carefully into the chosen mold. Resin curing takes at least 24-48 hours for me," explained D. After that, it still takes another day or two to finish up the product before it's ready to go. 
Cute Keychains
Fantasy, K-pop, and colors are the three main inspirations for DegeCreative. "I love K-pop music, and I'm immersed in an online community that really loves it too, so creating pieces that correspond with someone's favorite group or member seemed like a natural step," D said. Keychains are a fun accessory that can enhance a backpack or serve as a cute gift.
The NCT keychain and Yellow & Gold sunflower keychain
D's Recommendations
"White and gold is such a regal color combination; the two colors stand out really great together. I also love the gold vinyl moon phases on them and the gold-painted edges, because it adds an element of fantasy that I love."  D expressed. She was able to bring those elements together to make the White & Gold Moon Phases / Geode bookmarks, which are her personal favorite in the shop.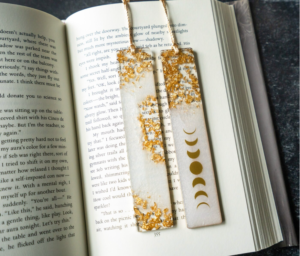 "As for the sea green & silver bookmark, I think this is just a case of a great color combination. I buy my mica pigments online, and I definitely search for all the unusual colors most people don't think of first. So when they see this sort of bookmark, it's really eye-catching. I think this is the same with my yellow & gold sunflower initial keychain. Also, people just really love sunflowers."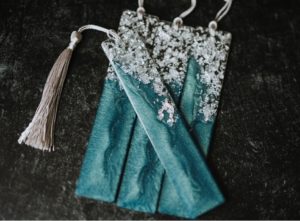 If any of D's products captured your interest, be sure to check out DegeCreative on their Etsy shop!
Interested in more features like this? Check out our previous K-pop small business spotlight here!
Thumbnail courtesy of Nevi.