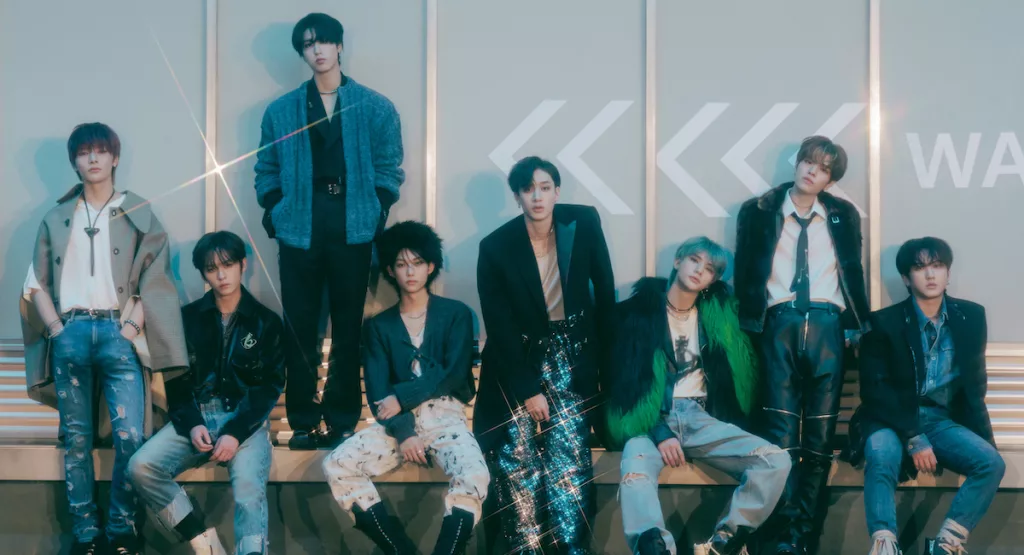 On June 2, JYP Entertainment's self-produced, eight-member boy group, Stray Kids, released their highly anticipated full-length album, ★★★★★ (5-STAR). Their third full-length album contains 12 songs, including title track "S-Class". With ★★★★★ (5-STAR), Stray Kids hit a variety of genres from touching ballads to gritty hip-hop tracks. Their latest project further proves that there is no box that can contain them.
Be The Star That Shines the Brightest
"S-Class" contains an interesting blend of electronic, hip-hop, and cinematic elements. In true Stray Kids fashion, the song is unique and unlike anything they've made in the past. The group shows off their creativity as they sing about how they are proud to be in a class of their own.
The large scale music video flaunts the eclectic style of the track seamlessly, while also showing off Stray Kids' lively concept. Its visuals are reminiscent of a comedic action movie, with cinematic fight scenes in the background of Seungmin singing, Hyunjin staring worriedly into the camera, and Bang Chan speeding away on a winding highway with Lee Know in the passenger seat. The lyrics convey this uplifting concept exactly, as the group proudly sings "The most special star […] / The odd one, that's me." From the catchy chorus to uplifting lyrics to sudden beat switch-ups, "S-Class" has it all and keeps listeners on the edge of their seats. As Han states in his verse, "Be the one to shine instead of chasing after what's shiny." Being special is something to be celebrated and Stray Kids prove there's nothing wrong with standing out.
It's Giving 5-STAR Sound
Bearing the heavy weight of opening the album, "Hall of Fame" does not disappoint in setting the tone of ★★★★★ (5-STAR). With a sci-fi-esque beat, "Hall of Fame" introduces the album to a space-like theme the group referenced in their teasers. The instrumental is ominous and builds up to a powerful chorus that sounds like something out of a superhero movie with lyrics that are proud and rightfully so. Stray Kids call back to various pioneers in history – Steven Hawking, Neil Armstrong, Thomas Edison, to name a few – and talk about how they finally feel like they can compare and are in the "Hall of Fame" themselves. Main dancer and rapper, Felix, proudly growls in the refrain "Shaking the industry, quaking reality, making it iconic," about the success the group has enjoyed.
The third track, "ITEM," is an intense hip-hop track with a beat that's reminiscent of an 8-bit video game soundtrack. This motif is further propelled by the lyrics. "ITEM" is about the use of power-ups in video games and how the group does not need them in order to succeed. The track is a perfect opportunity for Stray Kids to relish their work ethic, making it clear that it was through pure hard work and dedication that they have been able to achieve their dreams. They punctuate the fact that they have not accepted handouts when they proclaim, "Instead of cash, I have ambition and courage, the trinity of truth, sincerity, and humility […] Item dependent? I'm self-dependent."
Created alongside their hit track "God's Menu" approximately 3 years ago, "Super Bowl," is a flashy hip-hop English track. Relating their craft to that of a Michelin-grade dish, Stray Kids talk about how their music is irresistible. With the line, "You feel it in your system, you want it more / Different new flavors / Our dish here's so bussin'," the group reveals that they're capable of making different types of music and – like different food – listeners want more because it's so good.
When it comes to managing fame, Stray Kids have been nothing if not humble. With "TOPLINE (feat. Tiger JK)," however, the group seizes the chance to freely appreciate where their success has gotten them without restriction. "TOPLINE" is a rap-heavy hip-hop track with an explosive instrumental. The track features Korean American rapper and CEO Tiger JK, the group's first official feature on a project. The rapper's playful tone meshes together seamlessly with Stray Kids' rap style. Together, they highlight the fact that they know their worth and will continue to make music. With the final line "I can see the heavens under my feet, we're the topline / Your neck must hurt from only looking up," they make it clear that they know their worth as artists.
Following "TOPLINE" comes "DLC," which stands for "Dance like crazy," an upbeat pop track with EDM elements. In true Stray Kids fashion, the song depicts breaking free from feeling lost without a destination. The group, who are no strangers to opening up about their worries and struggles in their lyrics, uses the track to explore the idea of your favorite activities being a form to relieve concerns and fears. With a fierce voice, they sing. "My worries swallow me up / I better run, better run / Right now, yeah / Like the sun, a brightly burning star / Dance like a crazy."
On its seventh track, the album returns to a rowdy sound with "GET LIT." "GET LIT" is a cross between hip-hop and electronic music with a playful-yet-rough rap and a catchy chorus. Stray Kids sing about partying until the sunrise and enjoying themselves despite complaints from others around them. This reckless exuberant energy is further portrayed by the lyrics as they sing, "Let's stomp our feet, look good, and die trying / The wind that blew last night made me wanna dance."
Love is often beautiful, confusing, and consuming, and Stray Kids tell you all about it in "Collision." In the album's eighth track, the group dives into the intricacies of a relationship, how complex the emotions of regret and loneliness are, and how they want to go back to their lover. "Let's go back to that time and tell me you love me (Young love) / Babе, I beg you, let's go back to the day we loved." Mixing R&B with pop elements, the song is all about reminiscing about their relationship and wishing for it to be what it used to be.
A Journey With Stray Kids
Stray Kids' Bang Chan and Felix have been very open about their journey when moving from Australia to South Korea at a young age. The duo, who were born in Australia, often express that they sometimes feel homesick and miss the usual warmth of the country. With that mindset comes the highlight of the album "FNF," which represents "Flora and Fauna."
Written by Bang Chan and Felix, "FNF" conveys a message about missing Australia's representative nature and feeling, making it seem like they can't touch or grasp the things they've lost. With a bright instrumental that lays over the group's deep and mellow vocals, Stray Kids tell the audience that they still search for the places and moments they miss the most, "Even if I become dust, I really want you back / Fauna and flora nearby me / With an apologetic heart / I chase after you again now."
However, what stands underneath those layers of energetic melody comes the introspective vision of the group. Lyrically one of Stray Kids' most vulnerable records to the date, "FNF" also holds the meaning of understanding that everyone will leave one day, but knowing that someday we will catch up with those we miss the most. The foundation of the record comes with the ending lines saying, "Look at the night sky / Even if I close my eyes / I only see you / Even if it's impossible to run and chase / I'm catching up."
Stray Kids' are well-known for showing their gratitude to their fans, STAY. It does not come as a surprise that "Youtiful," a mashup of "You're beautiful," is meant to thank STAY for all their love and support over the years. In the pop ballad, the group shares that they want their fans to know how beautiful and important they are. With the lines, "I will tell you that you're amazing as you are / 'Cause when you give me a glance / I am sure that I see the universe in your eyes," the members exhibit gratitude to their listeners and wishes for them to always remain happy.
When explaining the message behind the record, Bang Chan confessed that "Youtiful" was made to repay STAY for all the support and words of encouragement, "There are things we hear from STAY all the time, but it felt like we were always only on the receiving side, so I wanted to return the encouragement that we've heard from STAY back to them."
On the Road to ★★★★★ (5-STAR)
Stray Kids' conclude ★★★★★ (5-STAR) with the tracks, "THE SOUND," a hip-hop record that talks about the foundation of Stray Kids' distinct rhythm and well-known heavy melodies, and "Mixtape: Time Out" a pop-rock genre song about getting far away from your hardships and concerns.
Neither song is unfamiliar to STAY. "THE SOUND (Korean Version)" was first released as part of Stray Kids' Japanese discography, and "Mixtape: Time Out" was released as a single in 2022. These two tracks perfectly encapsulated the overall message of the group, emphasizing that music works as a form to let go of the multiple thoughts that trouble your mind.
★★★★★ (5-STAR) continues to prove that Stray Kids are a powerhouse within the fourth generation of K-pop. The album comes as a way to showcase the octet's versatility as musicians, performers, and producers. It solidifies their unique sound and encourages the listeners to move on, so they can look forward to a bright future, and let go.  Just like in "Mixtape: Time Out,"  they want the listeners to know that it's okay to " Let the past be the past / Leave regrets in the past / Only look forward while running."
Interested in more Stray Kids? Check out our recap of their show in LA during their Maniac World  Tour here.