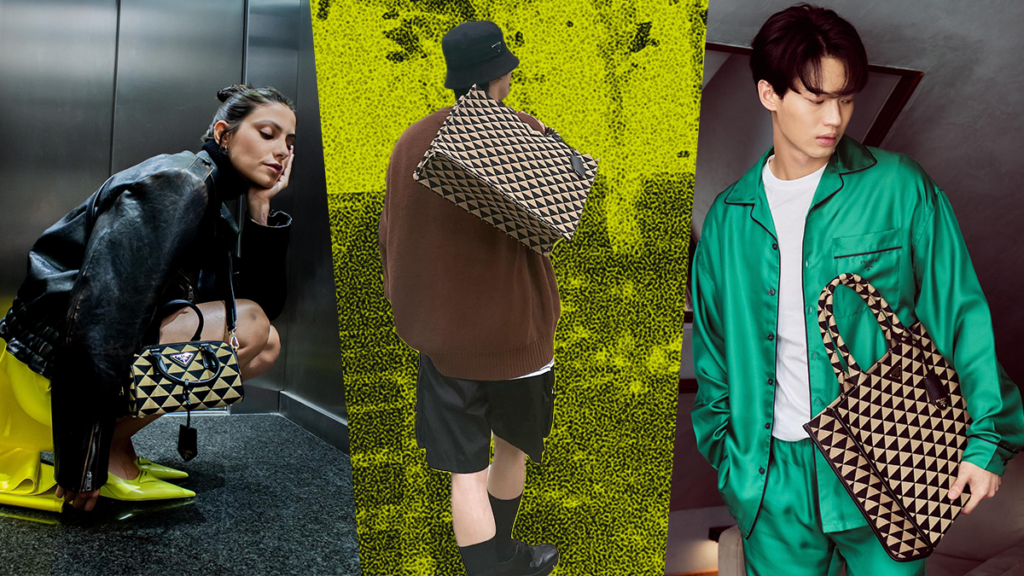 Every other month a new bag becomes a must-have item for celebrities and influencers. Fresh off a campaign drop starring Hunter Schafer, Prada's Symbole has reached It Bag territory. Increasingly popular on our Instagram feeds, the handbag is upgrading everybody's wardrobes, including those of our favorite stars. Discover the luxury bag that NCT's Jaehyun, Win Metawin, and Tiffany Young are already in love with.
Prada's Symbole
Recently introduced through a campaign with actor Hunter Schafer, Symbole is a luxury bag inspired by Prada's Triangle, the quintessential symbol of the Italian fashion brand — thus the name. Echoing the shape, Symbole is a jacquard handbag woven on fabric in a way that emulates a triangle pattern. While the bag retains Prada's craftsmanship and heritage, there's an undeniable modern edge to the bag that has captured the attention of the star crowd. Read on to find out how some of these international names are styling Prada's most coveted bag.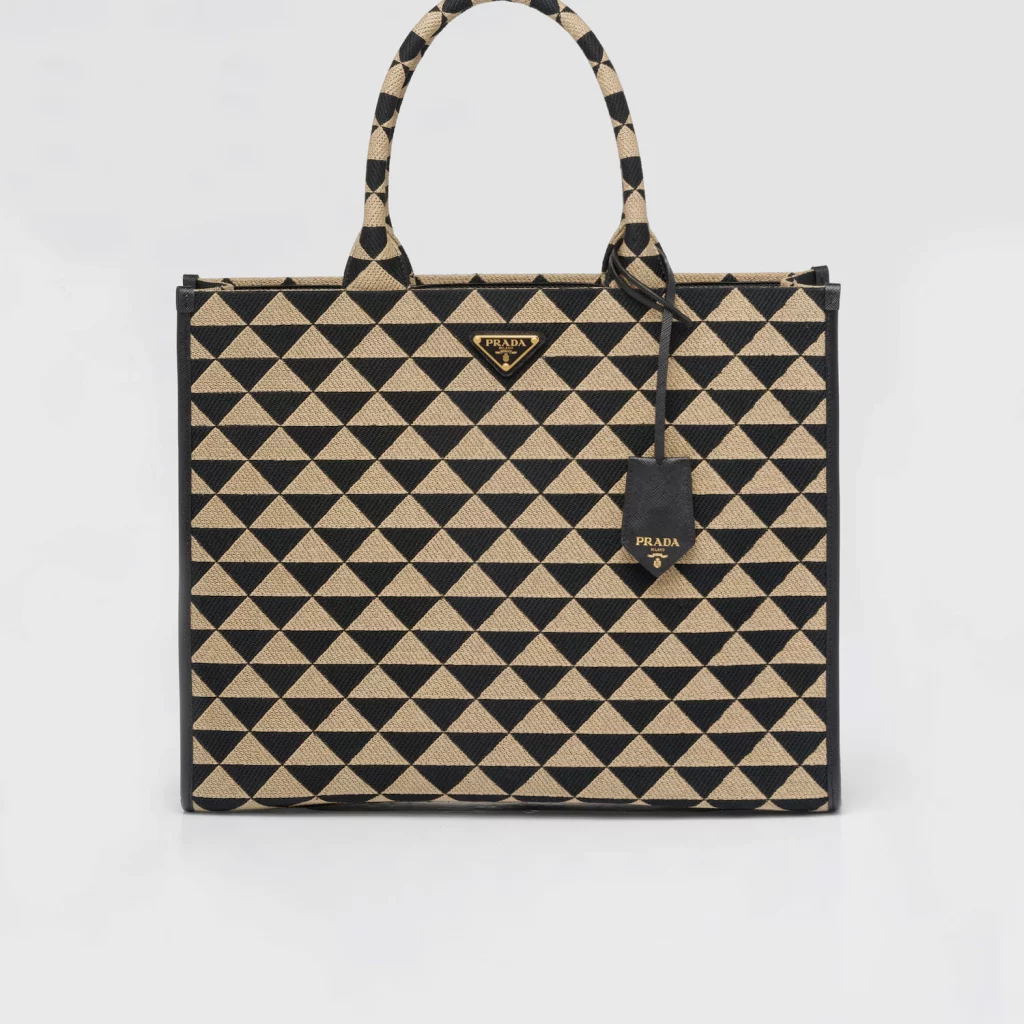 Prada
Large Prada Symbole jacquard fabric handbag
Jeong Jaehyun
As one of Prada's South Korean Darlings, NCT member and actor Jaehyun often has first dibs on the brand's latest items — sometimes even the unreleased ones. Symbole was not any different. Recently, the idol was spotted wearing the jacquard large bag paired up with a boyish full-Prada look. Jaehyun opted for a monochromatic outfit consisting of cargo shorts, a striped T-shirt, and a cashmere cardigan. To finish the casual look, the singer added Oxford shoes and a bucket hat. Honestly, a Prada bulletproof formula.
Win Metawin
Globally renowned actor Win Metawin might have further consolidated his popularity through Thailand's adaptation of Boys Over Flowers (2009), but the superstar's style has never gone unnoticed. In his most recent Instagram post, the Thai icon hopped on the Symbole trend accessorizing an emerald green silk ensemble with the large version of the bag. Blending comfort and elegance, the look appears perfect for the season.
Lena Situations
French influencer and content creator Lena Situations is a certified fashion tastemaker. After moving to Los Angeles, the Youtuber looks ready for the summer in one of her latest Instagram posts. Fully embracing California Cool, Lena paired her Symbole micro bag with a sunny yellow slip dress and black platform sandals.
Tiffany Young
SNSD member and solo act Tiffany Young also confirmed Prada's Symbole It Bag status through an Instagram post. Posing under the sun, the singer chose to style her small Prada Symbole handbag with a red strapless dress and the brand's brushed leather slingback pumps. If their comments under the post are anything to go by, the trendy look counted with the seal of approval of Tiffany's fellow SNSD members.
Bárbara López
Recently, Mexican actress Bàrbara López traveled to London for the opening night of Tiffany & Co.'s anniversary exhibition. But ahead of her trip, the popular star was already flaunting her A-game style. Dressed in a tailed miniskirt from Prada's Spring Summer 2022 collection and a leather jacket, Bárbara sported the Italian brand's bag du jour adding an edgy flair. For a look that was guaranteed to turn heads, the actress also wore lime green slingback shoes.
(G)I-DLE's MIYEON
Girl group member MIYEON took the pink and preppy road to style her Symbole handbag. Not a stranger to flaunting the latest must-have bags on Instagram, the singer donned a pink miniskirt and gray sweater. She accessorized her fit with Prada Triangle earrings and matched her skirt with pink lipstick.
Paola & Pamela Ameyibor
Italian DJs Paola and Pamela Ameyibor, better known as pollyandpamy, are fashion icons in the making. It is no wonder the sister duo made a fashion statement with their matching mini Symbole bags. The influencers took their looks to the next level, wearing contrasting silk ensembles, pumps, and crochet bucket hats. Undoubtedly, good things come in pairs.
Which celebrity wore it best? Let us know on our social media channels, tagging @envimediaco.
Enjoy reading about the latest trends among celebrities? Check out how K-pop and K-drama stars joined the Burberry Lola Bag craze here.