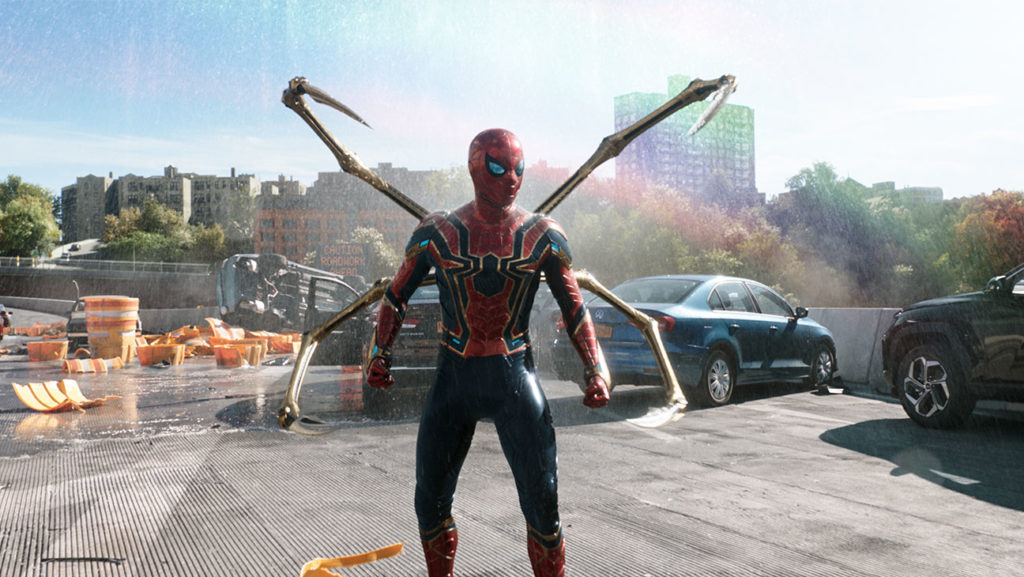 Mark your calendars, people! August 23, 2021, the day Marvel Studios and Sony Pictures dropped the most highly anticipated trailer of the year: Spider-Man: No Way Home. After one helluva cliffhanger in its predecessor, Spider-Man: Far From Home, moviegoers are finally given a glimpse of what lies ahead for our troubled neighborhood web-slinger.
Stranger Things Have Happened…?
In the three-minute trailer, Tom Holland's Peter Parker is now faced with the burden of his secret identity plastered throughout New York. When audiences last saw Spider-Man in Far From Home, his now-deceased enemy, Mysterio, made sure to make Peter's life a nightmare. As he and his friends navigate the sudden chaos, Peter seeks help from a wiser, magical Infinity War companion.
That's right; the frustrated high school student pays a visit to Doctor Strange — played by Benedict Cumberbatch — with a frantic plea for aid. The two heroes previously teamed up to "save half the universe" with the likes of Tony Stark and the Guardians of the Galaxy. While Strange and Stark weren't necessarily fond of each other at the start of Infinity War, they both seem to share an innate fondness for Peter. With Tony's sacrifice leaving a hole in Peter's heart, will Doctor Strange take on the mentor role in his place? By the looks of their relationship in this trailer, it may become a little more complicated than that.
In the midst of Strange's attempt to undo Mysterio's final illusion, Peter panics at the possible consequences, causing Strange to lose concentration before his magic goes haywire. Because this spell was abruptly interrupted, Strange states they have "tampered with the stability of spacetime" and the multiverse.
After a few shots of the mystical mayhem that ensues, the trailer finally confirms the return of several iconic Spider-Man villains: Doc Ock, Electro, and Green Goblin. If you weren't already pumped for the concept of this film, you definitely should be now. At the time of posting, the trailer's already racked up a whopping 18.7 million views in four hours on Twitter.
"Hello Peter" ?#SpiderManNoWayHome pic.twitter.com/NmuvNXGtXP

— Marvel Perfect Shots? (@marvel_shots) August 24, 2021
BREAKING: The #SpiderManNoWayHome trailer showcases the return of members of the formed Sinister Six – Alfred Molina as Doc Ock, Jamie Foxx as Electro and Willem Dafoe as Green Goblin. pic.twitter.com/1lSAOxkPWr

— Spider-Man: No Way Home Updates (@spideyupdated) August 24, 2021
#SpiderManNoWayHomeTrailer really got Green Goblin's Pumpkin Bombs from the Sam Raimi Trilogy ? pic.twitter.com/H3znpnoLtY

— Fandom (@getFANDOM) August 24, 2021
Rumors, Spoilers, Leaks, Oh My!
Both Marvel and Sony have had their work cut out for them with this one. Between the casting rumors, spoiler photos, and a pile of leaks, the production companies have tried exponentially hard to maintain some element of surprise. Well, try as they might, all those plans of secrecy came to a shattering halt one day shy of its release.
On August 22, an online user leaked an unfinished version of the trailer that set the Internet on fire. According to curious fans and media personnel, the leaked footage was so rough, not even the CGI was complete. But, like clockwork, Spider-Man's production teams made the rounds to remove (some) users' posts of the trailer. What started as a PR nightmare for Marvel and Sony studios, soon turned into a fun night of events for fans online.
What really happened last night #SpiderManNoWayHome #SpiderManNoWayHomeTrailer #KevinFeige #TomHolland #Zendaya #Sony #Marvel pic.twitter.com/EYn76BmvXR

— Kirk ? (@KirkDeveyck) August 23, 2021
I wanna get a job at Sony as part of their security team

you literally get paid for doing nothing

— The Marvel Sheriff (@SheriffDontMiss) August 23, 2021
Kevin Feige waking up this morning and seeing the pictures of Tobey and Andrew: pic.twitter.com/lvsb7lYOs6

— Michael Cook (@MichaelCookFilm) August 23, 2021
how that pic of tobey and andrew was taken
pic.twitter.com/gLuJvZrdgp

— Nariman△⃒⃘ (@slytherinus) August 23, 2021
Although it's still unclear whether the trailer was moved up due to the leak, at least the Spidey team can find humor in their slight misfortune.
shout-out to the real ones who are watching the trailer for the first time right now

— Spider-Man: No Way Home (@SpiderManMovie) August 24, 2021
you all better be watching this as many times as you asked for it https://t.co/Kj3mvSQQPP

— Spider-Man: No Way Home (@SpiderManMovie) August 24, 2021
Hold On To Your Web-Shooters
At this point in the game, MCU fans have been spoiled rotten with all the new and exciting ventures on Disney+. Now, after two years of Marvel's last movie theatre outing, the wait is closing in with an already-promising entry into Tom Holland's trilogy. Fingers crossed that No Way Home answers questions and fills in its timeline gaps compared to the Loki series. After all, the multiverse is becoming Marvel's key theme going into Phase Four and is already a world worth exploring. But most importantly, how will the film further solidify Peter's status as a rightful lead for the next team of Avengers?
Until No Way Home opens on December 17, hang tight, hold on to your web-shooters, and let the theories begin.
For more Marvel content, check out our clever recasting of the MCU's Disney+ shows with the members of NCT!
Thumbnail Courtesy of Marvel Studios and Columbia Pictures