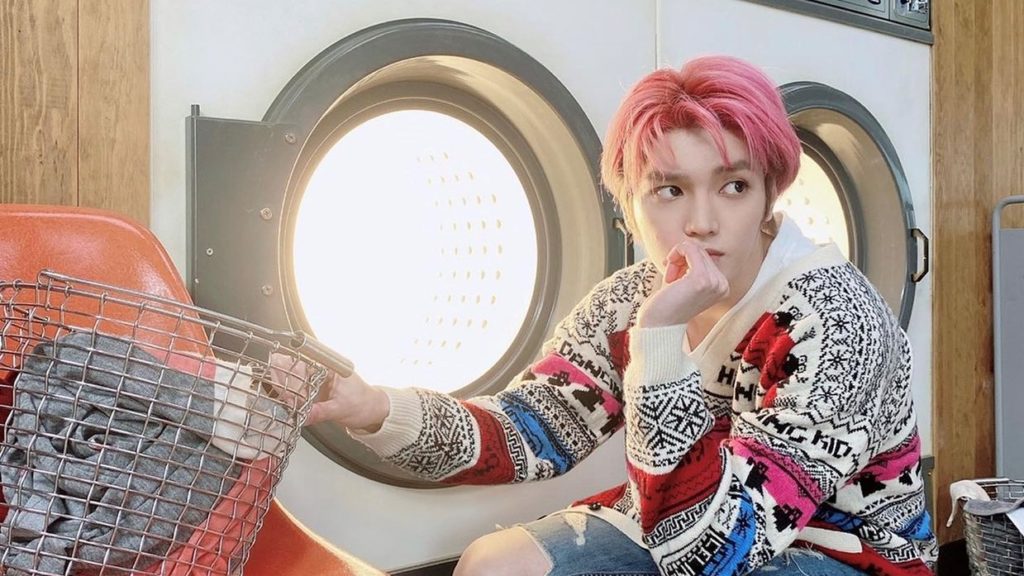 On February 18, 2021, NCT and SuperM member Lee Taeyong made his first post on his long-awaited Instagram profile. In just an hour and 50 minutes, Taeyong had one million followers, which, at the time, broke the record for the world's quickest Instagram account to reach one million followers. Since then, he's continued to gain more followers by the day. 129 posts later, he now garners 8.2 million followers who continue to show their love and support. 
As we toast the first anniversary of Tyongstagram, let us highlight some of our favorite unforgettable moments. 
A Heavenly Start
To embark on the beginning of his Instagram journey, Taeyong shared a video of him freestyling to "White Iverson" by Post Malone as his first post. Seeing as the one-minute-long clip was taken during NCT 127's "Highway to Heaven" music video shooting, he's seen gracing his infamous white blouse and black pants combo—a simple outfit that he managed to make look angelic. The clip has accumulated more than 2.3 million likes and over 3.6 million views, making it his second-most liked post aside from his iconic Halloween photos.
SoundCloud Innovator
Taeyong is no newbie when it comes to making and producing songs. As a way to showcase his passion for music, he opened a SoundCloud profile to release his self-made songs. To commence the start of his SoundCloud adventure, he came out with his first track titled "Dark Clouds," on March 14th, 2021.
This was a cause for celebration for Taeyong's fans, Tyongfs. Fans were anticipating Taeyong releasing his own songs as he often likes to tease some of his works. Between March and June that same year, he came out with eight songs in total and plans on releasing more in the future. 
On top of his obvious musical talent, he also made his own beautiful and appealing teaser images to promote his work for each of his releases. Each track, along with its designated teaser image, illustrates different parts of his artistry and shows off his conspicuous individuality. 
Instagram Reel Enthusiast
Just as he enjoys showing us glimpses of his idol work life, he also likes entertaining fans with random out-of-the-blue content. Along with some videos inspired by trends and behind-the-scenes clips, he likes using Instagram Reel to spoil Tyongfs with childhood videos of himself and clips of him using different filters.  
Love for Choreography 
Taeyong is well known for his astonishing dancing abilities and talent for coming up with remarkable choreography. Since day one, he's seen to it that fans receive plenty of recordings of him dancing. He's collaborated with a few different choreographers such as Bada Lee, Kim Taeyoung, Lee Seoyoung, and Trandee Rock. His expertise is undeniable and we can't get enough of seeing his skills.
Fashionista at Heart
Time and time again, Taeyong has proven to be a fashion trailblazer as he constantly shows us his love for different styles and concepts. Recognized for his creative fashion sense, it's no surprise that the superstar was invited to team up with CELINE for a photoshoot with Elle Korea and even just recently graced the cover of W Korea's latest magazine issue just this year. These two moments were monumental marks in his career as this was his first time becoming both a brand VIP and magazine cover model. 
Taeyong and Friends
Aside from his musical career, Taeyong will occasionally post some fun moments he's shared with friends, whether it'll be on his story or through his feed. It's evident that he cherishes heartfelt moments with his loved ones.
One person outside of his respective group that we've gotten to know well through his Instagram is the talented artist, Novo. He's best known for his unique and distinctive art style, which Taeyong seems to be a big fan of. Just as Taeyong supports his work, Novo frequently shows his support right back which goes to show just how much they mean to each other. 
Instagram Live Sessions
From time to time, Taeyong will go live and talk about what he's been up to, share some music recommendations, and interact as much as he can with his viewers. One thing fans have taken note of is how often he tries his best to speak in different languages in order to connect with everyone. After months of using the feature, he's gotten the hang of how lives work and now even makes sure to save them onto his profile for fans to watch later on. 
What would Taeyong's Instagram be if he didn't share his love for music, fashion, and friendship? The star has created a compelling environment with his well-balanced profile feed and has made sure to stay active, continually updating us with fun and entertaining content. As expected, he consistently thinks of his fans whenever he uploads and always enjoys staying connected with them. We can't wait to see what he decides to post in the future!
Want more Taeyong content? Check out our Taeyong Visits Novo's Newest Art Exhibition article here!