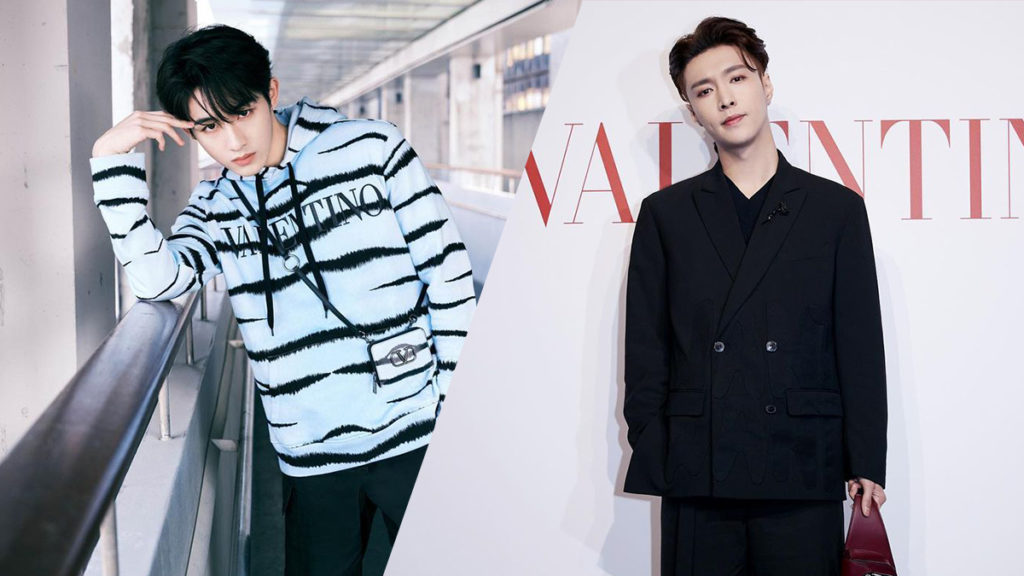 Several fashion brands are celebrating the Lunar New Year with special capsule collections. With the Year of the Tiger just around the corner, campaigns are ramping out and the Italian fashion house, Valentino is not lagging behind. Starring in its latest fashion film are brand spokesperson Lay Zhang, Fashion Darling WinWin, and the actresses Guan Xiaotong, and Jin Jing.
Wonderful Year of the Tiger New Year's Eve
Titled Wonderful Year of the Tiger New Year's Eve, the short film shows Lay, WinWin, Guan Xiaotong, and Jin Jing as they prepare to welcome the New Year. Hinting at Chinese traditions like handing out red envelopes or eating dumplings, the video playfully introduces the word "HU" (tiger in Chinese). It also features some of the most representative looks from Valentino's "Tiger 1967." The Ready-To-Wear capsule is an homage to Valentino's Haute Couture A/W 1967 collection and it reprises the tiger print as it was originally shown by Veruschka on the pages of Vogue US.
Lay x Valentino
It only makes sense that to present such an important collection, Valentino has tapped some of the most in-demand celebrities in China. The list includes the first Chinese Valentino brand ambassador, Lay Zhang, well-known for his fashion prowess and partnerships with luxury brands. Lay, whose association with Valentino dates back to years ago, is not donning Valentino's tiger print for the first time. Back in 2018, the superstar was recognized as one of the best-dressed celebrities at the Valentino Spring 2019 Menswear show. And what was he wearing? Yes, you guessed it right, a tiger patterned coat by Pierpaolo Piccioli's Valentino. As Vogue reported, his appearance at Musée des Arts Décoratifs in Paris had #LayxValentino trending in no time.
WinWin x Valentino
Likewise, WayV's member and up-and-coming actor, WinWin, is reaping the rewards of fashion success in China. Heavily sought-after in the industry, the star has been making a splash at every fashion event. In 2022 alone, the actor has endorsed fashion labels like Bottega Veneta and LOEWE, and became the new face of the luxury watchmaker Longines. Valentino's is not Winwin's first Chinese New Year campaign this year. Only a few days ago, the singer offered a sneak peek of his acting skills starring in a short film for Longines. He later flew to Shanghai to attend the launch of "Tiger 1967."
As Valentino continues to strengthen its brand presence in the Asian market, rest assured that future activities for both Lay and WinWin are in store. In the meantime, you can read about Lay joining the ranks of the Hublot family and catch up with WinWin's recent fashion activities.
Photos courtesy of Valentino