After cementing his title as Prada's It Boy, NCT's Jaehyun is back again with yet another tasteful collaboration with the renowned luxury brand. On January 16, the multifaceted singer posted on Instagram, giving fans a sneak peek of Prada's upcoming Fall/Winter 2022 Menswear collection.
The Post
In his Instagram post, Jaehyun is seen against a white wall sporting an outfit filled with items from the brand's spring collection, which is yet to hit the stores.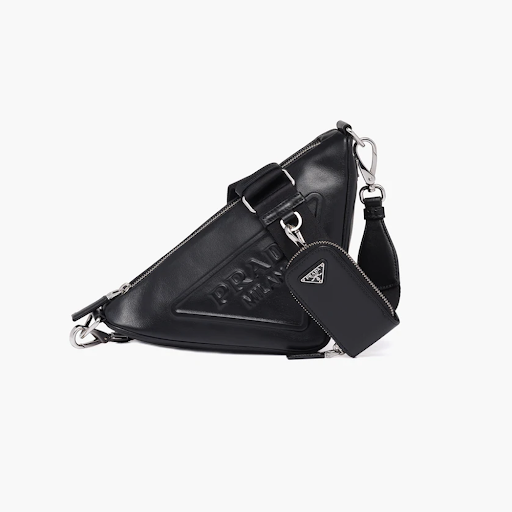 The outfit consists of a blazer, shirt, and pants, all tied together with a black Leather Prada Triangle Shoulder Bag. The featured shoulder bag highlights Prada's iconic logo with a twist and belongs to Prada's newest bag line, known as the "Prada Triangle" bags. 
Prada's SS 2022 Menswear Collection
The collection, presented by co-creative directors Miuccia Prada and Raf Simons, was an amalgamation of bold silhouettes, fur trims, and pops of color. The 49-look collection featured coats with oversized shoulders and cinched-in waists, materialized using multiple textiles like leather and wool. Another key element was the fur trimming on the arms and ends of coats, possibly making it a trend next winter. The casting, however, was one of the biggest highlights of the show. Hollywood actors Kyle MacLachlan, Ashton Sanders, and Louis Patridge among others graced the dark amber runway, walking out of an interstellar-esque tunnel. In an Instagram post, Prada stated that "actors are interpreters of reality, employed to echo truth through their portrayals."
Stars in the Pradaverse
Alongside guests who attended the runway show in person, Prada was joined by a star-studded line-up online. Korean celebrities Lee Jae-wook, Younghoon and Juyeon from The Boyz, Hwang In Youp, Lee Jong-suk, Song Kang, Seventeen's Mingyu, Lee Dong-wook, and NCT's Jaehyun along with many others. Chinese singer and actor Cai Xukun and Thai superstars Bright and Win Metawin were in attendance too.
Lead Role in Vogue Korea x Prada's Fashion Film
In an ongoing online content series produced by Vogue Korea titled "#VoguePictures," the fashion magazine collaborated with Prada in conjunction with the Fall 2022 show to promote the new menswear collection. In the 30-second fashion film, Jaehyun takes on the role of leading man, accepting his invitation to the show, and browsing among clothing racks that feature various selections from the clothing line. Wearing the same outfit from his Instagram post, curated by stylist Kim Sea Jun, the singer models the collection with strong charisma.
Love for Jaehyun and Prada
The Instagram post followed shortly after a Korean fan tweeted that they came across an ad on Instagram from Vogue Korea. The ad promoted what seemed to be a future collaboration between the acclaimed fashion magazine and Prada, with Jaehyun himself as the model. The tweet, accompanied by a screen recording capturing the 15-second ad, went viral on Twitter almost instantaneously. Jaehyun's fans, also known as Valentines, began to speculate that yet another collaboration with Prada was on the way. Almost exactly an hour later after the fan's buzzworthy tweet, Jaehyun dropped his Instagram post, announcing his remote attendance of the Fall/Winter 2022 Prada show. Just like clockwork, an hour later after he posted, Vogue Korea dropped their fashion film featuring the idol. Needless to say, Valentines were utterly surprised and elated by the onset of new fashion content from Jaehyun.
Valentine Boy's Adventures in the Pradasphere
This is not the first time Jaehyun has delighted fans and fashion enthusiasts alike when it comes to setting foot in the Pradasphere. He has previously modeled for a number of their collections in the past, most notably including the brand's Holiday 2021 collection for GQ Korea, and recently, the Adidas for Prada collaboration that dropped earlier this year. The singer has been working closely with the Italian brand since June of 2021, kicking things off with his virtual attendance of the Prada S/S 2022 show that took place during Milan Fashion Week.
As he continues to be one of Prada's up-and-coming muses, the singer proves that he is on his way to becoming one of the hottest celebrity tastemakers in today's fashion culture.
Interested in more of the latest NCT fashion news? Check our coverage on Taeyong's W Korea cover shoot here!