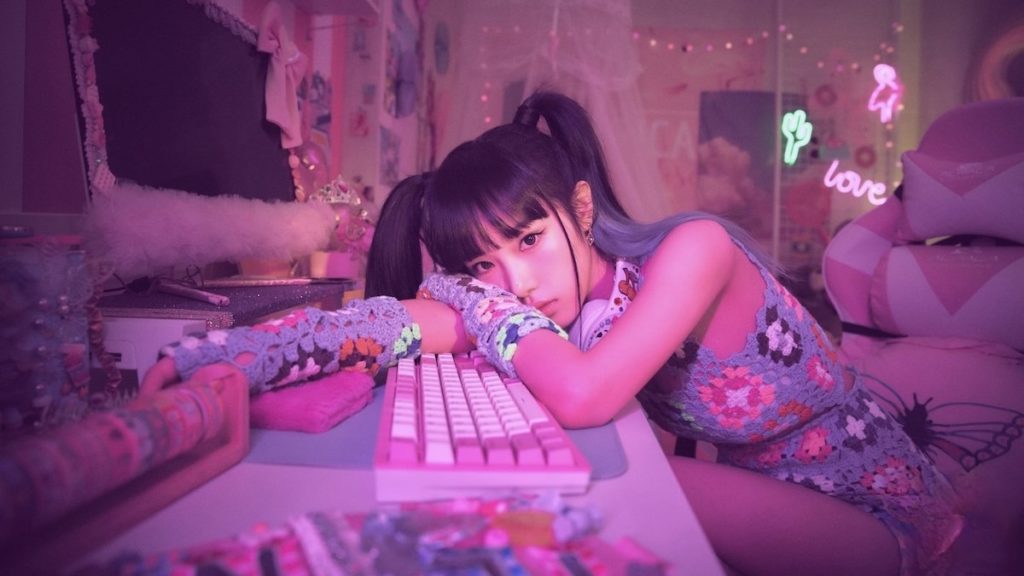 On August 3, YENA made her first comeback with her second mini album, SMARTPHONE, and accompanying single by the same name. Six months after debuting on January 17, 2022, with "SMILEY," the former IZ*ONE member has returned with another bubbly release inspired by 8-bit video games. The singer revealed in a YouTube video that she worked on every part of the comeback process, from lyrics to ideation to choreography, solidifying YENA's standing as one of the 4th generation's all-rounders.
YENA's World
Upbeat title track "SMARTPHONE" turns YENA into a Lisa Frank-video game superhero hybrid. The music video follows YENA, as the main character and heroine, through her journey to rescue her animal friends from the villain, a (very menacing) duck. She journeys across multiple elaborate sets overflowing with colorful props and pieces that combine modern maximalism with the early 2000s. Think: a bedazzled boombox and roller skates in the same set-up as a gaming chair and an LED-illuminated mirror.
YENA's retro- and video game-inspired comeback shines not only through its storyline and sets, but also through its fashion and music. The singer's outfits scream Y2K, from the myriad barrettes and charm necklaces to the extreme platform boots and fingerless gloves. Never one to be predictable, YENA's looks for this comeback also feature a few more mature, charismatic elements. Putting a sporty spin on her throwback outfits, she contrasts a red crop top and bows with sweatshorts and Air Jordan 1s and accessorizes with tennis wristbands. And with shimmering makeup and elaborate hairstyles to top it all off, YENA conveys both a cute and cool image.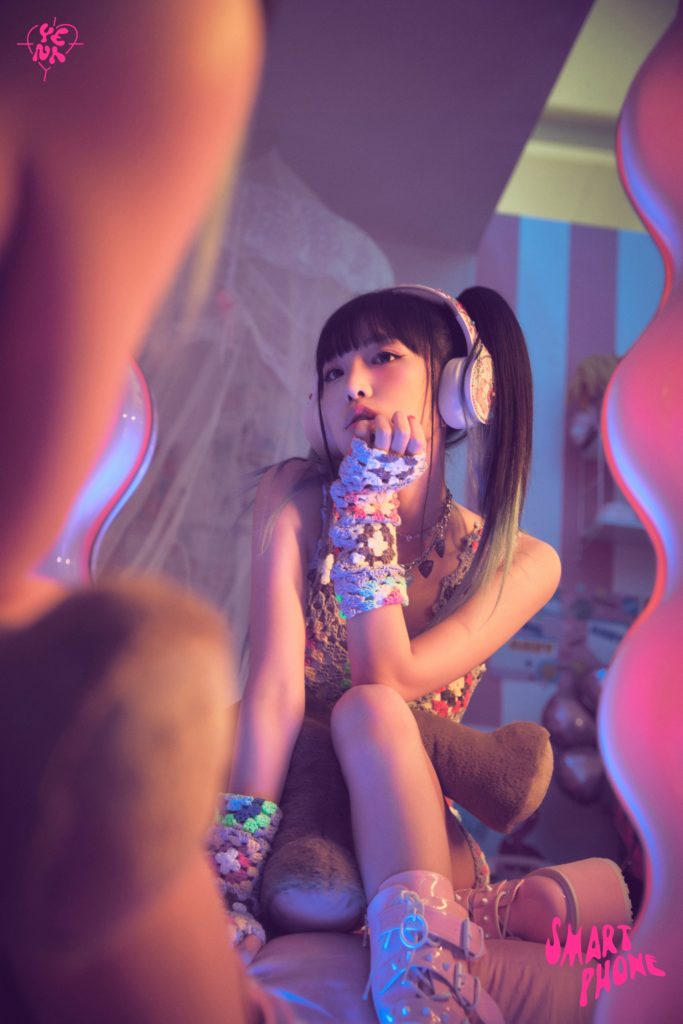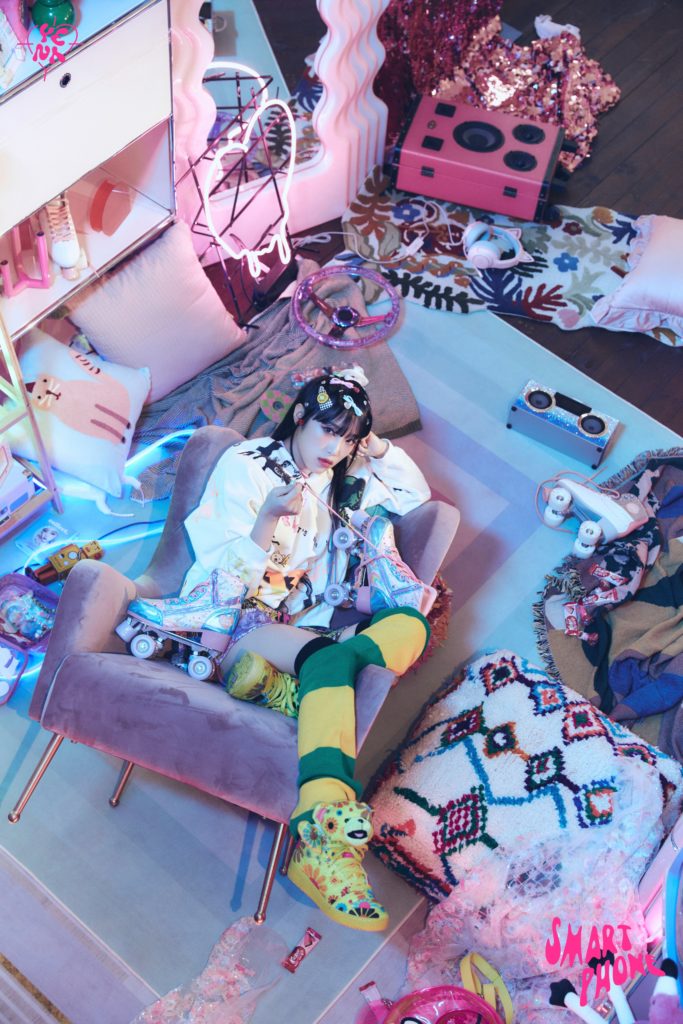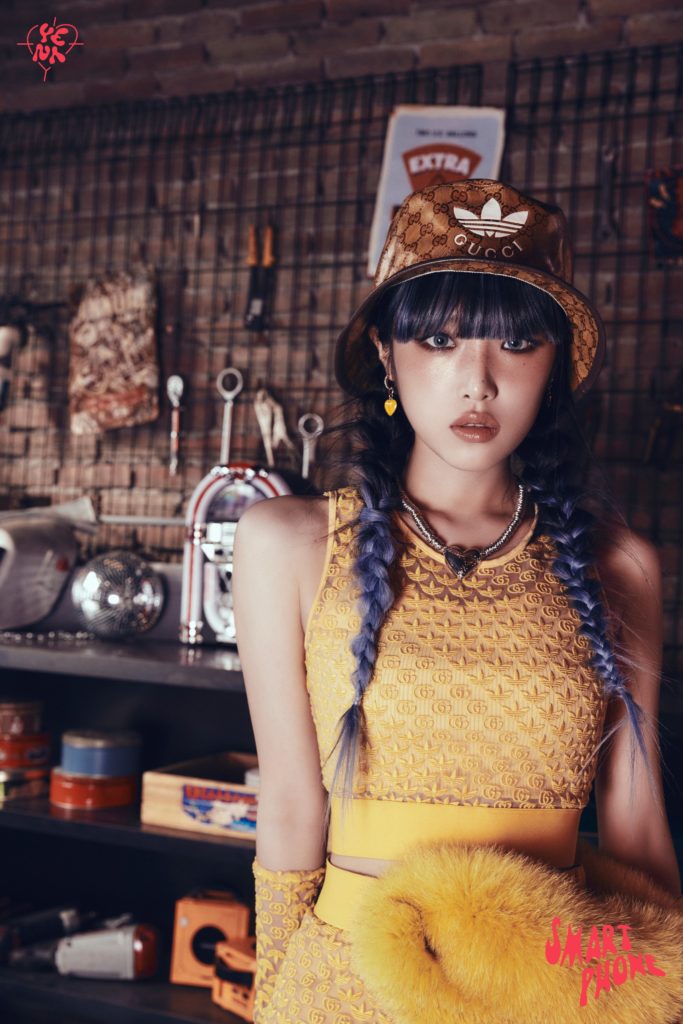 "SMARTPHONE," similar to the singer's debut single, clearly draws on pop-rock and pop-punk influences, perfectly complementing the comeback's visual choices. The instrumental in the verses, which is reminiscent of the 2000s pop-rock sound associated with musicians like Avril Lavigne, reflects the somewhat recent rise of rock's influence on K-pop. In the second verse, the song takes a 2022 turn with YENA's short rap.
The song's lyrics, which YENA participated in writing, convey her wish to live according to her own rules. In the chorus, YENA extends an invitation to connect over the phone with "Push, swipe!/ Randomly/ I'm in my moon/ Wanna hang out with me?," which some fans are relating to.
From YENA, To Jigumi
The B-side tracks on SMARTPHONE showcase a range of emotions and sounds. "Make U Smile," the opening track, has a surprisingly soft and slow instrumental that highlights YENA's voice. The emotional lyrics, which end with "I wanted to thank for everything/ And make you smile," are a thank you note to Jigumi, her fans and supporters.
In stark contrast to "Make U Smile," the rest of SMARTPHONE's tracks are upbeat. "WithOrWithOut," YENA's favorite song on the mini album, shares the same pop-rock influences as "SMARTPHONE." With its layered vocals, the song feels more like an anthem than any other track by the singer. Plus, fans get to see the return of YENA's rapping in the 2nd verse, contrasted against her usually soft voice and occasional falsetto.
"Lemon-aid" is the shortest song on the mini album, but manages to make its mark in just 2 minutes and 40 seconds. It has the feel of a classic K-pop summer love song, with an electronic synth especially noticeable in the chorus drop. Showcasing her vocal color in various ways, YENA easily carries a song that could be performed by a full group.
"U," another love song, captures the feeling of new love. The instrumental of the verses and chorus, which combine K-pop electronic with a few sounds of orchestra, communicate shyness combined with the excitement of liking somebody new. 
YENA's sophomore mini album, SMARTPHONE, is available for streaming on all platforms. You can keep up with all of YENA's upcoming activities and promotions through her social media.
If you enjoyed reading about YENA's comeback, check out our recap of IVE's "I'VE SUMMER FILM" here!