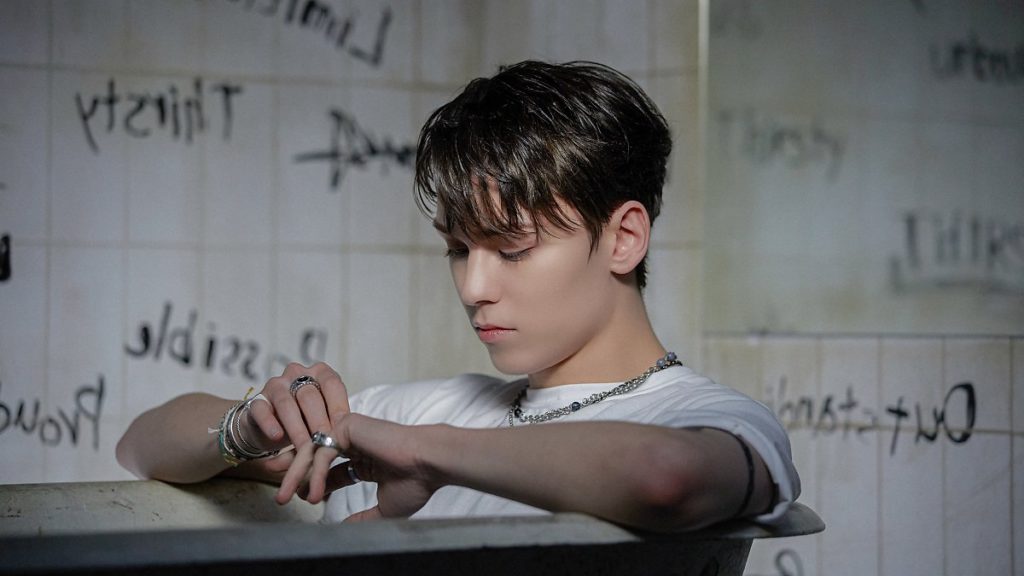 SEVENTEEN have had a busy 2022 with the release of their albums Face the Sun and Sector 17 as well as their concert film. The group has also embarked on a world tour and participated in solo projects—not to mention the countless brand deals and events the members have been spotted at. Despite their busy schedules, whether it's on the way to the airport or on a chill day off, SEVENTEEN always show up in style. Though every member has crafted a unique style, Korean-American rapper Vernon and his emo-punk take on fashion are catching fans' attention.
About Emo Fashion
In the past, one might associate SEVENTEEN's rapper Vernon with his iconic tie-dyes or funky colorful outfits. In recent years, however, his style has taken a 180-degree turn with Vernon's recent outfits embodying emo fashion. With the Y2K craze taking over the industry, 2000s fashion has been making a comeback in recent seasons. In particular, Vernon gives a nod to the thriving alternative and pop-punk, emo scene that was also a prominent subculture in the early aughts. 
Although the term "emo" is usually associated with a type of music, the subculture has definitely played a big part in the 2000s visual history. The name might refer to a genre, but the one-of-a-kind aesthetic that comes from the style of fans and listeners of the genre has also turned the word "emo" into its own distinct style. The fashion surrounding the music genre usually involved tees and shirts with bold graphics, chokers, fingerless gloves, skinny jeans, studded accessories, backpacks, leather, and the color black.
Take a deeper dive into what pop-punk and emo fashion was by looking at style icons of the era such as Hayley Williams, Pete Wentz, and Avril Lavigne (who Vernon is a fan of, even posting on Instagram to celebrate her album's 20th anniversary). The subculture might be at its peak of fame in the late 2000s to the early 2010s. However, stars like Willow Smith and Travis Barker have been reviving the rocker aesthetic these past few years. With his recent looks and outfits, there's no hiding that Vernon is also an active advocate for this style revival.
Monochrome with a Touch of Leather
One example of Vernon's take on an edgier style is an off-duty look that the rapper posted on Instagram as he chills out on the streets of Seoul. Vernon sports a monochromatic black look with a bomber jacket and black leather zip-up sneakers to match. The overall fit was shaped in a classic and simple way to uphold the effortless look that he is known for.
McQueen All Over
In another street-style post, Vernon sports Alexander McQueen head to toe with an illustrated poplin shirt, paired with plain black fitted jeans, a crisp white Sprint Runner, and his go-to black beanie to match! With McQueen recognized for the tough and edgy fashion of their pieces, this probably won't be the last time we see the rapper sporting the brand.
A Simple Yet Sultry Statement
In the midst of SEVENTEEN's world tour, Vernon wore an all-black outfit including a tight black low-scoop-neck shirt. Still keeping it neat and simple, he paired the look with suede derby shoes, big bulky headphones for that extra 2000s touch, and a silver oxide cross pendant necklace from Saint Laurent. By choosing pieces that fit his build perfectly and the right accessories, this seemingly simple look became a fan favorite.
The Classic Biker Look, but Make It Vernon
In another head-turning airport look, the rapper added his own twist to a classic rocker-boy look. Starting off with his small-but-statement silver dice necklace from MM6 Maison Margiela, with a sleek 1017 Alyx 9SM Tricon backpack all the way to his oversized biker-style washed denim jacket, this is definitely a Vernon look for the books!
Alternative subcultures have always embraced the idea of individuality and staying true to yourselves, which are values Vernon heavily believes in. So, it's no shocker that the artist looks towards these communities for inspiration. With his style transformation only starting, we can't wait to see what other looks Vernon will serve in the future!
Want to read more fashion content? Take a look at how AMI is betting big on the South Korean market.