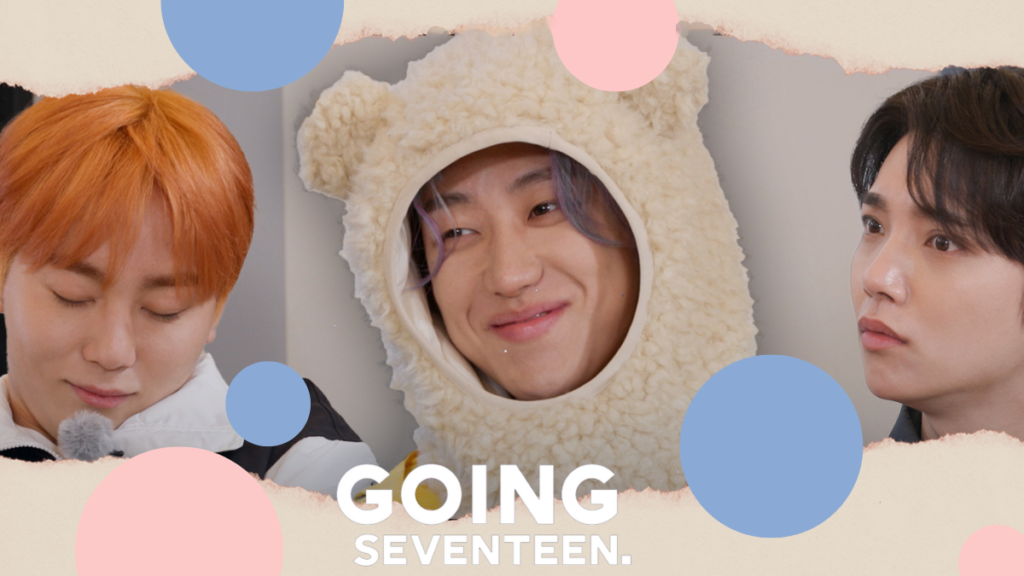 SEVENTEEN and their variety web series GOING SEVENTEEN are heading onward and upwards! Although laughter and chaos are hallmarks of the 13-member group, SEVENTEEN also showcase their self-producing idol side and their unexpected acting chops. In part two of EnVi's guide to GOING SEVENTEEN, we feature 10 more episodes from the popular variety web series that should be on any fan's watchlist.
If you want…to see self-producing SEVENTEEN
It's no secret that SEVENTEEN are "self-producing idols." From penning their debut track to directing their own music videos, the members of SEVENTEEN have always been deeply involved in honing their artistic crafts. While a fair portion of GOING SEVENTEEN shows off the group's limitless creativity, here are some episodes that stand out among the pack.
"GOING SEVENTEEN Logo Song Making"
Ever wonder how the catchy GOING SEVENTEEN song came to be? Well, SEVENTEEN actually documented their process in their sixth GOING SEVENTEEN episode of 2019. Before they created their own track, the opening used to be the hook from The8 and Jun's duet, "My I." A few episodes before the logo song one, Seungkwan pitched making a 20–30 second-long "opening song" to the rest of his teammates. Over the course of the logo song making episode, viewers get to peek into Woozi's studio, as he, DK, Jeonghan, Seungkwan, and Hoshi select a track with beach vibes, ad-lib while listening, and officially pen the lyrics. What GOING SEVENTEEN watchers hear now is the result.
"GOING SEVENTEEN Opening Video Making"
Of course, if we're talking about the logo song, we can't forget to at least mention the original opening video. Nowadays, the GOING team creates new graphics and logos for each episode and season. However, in the first video making, the 13 members spared no (chaotic) idea to usher in their upcoming episodes. Featuring original choreography courtesy of DK, Joshua dancing in a closet while attached to a coat hanger, and Vernon accidentally birthing a beloved Carat meme as he sips milk and coffee from separate cups, every Cubic and Carat need to watch this GOING SEVENTEEN episode.
"GOING" Magazine Shoot (#1, #2)
If you want to see self-producing SEVENTEEN in action, look no further than the GOING Magazine Shoot episode. The group assigned each other different roles to execute the photoshoot, such as Mingyu as the photographer, Woozi as the hair stylist (complete with his spray bottle of water), and BooSeokSoon—Seungkwan, DK, and Hoshi's subunit—providing the tunes. In this episode, veteran and new fans alike can see SEVENTEEN's professionalism and their experience with editorials on full display. The8, for example, jumps right into expressing himself, leaning forward close to the camera and arranging his sunglasses for Mingyu's shots. As an extra cherry on top, created the now sold out [GOING] Magazine with the photos they took.
"Ad Genius SEVENTEEN"
Sometimes GOING SEVENTEEN just puts the 13 members into a room with a vague theme and sits back to watch whatever unfolds. And SEVENTEEN, with their seven plus years of teamwork, always deliver. In "Ad Genius SEVENTEEN," the members take turns advertising a random assortment of products on the fly. Of course, since this is SEVENTEEN we're talking about, creativity and chaos ensue. From making a variety of skits for Shin Ramyeon (to varying degrees of success) to dueling with baguettes, SEVENTEEN show off their teamwork and big ideas. And a highlight that even SEVENTEEN remember? Seungkwan painting gochujang—red chili paste—on Jeonghan's eyebrows, much to the then-red-haired vocalist's disbelief.
If you want…to have your mind blown
If GOING SEVENTEEN wasn't already ambitious enough, the members and their production team take the homegrown variety show one step further with mystery/thriller-themed episodes. Complex storylines, unsettling and convincing acting, and sneaky strategies run through this side of GOING SEVENTEEN. "EGO," "Bad Clue," and "ONE MILLION WON" are three episodes that will never disappoint, despite any rewatches. Get ready to have your mind blown—you'll thank us later.
Surprisingly, creepy SEVENTEEN does exist. On a Wednesday in October of 2021, GOING SEVENTEEN released its newest episode. But instead of the usual variety show games (albeit with more twists and turns), the members of SEVENTEEN wake up in an abandoned medical lab situated in a crumbling building. As GOING SEVENTEEN writes, "Where am I? Who am I?"—SEVENTEEN's memories are gone, but how? And why? Viewers follow each pair as they cautiously find their way in the dark and piece together the clues they stumble upon. Chilling yet intriguing, "EGO" proves SEVENTEEN's sharp instincts, their clever acting skills, and further demonstrates the team bond they have with one another. Just beware of that man calling out for help…
Another mystery-themed episode, "Bad Clue" came out about a year prior to "EGO." However, unlike the latter, it takes less of a toll on the heart (in some ways). Based on the famed board game Clue, the members of SEVENTEEN (Seungkwan was not part of this episode) received a role to play. After the 12 receive an invitation to a "secret party" by the chairman of the fictional company, bSK, a mysterious voice alerts them that they will die in a specific order. However, no one knows who will die when, nor how they will die. In "Bad Clue," it is SEVENTEEN'S job to figure out who the killer is. Per usual, they all commit to the bit, which makes the story and its plot twists even more captivating. If you're in the mood for a classic mystery, grab a cozy blanket, a buddy, and your drink of choice and dive into "Bad Clue."
Carats and Cubics are very familiar with Jeonghan's persuasion skills and clever deception. The GOING SEVENTEEN team then decided to create content around this idea, and thus, "ONE MILLION WON" was born. The whole concept is that all of SEVENTEEN but Jeonghan have one million won in their possession. Each meets with the '95 vocalist for a one-on-one chat, in which he has the time to convince them to hand over their prize money. The 12 will also have a chance to give money to Jeonghan or steal it from him. However, there is a balancing act at play: if SEVENTEEN has under one million one, the 12 have to equally split their share, while Jeonghan gets to keep his full amount. If the 12 members are even one won over one million, Jeonghan keeps all the money. With a theme like this, which involves a lot of brain power, sly trickery, and quiet alliances, it is no wonder classic SEVENTEEN chaos ensues.
If you want…to laugh and enjoy the chaos
SEVENTEEN's usual chaos and humor is amplified in GOING SEVENTEEN, where the members' competitiveness and relentless banter create even more hilarious moments. These episodes, full of pure fun and good-natured mayhem, are perfect for anyone wanting to just have a laugh and enjoy the chaos.
"Debate Night" is a popular recurring segment of GOING SEVENTEEN where the SEVENTEEN members go head-to-head in a variety of humorous, "Would You Rather"-style debates. Hosted and moderated by Wonwoo, each episode features never-before-seen topics like "living with a pigeon versus living as a pigeon," and "water shooting out of your armpits versus fire shooting out of your bottom." From vocalist DK acting as a pet pigeon to maknae Dino suggesting the aforementioned "bottom fire" as a solution for relighting birthday candles, SEVENTEEN give "thinking outside of the box" a whole new meaning. With the group's astounding ability to deliver the weirdest points with the utmost seriousness, the "Debate Night" series is hilariously chaotic and sure to give viewers a good laugh.
As one of the most viewed GOING SEVENTEEN episodes with almost 11 million views, "Best Friends" is a lighthearted, nostalgic episode packed with boisterous fun. This two-part episode features SEVENTEEN reminiscing about their school days and showcasing their wit and athletic ability through a variety of fun games. Of course, it wouldn't be a GOING episode without some friendly rule-bending and mischief. From Vocal Team members Jeonghan and Joshua resorting to sneak attacks and "special skills" to win in table tennis to other members hiding behind umbrellas to avoid being caught in "Red Light, Green Light," SEVENTEEN's usual mischief and effortless synergy make "Best Friends" another chaotic must-watch.
SEVENTEEN bring popular video game "KartRider" (for those who aren't familiar, think "Mario Kart") to life in their "Four Wheeled Rider" episode. Putting their driving—or more appropriately, go-karting—skills to the test, the members compete against each other in a series of races. The races are complete with real-life "boosters" and "items," including a member-powered speed booster and an unlucky "banana" item, where you have to stop and eat a whole banana before continuing. Between Jeonghan cheating his way through an entire race (as usual) and Hoshi's non-stop sulking after not receiving his speed booster, "Four Wheeled Rider" is full of chaotic moments and a perfect episode for anyone wanting a simple yet entertaining watch.
Keep up with SEVENTEEN and new GOING SEVENTEEN episodes through the group's Instagram, Twitter, TikTok, and YouTube!
Want more GOING SEVENTEEN? Check out part one of EnVi's guide here!