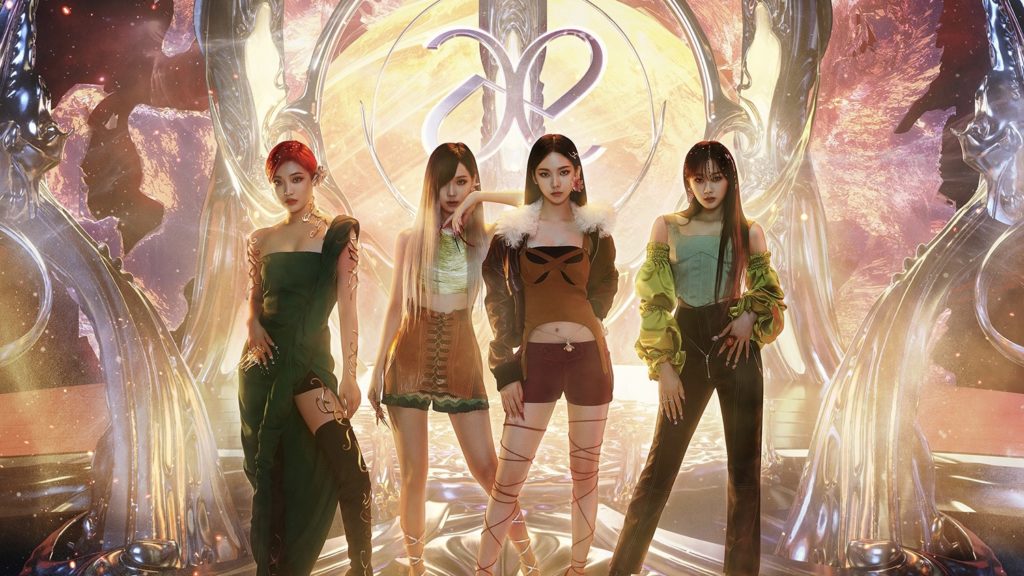 From fighting for good in SM Entertainment's Culture Universe to owning the fashion scene and dominating the Korean music charts, there is nothing ordinary about the "Next Level" girls. æspa—consisting of Karina, Winter, Giselle, and Ningning— have nothing but good news ahead. The four-member group will release their first mini-album Savage on October 5. 
The announcement of æspa's mini-album came after their social media accounts posted a cryptic video on September 14 at 12 AM KST. The word "savage" was written in a pointy, metallic font spinning over a blue digital landscape.
aespa 에스파 〖Savage〗#aespa #æspa #에스파#Savage pic.twitter.com/jOiLvQsvB1

— aespa (@aespa_official) September 13, 2021
Savage Album Details
More details came later in the day as articles were released. According to reports, Savage will have a total of six songs. There will be three different versions of the album: photobook, digital pack, and jewel case.
The pre-order period for Savage started on September 14.
aespa to release their first mini album 'Savage' on 10/5!
To bring another mega hit after 'Next Level'! Pre-orders to be available from today!https://t.co/jMIK9NwhlU#aespa #æspa #에스파#Savage

— aespa (@aespa_official) September 14, 2021
æspa's "Next Level" Success
Over the course of the past few months, æspa have truly made a name for themselves. Their debut single "Black Mamba" was received well, earning them their first win and over 100 million views on YouTube in 51 days. Since its release, it has surpassed 175 million views. Their next release was a cover of the legendary vocalist Yoo Youngjin's ballad, "Forever." æspa was able to boast their vocals in the song and reveal a more soft side of themselves unseen in their previous track.
Their latest single, "Next Level," elevated æspa's level of fame. It surpassed 100 million YouTube views in 32 days and currently has over 150 million views. After four months, æspa has maintained a spot on the Top 5 on MelOn, and Top 20 on Genie, FLO, and Bugs. The song ranked on international charts as well, including Billboard's Global 200 Chart and the World iTunes Chart. Not only did it rank on charts, but "Next level" became a TikTok trend and meme on social media with the "nævis calling" line of the song.
To commemorate the song's success, SM Entertainment also dropped two remixes of æapa's smash hit by IMLAY and Habstrakt. 
With three songs, æspa has accumulated a total of 3 million monthly Spotify listeners. It is clear that their music is highly anticipated by listeners both internationally and domestically. 
What is the "Next Level" for æspa? 
There is still a lot of mystery surrounding the contents of æspa's album, but there are some clues. æspa signed with global agency, Creative Artists Agency, recently and have been featured in a number of collaborations with CLIO, Kakao Games, and Givenchy. Their next action as a group will certainly exceed expectations due to the group's multifaceted skill sets as singers, actors, models, and social media icons. 
With Savage on the way, MY, æspa's fans, can anticipate more content exploring the unique talents these "global rookies" possess.
Want more æspa news? Check out our article on æspa's latest beauty conquest with CLIO here.
Thumbnail courtesy of SM Ent.