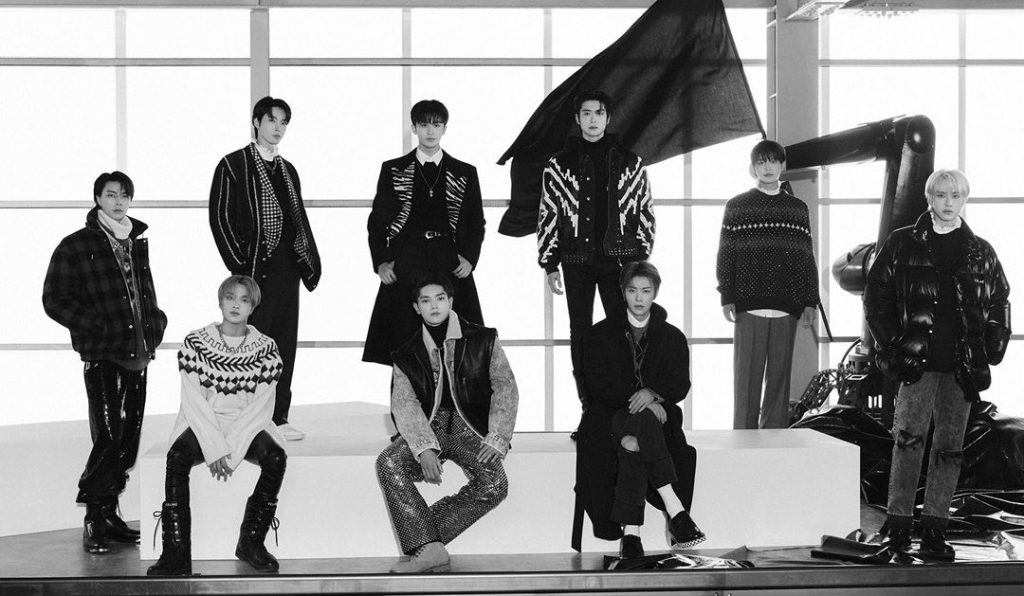 Over the course of 2021, the members of NCT 127 have proved to be K-pop's new "IT-Boys." Whether they're taking over Fashion Week, invited to exclusive events, or confidently posing for the covers of magazines, their increasing notoriety in the high-fashion spheres can't be overlooked. Fast becoming some of K-pop's favorite celebrities among luxury brands, NCT 127 has now teamed up with W Korea for a special project.
View this post on Instagram
The Nine Knights
On September 9, W Korea offered a first sneak peek of its project with NCT 127 and CELINE. Titled "Nine Knights," in reference to the brand's Menswear F/W 2021 collection, the short video clip showed the members of the group delivering effortless gallantry. Donning a wide array of items from "Teen Knight Poem," presented back in February, NCT 127 hinted at a new chapter of their sartorial evolution.
In addition to the mysterious teaser, W Korea also posted the link to a countdown on their social media accounts. After building up fan anticipation, the magazine spoiled fans with individual pictures of Taeil, Johnny, Yuta, Taeyong, Doyoung, Jaehyun Jungwoo, Mark and Haechan. Dressed to the nines, the nine-membered act stunned fans with the exclusive photoshoot.
View this post on Instagram
View this post on Instagram
View this post on Instagram
View this post on Instagram
View this post on Instagram
View this post on Instagram
View this post on Instagram
View this post on Instagram
View this post on Instagram
Mirroring the cinematic aesthetics of "Teen Knight Poem," W Korea also captured the spirit of CELINE's collection through a concept video. With allusions to the fashion show—like a black flag and horses—NCT 127 stepped into the roles of modern-day knights.
Teen Knight Poem
Originally filmed in Château de Chambord in France, CELINE's "Teen Knight Poem," toyed with the juxtaposition of classy and edgy. Mixing design elements from the Romanticism movement and Hedi Slimane's overarching theme of rockstars and rebellion, the collection earned positive critique from fashion insiders.
An ode to youth, the collection revolves around the idea of reinvention and "living again, in the sense of coming to life, being reborn." Through frilled collars, leather jackets, and metal-studded vests, Hedi Slimane paid homage to medieval knights, fantasy, and renaissance. Accentuated with sequins, heavy embroideries, and knits, "Teen Knight Poem" is brilliant in its outwardly "simplicity" and effortless coolness.
Known for their youthful, but strong image, it only makes sense NCT 127 was chosen to present CELINE on W Korea.
Fans Are Loving It
NCT 127's fandom has closely followed the blooming relationship between the members of the group and the fashion industry. As expected, this new collaboration has fans flooding Twitter sharing their thoughts on the group's quest to fashion world domination.
DOYOUNG X CELINE X WKOREA
Prince… 🤴🤴🥰🥰#DOYOUNG #도영 @NCTsmtown @NCTsmtown_127 pic.twitter.com/Z6vxlw64nU

— 비 Vie | STICKER The 3rd Album NCT 127 (@mydoyvie) September 10, 2021
Come look at prince taeil pic.twitter.com/fM1YEbiGLx

— ً (@soloisttaeil) September 9, 2021
There were similar elements to Celine's initial concept but the robot arm that they added for NCT 127's fashion film really gave it a small touch of neo culture technology's identity. pic.twitter.com/6XWdANVxfH

— 힐러 우재 (@SEASONBLUES) September 10, 2021
Celine made a right choice with NCT 127. Those guys are literally one of the most influential artists right now plus they're hot, handsome and model material af🎉🎉🎉 They scream expensive just like Celine brand soooo…..

— @(🧚‍♀️aespa🧚‍♀️)🤝(🌸 BINI🌸) (@lushellev) September 9, 2021
As a fashion enthusiast, I absolutely love all the styling done with the NCT127 x CELINE Nine Knights shoot, but Taeil and Mark's were my favourite 🖤 pic.twitter.com/zC6jAXRkTJ

— Chloé 🥀 NCT127/STICKER (@stangyupsal) September 10, 2021
I love celine and their 9 knights concepts like literally the styling is on whole new level god damn😭😭🔥 pic.twitter.com/yVP79TLp6A

— selene || REST FOR AWHILE (@hisvaalentine) September 10, 2021
Coming Up
NCT 127 is no stranger to the glitz and glamour of fashion. With established links with brands like Dior, Prada, and Tom Ford, the K-pop act only keeps expanding its sartorial horizons. As the 127 Squad gears up toward one of the most expected comebacks of the month, there is no denying fans have a lot to look forward to.
Interested in more fashion coverage? You can read more about CELINE's rebrand and current visibility among K-pop stars, here.
Thumbnail courtesy of W Korea on YouTube