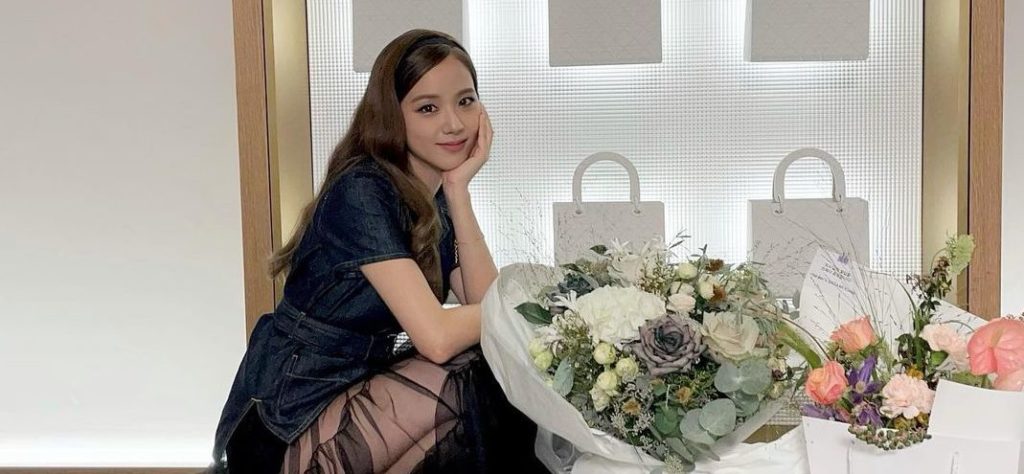 BLACKPINK's Jisoo attended Dior's Spring/Summer 2022 show at Paris Fashion Week as a global ambassador to the French label. On September 28, the singer sat front row, wearing a look from the Dior 2022 cruise collection. This is just the latest of Jisoo's work with Dior. 
JISOO, Dior global ambassador for fashion and beauty, took her front-row seat at today's showing of the #DiorSS22 collection https://t.co/EGs3WQVpoM by Maria Grazia Chiuri in a #DiorCruise 2022 look with an embroidered portrayal of the Grecian goddess Athena.
© Paul Won Jeong pic.twitter.com/g91agRMk1q

— Dior (@Dior) September 28, 2021
Jisoo x Dior
In March 2021, Jisoo was officially named global ambassador for Dior. Since then, she has devotedly worn the brand in magazines and on social media. The idol also attended the Dior Spring/Summer 2022 resort show remotely, due to the pandemic. As a result, this season marks her first official in-person appearance as an ambassador. As fans waited in anticipation for news on Jisoo's attendance, Dior confirmed that the idol would be at the show. Likewise, Jisoo shared photos of her invitation and gifts from the brand on her Instagram.
Dior Spring/Summer 2022 
Held at Jardin des Tuileries, the show featured the brand's latest line designed by Creative Director Maria Grazia Chiuri. Inspired by Marc Bohan, a previous Dior designer, the collection was reminiscent of the 60s. Major themes included oversized fits, bold colors, and embroidery, like the piece worn by Jisoo.
In addition, the audience was packed with major celebrities alongside the idol. Actresses Jurnee Smollett, Rachel Zegler, Zoey Deutch, and Christian Serratos were all in attendance. Each wore different looks from Dior's collections. 
Fan Reactions
Devoted Jisoo and BLACKPINK fans, Blinks, took to Twitter to express their excitement for the star. From the moment Jisoo was spotted at Incheon Airport until the show ended, they shared their joy online. 
210925 #JISOO arrived at Incheon International Airport ✈️ to Paris, France! 🤍

JISOO AIRPORT GODDESS#JISOO @BLACKPINK pic.twitter.com/8noochKxCY

— FOREVER KIM JISOO (@ForeverKimJisoo) September 25, 2021
center of attraction

JISOO AT DIOR SHOW#JISOO_DiorParisFW pic.twitter.com/7T5BoLFYRD

— hourly jisoo 🦋 (@jichuhourly) September 28, 2021
TOP TIER VISUAL FROM SK TO PARIS JISOO SHINES BRIGHTER THAN THE EIFFEL TOWER AT NIGHT 👸🏻#JISOO_DiorParisFW pic.twitter.com/9XydfgpLxk

— 🐢🐰 (@SooyasSystem) September 28, 2021
im crying pic.twitter.com/xQXAtXvaHg

— jisoo pics (@archivejisoo) September 28, 2021
Jisoo at Paris Fashion Week! She is the main event 😍 @blackpink pic.twitter.com/la5SZjp72m

— ᴄʏᴀɴ (@cyanblink) September 28, 2021
Fashion Forward
As Jisoo continues to make waves in the music, television, and fashion industries, her name carries influence. With the power to create trends and attract large audiences, she has become a key player in fashion. As her career grows with time, it is likely that her presence in the fashion world will as well. 
Looking for more K-pop idols at Fashion Week? Check out Burberry's celebrity line-up here!
Thumbnail courtesy of @sooyaaa__ on Instagram.