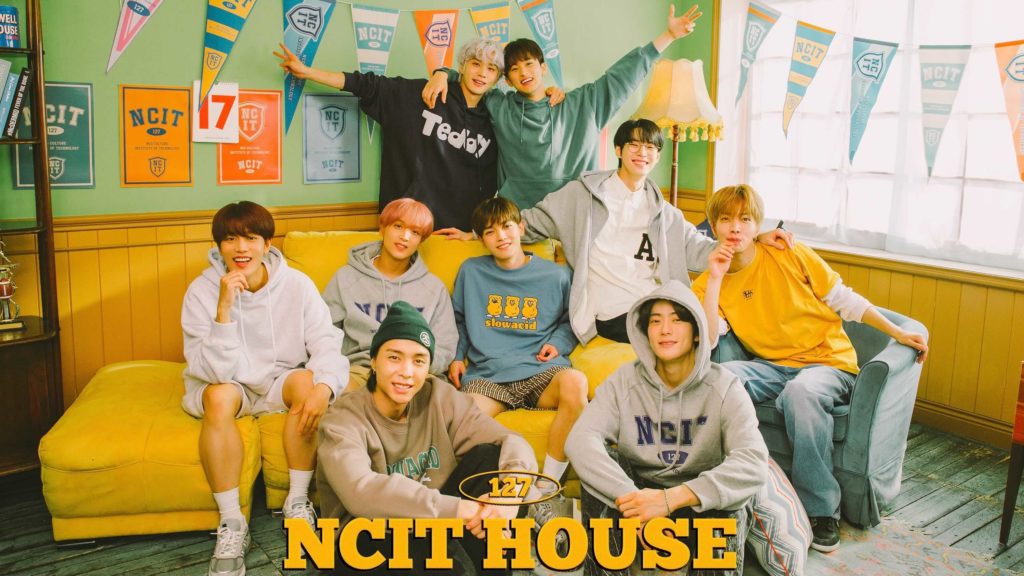 On September 1, NCT 127 surprised fans with a 90s-style sitcom, NCIT House, shot at Dinga Cake House in Seoul, South Korea. Starring Mark, Johnny, Jaehyun, Haechan, Taeil, Jungwoo, Doyoung, Yuta, and Taeyong, NCIT House expands on the lore introduced during the NCIT pre-promotional content in August. This video—a spoof of the hit American sitcom Full House—explores the comical antics within the walls of NCT 127's sharehouse. The YouTube show is in both English and Korean and includes subtitles in multiple languages.
NCIT HOUSE ??
Our sharehouse with full of joy and love

Are you on your way? 🙂#NCT127 #NCT#NCIT_HOUSE #NCIT#Sticker #NCT127_Sticker pic.twitter.com/R5OI2cu1kt

— NCT 127 (@NCTsmtown_127) September 1, 2021
A True Sitcom
Like any sitcom, NCIT House follows various storylines with each of the members. Johnny and Jaehyun suspect Mark of being Spider-Man. Meanwhile Taeyong and Doyoung test Yuta's psychic abilities and tarot readings. The final storyline follows Haechan, Jungwoo and Taeil as they work on a group project. 
This video mimics the television experience to a tee, making use of laugh tracks, clap sounds, fun jingles, and camera angles. No show is complete without commercials, and NCIT House is no exception. The first ad, inspired by old album commercials, promotes NCT 127's upcoming STICKER album. The following commercial features the Green Derma Mild Cica Serum by Nature Republic, one of NCT 127's partners.
the NCIT House sitcom has a legit commercial for the Sticker album this is so clever actually pic.twitter.com/b6z3D4lqxO

— Niny (@LTYKAI) September 1, 2021
Spoilers for STICKER
In a similar fashion to NCT DREAM's "맛(Hot Sauce)" spoilers in "Cafe 7 DREAM," NCT 127 did not shy away from teasing for their upcoming album. Some of the conversations and actions referenced songs from STICKER. 
Taeyong and Doyoung start their segment eating breakfast, a reference to their "Breakfast" track. They also reveal potential lines for "STICKER." When Yuta reads their future, Doyoung asks Yuta, "You know how Taeyong would never leave me alone, right? He's always with me like a sticker, sticker? How long will he do that?" Both Doyoung and Taeyong also make vague hand motions that resemble choreography. To this, Yuta responds, "he'll do that for the rest of his life. The hero of my work is you." While it is uncertain if these words are lyrics from "STICKER" or multiple songs, it is a nice tease for what is to come in the album.
first of all taeyong is sticker second they are really going to nursing home together its not even a joke ☹ https://t.co/7zLCng05Fe

— lis ? sticker ?️ (@tyongholic) September 1, 2021
Another possible lyric is Jaehyun's "baby, it's cold outside." He says this to Mark during their interrogation of him. While there is no guarantee, it is possible a lyric for "The Rainy Night" or "Road Trip." 
NCT 127 end the skit with their new ballad "Promise You" over their closing credits. The retro ballad is a bittersweet song about the desire to meet again.
Over the Top Product Placements
Aside from the over-the-top display of Nature Republic's serum, NCT 127 also shows off other products and brands they have. Earlier this year, NCT 127 teamed up with SLOW ACID to create a clothing line, which some members wear throughout the show. 
While some members adorn SLOW ACID, others wear NCIT merchandise. For example, Jaehyun and Haechan wear matching NCIT hoodies. NCIT flags and posters decorate the walls, and Johnny's luggage also has a generous amount of merchandise. Although no official merchandise exists yet , it is possible that these are products to come, as NCT DREAM's "Cafe 7 DREAM" had a merch drop.
is this a hint for NCIT merch… ?? pic.twitter.com/cNgYStrZ7J

— ashley ? (@jaehyunzmilkGOs) September 1, 2021
Fandom References
Not only does NCIT House tease NCT 127's upcoming STICKER album, but it also references fandom jokes and other viral facts among NCTzens. For example, the "sharehouse" references the frat house meme by NCTzens, as many have joked that the NCT 127 dorms seem like a frat house. Even the member's characters reveal some of their exaggerated qualities.
i can't believe they grouped the NCT frat line together, they will literally be the death of me? pic.twitter.com/sCGXYqdi8R

— Chloé•SOMO: FUME ? (@stangyupsal) September 1, 2021
Yuta's infamous lies have become a practice of "pseudo-science," and Taeyong's love for sweet potatoes resulted in a fight with Doyoung in the episode. On a similar note, Taeil's exercise is seen throughout the video as he lifts water bottles and practices yoga. Haechan Cam, with a rating of 37.5%, has become the amount of energy drink cans he consumed overnight to complete his project. 
Spider-Mark—a fandom favorite and fancast of Spider-Man—has made a debut on NCT's channel. Johnny and Jaehyun accused Mark of being Spider-Man because of his superhuman reflexes and large butt—both common topics in NCity.
SOMEBODY GIVE JOHNNY AN ACTING CAREER ALREADY #NCT127 #NCT#NCIT_HOUSE #NCIT#Sticker #NCT127_Sticker pic.twitter.com/V5b2XiLzfl

— kyla ? (@BAEKTHINGS) September 1, 2021
Johnny's love for coffee appears as he names the person Mark beat up "Maxwell Oregano," a play on coffee brand Maxwell House's Original Roast. Then, as Mark tries to prove his innocence and refute the Spider-Man allegations, he spontaneously does a barrel turn. The jazz move is a call back to NCT DREAM's "We Young" choreography and NCT 2018's "Black On Black."
Last but certainly not least is NCTzen. While this character doesn't appear, they are certainly controversial, as they have been playing with the hearts of both Taeyong and Yuta. NCTzen's lack of loyalty references the nature of fans' inability to stick to their favorite members. Even so, NCTzen is popular amongst NCT 127. In the end, NCT 127 unite, preparing a green cake for NCTzen, asking fans to "Stick Close To Us."
okay, another nct cake ? pic.twitter.com/T5jZFYQdnM

— farah (@haetjhannie) September 1, 2021
References to the SMCU
While there are few explicit references to the SM Culture Universe, the show still reveals new lore. During Yuta's tarot reading, he says he is collecting energy from "KOSMO." In æspa's "Next Level," the girls refer to KOSMO as the destination after beating the Black Mamba in the KWANGYA. KOSMO appears to be a place that is not easily accessible to just anyone. While Yuta's words are a silly phrase used during his psychic readings and don't provide actual plot points, it still informs the audience that this is part of the greater SMCU plotline. Yuta's phrase makes KOSMO appear mystical with unparalleled energy.
HELLOOOO???????? https://t.co/p3Q0heGOFq pic.twitter.com/ipLo1Zhftw

— ⛓? (@nytamore) September 1, 2021
Another easter egg is Haechan's reference to the dual world concept during his preparation for his group project. While his teammates brush off the topic because of Jungwoo's silly graphics and the typical university group project drama, it is a crucial point to note. A recurring theme in SM videos has been the idea of two worlds, dating back to EXO's debut track "MAMA" in 2011, and more recently in aespa's "Black Mamba" and "Next Level." In Kangta's most recent "Free To Fly" video, aespa's Winter and NCT's Sungchan are brought together after a glitch in the real world. They unite in this nameless digital space that looks a lot like the infamous KWANGYA. 
Perhaps this subtle reference to the possibility of fusing two worlds together is a plot point for NCT 127's role in the SMCU. As students at the Neo Culture Institute of Technology, 127 are all computer geniuses, as shown in the "Who is STICKER?" video. Students by day and rule-breakers by night, NCT 127's role is ambiguous. Are they looking for ways to merge the real world with some digital space, or perhaps even the KWANGYA? We may find out soon. 
On a more comical note, KWANGYA is listed as the location where people can purchase STICKER during the "commercial" break.
What's Next?
While the NCIT House is only a short YouTube series, NCT 127 will certainly return with more fun content. NCT 127's third full-album comes out on September 17 and there are a variety of teasers and track videos to come. 
Even if NCIT closes, NCTzens can look forward to more than just NCT 127's new album. NCT 127 has two shows coming up: NCT Life in Gapyeong and Analog Trip 2. NCTzens are sure to stick with NCT 127 through all of the upcoming content, just as they have over the past five years.
For more neo news, check out our coverage of NCT 127's "STICKY" teasers here.
Thumbnail courtesy of SM Entertainment.