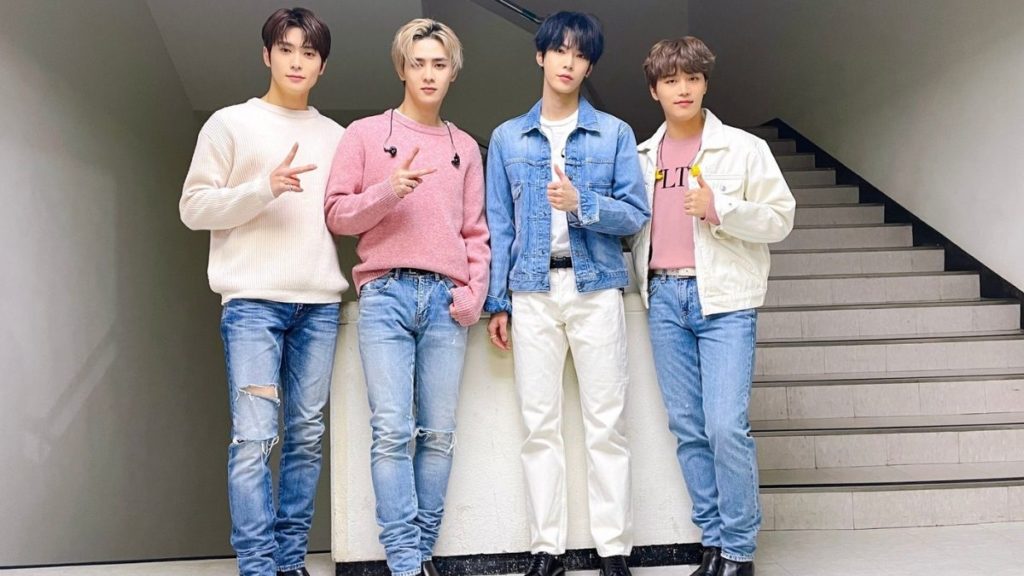 Six years ago, NCT left their mark on the world as they debuted with their singles "The 7th Sense" and "WITHOUT YOU." The boy group's acronym stands for Neo Culture Technology, which has continued to grow with a total of three fixed sub-units and one sub-unit where the members continuously change.
Debut With NCT U
NCT U—the "U" meaning "united"—were the first subunit to debut that also prided themselves on their versatility. The members were split into two groups to cover both singles. The original debut lineup included the members Taeyong (who would eventually be best recognized as NCT's leader), Taeil, Doyoung, Ten, Jaehyun, and Mark.
"The 7th Sense" showcased the choreography skills, vocals, and rap skills of Taeyong, Doyoung, Ten, Jaehyun, and Mark in the brooding, electronic hip-hop-influenced single. However, "WITHOUT YOU" emphasized NCT's versatility sonically with the heavenly vocal trio of Taeil, Doyoung, and Jaehyun.
Without You
"WITHOUT YOU" is an electronic and rock-influenced pop ballad. It's worthy of being played in films as the main characters chase their dreams or even be blasted in the car while driving down the highway. Taeil, Doyoung, and Jaehyun are all main vocalists within NCT and prove they deserve the title with their vocals as they belt out the chorus and harmonize with one another throughout the track.
With heartfelt lyrics such as, "Enduring life together is making me a little bit happier / We'll be connected without end, can't live without you," it is no wonder why "WITHOUT YOU" is still a fan-favorite to this day.
Yoo Young-jin, a songwriter and producer under SM Entertainment who has written for many of the label's groups such as EXO, Red Velvet, and SHINee, is credited as the lyricist behind the debut single. He is also credited as a producer for the track along with Ki Fitzgerald, John Reid, and Matt Schwartz.
From the lyrics to the composition of the song, "WITHOUT YOU" was a success to debut with and became a staple for NCTzens—the fans of NCT. All of these elements being tied together with Taeil, Doyoung, and Jaehyun's vocals ended up being a recipe for success. In fact, "WITHOUT YOU" even went on to peak at the number three spot on Billboard's "World Digital Song Sales" chart. The song spent a total of three weeks on the chart.
Familiar Faces
As one of NCT's debut singles, of course "WITHOUT YOU" was accompanied by a music video. Taeil, Doyoung, and Jaehyun are the stars of what appears to be a dreamy and painful love story. The video follows the trio as they yearn for a girl.
While the music video is visually stunning with the dreamlike blurred vision, there is a familiar face that many NCTzens may recognize as a cameo within the video. Before officially debuting as part of NCT 127 and WayV, WinWin starred in the "WITHOUT YOU" music video.
Another familiar voice NCTzens may recognize can be found on the Chinese version of the track. WayV's KUN offers his vocals to an alternate version of "WITHOUT YOU" while also proving why he also carries the title of main vocalist. His strong vocals add a beautiful twist to the beloved NCT debut track.
A Song Worth Remembering
"WITHOUT YOU" is a striking track that highlights NCT's main vocalists and serves as a reminder that the supergroup is filled with talent. Right from the start of NCT's career, they proved their versatility with the singles "The 7th Sense" and "WITHOUT YOU."
"The 7th Sense" introduces NCT with thought-provoking lyrics and a darker theme. The introspective track contrasts greatly to the hopeful and somewhat romantic ballad "WITHOUT YOU." Despite the great difference, both singles encompass NCT's abilities as artists perfectly.
Throughout the years, NCT has continued to explore different sounds as they embrace their concept of Neo Culture Technology with their subunits. However, NCT U's unique nature allows all of the members to join together on new projects and pursue their creative endeavors — creating an environment unlike the rest. With a group as diverse and talented as NCT, whatever they may release in the years to come will surely be brilliant.
Celebrate NCT's sixth anniversary with our coverage of NCT U's other debut single, "The 7th Sense," here.