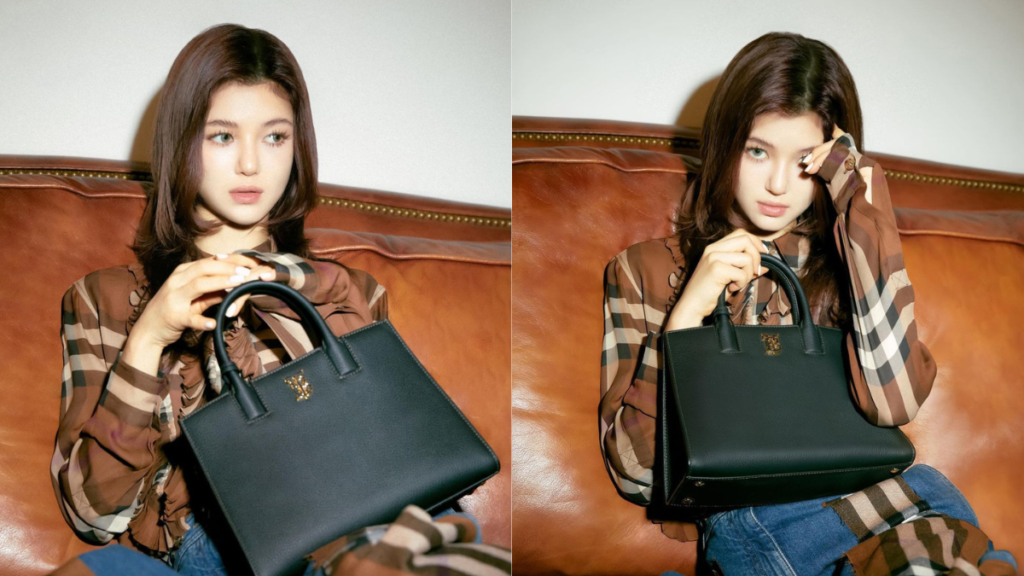 With their innovative take on a Y2K sound and aesthetic, rookie girl group NewJeans have slowly been carving out their spot in the fashion industry. The five-member group's unconventional concept has resonated with audiences worldwide, even reaching luxury brands. In particular, British label Burberry just appointed Australian-Korean member Danielle as one of their brand ambassadors.
Danielle x Burberry
Despite having debuted in July 2022, Danielle's formal relationship with Burberry has been in the works for months. In October 2022, the vocalist visited Burberry's pop-up shop in Seoul, which highlighted the brand's "Alpine" outerwear line. She has also been spotted wearing Burberry pieces to the airport multiple times, raising expectations for an official collaboration.
On January 5, an official announcement was posted on NewJeans' Instagram account, confirming that Danielle is now one of Burberry's brand ambassadors. At 17 years old, the idol joins the ranks of football player Son Heung-min and actress Jun Ji-hyun. Posing with the Mini Frances Bag from the Spring Summer 2023 collection, Danielle embodied the sophisticated and timeless visuals associated with Burberry.
NewJeans' Future in Fashion
Danielle's appointment as an ambassador for Burberry comes shortly after two other NewJeans members formalized their relationships with luxury fashion houses: Hanni with Gucci and Hyein with Louis Vuitton. Aside from their individual activities, NewJeans has also worked with South Korean streetwear brand O!Oi for its Fall Winter 2022 line. Additionally, the singers have turned into mainstays at fashion events, such as store openings, and collaborated with brands like CHANEL, among others, for magazine pictorials and campaigns.
Less than a year into their careers, the five members are rapidly becoming globally-renowned industry players. NewJeans' continued success — both of their newest releases, "OMG" and "Ditto," are dominating music charts in South Korea — will undoubtedly continue to bring them new opportunities across the fashion and beauty industries.
Looking for more of NewJeans in fashion? Read about Hyein's ambassadorship for Louis Vuitton here!