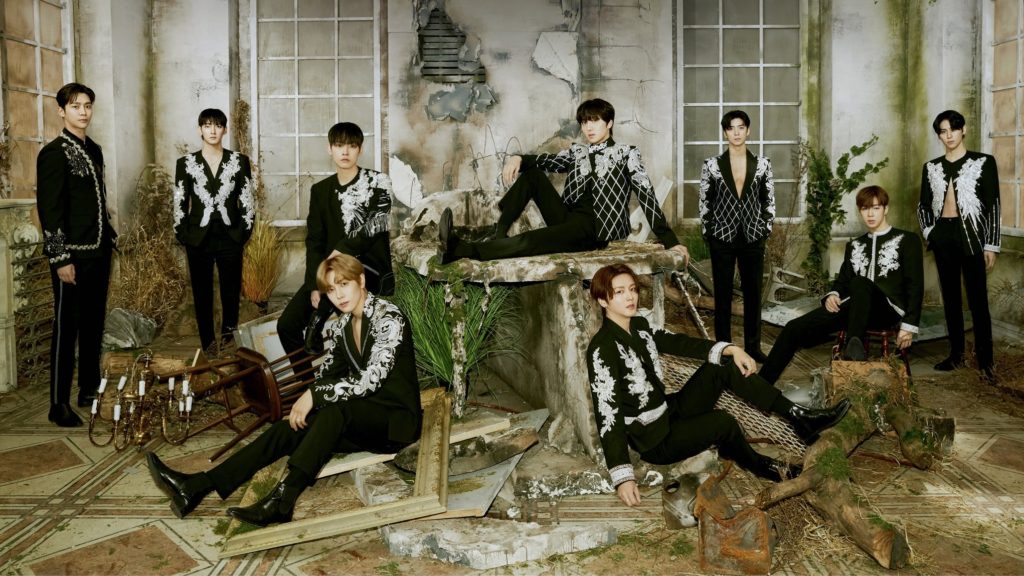 Just a month after competing on Kingdom: Legendary War, SF9 released "Tear Drop" from the mini-album Turn Over on July 5, 6pm KST. With this single, Youngbin, Inseong, Jaeyoon, Dawon, Zuho, Rowoon, Taeyang, Hwiyoung, and Chani take their fans, Fantasy, back to deep house. Though this genre is no stranger to them, the group is still exploring their new concept from the last rounds of Kingdom. More mature and experimental, SF9 has taken on an ethereal sound. 
A New Year with a New Start
It has been a year since SF9's last comeback, "Summer Breeze," an energetic, western-inspired track. Though the song earned a win on "The Show" and 46 million YouTube views, SF9 has taken a new course. 
During their time on Kingdom, viewers saw a new side of the group as they worked to distinguish themselves from the other acts. In doing so, they delivered a more sensual and sleek performance as SF9 which was well-received by the industry. The group shared that through the process, they had found their color and learned their artistry had no bounds. 
This precedent has influenced the new tone for SF9's latest comeback. "Tear Drop" explores the group's new look while revisiting their past in deep house. In contrast with their previous work in the genre, this song is more serene, layered with soft vocals and smooth rap. 
sf9 music genre
jilos – sexy deep house
good guy – elegant deep house
tear drop – melancholy deep house

— pota ? CHECK PINNED ? (@hururueomma) July 5, 2021
Dancing with Duality
Each of the b-sides of the EP furthers this new chapter for SF9 starting with "|Believer|" from their final round of Kingdom. Beginning with a heavy beat contrasted by Dawon's soft voice, this song sets a new tone for the group.
Slowing it down, "Love Again" is a softer track, focusing on their abilities. The simple backing instrumentals highlight the member's abilities, making Fantasy do exactly what the title suggests. 
Love again is that song that makes you feel appreciated and brings tears just likethat ??♥️ i'm in this sf9 thing forever ??#SF9#에스에프나인#TearDropOutNow

— sf9_fantasy (@pantaji_sepgu) July 6, 2021
The heart-warming track somehow seamlessly transitions to "Off My Mind," its angsty antithesis. With lyrics as piercing as the group's vocals and rap, the track signifies a change in the mini album's flow. 
It's that love me love me love me love me love me love me part in off my mind❤❤❤#SF9 @SF9official

— NORA * sf9 Turn Over is out * (@SSffun) July 5, 2021
"Fanatic" opens with a chord almost reminiscent of SF9's Latin concept, "O Sole Mio" and transitions to Taeyang's smooth vocals. Rowoon follows with his deep tone, setting up for Hwiyoung's and Zuho's contrasting raps. This hook builds to the chorus, carried by a steady beat and filled by the passionate vocals signature to SF9. 
The entire #TURNOVER mini-album is pure gold! ? I'm a literal "fanatic" over Fanatic. ? It's what @SF9official does to me! And my #ROWOON's sweet voice, too. ☺ #SF9

— Lisa (@SimplyLisaaaa) July 6, 2021
"Hey Hi Bye" has a playful side, a reminder that SF9 still has one despite the intensity of the previous tracks. However, the group still delivers strong singing and rapping that matches the upbeat song. 
THIS IS THE ACCOUNT OF A HEY HI BYE ENTHUSIAST WHO IS TALKING TO SF9 FOR THE FIRST TIME IN 4 DAYS ??

— Jay ? GATEKEEPING ROWOON (@RowoonPM) July 6, 2021
A New Era for SF9
For Fantasy who have patiently waited or just recently joined after Kingdom, this mini-album holds a lot of weight. So far, Turn Over has reached the top three on iTunes' K-pop chart in 10 different countries. The music video has also reached one million views too. 
In more ways than one, this comeback represents a new era for SF9 who have worked so diligently to get here. As they continue to take the screen, both as actors and singers, it will be interesting to see what the members do next with this new potential. 
Be sure to check out our coverage on the Kingdom intro stages here!
Thumbnail courtesy of FNC Ent.