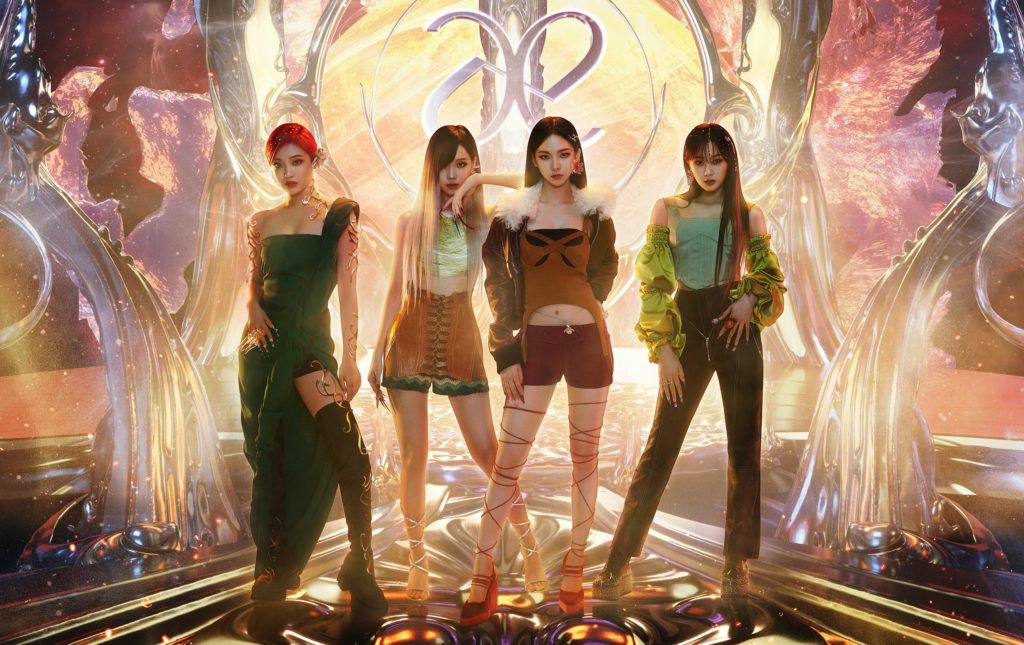 Less than a year into the game and æspa have taken the world by storm with their fierce music and unique mythology. Due to their explosion in popularity, the four member girl group has ventured into fashion, makeup and video games. Earlier this year, æspa became ambassadors for Givenchy, and they now have had another chance to boast the connection in their latest cover feature for POP Magazine. æspa are sharing POP's Autumn/Winter 2021 (AW21) cover with global stars Bella Hadid and SZA. 
View this post on Instagram
æspa Pop on POP
Adorning items from Givenchy's Fall 2021 Ready-To-Wear collection, æspa members Karina, Winter, Giselle, and Ningning posed for the cover of POP Magazine—the third K-pop group to do so after legendary K-pop acts 2NE1 and HyunA. 
The ensembles were put together by Wook Kim, who is one of the most sought out stylists in the K-pop realm. It is no surprise that æspa worked with such a big name. After all, æspa have turned the heads of many, including Givenchy's creative director Matthew Williams who was captivated by "members' individual energy."
The photos were taken by well-known photographer, Heejune Kim, and topped off with graphics by Hattie Stewart. 
View this post on Instagram
Who Are These "Next Level" Girls?
æspa are SM Entertainment's latest group and the first artists to be part of the "SM Culture Universe." It is the company's new universe that fuses compelling storylines with K-pop music to connect all artists and expand on the pre-existing lore each artist has. The idea is inspired by Marvel's wildly popular Marvel Cinematic Universe. 
æspa's concept takes this new universe and combines it with AI technology. Stars of their own cinematic tale, æspa are fighting to restore balance to the world and reunite with their digital avatars, who, by the way, are also part of the girl group. 
Be MY ae! Chilling all together💗 #KARINA #카리나 #æ_KARINA #아이_카리나#GISELLE #지젤 #æ_GISELLE #아이_지젤#WINTER #윈터 #æ_WINTER #아이_윈터#NINGNING #닝닝 #æ_NINGNING #아이_닝닝#aespa #æspa #에스파 pic.twitter.com/p44e7crxfe

— aespa (@aespa_official) November 12, 2020
While the concept is unique, that is only part of æspa's allure. The quartet have been in the spotlight thanks to their experimental single "Next Level." The track is a fusion of genres, combining classic rap and soulful R&B with EDM sounds.
Trailblazers for their K-pop innovations, æspa have numbers to show for it. The group rose in popularity on international charts and streaming platforms, including Billboard's Global 200 Chart. "Next Level" also surpassed 100 million views on YouTube in 32 days, a personal record for the girls. 
Maintaining top spots on many of Korea's music charts months after their song's release as well, æspa's international success with "Next Level" only builds anticipation for their debut mini-album and future projects. 
Living Their Dream 
In their feature for POP, æspa opened up about their careers as K-pop idols. The youngest member, Ningning, found her motivation to become a K-pop star after seeing Girls Generation. 
"I remember watching Girls Generation perform on TV when I was little and being in awe of the group and how talented and confident they were. They sparked my interest in K-pop and I loved listening to it ever since. I also felt more determined to follow my passion and become a singer," Ningning said.
And followed her dream she has, with æspa in the same company as Girls Generation! Ningning finds joy in being able to do what she loves—exploring different genres and concepts.
Giselle, who also has dreamt of being a singer since she was young said, "having the opportunity to be on the cover of POP, being a brand ambassador for Givenchy and meeting so many talented artists and producers are some of my favorite parts of being a K-Pop idol!"
Winter's favorite part of being an idol is "showcasing K-pop to the world." She aims to follow in the footsteps of her seniors, who have opened doors for many. 
In true leader fashion, Karina agreed with her members, but also expressed gratitude towards the fans. "If there was no one to watch you perform or listen to the music you created, it just wouldn't be the same. It's an honor to receive so much love from fans all over the world," Karina said.
Hopes For the Future
In addition to opening up about their current feelings on the K-pop idol life, æspa also discussed their goals for the future.
Part of the idol life is unique fashion and colorful hair. Karina told POP she wants to go bold and try wine red or platinum blond. Winter said grey; Ningning shared blonde. Giselle chose bright red.
"I used to love Cat Valentine from the show Victorious when I was little, which is why red hair has sort of been a little dream of mine," Giselle said.
If they could collaborate with another artist, Winter shared that she would love to work with Troye Sivan. A hit among æspa, Sivan is an artist the girls love and respect. 
æspa also revealed some of their post-pandemic travel plans. After the pandemic, Winter would like to go to London, Giselle wants to visit Amsterdam and London, and Karina wants to visit the members' home countries.
When presented with the chance to travel after the pandemic, Ningning shared that she is eager to meet MY, æspa's fans, for the first time. Being an idol is rewarding on its own for æspa, æspa have missed out on some opportunities since they debuted in the midst of a pandemic. Ningning shared that she would like to perform for MY around the world. 
More Music On the Way 
While it is unfortunate MY can't meet æspa, that's not entirely a problem. The "Next Level" singers will release their first mini-album, Savage, on October 5. Already teasing more of their chic modelling abilities in their latest teaser images, æspa will certainly explore more of their talents in the coming era.
For now, fans can enjoy their new POP Magazine cover and interview, and check out the new remixes of "Next Level."
Want to learn more about æspa? Check out our piece on æspa's "Savage" comeback announcement here.
Thumbnail courtesy of SM Entertainment.