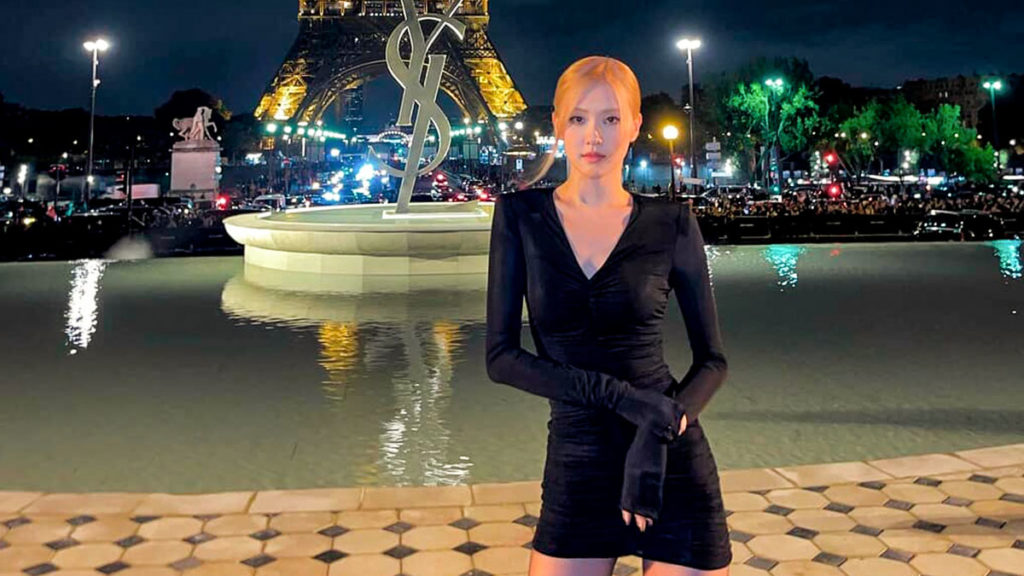 K-pop idol Rosé is widely known as one of the most fashionable stars in the world. In addition to her compelling day-to-day style, the songstress has built an impressive resumé that includes ambassadorships for fashion, jewelry, and beauty brands. In her role as Saint Laurent's global ambassador, however, is where the star has become a permanent fixture at Paris Fashion Week. With fashion month reaching the City of Lights, it only makes sense that the BLACKPINK member made an appearance at the Saint Laurent Spring Summer 2023 collection unveiling.
Saint Laurent's Darling
Roseanne Park—better known as Rosé in the world of entertainment—needs no introduction. Member of the K-pop juggernaut BLACKPINK, the Australian singer is among the most popular global stars. With a slightly tomboyish and grunge-infused style, Rosé has been a Saint Laurent collaborator for years and she rocks creative director Anthony Vaccarello's creations like no other. At fashion events and red carpets, that's particularly true.
While attending Saint Laurent's most recent fashion show in Paris on September 27, Rosé kept things gorgeously simple. The singer who has previously made history as the first female K-pop idol attending the Met Gala—by the hand of Anthony Vaccarello of course—sported a long sleeve Little Black Dress featuring a V-shape neckline. Rosé added an edgy touch with ankle strap pumps and wore her—by now—signature ponytail. The accessories? None other than her confidence and a few rings adorning her right hand.
Parisian Chic at Saint Laurent SS23
As per Saint Laurent's tradition, the show took place at Jardins du Tocadéro, one of Paris' most beautiful outdoor locations. With the Eiffel Tower in the background, Rosé posed for cameras and absolutely commanded all the attention.
However, beyond Rosé's stunning style, the fashion show was an ode to the chic, slightly sensual—but always classy—style Saint Laurent has made its signature. Slightly oversized coats and jackets with pointed shoulders contrasted with bodycon were the fashion formula of the night. Sheer fabrics, cut-outs, and the famous "robe à capuche" (hooded dress) were adapted for a collection that perfectly displayed everything Saint Laurent stands for.
It helped, of course, that Saint Laurent's army of influential house friends and ambassadors were already sporting looks that anticipate what next season will be all about: body-hugging forms and playful, chic simplicity—as seen on Rosé.

Want to read more about Paris Fashion Week? Check out everything you need to know about Dior's coveted SS23 fashion show and its star-studded guest list here.