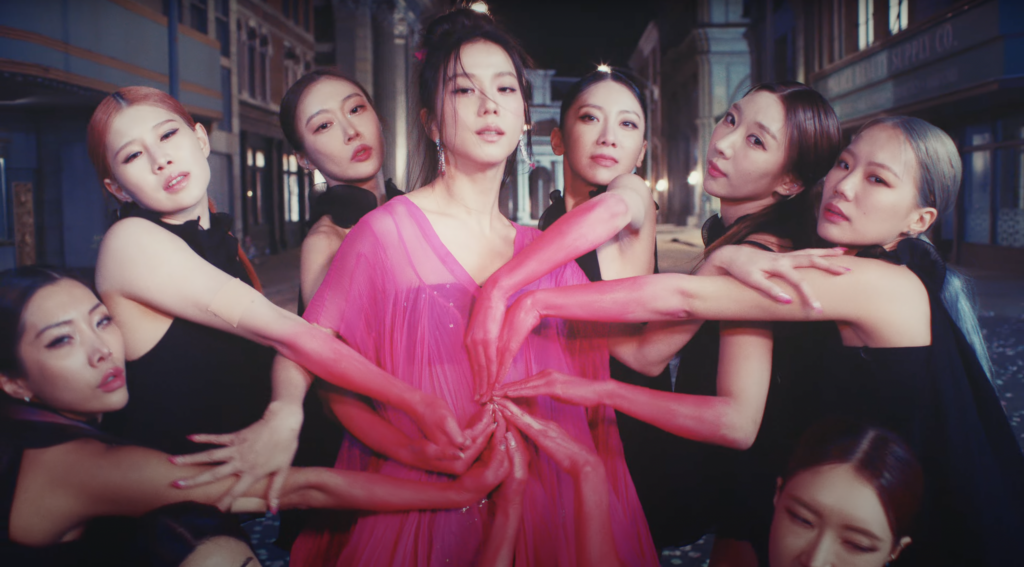 Since her 2016 debut in BLACKPINK, Jisoo has established herself as both a powerhouse vocalist and an undeniable fashion force. From her accolades as a member of one of the greatest girl groups in the world to representing storied French houses like Dior and Cartier, the Korean star has left a permanent mark on the music and fashion scenes. On March 31, the singer opened a new chapter in her career with the release of her single album Me.
In addition to breaking records and dominating music charts, Jisoo's highly anticipated solo debut is making waves for the accompanying top-tier fashion. A rollout of image and video teasers, as well as the music video for the title track "Flower," have served to showcase Jisoo's blooming universe as a solo artist — not without the corresponding style statements. Below, EnVi recaps the standout fashion moments from Jisoo's solo debut.
Anticipating "Flower" in AADNEVIK and Isabel Sanchis
When the first teaser images for Jisoo's solo debut dropped on March 5, the internet appropriately freaked out. Embracing a simple, yet mysterious look, the teasers were dotted with floral motifs and contrasting fashion styles. In the third set of photo teasers, Jisoo wore a white strapless mini dress from AADNEVIK's Spring-Summer 2022 collection. The dress featured a large tulle flower appliqué and was paired with matching tulle cuffs and drop earrings, creating a monochromatic look that contrasted starkly with the shot's dark background.
In another instance, a video teaser showed Jisoo posing in front of a traditional folding screen. The singer sported a majestic black gown by the award-winning Spanish couturier Isabel Sanchis. Incorporating large sheer panels, the piece gave off the illusion of being a two-piece set and was adorned with an oversized bow on the back. To pay homage to her Korean heritage, Jisoo accessorized the look with silver jewelry and coral hairpins by Naschenka — a handmade brand specializing in traditional jewelry.
A Galore of Dior
As expected from Dior's global ambassador and muse, Jisoo also flaunted pieces from the French label in her solo debut. In an opening shot of the music video for "Flower," a long, ruffled black skirt swayed as she walked down a hotel corridor. Wearing the D lace corset belt over a short-sleeved sheer top, the star revived the Regencycore-inspired corset trend.
In another scene, Jisoo paired a white dress by the Turkish brand New Arrivals with the classic J'Adior slingback pumps, building an ensemble that perfectly encapsulates her feminine image. As Jisoo also serves as an ambassador for Dior Beauty, some of the brand's products were speckled throughout the music video.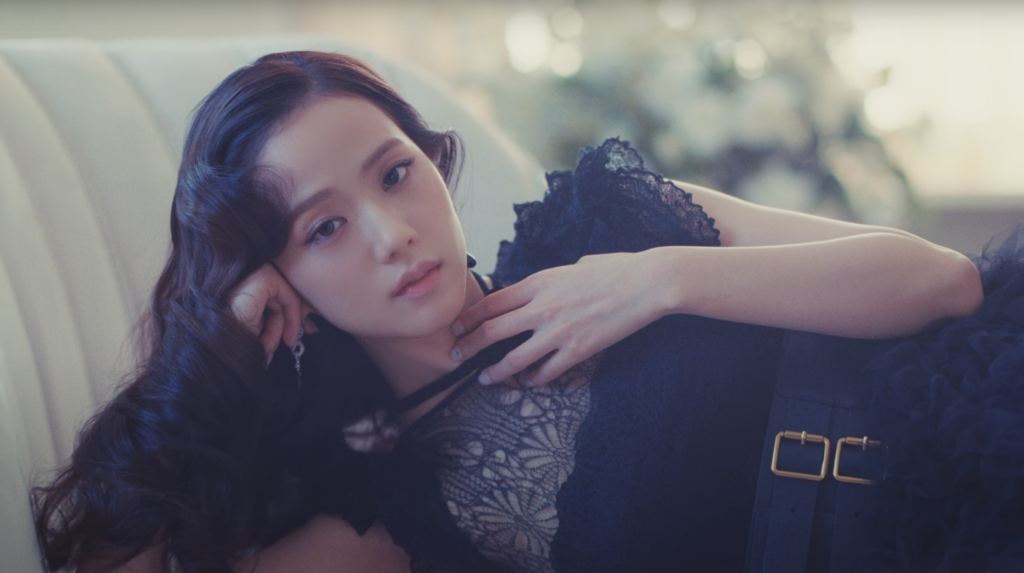 Versace's Pop-Punk Twist
Playing with edgier and more provocative fashion, Jisoo danced outside the Park Terrace Hotel wearing a princely purple look. The mini dress — taken straight from Versace's SS23 collection — featured a wrinkled effect skirt and lace bustier, complemented with matching garters and hold-ups. Jisoo styled the look with elements like chain necklaces and ribbon arm wraps that somewhat nod at the pop-punk renaissance of recent years.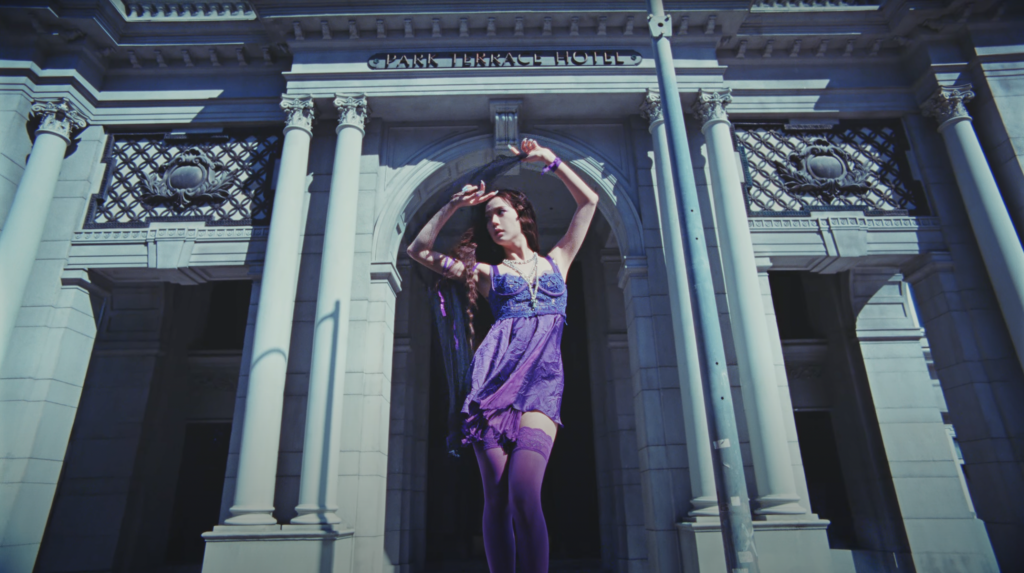 Bold Hues
Following the bold-hue fashion taking over the runways, Jisoo included two pieces from Rick Owens' Spring-Summer 2023 collection in the music video for "Flower." Both the sheer mini dress and the asymmetrical floor-length dress juxtaposed unconventional silhouettes and bright shades of pink — akin to Pantone's Color of the Year Viva Magenta — accentuating a bolder side of the singer.
In the same spirit, Jisoo also sported a vivid red look that included cutout sleeves by RUI, red tights, and a black bodycon dress. The outfit, which highlights the sultrier choreography sequence of "Flower," is accompanied by red platform pumps and red hair highlights. 
Uplifting Korean Fashion in LEE y.LEE y
Feminine and romantic looks have grown to be signatures of Jisoo's style. In tandem with this image and channeling the title of her song, the singer explored her regal side with a floral dress by LEE y.LEE y. The floor-length gown was paired with a pearl choker, oversized pearl earrings, and patent leather platforms. To top off the look, Jisoo wore an elegant updo reminiscent of the Brigertoncore-inspired hair-dos that thrived in 2022.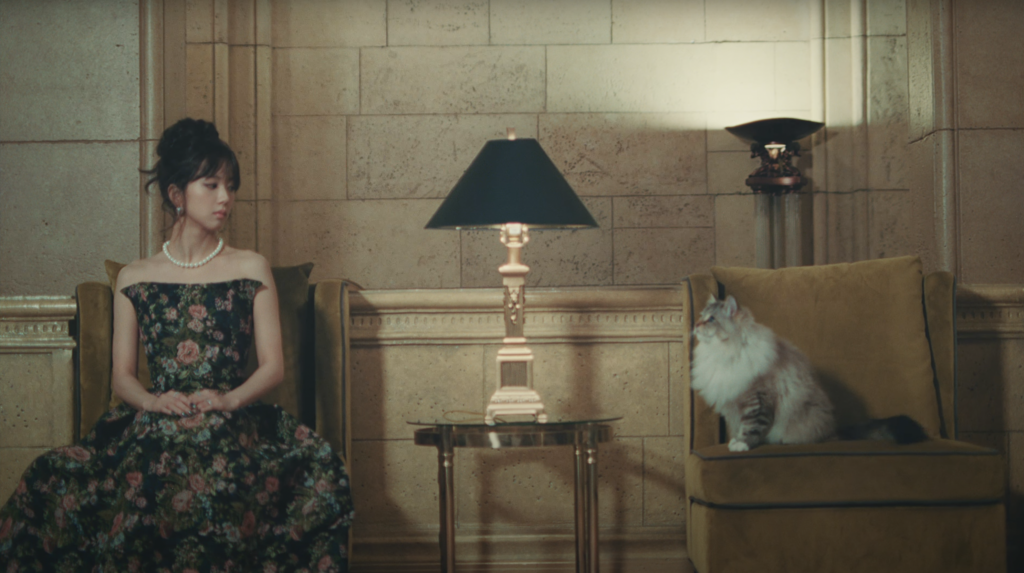 Changing moods, Jisoo flaunted her dance moves dressed in a custom set by the same Korean brand. The look featured a sequined crop top and matching mini shorts that perfectly align with the no-pants trend taking over the runways in recent seasons.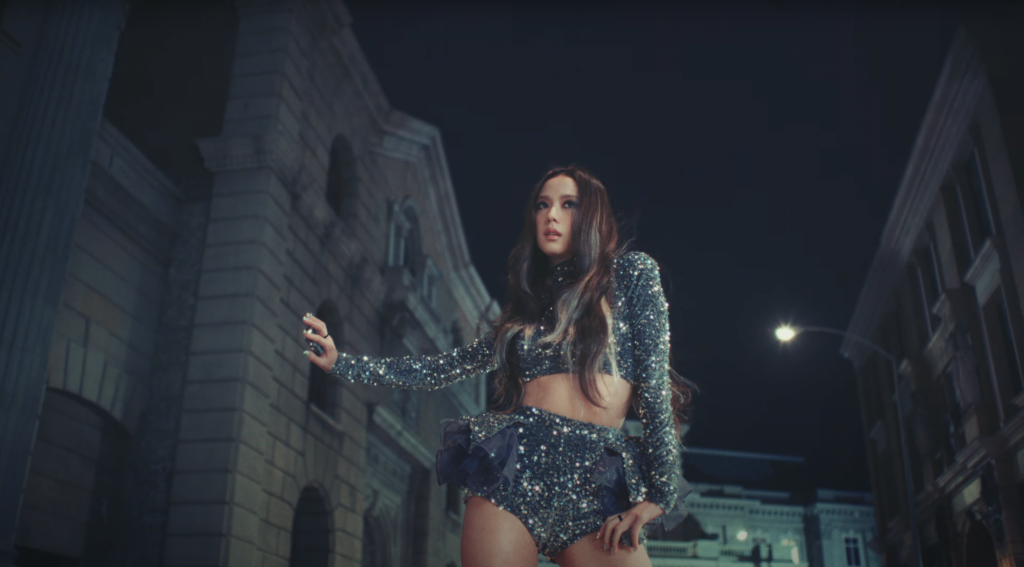 Whimsical in Susan Fang
In yet another noteworthy moment in the music video of "Flower," Jisoo goes whimsical in a mint-green dress by Susan Fang. Adorned with laser-cut flower details, the sheer item is styled with a pair of green boots from Jimmy Choo's Pretty Guardian Sailor Moon collection. The outfit is complemented with a bow hairband from the Korean accessory brand Atelier Rosetteblanc and a rosy cheek makeup look.
Living up to her reputation as a beloved global star and style icon, Jisoo has stepped into a new era with major achievements under her belt and delivering major fashion serves. With the release of Me, the singer not only reintroduces herself musically but also adds plenty of compelling style moments to her lookbook.
Beyond music and fashion, Jisoo is also a force to be reckoned with in the world of beauty. Check out Dior Beauty's latest campaign featuring Jisoo and Anya Taylor Joy here.