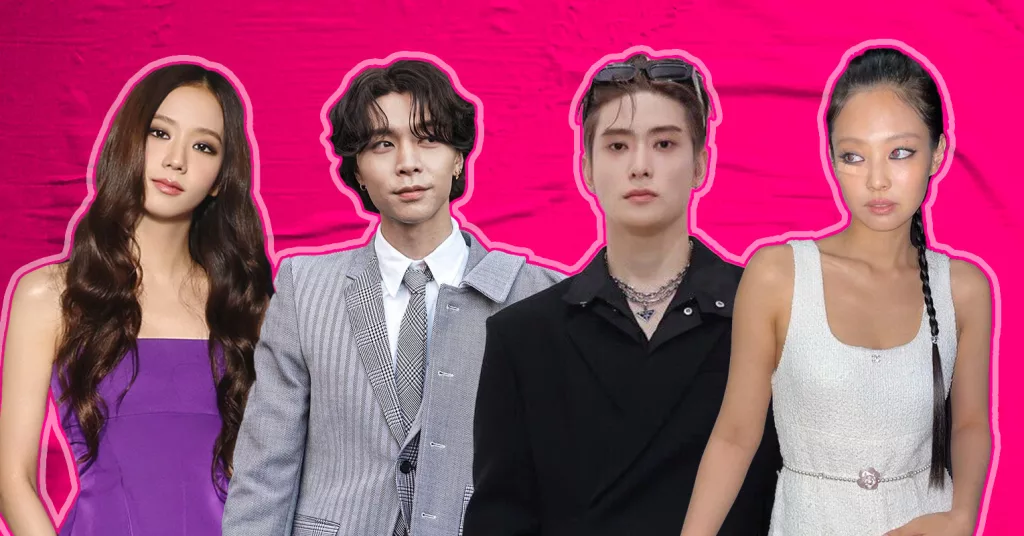 The Fall Winter 2023 fashion season saw plenty of buzz and activity across the major fashion capitals. From New York to Paris, Fashion Week delivered special moments on the runways, the front rows, and even the streets. And just like every season, the software and data company Launchmetrics — specialized in the Fashion, Luxury, and Beauty(FLB) industry — has gathered the Media Impact Value™ (MIV®) results of Fashion Month. Read on to discover the highlights of Launchmetrics' "Fall Winter 2023 Fashion Week Insights" report. Just a caveat, Asian celebrities ruled fashion month once again.
APAC Power
The power of celebrities from the Asia Pacific region has been on the rise in recent years. Traveling around the world to attend the most coveted fashion events, fronting campaigns, and dominating the social media conversation, these stars are receiving global attention and taking over the FLB industry. And although this is not a new phenomenon, Launchmetrics highlights the strong emphasis fashion brands are placing on the APC region in the latest Fashion Weeks. "It's hard to ignore the significant presence of APAC celebrities favoring the front rows of numerous events, and it's no surprise that all four weeks have succeeded in placing APAC countries in the top 7 rankings," the data company shared.
So far, 2023 has witnessed a growing number of associations between APAC celebs and fashion and beauty brands. Ambassadorship announcements, campaigns, and media takeovers have placed stars from countries like South Korea, China, Japan, and Thailand under the fashion spotlight. This growing interest in the Asian region hasn't gone unnoticed and has been accompanied by strong communication and business strategies.
TWICE's Dahyun and NCT's Johnny Ruled New York
Despite having welcomed Korean stars at their shows in previous seasons, New York Fashion Week (NYFW) greatly benefited from the presence of K-pop stars in their most recent edition. South Korea jumped from 26th to 5th place in the ranking of MIV®-generating countries, amassing $4.3 million. "What's truly interesting is the rise of South Korea's representation at NYFW. Making a big jump to the 5th spot this season, South Korean celebrities such as TWICE and NCT have captivated audiences and represented a new demographic that was once predominantly showcased in Europe," Launchmetrics reported.
Indeed, K-pop idols Dahyun (TWICE), and Johnny Suh (NCT) made a great impact in the City That Never Sleeps, respectively attending the Michael Kors and Thom Browne shows. On one hand, Dahyun, through TWICE's official Instagram, was responsible for Michael Kors' top placement, generating $784K in MIV® and attracting attention from South Korea — which ranked third in the country split for the show with over $1 million in MIV®. Ultimately, Michael Kors came at the top of the MIV®-generating brands at NYFW, with $17.7 million.
Meanwhile, Thom Browne experienced a 433% MIV® increase from its previous fashion show (FW22). As per Launchmetrics, "the show benefited from the attendance of Korean superstar [Johnny from] NCT, which acted as the top Voice for the show, garnering $1.8 million in MIV®." Johnny's presence at the front row — a first for the Chicago native — also contributed to placing South Korea second in the country rank for Thom Browne's show.
Tia Lee Made Waves in London
At London Fashion Week (LFW), Burberry, Moncler, Richard Quinn, and Simone Rocha led the MIV® ranking. The debut of Daniel Lee at the helm of Burberry made the show a highly publicized event that ended up garnering $8.5 million in MIV®. Additionally, Moncler's "Art of Genius" presentation and Richard Quinn's show racked up $6.8 million and $3.7 million in MIV®, respectively. At Richard Quinn, the Taiwanese celebrity Tia Lee authored the top placement, with a post worth $345K in MIV®.
The numbers at LFW, overall, reflect the impact of the Taiwanese and Chinese audiences. As Launchmetrics remarks, "Interestingly, Taiwan and China jumped the rank this season to 7th and 8th from 21st and 23rd places last year respectively. This means that MIV® increased by 847% in Taiwan and 706% in China, due to increased media mentions and [in part] the attendance of Taiwanese celebrity Tia Lee."
K-pop Stars Took Over Milan
The power of K-pop celebrities was at an all-time high at Milan Fashion Week (MFW). As per Launchmetrics, since last season South Korea moved from fifth to third place in the country rank, largely due to the presence of K-pop stars on the front rows and other South Korean stars supporting the fashion brands digitally.
Just like in previous seasons, Prada topped the brand ranking with $29.5 million in MIV®. Out of the brand's top 10 performing posts, five belonged to South Korean celebrities, including Song Kang — who amassed $947K and $747K in MIV® in two different placements — TWICE's Sana, and Somi. Prada's ambassador and main star of the SS23 global campaign, Jaehyun, was responsible for the brand's top placement, garnering $1 million in MIV® despite not being present at the show.
Coming second, Gucci garnered $29M in MIV® in their second show after Alessandro Michele's exit as creative director. New Jeans' Hanni, Lebron James, and Halle Bailey were the top voices for the brand, respectively generating $676K, $652K, and $453K in MIV®.
Additionally, it is worth noting that on a preliminary note — ahead of the final report — Launchmetrics stated that Jaehyun's Instagram publication had become the overall top post at Milan Fashion Week. The data company also mentioned NCT as the top celebrity voice at MFW, tallying $3.4 million in MIV®. This number was likely measured — partly — with Jeno's attendance at the Ferragamo show, although Launchmetrics did not break down the value.
Dior, Chanel and Louis Vuitton Ruled Paris Fashion Week
Similar to prior seasons, Dior placed first in the brand ranking for Paris Fashion Week. With $42M in Media Impact Value, the French brand surpassed its competitors by 62%. As mentioned by Launchmetrics, a good part of this success comes from Dior's "K-pop celebrity strategy." Carrying on her impact in previous Fashion Week editions, Dior's global ambassador Jisoo was responsible for $1.8 million MIV® generated through a single post. Jisoo also created additional echo with 23% ($9.6 million) of Dior's overall MIV® being related to her.
Another brand tapping into the power of South Korean celebrities was Chanel, which ended up ranked in second place after generating $25.8 million in MIV®. The big stars of the show were BLACKPINK's Jennie and Park Seo-Joon. The brand's global ambassador and the popular actor contributed with Instagram posts worth $1.6 and $1.3 million in MIV® respectively.
Louis Vuitton followed in third place. The brand's star-studded show collected $25.5M in MIV® with relevant contributions from international stars — in particular, Asian celebrities. Deepika Padukone, Sakura Miyawaki, and Yaya Urassaya Sperbund were responsible for social media publications that made it to the top 10 posts for the brand.
Asian Stars Are Here To Stay
In all, Fashion Week further proved the growing allure of Asian stars, and most notably K-pop idols, on the front rows. Many brands have brought exposure to their shows with these celebrities' influence, shifting the attention to Asia, a strategic region for the fashion industry. After all, Asia Pacific continues to be the largest market for personal luxury goods in the world.
Alison Bringé, Chief Marketing Officer at Launchmetrics tells EnVi exclusively, "Brands are partnering with South Korean celebrities more regularly when it comes to brand ambassadorships or Fashion Week appearances. Consumers are seeking inspiration beyond their own borders and so brands see global artists, such as K-pop stars, as strategic Voices which have a remarkable ability to influence global, dedicated audiences while bringing cultural relevance. For example, NCT has emerged as one of the K-pop star groups seen on numerous front rows bringing a significant uplift in brand exposure during Fashion Weeks."
But NCT is not the only K-pop group taking over the fashion industry. New-generation stars such as NewJeans, ENHYPEN, and IVE are also scoring campaigns, front-row invitations, and ambassadorships. This growing influence suggests that Asian stars' involvement in fashion is in no way a passing fad. Quite the opposite, these celebs are here to stay and they're already proving it with impactful numbers at Fashion Week. 
*Author's Note: Media Impact Value™ (MIV®) is an algorithm proprietary of Launchmetrics' Machine Learning. It assigns a monetary amount to every post, interaction, and article, analyzing more than 100 quantitative and qualitative attributes specific to the fashion, luxury, and beauty industry including audience engagement, industry relevance, source authority, and content quality, to create a highly accurate method of measurement.
interested in more fashion content? Check out the highlights of Seoul Fashion Week here.