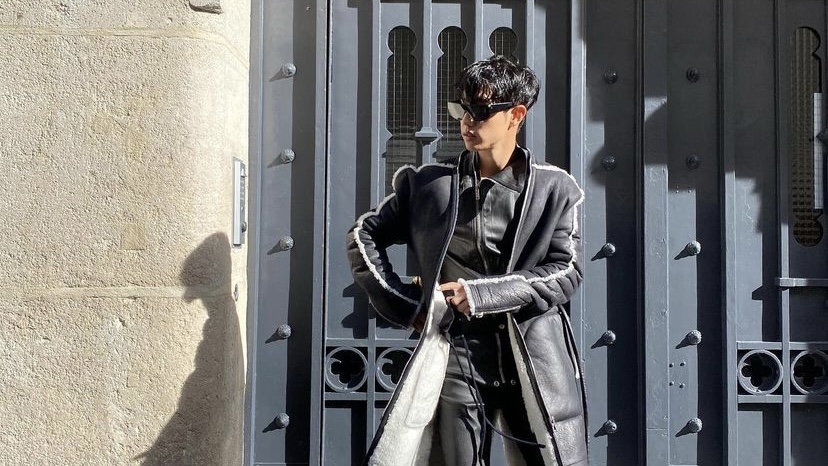 Maintaining the momentum of his eventful year, Mark Tuan attended Paris Fashion Week starting September 27. The GOT7 rapper sat front row at the Spring/Summer 2022 shows of Rick Owens, Raf Simons, and Balenciaga. With all eyes on him, the star showed off his style in stunning looks, fit for a fashion icon.
View this post on Instagram
At Rick Owens
Renowned for his unique, edgy designs, Rick Owens showcased his latest collection at his September 30 show. Inspired by fog, Owens presented a runway with nuanced designs. True to his brand, Owens' pieces featured innovative silhouettes, detailed layers, and eye-catching fabrics. 
All these elements were brought together by the signature platform heels. Owens' partner and fashion extraordinaire, Michèle Lamy opened the show wearing platform boots. Similarly, Owens himself donned a pair to greet the crowd out after the final model walked. 
Sitting front row, Tuan sported a pair of Owens' platform boots as well as other items from the Fall 2021 menswear line. The sleek jumpsuit accessorized with futuristic accessories fit the show's foggy ambiance.
Mark Tuan of GOT7 for Rick Owens today #MarkTuan_ParisFashionWeek pic.twitter.com/tRlWXvL4QL

— ✿ 𝙧𝙤𝙤 ✿ (@cafewindows) September 30, 2021
At Raf Simons
Like Owens' genderless platformed footwear, Raf Simons' new collection focused on unisex clothing. However, Simons opted to express androgyny through silhouettes. With this explorative line, Simons kept it authentic through characteristic elements like arm rings and bold colors. K-pop fans may be familiar with the designer's style through his pieces worn in the recent NCT 127 "Sticky" teasers.
Mark Tuan fit the scene wearing a look from the Raf Simons Fall 2021 collection. Simultaneously highlighting the designer's talent and the star's style, the outfit proved the power of a Tuan and Simons collaboration. 
Mark Tuan for Raf Simons show at Paris Fashion Week S/S 2022

Raf Simon show is at 04:30PM Paris timezone! 2 shows in a day! Who's doing it like Mark Tuan🥰

Mark Tuan Fashion Week#MarkTuan #段宜恩 @marktuan #MarkTuan_ParisFashionWeek pic.twitter.com/VFRNvenHTX

— MT Project (@journeyofMT) September 30, 2021
At Balenciaga
On October 2, Tuan set out for the Balenciaga show. Before the runway began, Tuan and other guests walked the red carpet. From Balenciaga's Spring 2022 line, Tuan wore a black leather duster over a mock neck top with the Spanish label's logo. Fellow K-pop star BM and other celebrities like Cardi B were invited as well. 
Opening with a nod to the significance of pop culture, the show continued with a special version of The Simpsons. The characters modeled Balenciaga after an invitation from a cartoon depiction of Creative Director Demna Gvasalia.
At Lanvin
For Lanvin S/S 2022 show on October 3, Tuan wore a teal jacket embellished from the fall 2021 collection. The details included a statement brooch with the French house's name written underneath it.
Tuan sat front row as the spring 2022 collection was displayed. Noting the importance of confidence, creative director Bruno Sialelli opted for designs that highlight the wearer. The final result is a modern and bold line with pop culture references presented to an A-list audience.
Fan Reactions
Adored by GOT7 fans, or Ahgases, Mark Tuan quickly became a hot topic on social media. The star was praised for his recent success and progressive fashion. 
who in kpop but it's mark tuan for paris fashion week pic.twitter.com/ahzQ6s04Pu

— erz (@rearvocals) September 30, 2021
Mark tuan getting invited for two Paris fashion week shows in one day and slaying different styles at both of them🖤✨#MarkTuan_ParisFashionWeek @marktuan pic.twitter.com/xDzPbfcgxf

— Bel¨ 🎨 (ia) (@jbdefsyg) September 30, 2021
Mark Tuan joined the club I am screaming 😂 pic.twitter.com/aPDifDLeCX

— G🔗💚 (@BamJWahgase) September 30, 2021
mark's representing 2 brands for PFW in 1 day is a big thing to celebrate! this is also his first solo appearance in fashion show! so happy for him and this is only the beginning of MT in the fashion world🥰#MarkTuan @marktuan #MarkTuan_RafSimonsShow#MarkTuan_ParisFashionWeek

— 𝓼 ⌜团子⌟ (@xciii9394_) September 30, 2021
Mark Tuan sitting in the same row as Anna Wintour is honestly enough reason to celebrate this day

Mark Tuan for BALENCIAGA @marktuan #MarkTuan_ParisFashionWeek #MarkTuan_BALENCIAGAShow #BALENCIAGA pic.twitter.com/znFp2IfqhB

— Team Mark Tuan (@marktuan_team) October 2, 2021
🥰🥰!! BM do KARD e Mark Tuan do GOT7 no Balenciaga Fashion Show em Paris. pic.twitter.com/GaspYSE3Y6

— Nunca Pause O MV (@npomvtt) October 2, 2021
Small Waves, Big Ripples 
Through Paris Fashion Week, Mark Tuan has entered many people's radar. From fashion writer Susie Lau to Michèle Lamy, Tuan has caught people's attention. As he continues with his fashion appearances and modeling, his influence will likely grow as well. 
Looking for more idols at Paris Fashion Week? Read about Jennie at Chanel here!
Thumbnail courtesy of @randywongg on Instagram.