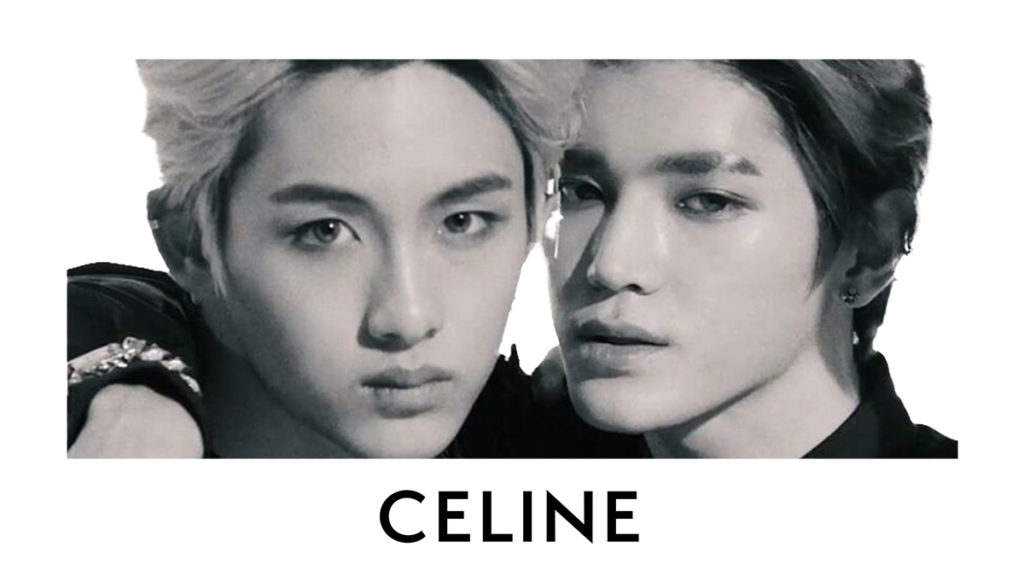 2021 marks the year the 23-member act, NCT, has cemented its name as one of K-pop's "most prolific brands." The title doesn't come only from the massive success of its units or the lasting impact of their music, but also their ever-growing influence in the world of fashion. Fostering connections with powerhouses like Gucci, Prada, Dior, or Louis Vuitton, the members have become common fixtures on the front row of digital shows and advertising campaigns. Racking up new milestones, Taeyong and WinWin announced their invitation to CELINE's menswear fashion show, "COSMIC CRUISER."
Taeyong's Unique Style
It is no secret that NCT's leader, Taeyong, is a style icon on his own. Recognized for his ability to adapt to different styles and enjoy unconventional accessories and "mix-and-match styling," he is often labeled as a "fashionista." Pushing away stereotypical trends and embracing freedom and uniqueness, Taeyong displays his own colors. "I believe there are no fixed rules when it comes to clothing or accessories," he has previously said. 
Unsurprisingly, his confidence and style sensibilities have shone through, earning the attention of fashion professionals and brands. The French house, CELINE, and its Events' Director, Peter Utz, are some of them. After plenty of Instagram interactions and what seemed to be a shoutout from Taeyong to Utz—in a caption that was later deleted—the blooming friendship between NCT's leader and CELINE is official. 
Utzpeter liked axelauriant comment on his post about Taeyong.

"😍" pic.twitter.com/hVIXO2IiVp

— #LoveTheory (@foryouTY_) July 6, 2021
210706 utzpeter Instagram story update

Peter reposted TAEYONG's recent Instagram post and tagged him.#태용 #TAEYONG https://t.co/juXv6OMHZI pic.twitter.com/2PPEompc1s

— LTYGlobal ⚛️❤️ (@LTYGlobal) July 6, 2021
Monsieur Taeyong
Invited to CELINE HOMME's Summer 2022 show, "COSMIC CRUISER," Taeyong dropped the news on Instagram. Sharing images of himself clad in CELINE HOMME, the star invited his 5.6 million followers to watch the show. In the pictures, the rapper replicated a look from the French brand's "TEEN KNIGHT POEM" Winter 2021 collection. 
View this post on Instagram
Wearing a white poplin shirt; black denim jeans, a lambskin jacket adorned with small chain details, and suede studded boots, Taeyong channeled the youthful '90s spirit of "TEEN KNIGHT POEM." The collection was dramatically presented back in February at Château de Chambord and had as its premise, "Living again, in the sense of coming to life, being reborn."
Monsieur Sicheng Dong
Not a stranger to the glitz of fashion, the member of NCT and WayV, WinWin, has been regularly receiving attention at fashion events. After causing furor at the opening of Louis Vuitton's store in Shanghai and attending a handful of important invitations, there is no denying that the Chinese star has become one of the most sought-after celebrities in Asia. Being invited to watch the unveiling of CELINE's new collection is his latest fashion feat.
Naturally, WinWin took to social media to announce it. Through an Instagram story and a Weibo post, the singer showed the personalized card he received from the popular fashion house. 
#WINWIN instagram story update pic.twitter.com/4ke36qqyyb

— ncity daily 🌱 (@ncitydaily) July 26, 2021
Fan Reactions
Although it is general knowledge that any news regarding NCT and their fashion-related endeavors will always cause a stir, fan reactions are still worth mentioning. After taking to their social media accounts, Taeyong and WinWin sent Twitter into a celebratory mood. Fans turned CELINE, and the NCT members into trending topics.
winwin and taeyong x celine. the expensive men ✨ pic.twitter.com/0bQLFOEXov

— ً (@dongzennie) July 26, 2021
The way my ults are getting these luxury brands 🤲🏻

Taeyong for Celine
Jaehyun for Prada
Mark for Dior

They're not just serving talents, but looks as well. Models should be thankful these 3 chose music. 😌 pic.twitter.com/Kylfhz69WW

— gee (@Tayongie) July 26, 2021
MONSIEUR TAEYONG
TAEYONG X CELINE #TAEYONGxCELINE #TAEYONG #태용 #NCT태용 #CELINEBYHEDISLIMANE https://t.co/t5RM7v0jQi

— Rosetae ⚛️❤ (@rosetaeyongee) July 26, 2021
WINWIN x Prada, Maison Margiela, Louis Vuitton and Now for Celine. Model Winwin that's so sexc 🤩 pic.twitter.com/RLT4tdsg7Q

— ☁️ (@wintaendo) July 26, 2021
#TAEYONG busy and booked King :

1. 27 July Taeyong X Celine
2. 7 August with superM virtual concert and fanmeeting
3. 24 August becomes Judge on Mnet
4. NCT 127 Comeback September the date TBA

next : taeyong actor, taeyong solo magazine, taeyong debut solo !!! pic.twitter.com/H2AZ49XPcl

— KUN SOLO COMING SOON (@Yourdaiisy) July 26, 2021
CELINE's Guestlist
Following a first introduction in 2020, CELINE HOMME is consolidating its place in the fashion industry. With Hedi Slimane at its helm, many K-pop stars have joined the brand's celebrity clientele. As one would expect, other VIPs were also added to CELINE's guestlist. GOT7's JB, the popular actor Ahn Hyo Seob (Lovers of the Red Sky),  SF9's Taeyang,  NU'EST's Minhyun, Seventeen's Mingyu, SHINEE's Key, Dawn, The Boyz's Juyeon, and VICTON's Byungchan joined the fashionable crowd of remote attendants to the show.
View this post on Instagram
View this post on Instagram
210727 YooTaeyang IG Story Update (taeyang_0228)
Celine#Yootaeyang #Taeyang #유태양 #태양 #柳太陽 #テヤン #SF9 pic.twitter.com/aBS4XmoO3E

— YooShine YooTaeyang 🌞 (@YooShineUSA) July 26, 2021
celine gave two pledis kids this gift!? minhyun and mingyu uploaded it on their ig story 🤔 pic.twitter.com/98qehGiGL5

— nuventeen (@nuesvtgemini) July 27, 2021
OH MY GOD #KEY WAS INVITED TO CELINE TOO #SHINee pic.twitter.com/oHXRkh9mYN

— tika 🥰🎲🌸 #OurShiningGilliDay 🥳 (@dalkomyeoja) July 27, 2021
[주연] CELINE HOMME SUMMER 22
07.27 Tue 9:00PM(KST)#CELINEHOMME#COSMICCRUISER #CELINEHOMMESUMMER22 #광고@celineofficial pic.twitter.com/g3bmjThy2R

— THE BOYZ (더보이즈) (@WE_THE_BOYZ) July 27, 2021
View this post on Instagram
LISAxCELINE
CELINE's Global Ambassador, BLACKPINK's Lisa, took to Instagram to promote the show too. Just like previous occasions, the Thai trailblazer's fans had her name trending in no time. 
Lalisa try this#LISAxCELINE @celineofficial #CELINEHOMMESUMMER22 #celinebyhedislimane #COSMICCRUISER pic.twitter.com/rZWfcFc1dG

— Meylani Asmarani Riadi (@MeylaniRiadi) July 27, 2021
the one and only celine global ambassador#lisa #AllAboutLisa #LisaXCeline #blackpink #lisablackpink #LisaManoban pic.twitter.com/1GCCCqO1d8

— 🎂cumiitrululu (@cumiitrululu) July 23, 2021
#LisaXCeline and Harper's Bazaar China are still trending 🔥#LISA #LALISA #CELINE #HARPERSBAZAAR @BLACKPINK pic.twitter.com/Uv9VkWUchm

— LORI (@MLisayah) March 24, 2021
CELINE HOMME's Summer 2022 collection was broadcast on July 27 at 2 PM CEST through CELINE's official channels. You can watch the show here. 
NCT's Quest to Fashion Domination
Over the last couple of months, NCT has proven that fashion brands can't get enough of them. Aside from their music, the young men have demonstrated their popularity through continuous appearances at fashion events, campaigns and magazine editorials. With 23 members as talented and chameleonic, there is no doubt that, in the future, the group will only keep accumulating bragging rights.
Curious about NCT's other forays into fashion? Check out our article on Doyoung's evolution into a style icon here!
Images courtesy of SM Entertainment. Graphic designed by Mal.