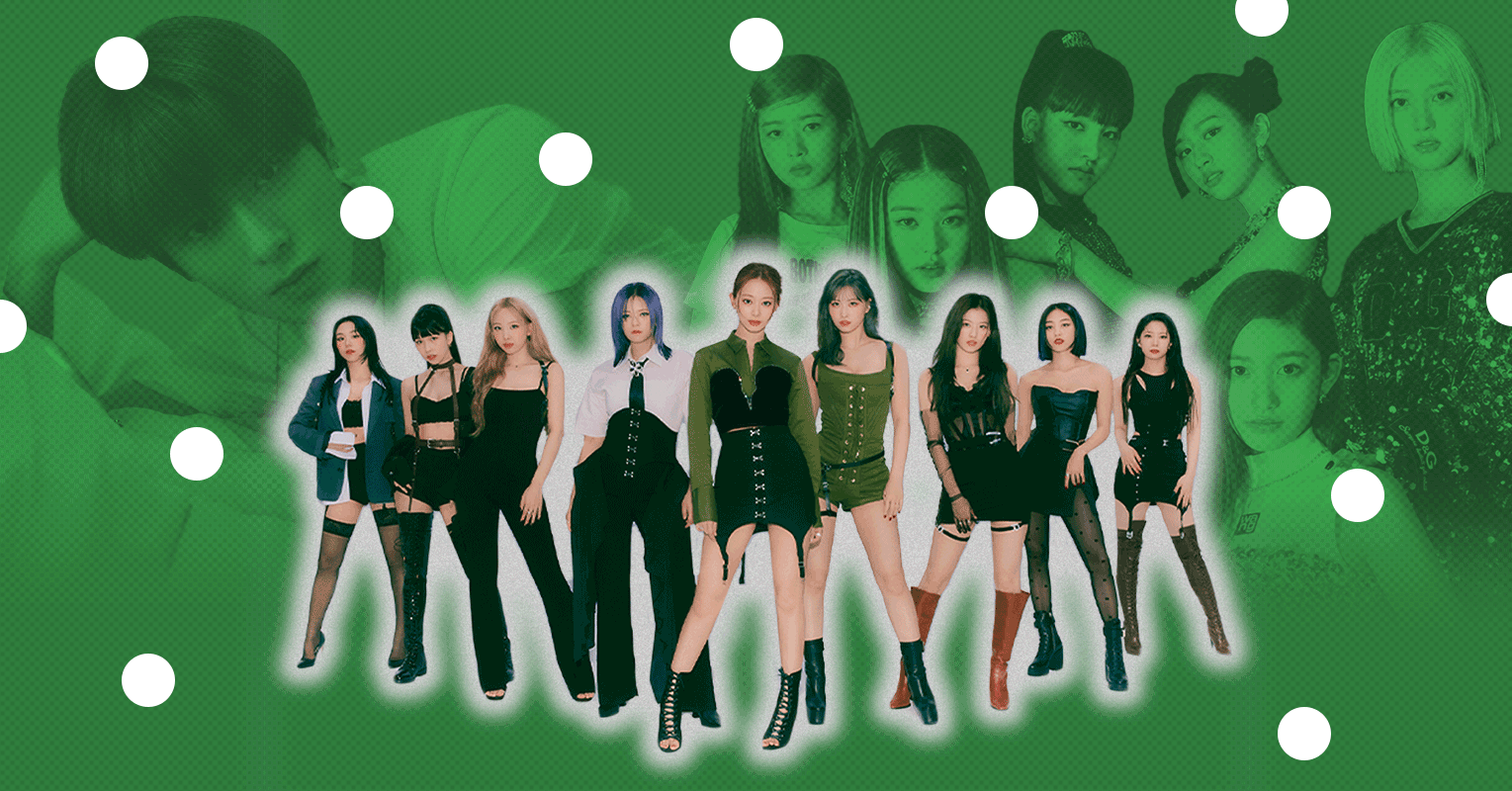 August was a star-studded month filled with high-profile comebacks scattered all throughout. With numerous notable releases, it's hard to keep track and play favorites. Luckily, EnVi's here to do just that.
Talk That Talk and Walk That Walk With TWICE
Fresh from their joint contract renewals, TWICE are back with their eleventh EP, Between 1&2. Lead single "Talk That Talk" solidifies the girl group's direction towards synth-dominant sounds, as seen in previous singles "SCIENTIST," "I CAN'T STOP ME," and "Cry For Me." Despite the group's turn towards sleeker songs, "Talk That Talk" has the bubbly and bombastic pop energy ONCEs have grown to love about TWICE's music.
The music video, on the other hand, is a visual delight. TWICE don't hide from generous reference usage, as they pay homage to their older songs and Apple's iconic "1984" commercial. Cyber and Y2K aesthetics also dominate the music video, giving it a retro-futuristic feel.
"Talk That Talk" has TWICE asking ONCEs to tell them what they want and need, and the nine-member girl group is certainly here to deliver. Outside of the lead single, TWICE give fans what they want and need through side tracks with lyrics penned by members Jihyo, Dahyun, and Chaeyoung.
Girls Generation is Here…Forever?
Good things come to those who wait, and Girls Generation's first album as eight members in five years proves this. The girls are back with their seventh album FOREVER 1, and the lead single of the same name is as nostalgic as it sounds.
"FOREVER 1" feels effortlessly classic and timeless, and it banks on a sentimental charm that comes naturally after a long wait has finally passed. Musically, "FOREVER 1" is pop at its purest with bombastic electro touches, euphoric melodies, and chant-worthy refrains.
Like the title track, the rest of the album is a warm hug for SONEs who've patiently waited for their beloved SoShi's return. The album features songs spanning a wide roster of genres—from soft R&B "Mood Lamp" to edgy, seductive, Kwangya-esque "Villain." Members Sooyoung and Tiffany also participated in songwriting for two tracks, leaving a more personal touch reassuring fans that they're back and better than ever.
Where's Jaehyun Been Our Whole Lives?
The sixth-year mark for NCT points towards the members' efforts in branching out to explore opportunities outside their respective units—whether in music, fashion, acting, or otherwise. Jaehyun has stayed true to the all-rounder label both members and fans give him by gaining experience in all three aforementioned fields in a span of three months. From his illustrious Prada brand ambassadorship to his much-awaited K-drama debut, Jaehyun's been venturing into numerous things, and music is definitely one of them. His first solo song since debut, "Forever Only," is what he considers to be the start of his journey as a solo artist.
"Forever Only" is reminiscent of 2000s R&B with its acoustic guitar-powered melodies, swoon-worthy adlibs, replayable riffs, and laid-back ambience. Jaehyun took part in writing the lyrics for his first official solo release, which only elevated the song's already sturdy R&B foundations. The lyrics are wistful and longing for a lover that has seemingly slipped away—a core theme in beloved R&B classics. Jaehyun has expressed his affinity for all things R&B multiple times, so the overall construction of his first single has been far too easy to love for Valentines and NCTzens.
The R&B influence doesn't stop at the song itself, as the music video pays homage to a lot of familiar elements, like the classic "submerged in water" scenes and snippets of playing the guitar. It's not every day that a soloist can carve and craft such a recognizable and fitting vibe that sets the tone for the rest of their work, but Jaehyun is a clear exception.
IVE Will Survive
Third time's the charm, and Starship Entertainment's IVE can attest to that. Closing off Team EnVi's favorite August releases list is "After LIKE," IVE's third single, and consequently, third hit. The single is a disco-pop song that builds itself around a sample of Gloria Gaynor's iconic "I Will Survive."
As they pay homage to a timeless hit, DIVEs also see their favorite girl group at the cusp of bringing disco back to K-pop. With evident electronic and house influences, IVE get their fans and listeners grooving as they bring the old and new together. The sextet's third single also proves to be a chart-topping hit, which goes to show that the IVE girls might have mastered a hit-making recipe. Hint: it involves a lot of chaebol crush—prep school kids meet girl crush.
While "After LIKE" is the star of the show, B-side "My Satisfaction" is nothing to scoff at. Showing a grittier and darker side, IVE prove their versatility through a song that almost feels villainous with its unapologetic self-love.
Unsurprisingly, DIVEs are left wanting a longer body of work beyond single albums for IVE. While they patiently wait, it's clear that the girls' third single album is good company to have.
Still looking for more August releases? Check out our pieces on NewJeans and BLACKPINK here!