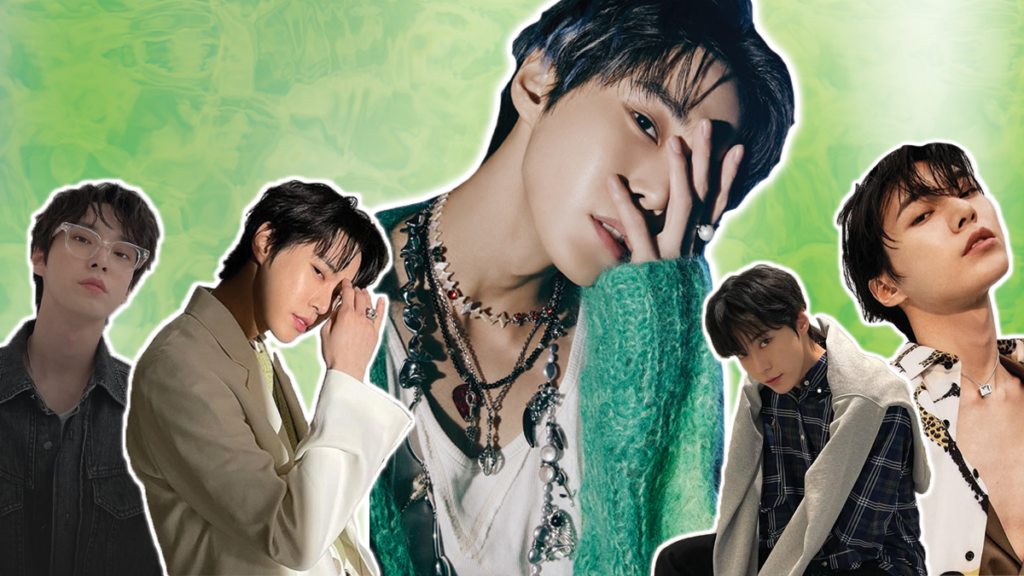 NCT's vocalist Kim Doyoung had people "Falling" for his velvety vocals even before his debut. Over the course of his career, however, the star has proven to truly be a full package. Power Vocalist, Award-Winning Actor, Musical Rookie are only a few of the titles he has earned throughout the years. While it is evident that Doyoung has come a long way thanks to his singing and acting skills, the idol has also garnered attention for his style. Jumping in between music and acting projects, it is no surprise that the 26-year-old has had plenty of occasions to showcase his fashion range. To honor Doyoung on his birthday, we are looking back at some of his most iconic style moments.
A Tasteful Personal Style
Just like every member of NCT, Doyoung has reinvented his wardrobe as his career progressed. But for the most part, the singer's endless array of off-stage looks has remained simple, and understated, incorporating trends in subtle ways.
Over time, Doyoung has mastered the boy-next-door look, usually relying on basics like plaid shirts, T-shirts, cardigans, and denim that he powers with accessories such as necklaces and sunglasses. Take as an example, his off-duty look at the 2019 Global Citizen Festival in New York, or his outfit choice to stroll—and even offer an impromptu performance—around the city.
Doyoung's Instagram-able Fashion
After opening his personal Instagram account in 2020, Doyoung has taken to social media to share his daily-life outfits. The star is often spotted supporting local brands and reusing his favorite items. Among them count a Prada Logo Drill Tote and his QT8 GARMENTS' mouton jacket. In addition, Doyoung also owns an enviable selection of basics from brands like Acne, Ami, Valentino and Louis Vuitton.
Despite his approachable style, the singer always makes sure to add his personal stamp and elevate every look. Whether it is wearing accessories—like caps or berets—or adding a pop of color, he knows exactly how to upgrade an outfit.
Displaying Conceptual Range
From his debut in NCT U in 2016 to his latest round of promotions, Doyoung has been slaying concept after concept. With plenty of room for experimentation, the idol has practically worn it all: playful animal print, classic tailoring, tweed, and pearls, you name it. Alongside NCT's music, Doyoung's onstage wardrobe has evolved, leaving several fashion moments worth noting.
For example, during NCT 127's "Limitless" era, Doyoung sported reddish hair that contrasted with an eclectic styling full of sportswear, tiger prints, and tons of accessories. On the other hand, for "Touch," Doyoung exchanged the streetwear influence in favor of a more subdued style, rich in pastel colors, and perfectly suitable for the love anthem. Then, during the promotions of "Kick It," the idol switched to leather ensembles. Heavy chains hanging from his neck and unwavering confidence complemented the look.
Dressed in tweed suits, Doyoung continued to deliver his chameleonic qualities with "Make a Wish." Shifting the tides of menswear trends with pearl necklaces, the singer proved to be a particularly fashionable individual. In 2022, gearing up for the unveiling of "2 Baddies," Doyoung sported a variety of street style looks and subtly embraced trends such as racercore. Needless to say, the bold ensembles quickly became favorites among fans.
Dorsen
When talking about Doyoung, a mention of his foray into the theater industry is mandatory. The star's portrayal of Count Axel von Fersen in the musical Marie Antoinette earned the approval of critics and passionate reactions from fans. However, for fashion and history enthusiasts, the costume design didn't go unnoticed. Without a doubt, Doyoung's convincing acting found its complement in the 18th-century style codes incorporated into his costumes. Clad in military uniforms, Dorsen makes for one of Doyoung's most interesting wardrobe moments.
"Black on Black"
Though Doyoung is not the type to stick to one style formula only, it is inevitable to note the star's penchant for all-black ensembles. Whether he chooses to keep it casual or take the sporty road, the singer has made black on black a signature of his aesthetics. A cardigan here, a leather jacket there, Doyoung never fails to enhance a full black look. A case in point is the turtleneck and skinny jeans combination that sent fans into a social media frenzy back in November 2020. Similarly, Doyoung has sported black-on-black looks for his fashion event appearances, adding key points like statement accessories.
Likewise, as far as stage outfits are concerned, one of the best examples is the outfit Doyoung donned for the first win of "Regular." A buttoned-up shirt, black denim pants, leather jacket, and tie made for a sleek bulletproof look.  In a more rocker spirit, Doyoung wore a sleeveless t-shirt, skinny jeans, and a leather jacket adorned with chains to perform Queen's "Don't Stop Me Now" at the 2018 SBS Gayo Daejeon. For those of us who never forget that Doyoung fronted the band Seven able before his debut, undoubtedly rocker Doyoung was a treat. 
Keeping up with the black outfits, Doyoung sported a Tom Ford jacket, Chelsea boots, and skinny pants to cover his Birthday Twin's song, "Falling." If you're wondering who the twin is, yes, an impressive vocal range is not the only thing Doyoung and Harry Styles have in common. Both artists celebrate their birthdays on the same date!
On the Red Carpet
Flaunting a long-time career, Doyoung has strutted through the red carpet on countless occasions. The slew of public appearances at award shows and special events mostly consisted of the artist dressing up in polished suits. At the 2018 Dream Concert, for example, Doyoung wore a slim-fit black suit. The upgrade came with a nontraditional tie knot and a single earring.
On NCT 127's first red-carpet appearance at the 2018 American Music Awards, Doyoung took formal attire to the next level in a tux. The star opted for classic accessories like a cummerbund and a bow tie for a praiseworthy look. Back in Korea, Doyoung attended the 2018 SBS Gayo Daejun wearing a black-tie code. For an update on the typical tuxedo, Doyoung paired a white jacket with satin details and black pants.
Meanwhile, at the 2021 Asian Artist Awards, Doyoung collected his first-ever acting award wearing a black jacquard suit. The actor, who also fetched the award for Album of the Year on behalf of NCT 127, nailed a dapper dress code with a bow tie.
In a red carpet appearance at the 2022 Gaon Chart Music Awards, Doyoung wowed in a full black suit of western inspiration. Leather lapels, metallic embellishments, and silver jewelry put a spin on what became one of Doyoung's most memorable red carpet looks. The unexpected twist was well received by fans if their reactions on social media are anything to go by.
Doyoung's Model Facet
So far, Doyoung has graced various fashion publications. Teaming up with his bandmate Jungwoo, in 2021, the singer posed for the pages of Cosmopolitan Korea and @Star1 Magazine. While simultaneously showing off his model dexterity and versatility, the singer left a few style moments ingrained into our brains.
Doyoung also shined extra brightly in his photo shoot for W Korea. Joined by his brother, Gongmyung, the star rocked looks from Bottega Veneta, Rick Owens, and Alexander McQueen. The singer not only flaunted the close bond with his sibling but also displayed the latest menswear trends. Likewise, in 2022, the talented idol fronted a three-cover feature for W Korea, appeared on the pages of GQ Korea, and was selected as an editorial model for Elle Japan.
With many personal and group projects in store for 2023, chances are Doyoung will continue to sport coveted styles and expand his fashion lookbook. While we look forward to Doyoung's fashion evolution and more standout moments, take a look at NCT's journey in the high fashion industry here.