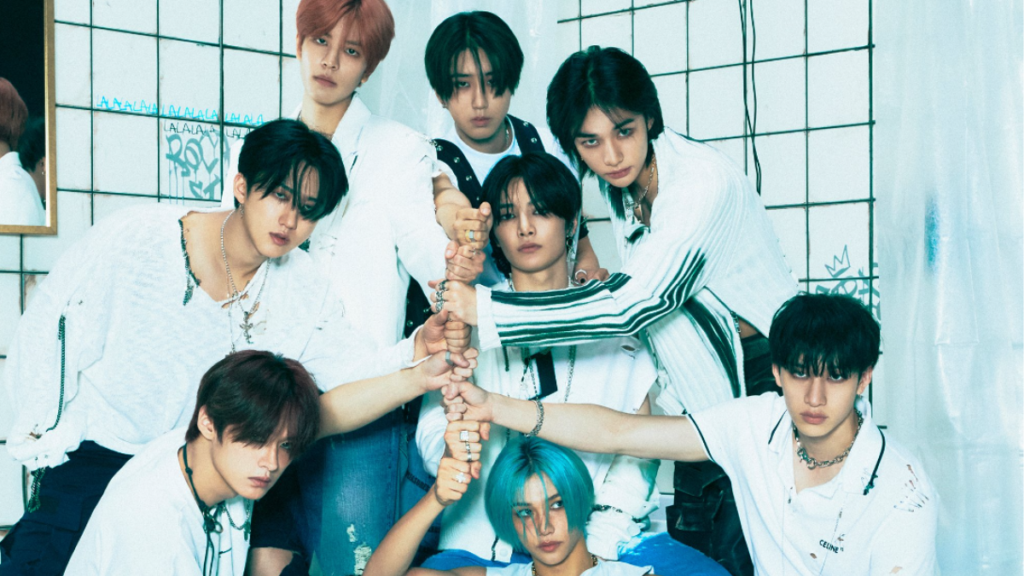 If you were at Stray Kids' "Maniac" world tour last year, you might have noticed the live band the eight-member group brought with them. Already staples in the Stray Kids discography, "God's Menu" and "Thunderous" — among others — were elevated in their special live band performances.
While these rock versions, unfortunately, are not on streaming platforms, we can still dive into the rock-influenced tracks Stray Kids do have in their discography. Let's get ready to rock with these eight rock songs released by Stray Kids.
"Mixtape : Time Out"
Released on August 1 last summer for STAY Day, "Mixtape : Time Out" is a celebratory pop-rock track. While this was not the first time Stray Kids dabbled in the rock genre, the other rock-influenced tracks tended to be B-sides that did not receive as much undivided attention. Meanwhile, the music video for "Mixtape : Time Out" has garnered over 15 million views in the last year. This summery, refreshing mixtape — which is dedicated to their fans and co-written by 3RACHA — is proof of Stray Kids' growth since their watershed "God's Menu" release.
And they celebrate these triumphs and time to rest with "Mixtape : Time Out." Upbeat drums and electric guitar hooks accompany the crashing of waves heard at the beginning of the track. Over these joyful instrumentals, Seungmin sings, "Throw away all of your tangled, complicated thoughts and go" in the final line of the chorus. Felix, too, encourages STAY and his members to be in the moment, to "Don't worry about tomorrow." Smiles, laughter, and mischief — including Lee Know accidentally spraying the drink he was mixing all over himself — also characterize the laid back beach trip vibe of the music video. As Changbin raps, "Lay all your worries down," and maybe find a beach to run around on and sing your heart out, just like Stray Kids.
"Waiting For Us"
In 2021, Stray Kids finally added their take on the pop/rock ballad. Despite carving out their own genre of "noisy" music, the group knows how to be gentle, too. "Waiting For Us" is a must-have track for any Stray Kids rock playlist, especially if you're in need of a cathartic scream-out-your-heart ballad. However, "Waiting For Us" isn't sung just by the main vocalists of Stray Kids, Seungmin and I.N.; Leader Bang Chan and dancer Lee Know also join the mix.
The result is both unexpected and balanced — crafting a kind of synergy that highlights how Stray Kids know their team best. Soft acoustic guitar notes open the track with Bang Chan's equally soft and melodic vocals. Steady drums, resonant electric guitars, and increasing energy are added one-by-one, leading to Lee Know's star moment in the last minute of the song. As he belts out his lyrics among the swell of the instrumentals, Lee Know showcases just how powerful his voice can be.
Together, these Stray Kids members sing poetry, emotional and vivid. Winter is coming; petals and leaves are falling; the warm days of love are over. They plead and try to keep standing, but there is a strong undercurrent of sorrow in their words and in their voices. Just as the chorus goes, "So I'll tightly hold your hands / No matter what moment comes / I won't let you go."
"Volcano"
On their fan communication platform, Bubble, versatile member Han once asked STAY to give him rock song recommendations. While 樂-STAR is the first time Stray Kids has dabbled in rock as an overaching concept, Han's solo releases show that he has been interested in the genre for some time.
Released via SKZ-Record — original songs and covers Stray Kids upload onto their YouTube — "Volcano" entered the world this past February. In the cinematic track, Han mixes his signature rap style with rock elements, including a guitar and drums-driven chorus. Muted vocals, spotlighting the hook, grow at the beginning and transitions into Han's only rap section of the song. "Volcano" compares someone to the fiery natural disaster. Although Han knows he can be burned — and badly — by the fire and lava, he offers the hurting one protection. And this protection comes in the form of a soft, loving hug: "I'll protect you / It's okay to hurt, I'll embrace the wounds you shed." Han continues, singing, "Unlike those who run away from you, I'll embrace you."
The Stray Kids rapper digs even deeper into his vocal delivery. He belts out the chorus, "Like a volcano," and rarely lets up the powerful energy and the explosion of emotion until the next verse. "Volcano" is a testament to the vocal and songwriting skills Han has been cultivating despite his main role as a rapper within Stray Kids.
"Social Path"
In late July, Stray Kids announced their first Japanese-language EP. Most of the comments on the announcement tweet, however, are along the lines of "OMG" and "WHAT???" These enthusiastic yet surprised reactions dropped for good reason: the title track of this EP features Japanese singer LiSA, who often lends her voice for anime OSTs.
Thus, the collaboration is a collision of two worlds, with "Social Path" telling the stories of both artists' journeys. The upbeat feel, heavy presence of drums, and playful guitar riffs create a head-banging track despite the lyrics. Stray Kids are confident as they detail how they took their chances and came out stronger on the side. They "Gave up [their] future / For [their] future," the first line of the song, which is only punctuated further by a resonant electric guitar.
Stray Kids and LiSA drive home how they took a gamble when setting off on their career paths. They dedicated their lives — and their youth — to carving these paths, although they knew it was "gonna be lonely." Still, the two powerhouses celebrate their unique journeys through the English (and occasional Japanese) lyrics of "Social Path." LiSA's refrain underscores this message and takes the track to new heights. In her moments, she sings of the passion that drives them and the loneliness that comes with this path. They are almost like phoenixes who "rise up stronger," while the "ashes prove [their] passion always burns eternally."
"LALALALA (Rock Ver.)"
Stray Kids finally committed to the rock wave that took over K-pop in recent years with their comeback on November 10. Quite frankly, it was a little disappointing that the title track of 樂-STAR (or ROCK-STAR) wasn't, well, rock. But have no fear: the rock version of "LALALALA" also was released, and it's exactly what Stray Kids mean by "rock star."
While the lead single is already an explosive and epic addition to the ever-growing group, "LALALALA (Rock Ver.)" takes the track to the next level. From the onset, the screaming electric guitars demand listeners pay attention to Stray Kids. Changbin kicks off the lyrics with a self-reference, "Welcome to heaven, thunderbolt," seemingly drawing in their "Thunderous" track from 2021. The rapper's later lines, "Shout into the mic, just enjoy, it's music after al,l" and Hyunjin's delivery of "Guitar, bass, drums, paint those nails pitch black" lets listeners know Stray Kids are here to rock — and to rock hard.
And boy, do they rock. After the bridge, all of the instrumentals and vocals stop abruptly. Felix's deep voice chants the "lalalala" hook, but that's not the only surprise they have in store. Then, Hyunjin comes in with the echo alongside gritty electric guitars. This pause renews the track's energy and makes it soar to new heights. More drums and guitars go all-out in a chaotic frenzy as "LALALALA (Rock Ver.)" hurdles into its conclusion. Now, we can only hope Stray Kids will bring their band on tour again because hearing "LALALALA (Rock Ver.)" live is a need, not a want.
"Lonely St."
Written by Changbin, alongside Bang Chan who also produced the track, "Lonely St." is a noteworthy scream/cry rock ballad in Stray Kids' discography. Preceding "Waiting For Us" on the ODDINARY album, "Lonely St." releases angst, loneliness, lyricism, and frustration. The members pick up where another leaves off in lines such as "Although I'm lonely, the lone king / Pull out my swords, I'm the one to draw my own path, true / Towards the sunset, but I'm blue." I.N and Lee Know conclude the verse with their emotional realization, "I can't see anything, even with the moon / I'm still astray."
This 2021 song is reminiscent of Changbin's SKZ-Player track "Streetlight" released the year before. Both take on the image of an empty street to express persisting loneliness and struggle. Yet in "Lonely St.," Changbin is not alone. The music video features the other seven members sharing the pain. They double over, falling onto the ground with twisted expressions on their faces — while some even have bloodied bandages, too. However, "Lonely St." forms its foundation on hope and moving forward, as they sing in the pre-chorus, "Although I have a lot taken away from me, ey / This is my last time walking this way / Don't comfort me only now / I'm still on my way." Stray Kids have their determination and their belief in themselves (and each other), and that's all that matters.
"Awaken"
Now it's time to talk about a Stray Kids deep cut. "Awaken" was originally released on the group's debut mini album, titled I AM NOT. While "Awaken" may not always be the top B-side pick in Stray Kids' music history, the audio version from 2018 has accumulated over one million views. The rock B-side is also featured on the group's project SKZ 2021, where the eight members re-recorded their early discography.
If you listen to "Awaken" and "LALALALA (Rock Ver.)" back-to-back, the former walked in 2018 so the latter could run at top speed today. Stray Kids of 2023 have clearly not forgotten the rebellious rockstars of the I AM NOT era. Tracks like "Awaken" and the group's debut title, "District 9" helped shape the "noisy" — and proud — sound Stray Kids are now synonymous with. From the very beginning, the eight never shied away from letting out their frustrations through a cathartic scream, throwing a growl into a track, or crafting a trailblazing rap.
And they do so in "Awaken." Stray Kids process their identity crisis in real-time, forging an emotional connection with the rock roots of the track. Felix opens "Awaken" with whispered bass notes backed by an electric guitar, while Seungmin follows with a big belted line. A fierce drum roll, increasing in speed, accompanies his vocals and the "wake up!" rock scream. Stray Kids ask through their music, "'Where am I? Who am I?'" / Awaken, tears are falling / who was I for all this time?" But as Changbin notes in the first verse, they have a little more clarity on the situation: "I realized I wasn't being myself / A riot is happening inside of me."
"Can't Stop"
It was all in due time before Stray Kids tackled love songs. But being Stray Kids, they took their own path with 2022's Maxident, named for the "maximum accident" that is love. I.N and Seungmin's "VocalRacha" duet, "Can't Stop," is featured on this full-length album. Co-written by the VocalRacha members and Hong Ji-sang, the track possesses a strong DAY6 vibe with its harmonies and chords. The chord progression from the pre-chorus into the hook, especially, seems to be an ode to DAY6. Which, of course, makes sense, since Hong is a frequent DAY6 collaborator and Seungmin does not hide his love for this band.
In "Can't Stop," the youngest members of Stray Kids confess their unexpected love for someone. "I must want you so much / No matter whatever I do / I can't escape it / I must like you a lot," they sing. It is clear how these vocalists have grown in the past years, as they execute the powerful notes of the song well while keeping up the tempo and energy of "Can't Stop." Through this track, Seungmin got his DAY6-esque song on a Stray Kids album, while STAY got their DAY6-esque song on a Stray Kids album, too.
Find Stray Kids' music on Spotify, Apple Music, and YouTube. Connect with the members on Instagram, Twitter, Facebook, and TikTok.
Want more Stray Kids songs to add to your playlists? Check out the Top 8 Stray Kids B-sides here!