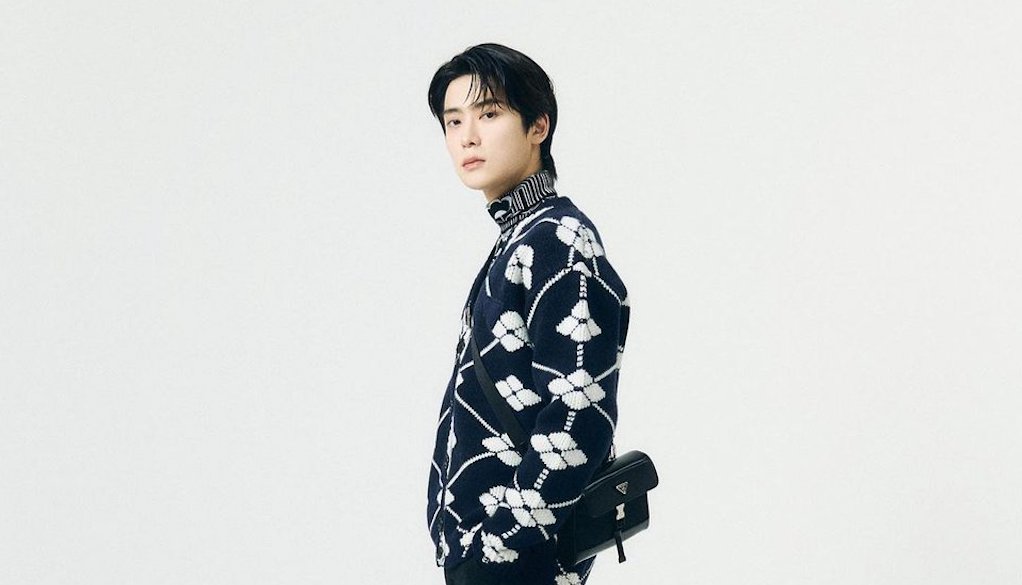 In the midst of Milan's Fashion Week, the Italian powerhouse, Prada, showed its Spring/Summer 2022 collection. Introducing a format that blends in-person and digital runways, the brand presented two simultaneous live shows. Just like previous seasons, several Korean celebrities were in—remote—attendance. The star-studded list included NCT's Jaehyun, SNSD's Seohyun and Tiffany, Kim Taeri—Prada's new ambassador—, Lee Jong-suk, and many more.
Prada's "Synchronic Views"
In another installment of the collaboration between co-creative directors Miuccia Prada and Raf Simons, the Italian house, Prada, unveiled its latest collection. Simultaneously presented in Shanghai and Milan, the show was described as "a celebration of the unique experience of the runway, and the power of technology to transcend borders, to unite. A celebration of fashion and of community." 
Miuccia Prada and Raf Simons present their first SS22 collection live from Milan and Shanghai #PradaSS22 #MFW https://t.co/vPTrCp5YPB

— PRADA (@Prada) September 24, 2021
Guests Beyond Borders
Marking Prada's first in-person event since the start of the pandemic, the show was highly anticipated by industry professionals. However, loyal to the premise of reaching beyond borders, the runway was also streamed for fans and remote VIP attendants. This included ambassadors and friends of the house like SNSD's Seohyun and Tiffany, TWICE's Sana, Sandara Park, MAMAMOO's Hwasa, Lee Hi, Moon Gayoung, Kim Taeri, Lee Jong-Suk, and Song Kang. Clad in looks from the Italian fashion house, the stars took to Instagram to announce their invitation to the show. In addition to sharing their best poses, they anticipated Prada's latest effort and asked people to join the live stream.
Jaehyun x Prada
Just like previous seasons, NCT's Jaehyun was also invited to remotely join the event. Already acquainted with the fashion scene, the singer posted a couple of pictures on Instagram. Dressed in head-to-toe Prada, the celebrity presented outfits from the brand's past Fall/Winter 2021 collection. A promotional video on his Instagram stories accompanied the post. 
View this post on Instagram
[OFFICIAL/VIDEO] 210924 #JAEHYUN's Instagram story update

"Prada #Prada#PradaSS22 #Advertisement"#NCT #NCT127https://t.co/Y8FrQW2rY2 pic.twitter.com/9lQ7XdHxit

— SM_NCT (@SM_NCT_BACKUP) September 24, 2021
The member of NCT 127 later took to Instagram to broadcast the show from his personal account. Gathering an impressive number of viewers, Jaehyun became "the first Korean & the only celebrity in the world to live stream PRADA's 2022 Spring-Summer women's wear collection." An official from the Italian brand explained, "We decided to proceed with this project because we thought that Jaehyun's luxurious image fits well with the brand's image." They added, "Jaehyun is currently the most sought-after K-pop artist." 
JAEHYUN proves his global influence, becoming the first Korean & the only celebrity in the world to livestream PRADA's 2022 Spring Summer women's wear collection on his social media account! https://t.co/IMiZCHdSJt#재현 #JAEHYUN#NCT #NCT127#Prada #PradaSS22

— NCT (@NCTsmtown) September 25, 2021
Fans Love It
In sync with the idea of bringing people from both sides of the world "together in a modern community," fans of the Korean stars also joined the live stream of Prada's show. Needless to say, their enthusiasm reached social media platforms, where they shared their thoughts on the runway and the stars in attendance.  
Jaehyun's fans, in particular, flocked to Twitter to gush about the star's activities and their anticipation for future collaborations between him and Prada.
i find it funny how jaehyun was live streaming prada's fashion show with the comments turned off and the number of viewers were dropping like it's a countdown. and when he turned the comments on, the viewer count went up again.

— izzie (@notashuang) September 24, 2021
today i wanna thank @prada for giving jaehyun this opportunity and for making my day better

— c (@vousmeyong) September 24, 2021
#jaehyun for burberry, prada and celine all in one year pic.twitter.com/1INnIQtfmP

— 밈🍑 (@14aehyun) September 24, 2021
Jaehyun's invitation to

– Prada SS22 menswear collection in June
– Prada SS22 womenswear collection in September #JAEHYUNxPRADA pic.twitter.com/u1i2clLxN8

— 린 🌸 (@jaehyunbom__) September 24, 2021
sticker second win jaehyun for prada and a jaehyun selfie on bbl i'm so used to giving now i get to RECEIVE pic.twitter.com/Gt3k92DLrN

— ً (@jaelofi) September 24, 2021
Prada have sent out pr packages + gifts to a few idols + actress kim taeri is their new ambassador, but very cool that invited #JAEHYUN twice + is the only male idol invited to the womenswear show 🎉 https://t.co/kxa4z15puY#재현 #NCT재현 #NCT127 @Prada #Prada #PradaSS22 #광고 pic.twitter.com/RRk6U3Xk61

— JAEHYUN CHARTS (@jaehyuncharts) September 24, 2021
NCT's Fashion Takeover
2021 has been an exceptional year for Jaehyun and his fellow bandmates. Through several collaborations and nods from the international fashion industry, the members of NCT have cemented their status as fashion influencers. From exclusive invitations to special projects with luxury brands, the multicultural group has become a force to be reckoned with. After forging enduring links with powerhouses like Gucci, Dior, and Prada, Jaehyun and NCT continue to flaunt their prowess in the world of fashion. 
As in-person events slowly make their return, we hope to see Jaehyun and other K-pop stars attending fashion shows in the flesh. For the time being, you can read about KARD's BM runway debut at Milan Fashion Week here.
Thumbnail courtesy of Jaehyun's Instagram.