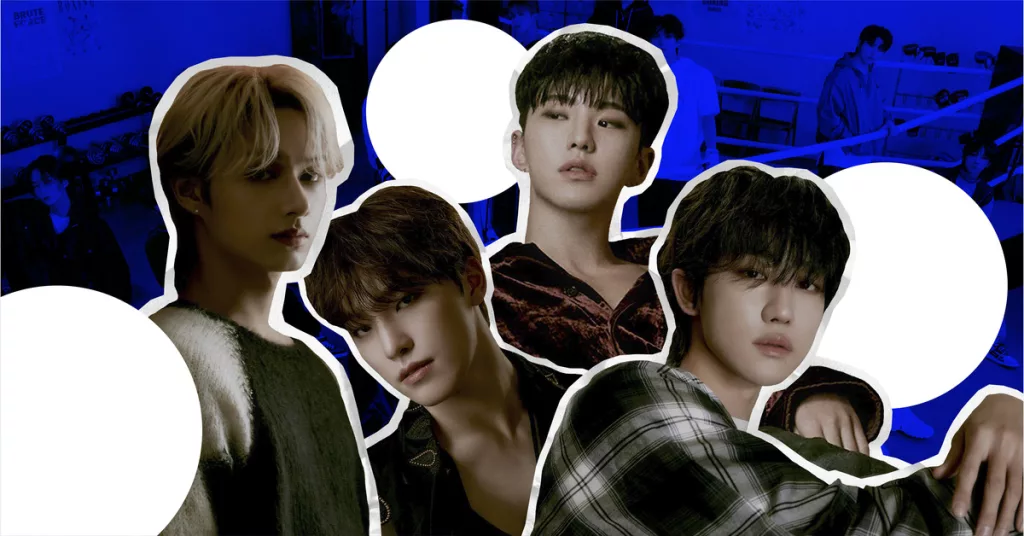 SEVENTEEN, the 13-member group formed by Pledis Entertainment in 2015, are broken into three unique subunits—hip hop, vocal, and performance. The Performance Team is composed of four members: subunit leader Hoshi, SEVENTEEN's two Chinese members, Jun and The8, and the group's youngest member, Dino. With a reputation for being a performance powerhouse, it's no secret that the Performance Team plays a vital role in the SEVENTEEN's growth. To get to know more about the key members behind SEVENTEEN's unforgettable performances, here are seven things any fan should know about SEVENTEEN's versatile Performance Team.
The First Official Unit Track
Released as the third track on SEVENTEEN's third album, Going Seventeen, "HIGHLIGHT" is the first song from the Performance Team. With an upbeat melody and energetic choreography, the record showcases the quartet's outstanding abilities as performers, vocalists, and songwriters. (All the Performance Team members took part in composing and writing the record.) With an emphasis on EDM rhythms, the track's powerful dynamic is all about wanting to become one with the person you love. The lyrics, which are written in Korean and Chinese, portray the group's desire to be close to their lover. They try to do whatever it takes to be together, as they sing, "Likе the sun and the sky at the break of dawn / We're becoming more like each other / We'll become one in the end."
Performance Genius and Unit Leader Hoshi
When it comes to performers who project power on stage, Hoshi Kwon stands out. The 26-year-old tiger-hearted leader of SEVENTEEN's Performance Team is known by his fans, Carats, for his strong energy and mischievous endeavors. So it's no surprise that SEVENTEEN's tiger guards the stage as if it were his natural habitat. Though the group is well-known for their intense choreography, Hoshi's powerful performances and outstanding dance skills establish him as the unit's rightful leader. In addition to helping to create several of SEVENTEEN's choreographies, the singer has shown his creative side in his solo endeavors. With the release of his first solo track, "Spider," in 2021, Hoshi had the opportunity to show the world he could do it all. He is credited as a composer, lyricist, and choreographer, further proving his versatility as an artist.
The Beginning of Jun's Solo Music Endeavors
Although Woozi had his solo track "SIMPLE" on SEVENTEEN's repackaged album Love&Letter in 2016 and Vernon dropped a collaboration in 2015, Jun was the first Performance Team member to release official solo music on music streaming platforms. The 26-year-old performer is known for his elegant yet powerful dancing; however, Jun's solo music tends to demonstrate a softer side of his artistry. For his first singles album in 2021, Jun released two Chinese tracks, "Crow" and "Silent Boarding Gate." Although he did not contribute to the lyrics this time around (he has written lyrics for other SEVENTEEN songs, such as "HIGHLIGHT") the Chinese musician did work closely with the songwriters and composers. Through this collaboration, Jun expresses poignant loneliness and sorrow in his emotional ballads. By keeping the instrumentals at a minimum, his resonant vocals shine through, capturing the complex layers woven into the two tracks.
The8's Contemporary Art
Known for being a connoisseur of the arts, this Performance Team member has an explorative series titled "The8 Contemporary Art" on YouTube. In this series, Xu Minghao aka The8, gets in touch with his more vulnerable and abstract side. His self-choreographed contemporary dance routines are then produced into cinematic performance art videos. "The8 Contemporary Art " kicked off with an interpretive dance to Billie Eilish's "idontwannabeyouanymore." The second installment of the series was "那幕 (Falling Down)," where the dancer expresses how he overcame a dark period in his life. His latest additions include "本" (pronounced "bĕn"), where he goes on a journey to find peace and meditation amid nature, and "深渊 (Abyss)," in which The8 reveals his trials and triumphs through the choreography.
Dino's Danceology
While Dino has been dancing for most of his life, the youngest member of SEVENTEEN continues to have a burning passion to constantly learn and expand his dancing skills. Through "Danceology," his self-choreographed series, Dino explores various dance styles and techniques. The dancer has dipped into hip-hop dance styles for "Hollywood's Bleeding," "Toosie Slide," and "Sicko Mode;" has tried out different kinds of lyrical choreography in "Cheating on You," "Just," "Sucker," "Undecided," and "5 in the Morning;" and has gotten intimate through contemporary dance in "Thin White Lies" and "Feeling Good." Whether it's a self-recorded video in a practice room or a cinematic performance production, "Danceology" is the perfect series to see how the maknae explores his love for dance.
Songwriting Credits in SEVENTEEN
While the subunit is recognized as the main dancers of SEVENTEEN, the members in the Performance Team have also proven their skills in songwriting. In SEVENTEEN's recent albums, Sector 17, Face the Sun, and Attacca, Dino and Hoshi contributed lyrics and composed tracks like "Shadow," "Pang!," and "Cheers." Meanwhile, all the Performance Team members are credited for writing their unit songs, including "Wave," "Lilili Yabbay," "247," and "Network Love."
Hidden Musical Gems of the Performance Team
SEVENTEEN's Performance Team further demonstrates the all-rounder nature of their artistry through the mixtapes and lesser-known songs they have released. In 2018, lithe dancer The8 added "夜伴雨(밤과 비)" ("Night and Rain") to his solo discography. Fellow Chinese member Jun also introduced the world to his Mandarin-language single, "能不能坐在我身旁?" ("Can You Sit By My Side?") in the same year. These smooth tracks feature lyrics written by The8 and Jun, respectively, with the emotional turmoil of romantic love characterizing both songs.
"Touch" by Performance Team leader Hoshi and "Zero" (2017) by SEVENTEEN's maknae Dino are the better-known mixtapes among Carats. The two tracks have been performed by their respective artists at SEVENTEEN concerts, both online and offline. However, they are still worth noting, given that the songs provide a unique opportunity for Hoshi and Dino to show the breadth of their skills—as dancers, songwriters, singers, and rappers. From sexy and powerful to gentle and flowing, the Performance Team knows how to blend their personalities and styles into a singular unit dynamic while maintaining each member's artistry.
Want to learn more about SEVENTEEN's units? Read about seven facts you should know about the Vocal Team here, and make sure to check out SEVENTEEN's latest comeback, FML!