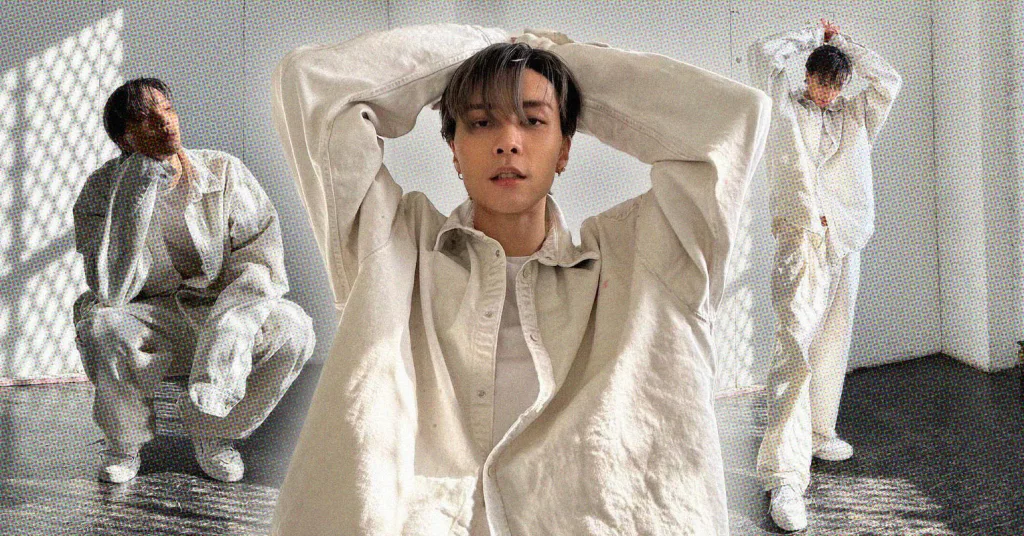 An unbounded source of style inspiration, NCT's official Fashion Evaluator, Johnny Suh, has emerged as one of the most stylish K-pop celebrities. Beyond his Instagram-worthy looks and penchant for experimentation, the singer has taken his compelling style to the world stage, proving that he is a total Fashion Darling.
In the fifth installment of our series, "Core" — where EnVi breaks down the fashion and beauty of our favorite celebrities — we take a detailed look at what has made NCT's Johnny one of the young stars reaching the "pinnacles of fashion stardom."
THE FASHION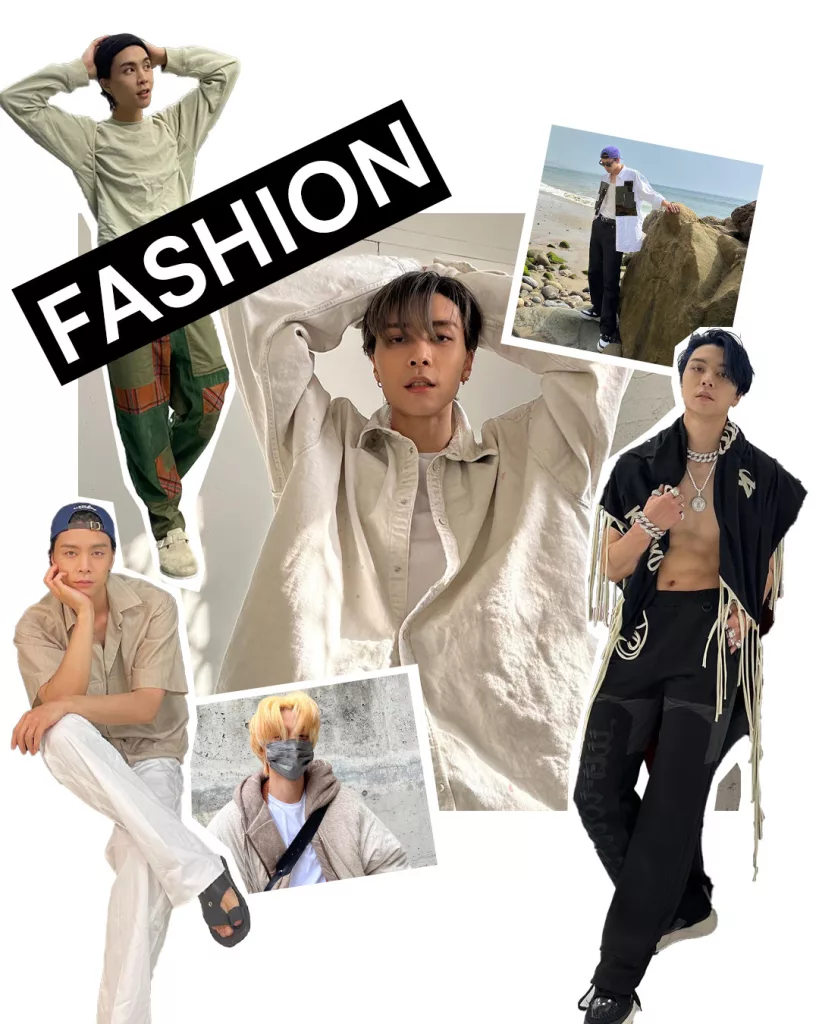 The Aesthetics: Anatomy of the Boy Next Door
Despite being generally recognized for his boy-next-door aura and approachable personality, Johnny Suh has cemented himself as an undeniable style icon. From his casual outfit shares on social media to his red-carpet appearances, the singer has demonstrated his fashion-forward sensibilities by freely experimenting with clothes, colors, and styles. However, Johnny has also proven that abiding by your own fashion rules will always be a winning formula.
Loyal to his personal taste and seemingly aware of what suits him better, Johnny is always effortlessly well-dressed. The singer channels an easygoing approach, part streetwear, part luxury but always reflective of his preferences. Some of his style key points include a predilection for comfort and play on silhouettes, embracing items like hoodies, baggy pants, oversized shirts, and tank tops.
The Wardrobe: Casual But Always Elevated
Despite Johnny's penchant for causal, almost off-handed looks, his wardrobe is an eclectic and fashion-savvy mix of pieces and brands. Even when he's wearing a T-shirt and baggy denim — a style recipe he often sticks to — the singer always levels up his looks with coveted, niche, and IYKYK fashion items and names. In Johnny's wardrobe, contemporary labels like Vêtements, Jacquemus, Margiela, Jil Sander, and Lanvin mix seamlessly.
Accessorizing is another field where Johnny is particularly adroit. From the likes of the Bottega Veneta Maxi Padded Tech Cassette to the Peter Do Dumpling, the star owns an enviable selection of it bags that always elevate his outfits to the fashion connoisseur territory. Similarly, Johnny understands the timeless allure of a quality watch, often complementing his outfits with items such as the Rolex Datejust 41, the TAG Heuer Aquaracer, or the vintage version of the Patek Philippe Golden Ellipse.
The Sans Shirt Pioneer
While off-stage Johnny favors a more subdued and relaxed style, on the red carpets and onstage the singer has been rewriting dress rules with shirtless fashion statements. As part of NCT, Johnny has explored different concepts through the years but in recent promotional cycles, he has been at the helm of the shirtless trend, barely sporting a top in teaser pictures, music videos, and live performances. While evidently, fans can't get enough of Johnny's washboard abs, bare male chests have become one of the hottest male fashion trends over the past year, which goes to prove — once again — that sartorially speaking, Johnny is always one step ahead.
To further prove the point, Johnny took the sans shirt trend to the biggest event of American fashion — namely, the Met Gala. In 2022, the singer became the only K-pop star in attendance at the prestigious charity event and for the occasion, Johnny fully ditched the shirt, opting to embody Gilded Glamour in a silk three-piece suit by Peter Do. Of course, the look — described by the famed stylist Nayeli de Alba as a futuristic, yet classy take on "The New Gentleman"— didn't go unnoticed. Johnny's first foray into international fashion events was a massive success: the star became the most-mentioned celebrity on social media that night, largely surpassing the mentions of the rest of the male attendants and posing serious competition to Met Gala co-host, Blake Lively, who ranked second.
THE BEAUTY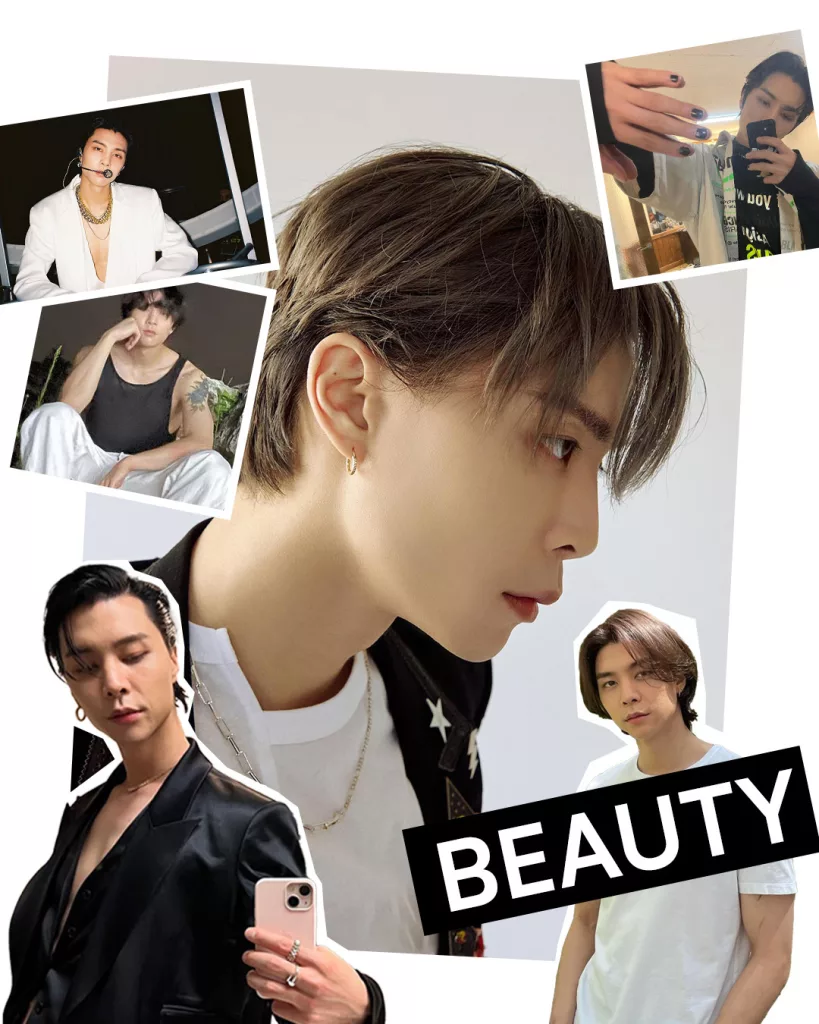 The Makeup
On the day-to-day Johnny sports an au naturel look. As seen in the NCT 127 24hr RELAY CAM series, Johnny seems to gravitate towards a relaxed approach to daily beauty, sticking to simple skincare steps. Compared to some of his peers' sought-after beauty routines, the rapper is rarely seen using more than one or two beauty products. Since the artist is known for his laid-back personality, it is of course no surprise that he favors a quick and simple routine.
Despite this, NCT's makeup artists do not shy away from putting a wash of warm-toned soft brown shadow all over the lid and applying a touch of brown liner to accentuate his naturally cat-like eyes. On occasion, Johnny is also spotted with deeper eye makeup to match NCT 127's more sultry concepts. Most of the time, he pairs the effortless brown eye look with a peach or clear lip balm. Rather than sticking to specific concepts, his makeup always focuses on letting his natural beauty shine.
Since Johnny is not one to shy away from trying new things, people have also noticed that he is a member of the Neo nail polish club. The star was first seen wearing nail polish in a Johnny's Communication Center video filmed with his fellow bandmate, Yuta. With the video series focused on trying unconventional activities, Johnny and Yuta sat down to get their nails done for the first time. The duo even attempted to do each other's nails at the end of the video while sparking some laughs. While Yuta got a bold rock-and-roll-inspired set of nails, Johnny opted for bright colors and intricate designs such as an abstract sunflower, sunny-side-up eggs, and a crescent moon with a fisherman resembling the Dreamworks logo.
The Scents
Just like his fellow bandmates, Johnny has a plethora of scents that he favors, and of course, fans have become keen on his recommendations as well. Known to like fresh scents that often feature citrus, aquatic, and woody notes, Johnny's selections often evoke feelings of adventure. A fragrance he revealed using in the past was Versace Man Eau Fraiche. This subtly, sexy fresh fragrance is a classic Johnny staple consisting of notes of white lemon, rosewood, and sycamore wood.
Recently, Johnny shared his new favorite cologne. The unique, airy fragrance is called Byredo Open Sky and features notes of pomelo, black pepper, and hemp leaves. While many fans tried to get their hands on the bottle of unisex perfume, the fragrance was already sold out within days on the retailer's website.
The Tattoos
Over the years, fans have watched Johnny carefully curate his nature-themed tattoo collection consisting of a sunflower, olive branch, jaguar, and a swallow. In the past, any glimpse of his ink created a lot of buzz among NCT's fandom. However, due to his viral solo stage at the NCT127 The Link tour, fans have now seen the artist's tattoos on full display.
The sunflower tattoo was the first to be revealed to the public eye. During an interview in 2020, the artist mentioned that the body art design served him as a reminder to always stay positive no matter the circumstance.
Meanwhile, the olive branch was rumored to appear around the same time as the sunflower tattoo. The artist's reason behind this tattoo is unknown, but the olive branch historically symbolizes friendship and peace. Despite being first spotted on December 2020, in 2021, Johnny also revealed the tattoo of a jaguar on his left shoulder, causing the internet to go into a frenzy. The detailed tattoo covers his left shoulder to mid-bicep. Even though the star is known for his confident, warm personality, the jaguar tattoo is a reminder to himself and others to live life with bravery and courage.
Johnny's most recent tattoo of a swallow was spotted for the first time during NCT127's The Link concert in Los Angeles. Sitting on his shoulder, fans speculate that the tattoo is a matching design shared between the 1995 line of NCT 127 (members Johnny, Taeyong, and Yuta). Johnny and Taeyong have revealed their swallow tattoo to fans, but fans are still on the lookout for Yuta's alleged bird tattoo.
The Hairstyles
Johnny usually leans towards natural colors, ostensibly leaving the heavy bleach duty to fellow members such as Mark. The 28-year-old's signature is a clean slick-back, perfectly coiffed with a single calculated strand imbued with his brand of Chicago levity. The greaser-mullet-mish-mash was perhaps no better epitomized than in his Met Gala look last year.
Of course, that isn't to say Johnny's hair has never seen a more experimental light in his K-pop career. Who could forget the luscious golden locks that swept across his shoulders with every step of the "Wakey-Wakey" choreography? Any fans who were disappointed to find out that was a wig were later delighted when Johnny grew out his hair, for real this time, during the group's RESONANCE Pt.2 era.
Johnny is a Synonym for Fashion
Having paved a way for sartorial fame through his individual activities and collective fashion exploits with NCT, Johnny Suh is nowadays a bonafide style icon. With fashion practically attached to his name, the Chicago-born is always gorgeously on-trend and never shies away from imposing his own style and beauty rules. With a modelesque physique and taste to spare, isn't any wonder that Johnny has charmed the fashion circles. Whatever is next for the American singer, he's very likely to continue expanding his portfolio with his loyal-to-himself, deeply authentic style.
Want to read more about NCT's fashion? Check out how Doyoung is serving the coolest fashion and beauty looks.