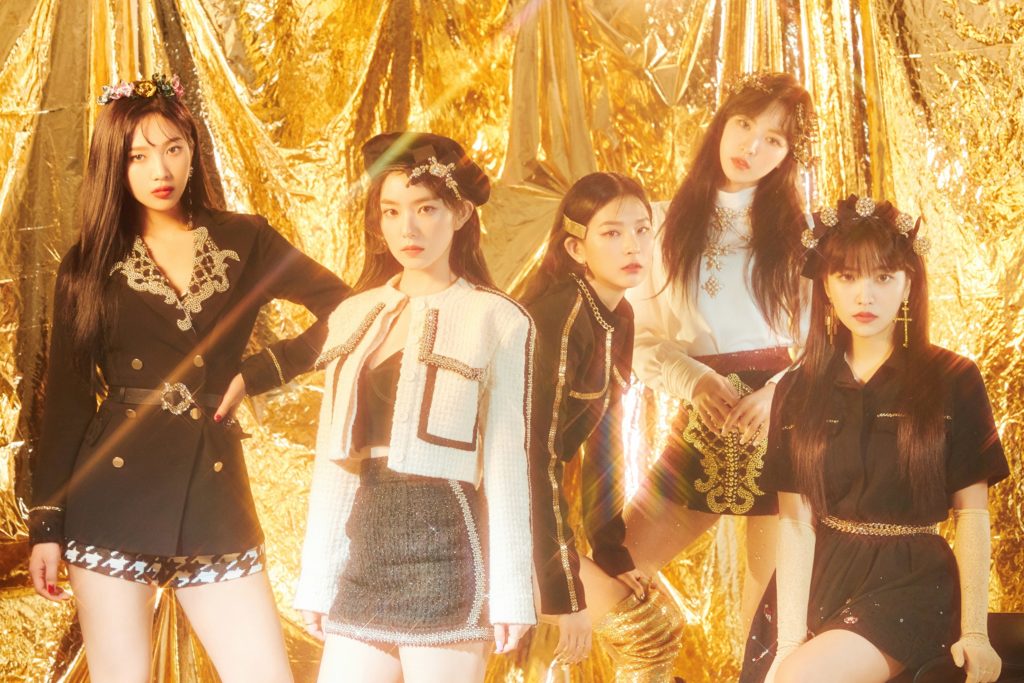 The summer queens, Red Velvet, are back in time to celebrate their 7th anniversary with their ReVeLuv kingdom. After nearly two years since the release of their last song "Psycho," the five-member girl group — made up of Irene, Seulgi, Wendy, Joy, and Yeri — returned to the K-pop scene with a mystifying yet regal concept. 
From July 26 to August 1, Red Velvet released a series of pre-comeback announcement teasers called the "Queens Archive," reminding fans and non-fans alike just who they are. On August 2 at 12 AM KST, Red Velvet closed up their shop and dropped their Queendom mini-album details. Queendom will be available to stream starting August 16 at 6 PM KST and the album will become available in stores on August 17.
'서머퀸' 레드벨벳 컴백! 새 미니앨범 'Queendom' 8월 16일 공개!
다채로운 분위기의 총 6곡 수록!
8월 16일 오후 8시 온라인 팬미팅 'inteRView vol.7 : Queendom' 개최!#Queendom #퀸덤#레드벨벳 #RedVelvet pic.twitter.com/qHt7QIyIcn

— Red Velvet (@RVsmtown) August 2, 2021
Opening The Queens Mystic General Store
On July 26 at 12 AM KST, Red Velvet dropped a surprise video titled "Queens Archive" containing a video for the Red Velvet song "Somethin' Kinda Crazy" from their Ice Cream Cake EP (2015). This marked the opening of the "Queens Mystic General Store" on their Instagram, Twitter, and YouTube pages, where they changed their layout to suit the theme of their pre-comeback announcement teasers — a similar social media promotion to NCT Dream's "Cafe 7 Dream." 
The video was the first of seven videos that week, each new teaser featuring a different member of Red Velvet before the shop closed on August 1. The purpose of the project was to build hype for the announcement of the comeback details while promoting some of Red Velvet's past tracks— a throwback of sorts.
Set in a dusty shop with many nostalgic antiques, the videos capture Red Velvet in their own Alice in Wonderland tale. Full of awe and wonder, the members explore the contents of the mystic shop, seemingly haunted by a mysterious white cat. Each member is then dragged into their own unique adventure until they meet on the final day. The shop closes with all members trapped in a room together in the cat's clutches.
Embracing Their Queendom in New Mini-Album Teasers
After closing up shop, Red Velvet made a swift return and dropped album details, revealing the name and comeback date. On August 3, Red Velvet dropped their teaser timeline, showing the release date of each drop until D-Day.
레드벨벳 Red Velvet The 6th Mini Album 'Queendom'

? 2021.8.16. 6PM KST#Queendom #퀸덤#레드벨벳 #RedVelvet pic.twitter.com/fCYrhRpj9E

— Red Velvet (@RVsmtown) August 2, 2021
In the mood sampler of Queendom, the members pose before a deep blue background with a jazzy tune playing over the mysterious video. They are giants standing before the city, defying all laws of nature as both fish and hot-air balloons surround them. The line between sea and sky is blurred in the short album teaser.
Red Velvet 레드벨벳 'Queendom' Mood Sampler

? 2021.8.16. 6PM KST#Queendom #퀸덤#레드벨벳 #RedVelvet pic.twitter.com/m1fzsj7sdH

— Red Velvet (@RVsmtown) August 3, 2021
The message of the "Queendom" song is one of empowerment — fitting for the return of SM Entertainment's versatile girl group. The title track is described as "a pop dance song with the message that we are all 'Queens' of our lives and that together we shine more beautifully."
Expanding Their Territory With Solo Conquests
Even though it has been two years since the release of "Psycho" in December 2019, Red Velvet has not been inactive. On July 6, 2020, the group debuted its first subunit Red Velvet – Irene & Seulgi with their haunting single "Monster" and EP. They also released their "Naughty" single and video in late July, showing a more chic side of themselves. In June of 2020, Yeri started her own reality show "Yeri's Room" and did covers on DUM DUM STUDIO called "Yeri's Music Gift."
2021 marked a new beginning for the members. In the first half of 2021, the youngest member, Yeri, landed herself acting gigs for the dramas Mint Condition and Blue Birthday.  After returning from her year-long hiatus, Wendy debuted as a solo artist with her first mini-album Like Water in April, where fellow member Seulgi featured in the song "Best Friend." Wendy also became DJ Wendy for the radio show Youngstreet. 
Seulgi began hosting the web music show The Wise Music Encyclopedia and took on songwriting in a collaboration with NCT leader Taeyong for the song "Rose." In late May, Joy made her solo debut with "Hello," which is part of an album containing remakes of past songs. Joy has also since taken up an acting role in the show Only One Person. 
Celebrating 7 Years With A Reunion
On August 1, Red Velvet held a Vlive broadcast to commemorate their 7th anniversary—their first full group schedule since 2019. On August 16, Red Velvet is set to drop their Queendom mini-album and their "inteRView vol.7 : Queendom" fan meeting through BEYOND LIVE.
Queendom serves as a new beginning and reunion for Red Velvet. Their break has allowed the five members to explore their careers as solo artists and recover from the tribulation 2020 has wrought. This mini-album also marks their 7th anniversary, solidifying their union and showing fans that Red Velvet is not going anywhere. 
The queens are thriving, and this is only the start of their new journey. ReVeLuv have much to look forward to with this new release. 
Want more K-pop news? Check out our coverage of Somi's latest single here.
Thumbnail courtesy of SM Ent.