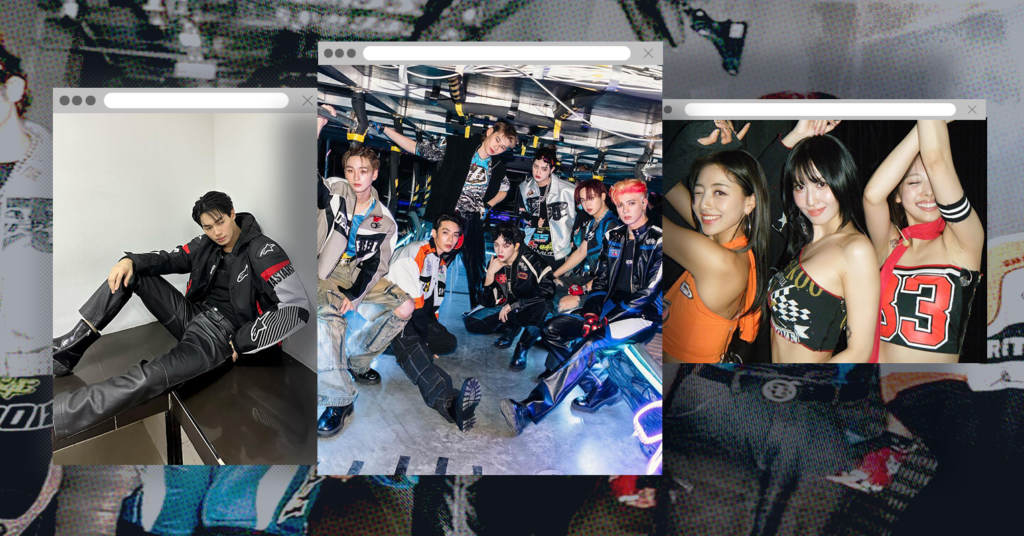 Fashion Week season is officially over, but with red carpets, music events, and Fall Winter collections hitting the stores, there are still plenty of noteworthy style moments across the globe. This week, stars tapped into some of the most popular trends of 2023, including the matching aesthetics and the Y2K rosette revival. Jungkook and Luna Maya, for instance, opted for total looks at brand events, while Turkish beauty Hande Erçel rocked a rosette dress in Cannes. 
Yet, other prominent trends tied together the best looks of the week: racercore and bikercore. Racer-infused motifs and biker aesthetics were a common thread for stars such as Thai septet ATLAS and actor Win Metawin. Elsewhere, TWICE's Nayeon, Momo and Jihyo, as well as Singapore star Chantelle Ng put a spin on this style with Y2K and Americana twists. 
Scroll down to discover the Asian A-listers who delivered the Best Looks of the Week.
Luna Maya's Plaid Look
Multihyphenate Indonesian star Luna Maya never fails to serve A-plus looks so her attendance at the Ralph Lauren store opening in Singapore was not any different. The famous actress showed up and showed out, dressed in a strapless Glen plaid jumpsuit. The preppy look was perfectly complemented with an oversized belt, a beret and a pair of tiger-print stilettos. To accessorize, the Indonesian icon added gold accents and a light grey Ralph Lauren RL 888 bag. ICONIC!
Chantalle Ng's Americana Twist on Bikercore
Another star making an appearance at the opening of Ralph Lauren's store in Marina Bay Sands was Chantalle Ng. The Singaporean actress put a fun Americana twist to the classic biker jacket, opting for a fringed leather piece. She smartly matched the item with a miniskirt and a pair of buckled ankle-strap boots. Just like Luna Maya, Chantalle carried the RL 888 bag for a complete Ralph Lauren look.
Jungkook's Flawless Canadian Tuxedo
The Canadian tuxedo has officially made a comeback and while many stars have rocked the divisive trend throughout the year, K-pop star Jungkook is a serious contender for the best denim-on-denim look of 2023. It's probably too early to proclaim winners, but Jungkook's ensemble had just the right amount of effortless charm as it had an edge. The outfit departed from the classic light-colored denim looks that stars have favored in 2023 and seemed to fit him flawlessly. Those who are in the know will agree that finding perfectly fitting denim can be tricky, so kudos to Calvin Klein's global ambassador. He nailed it!
Ayaka Miyoshi's Tomo Koizumi Dress
Jetsetting from one fashion event to the other, Japanese actress Ayaka Miyoshi is a consummated it girl. The Alice in Borderland star is a regular at the biggest fashion shows, store openings and VIP parties. On this occasion, the actress sat front and center at Tomo Koizumi's show at the Marina Bay Sands Front Row 2023. The star delivered a fashion statement dressed in one of the designer's signature "voluminous, ruffled dresses, made from Japanese polyester." Gorgeous.
BGYO's Nate and Gelo Contrasting Red Carpet Style
In a year of undeniable rise for P-pop acts, Modern Media Group relaunched Billboard Philippines. Pinoy stars reunited to commemorate the occasion and unsurprisingly, they brought their A-game to the red carpet. Nate and Gelo, from P-pop ace group BGYO, attended together and portrayed contrasting personal preferences. Styled by Aaron Mangsat, Nate went for an edgy and bold look that mixed items from Rick Owens and Matthew Williams' 1017 ALYX 9SM. Meanwhile, Gelo favored a prince-like appearance with a tweed jacket, tailored trousers, and a bow tie-neck shirt. Though the members of BGYO have previously stated that they like to coordinate their looks "so no one is out of place," Nate and Gelo's outfits proved that boy group style goes beyond matchy-matchy ensembles. And we love to see it. 
ATLAS' Racercore Galore
On October 14, Thai group ATLAS made an appearance at the T-POP Concert Fest 2, powered by Pepsi. For their performance, the septet opted for racer-infused looks that embraced key elements from racercore. With items such as leather jackets, racing jerseys, cargo pants, gloves and chunky jewelry, the T-pop group ticked all the boxes of the popular trend. The septet showed a united style front even for the finishing details, going for highly-styled gel hair looks, matching chunky boots and a coordinated color palette. Fantastic x7!
Nayeon, Momo and Jihyo's Y2K Racer Style
Celebrating their eighth anniversary, K-pop group TWICE held a fan meeting on October 21 ​​at the Olympic Hall in Seoul. Members Nayeon, Momo and Jihyo came together to perform a cover of Lee Hyori's 2000s single "10 Minutes." The trio embodied Y2K with a mix of micro skirts, cargo pants and flared denim. However, the 2020s style upgrade came courtesy of cropped tops adorned with racer imagery: auto-racing flags, logos, and vivid colors. The fashion-savvy ensembles also included rhinestone and chain belts (á la Britney), hoop earrings and fingerless gloves. We love a good style throwback.
Hande Ercel and Burak Deniz's On-Screen Couple Power
Another Love onscreen power couple Hande Erçel y Burak Deniz traveled to Cannes to attend the MIPCOM 2023. The event, celebrated every October, reunites the elite in the audiovisual production industry to present and sell new series, source international partners and network. The Turkish actors were present at different meetings and conferences, displaying the best coordinated looks, but it was at the Another Love VIP party that the twosome truly outshined everybody. The actors showcased their A-plus style, opting for elegant total black looks. Hande went for a Valentino halter dress with a plunging neckline and rosette adornments — yet another trendy outfit to add to her Cannes lookbook — paired with satin mules and long gloves. Her co-star, on the other hand, chose a contemporary suit consisting of a shawl lapel jacket and tailored pants. Merveilleuse!
Johnny Suh's Reprisal of Thom Browne
K-pop star Johnny Suh has grown the world accustomed to his stylish Thom Browne looks. So far, the NCT singer has sported the brand to the front rows of New York Fashion Week, red carpet events and even music videos. On October 20, Johnny reprised the Thom Browne aesthetics once again to attend the brand's 20th Anniversary Exhibition in Seoul. The singer's dandy affinities translated into a smart look consisting of straight-leg trousers, a merino wool cardigan, a white crisp shirt and a skinny tie. If you were wondering, yes, the K-pop idol stole all glances and even posed next to Thom Browne himself.  
Win Metawin's Racer-to-the-Core Outfit
Thai music festival OCTOPOP 2023 took place between October 21 and October 22. One of the most talked about performances of the first night was that of Win Metawin. The star performed alongside F.HERO and Nene, clad in a street-leaning look. Racer to the core, the ensemble included leather pants, a tank top by Courrèges, and a rider jacket from Alpinestars. The outfit was appropriately topped off with a chain necklace and a pair of the iconic Camper Venga boots. The racer-infused look was the perfect amount of contemporary and off-the-races stylish, but that's perhaps evident because the world doesn't expect anything less from one of Asia's top fashion icons.
This is just a small selection of standout looks by Asian stars in the third week of October. If you're interested in more style content, don't forget to keep an eye on EnVi's fashion and beauty verticals and anticipate our weekly look recap every Sunday!

Want more fashion content? Check out the highlights of Dubai Fashion Week here.