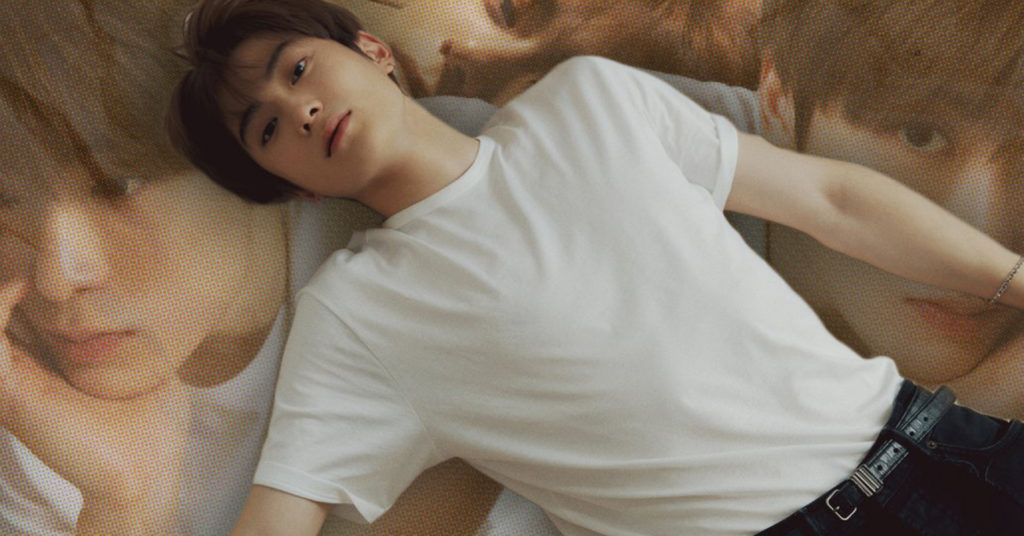 It's not easy to leave a personal style mark as a member of one of the largest and most successful K-pop groups in the industry. Yet — amid a handful of other equally multitalented and stylish bandmates — singer, actor, and Prada's global ambassador, Jeong Jaehyun has built major fashion credentials. In between his recognizable style and high-fashion associations, the South Korean idol is undoubtedly a bona fide style icon.
In the second installment of our "Core" series — where EnVi breaks down the fashion and beauty of our favorite celebrities — we'll take a comprehensive look at what has made NCT's Jaehyun one of K-pop's new Fashion Darlings. 
THE FASHION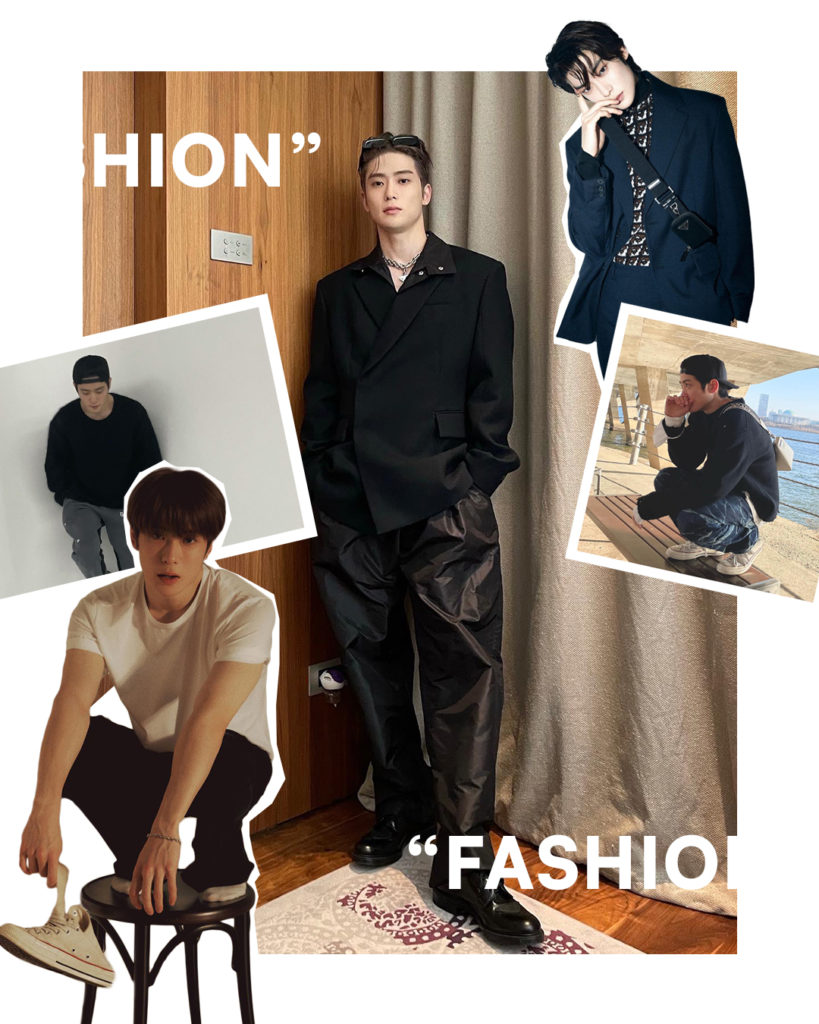 The Aesthetics: Heartthrob of Decades Past
In the last couple of years, K-pop star Jaehyun has experienced a meteoric rise into the upper echelon of fashion. But in addition to his association with the Italian brand Prada, the singer and actor has earned attention for his polished personal wardrobe. With charisma to spare and a style that is reminiscent of the '90s most loved heartthrobs, Jaehyun favors easy-to-wear, clean looks with just the perfect amount of retro. Think of staples from the '90s style book — loose jeans, leather and denim jackets, bucket hats— and you're basically describing Jaehyun's closet.
In line with his nostalgia-inducing outfits, Jaehyun often nods at the '90s via tucked-in T-shirts, a trend popularized by the likes of James Dean and Marlon Brando and later reprised in the last decade of the 20th century. Similarly, the singer has adopted other '90s trends such as unbuttoned shirts, backward caps, and matching oversized tops and bottoms. Lately, Jaehyun also seems to have followed one or two lessons from his style predecessors. Not only has he mastered the art of sporting bowling shirts and dressing for the front row, but he has also taken notes on how to don the divisive oversized suit.
Though in a way Jaehyun's aesthetics are bordering normcore territory, at EnVi we believe that "Certified Heartthrob" is a more appropriate title. Chiseled face, white shirt, and jeans made up, once upon a time, the most successful heartthrob style formula and Jeong Jaehyun has brought it back flawlessly.
The Brands: Prada's MVP
Although it goes without saying that Jaehyun's starter pack includes several Prada items — after all, he is the brand's global ambassador — the singer also wears a handful of other brands on repeat. From Rhuigi Villaseñor's RHUDE to French luxury label Saint Laurent, Jaehyun knows how to mix and match brands accordingly.
In between, Jaehyun has also demonstrated his penchant for cult-favorite designer Martine Rose and the fashion insider's favorite, Nanushka. Other Jaehyun-approved labels include Chris Leba's IYKYK brand R13, Amiri, WOOYOUNGMI, and Raf Simons. On the most affordable side of the spectrum, Jaehyun often opts for Nike and Converse for footwear.
But of course, as Prada's MVP, Jaehyun has first dibs on the Italian house's unreleased items and newest collections. Back in January 2022, for example, ahead of the collection's release, the singer took to Instagram to flaunt a look from the popular "Pradidas" — Prada and Adidas — collaboration. Later in the year, the singer also showed his then 12 million Instagram followers, exclusive products from the Prada Tropico capsule collection.
The Wardrobe Must-Haves: The Power of Basics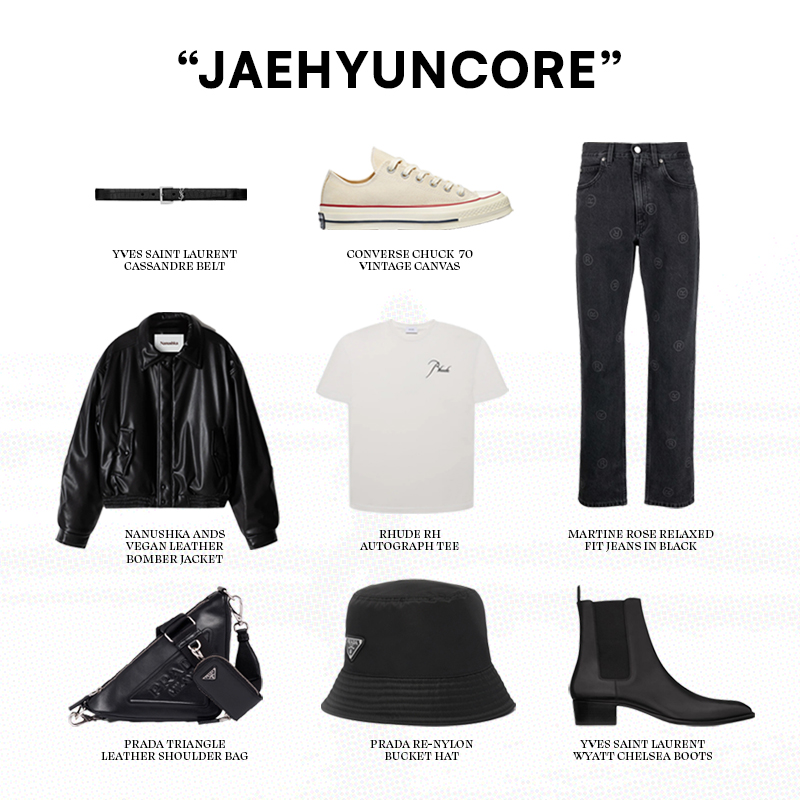 Despite becoming Prada's hot property in 2022, Jaehyun's looks continue to be digestible and built around wardrobe-essentials. The idol often offers masterclasses on how to style effortless yet fashionable outfits with foundational pieces such as plain tees, denim, white shirts, crew neck sweatshirts, sweat pants, hoodies, and knit sweaters.
In an interview with the Japanese fashion magazine MEN'S NON-NO, Jaehyun explained that he prefers to keep his day-to-day style classic, as opposed to bringing out hip-hop-inspired looks for activities such as rehearsals. It is no wonder then, that many of the pieces in Jaehyun's closet are staples that can easily transition from casual chic to street style. This versatility is also reflected in Jaehyun's palette of choice, consisting mostly of black, white, grey, and other core colors.
Additionally, Jaehyun has not seldom demonstrated the power of accessorizing with purpose. The singer often sticks to classic footwear — Converse shoes, Nike sneakers, and Chelsea boots—minimal, but luxurious jewelry — chain necklaces and bracelets from brands like Saint Laurent and Chrome Hearts —and headwear including baseball caps and bucket hats.
The Mindset: Less Is Definitely More
If Jaehyun's key to flawless style could be synthesized into two words, it's definitely a capsule wardrobe. With time, the superstar has learned to curate his closet with timeless, high-quality items that he wears regularly and combines to match different styles and situations. Take for example the pair of Martine Rose Rooney jeans or the Amiri Bandana slip-on shoes that Jaehyun has been spotted wearing in several Instagram posts, concert rehearsals, and airport visits.
Despite mentioning that he is constantly looking for fashionable pieces and keeping up with the latest fashion collections, Jaehyun's approach to fashion is rather sustainable. The embodiment of "less is more," the singer's philosophy consists of building several outfits with few items, reusing what he owns, and being absolutely true to his personal style.
THE BEAUTY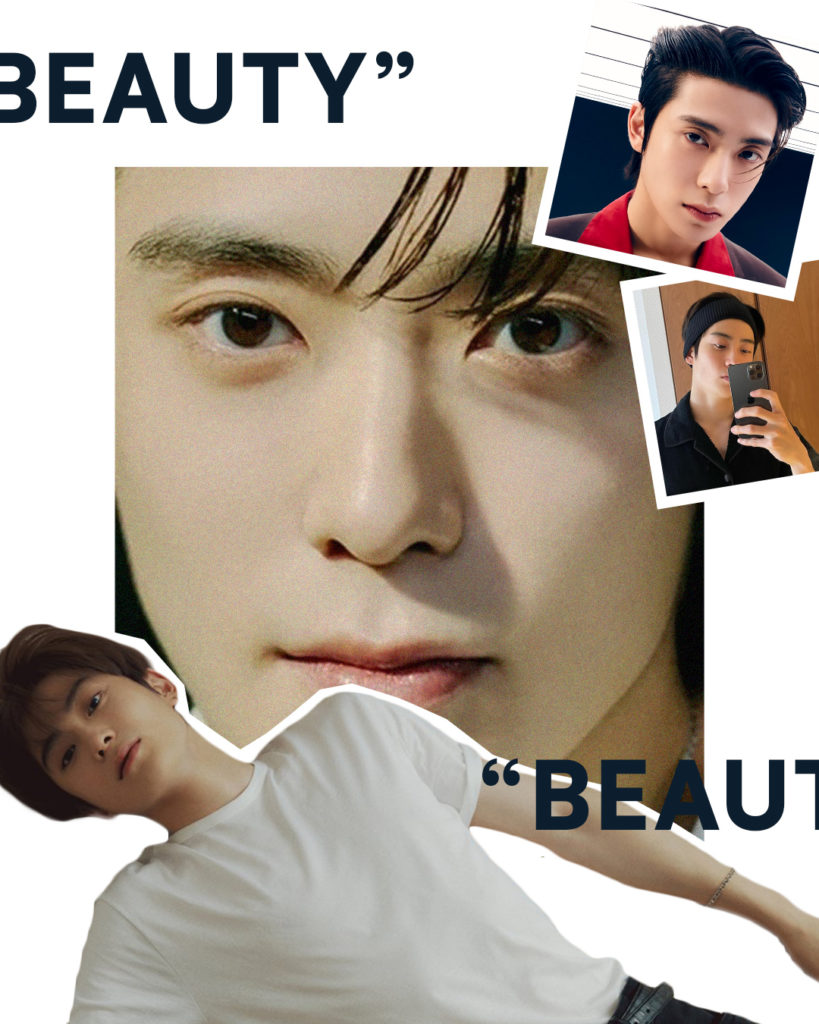 The Skincare: Key to Flawless Skin
Though Jaehyun has jokingly thanked genetics for the reason behind his great skin, he still understands the importance of skincare and maintaining some form of regime. The artist takes a much simpler approach to his skincare making sure to "stick to the basics" rather than a multi-step routine. During a daily vlog, the artist shared with fans his three-step routine, which included cleansing his face with water and applying skin toner and moisturizer. Once it was revealed the artist was using the Kiehl's Calendula toner, the product gained much popularity.
The Makeup: A Natural Beauty
Jaehyun is an idol that opts for more minimal and clean looks when it comes to makeup. A lot of his looks tend to have one thing in common: enhancing his natural features. This approach grants him the chance to embrace and showcase his natural beauty.
However, despite favoring a more "no makeup" look, the idol has never shied away from experimenting with different styles. During award shows and performances, occasionally Jaehyun will sport a smokey eye paired with eyeliner on the waterline to add a bit of depth and sultriness to his look. For a brighter and fresh appearance, stylists usually select peachy or pink tones with gold glitter accents. Jaehyun's eyes are usually the focal point for looks, leaving his base clear and lips coated in a bit of gloss or chapstick.
Onstage, Jaehyun's makeup usually matches the concepts he is promoting with NCT. With his career spanning over six years, there are endless styles he has tackled but a fan favorite is the faux freckles and heavy blush makeup he donned for his 2017 SM Station release, "Try Again." Jaehyun reprised a similar beauty look in 2022 for NCT's Nature Republic promotions.
The Hair: 90's Heartthrob
Over the course of his career, Jaehyun has tested out several styles and hair colors. While he simply rocks anything he tries, the singer has crafted his own signature hairdo from a plethora of outstanding hairstyles. With his hair slicked back and a few wisps of hair framing his face, Jaehyun's unique take on the "comma" hairstyle has stood out from the trends currently popular among idols.
The versatile look — that can complement both casual and formal events — is reminiscent of the curtain bangs popularized back in the '90s and is the twist that gives Jaehyun the heartthrob look and charm. Fashionable but effortless, the slicked-back look with neatly styled bang pieces is Jaehyun's go-to hairstyle. The NCT member has grown so comfortable with it that he even sported the look at the PRADA SS23 show in Milan.
The Fragrances: Warm and Alluring
Jaehyun has shared his favorite fragrances with fans during fan signs on multiple occasions — having his Jo Malone recommendations go viral. However, in an interview with MEN's NON-NO, Jaehyun stated he doesn't stick to just one scent, but rather bases it on the season. The NCT 127 member goes for more warm and musky scents, such as TOM FORD's White Suede or F*cking Fabulous, for the wintertime. Meanwhile, in the summertime, Jaehyun takes a more floral route with his scents, recommending BYREDO's Bal D'Afrique for the season.
As scents have become another form of self-expression, fragrances offer a little sense of who we are. In Jaehyun's case, his fragrance choices attest to the warmth of his character. There's a lot to be said about his tendency to favor musky scents because there is complexity behind musk notes. Although this can be said about all fragrances, musk fragrances are particularly mysterious. As their scents settle into the skin of every person differently, they have a unique, layered appeal. In a way, this complexity also resonates with Jaehyun and the many layers that make him the artist he is.
THE MUSIC
We don't talk about aesthetics without mentioning music. Music, after all, evokes feelings and plays an important role in communicating who we are. If we go by his music preferences, for example, Jaehyun's penchant for everything vintage is undeniable. From the artists he listens to, to the format he favors, the singer embraces all things retro. That includes a turntable, a vinyl collection, and a fondness for artists like D'Angelo, Lauryn Hill, Mary J. Blige, Brandy, and Frank Ocean. Influenced by his dad, Jaehyun is also a fan of R&B and other of his favorite genres including jazz, soul, and pop from decades past.
Jaehyun's appreciation for music with a slightly retro feeling also shows in his own singing and solo projects. In his most recent release under NCT LAB, "Forever Only," Jaehyun paid homage to the '90s and early aughts with an R&B and pop-influenced track that absolutely melted fans' hearts. To celebrate Jaehyun's style dive deep into the singer's aesthetics with a playlist curated with his music recommendations and songs selected by team EnVi to match his preferences.
In a Nutshell
Jaehyun's core aesthetics not only reflect his personal taste but also provide a look into his overall persona. The character and confidence in his personal style, beauty choices, and music taste are an integral part of his artistry and have contributed to shaping the star he is today. And while evidently, Jaehyun is never one to shy away from showing the world what he is made of, he isn't afraid to explore and learn new sides of himself either. With a style that has earned him global attention and plenty of bragging rights as an artist and style icon, Jaehyun is set to continue achieving new milestones and reaping success after success. As he continues on his journey we at EnVi cannot wait to see what is in store for the multitalented singer, actor, and fashion darling.
Want more NCT fashion content? Check out how the K-pop group has reached style stardom here!
All products featured on EnVi are independently selected by our editors. However, we may earn a commission from qualifiying purchases.