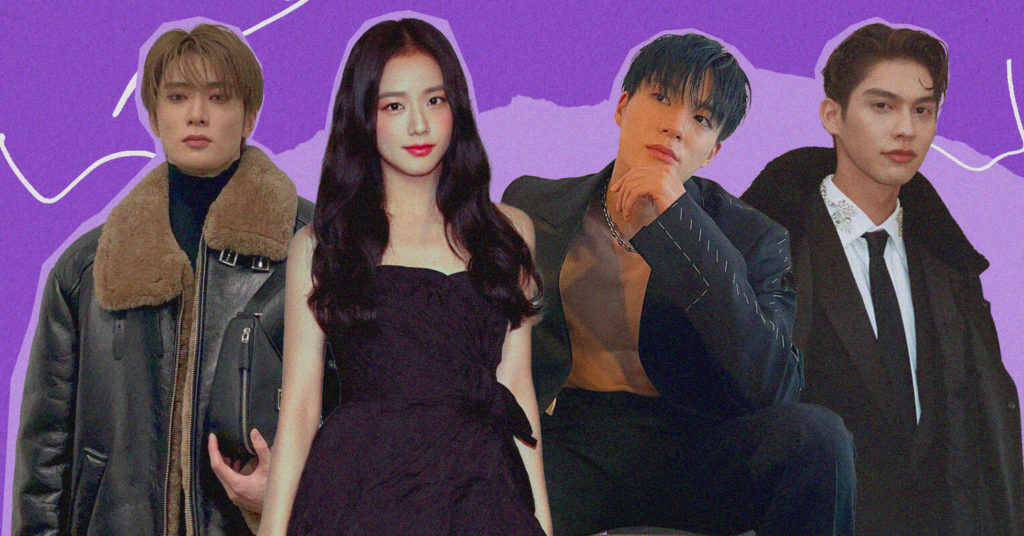 If fashion is the name of the game, stars from the Asia-Pacific (APAC) region are undoubtedly top players. In addition to their stylish wardrobes — which they always elevate during Fashion Month — APAC celebrities have managed to become top voices for fashion brands. With legions of adoring fans, their commercial power is to be expected, but their increasing presence in the world of fashion is also leaving a lasting impact on the global luxury market.
According to the software and data company Launchmetrics, in their final SS23 Fashion Week Databrief, fashion brands' focus on the APAC region remained strong during the latest Womenswear Fashion Month and gathered impressive Media Impact Value (MIV®)* numbers. In particular, NCT, BLACKPINK's Jisoo, and Bright Vachirawit became top-performing voices for brands, proving that they are forces to be reckoned with in the industry.
NCT's Jeno Ruled New York Fashion Week
With coveted events taking place during New York Fashion Week (NYFW), The City That Never Sleeps saw important activity with shows like Coach, Fendi's collaboration with Marc Jacobs and Tiffany & Co., as well as Tommy Hilfiger and Vogue's first live editorial fashion show (Vogue World). As per Launchmetrics, NYFW generated a total of $286.4M in Media Impact Value (MIV®) and received special attention from the APAC region, for the attendance of celebrities and influencers from the region.
For instance, K-pop star Jeno — member of the K-pop group NCT — captured attention with his catwalk debut. However, it was his appearance at Vogue World that made waves. As the only male Asian celebrity VIP, the star absolutely broke the internet when attending the American magazine's 130th Anniversary celebration. Launchmetrics reports that the star-studded event "garnered an exceptional $32M in MIV® across 3.6K placements" with the highest performing placement for the show coming from NCT's official account. The post, documenting Jeno's appearance at the event, featured stars like Sabrina Carpenter and Dove Cameron and generated $1M in MIV®. It also became the top placement for NYFW in general.
NCT's Jaehyun Was Prada's Top Performer
Across the world, Milan Fashion Week (MFW) amassed $226M in MIV®, with 82% of the total MIV® originating from social placements. Brands like Gucci, where creative director Alessandro Michele presented a world of fantasy with the help of 68 pairs of twins, generated great buzz.
Meanwhile, Prada unveiled their SS23 collection in collaboration with Nicolas Winding Refn (The Neon Demon, Drive), who designed an immersive experience for the occasion. As per Launchmetrics, the brand racked up a total of $28.3M in MIV®, with Korea garnering $6.8M in MIV® and ranking as the top country for the show. While Asian stars like TWICE's Sana were in attendance, others like Song Kang and NCT's Jaehyun still contributed to these numbers remotely. In fact, "the top placement for the show originated in Korea, with Jaehyun posting a placement worth $1.2M in MIV®."
Jisoo Dominated Paris Fashion Week
Arguably the most awaited Fashion Week, Paris Fashion Week (PFW) also saw important activity with brands like Balenciaga, Miu Miu, Dior, Chanel, and Valentino showing in the official calendar. With the world open and returning to pre-pandemic rhythm, PFW ended up generating $384.2M in MIV®, which marked a rise of 48% since the Fall-Winter 22 season.
Similar to previous seasons, Dior became the top-performing brand of PFW gathering $34.9M in MIV®. The fashion show, a tribute to Catherine de Medici, was attended by a long list of VIPs, including Korean Dior ambassadors Jisoo and Cha Eun-woo. According to Launchmetrics, BLACKPINK's Jisoo, who is a front-row fixture for Dior every season, "garnered the brand almost $3M in MIV®. Jisoo was also responsible for the top placement both for the brand and for the entire week, worth $1.5M in MIV®."
Bright Made Waves at Burberry
Although the brand was initially scheduled to show during London Fashion Week (LFW), Burberry postponed their show in light of Her Majesty Queen Elizabeth II's passing. Showing off-calendar, however, the brand ended up amassing $17.8M in MIV®. The runway turned out to be Ricardo Tisci's last show at the helm of Burberry before the announcement of Daniel Lee taking over the creative direction of the British brand.
Launchmetrics reports that "the show amassed significant attention from Thailand, ranking 3rd in the country split." Part of the buzz originated from Thai megastar Bright Vachirawit's attendance. Fulfilling the role of Burberry's first South Asia Pacific ambassador, the actor and singer made his front-row debut, sending social media into a frenzy and generating $1.4M in MIV® for Burberry. The top-performing placement of the show also came courtesy of the Thai star, who gathered $744K in MIV® in a single post.
Numbers Don't Lie
The world of fashion has witnessed a rapid rise of APAC celebrities as some of the most important faces in the industry. This year alone, K-pop stars like NCT, BLACKPINK, and TWICE, as well as Thai actors Bright and Win Metawin have landed new ambassadorships, front-row invitations, and campaigns. Scoring fashion gigs left and right and dominating social media, celebrities from across Asia-Pacific continue to cement their power across industries and the numbers reflect this growing influence.
Celebrities are not the only ones making an impact in the world of fashion. Find out how Dongymo Market's ahjussis are inspiring a generation of fashion aficionados here.

*Author's Note: Media Impact Value™ (MIV®) is an algorithm proprietary of Launchmetrics' Machine Learning. It assigns a monetary amount to every post, interaction, and article, analyzing more than 100 quantitative and qualitative attributes specific to the fashion, luxury, and beauty industry including audience engagement, industry relevance, source authority, and content quality, to create a highly accurate method of measurement.