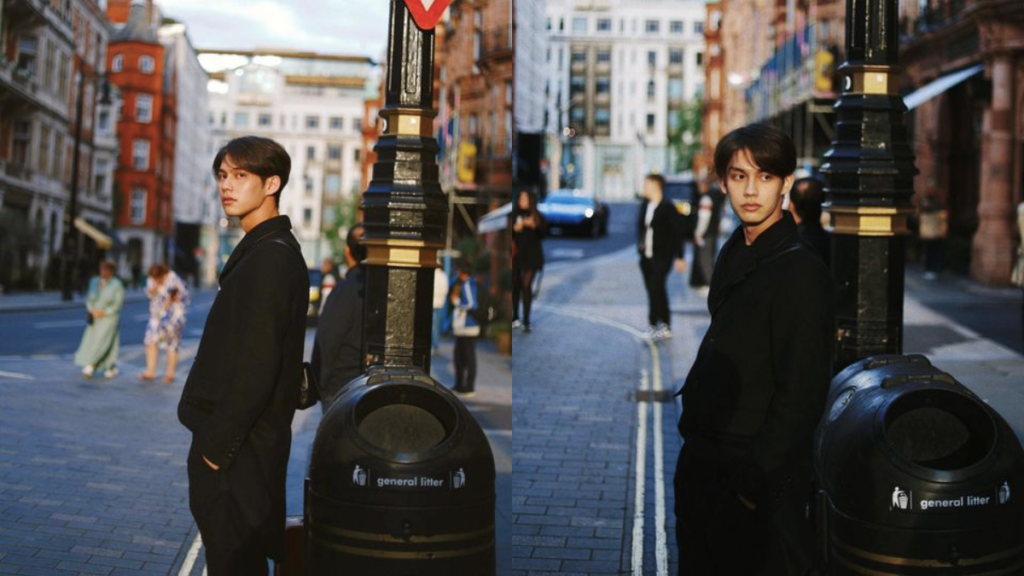 Thai celebrity Bright Vachirawit has absolutely dominated the online conversation in the last couple of days. Since his departure for London, England—to attend Burberry's fashion show—the megastar has set the internet ablaze. His presence at the brand's collection unveiling was no different. Here's everything you need to know about Burberry's first South Asia Pacific ambassador on his front-row debut.
Bright's Fashion Prowess
Bright Vachirawit's rise to fame has been hard to overlook. From his first entertainment gig on Strawberry Krubcake (2013) to his first English single, "Lost and Found," the star has come a long way. Seeing his breakthrough with the Boy's Love (BL) drama 2gether: The Series (2020)—alongside Win Metawin—Bright has further consolidated his fame with a lead role in the Thai adaptation of Boys Over Flowers, F4 Thailand (2021).
In between, the celeb's meteoric leap to global acclaim has contributed to building an interesting endorsing portfolio that includes beauty and fashion brands. International names like Gucci, Prada, Louis Vuitton, and Burberry, are only some of the luxury labels Bright has successfully collaborated with. For instance, during Fall Winter 2022 Fashion Week—held in February 2022—the Thai star and his 2gether: The Series co-star Win Metawin, generated most of Gucci's Earned Media Value (EMV) on Instagram with posts promoting the brand's fashion show.
Similarly, Launchmetrics' Chief Marketing Officer, Alison Bringé recognized Bright as one of the most prominent Asian celebrities creating buzz around fashion events. "With the rise of Fashion Luxury and Beauty (FLB) within Asian Pacific markets, brands are looking to expand their current strategies to connect with their Eastern consumers. That being said, we saw a rise in Asian Celebrities and Voices during FW22 Fashion Week, with brands like Gucci, featuring popular local celebrities like Bright, and Win Metawin," she told EnVi earlier this year.
Burberry's Hot Property
With proven records of his popularity, Bright joined the ranks of the British legacy house Burberry on July 28. The Thai icon thus became the brand's first South Asia Pacific ambassador. "I am honoured to join the Burberry family as a brand ambassador. I have always admired their brand values and work to support communities. I am really excited to work so closely with the house and to bring its new creations to life," he said about the appointment.
The news, however, surprised nobody. Bright had previously collaborated with Burberry in several instances and his worldwide popularity always guaranteed social media buzz. In fact, only days prior to the announcement, Bright traveled to Sentosa, Singapore to participate in one of Burberry's immersive experiences at Tanjong Beach Club.
Turning The Airport Into His Runway
Following his appointment as a member of the Burberry global family, Bright undertook his ambassador duties and traveled to London for the unveiling of the British brand's Spring Summer 2023 collection. Needless to say, the artist has caused an online frenzy since he appeared at the airport in Thailand. Flaunting his keen style sense, Bright was spotted dressed in a casual outfit featuring recently released Burberry items such as a black EKD Oxford Shirt and a monogrammed quilted crossbody bag.
Accessible and good-natured, upon his arrival in London, the Thai singer and actor took the time to interact with his fans and sign autographs. He also offered regular Instagram updates throughout the weekend and didn't stop sharing details of his adventures in London. All along, the artist's army of fans supported him with hashtags on Twitter and messages across platforms.
Bright's Front Row Takeover
However, at Burberry's fashion show, on September 26, the excitement reached a peak. Just like it happens when stars of his caliber attend fashion events, Bright raised high expectations for his front-row debut at the British house's SS23 show. He certainly did not disappoint. Living up to his title as one of the most stylish Asian celebrities, Bright delivered an elegant look, perfectly appropriate for the occasion.
The outfit leaned on Burberry's tailoring tradition with the edgy twist introduced by the brand's creative director Ricardo Tisci. On his arrival at the show's venue, the singer and actor confidently posed for the cameras dressed in a black suit combined with an embroidered collar shirt and an oversized black coat. The ensemble, of course, quickly became a hot topic online—much like any of Bright's sartorial choices do.
No stranger to hitting red carpets and major events, Bright rubbed shoulders with other VIP attendants such as Bridgerton actress Simone Ashley.
The Bright Future
In recent seasons Asian celebrities have proven their influence and social media power beyond any doubt. Stars from the Asian Pacific region, in particular, have turned into go-to endorsers and fixtures at the most exclusive events around the world. From New York to Paris, these celebs continue to collect associations with the FLB industry. Additionally, for brands such as Burberry—which reported in July that 46% of their retail revenue in 2022 came from the APAC region—strengthening ties with Asia is vital.
Having previously tapped into the star power of Korean celebrities, Burberry's alliance with Bright Vachirawit represents an important milestone for the brand. With the Thai actor's prominence in his home country and wide popularity around the world, Burberry is surely expanding its presence and "break[ing] ground in uncharted territory." Fashion month might be coming to an end soon, but fans can rest reassured that this won't be the last time Bright jet sets for fashion events. 
Interested in more fashion news? Check out EnVi's recap of Prada's SS23 show.