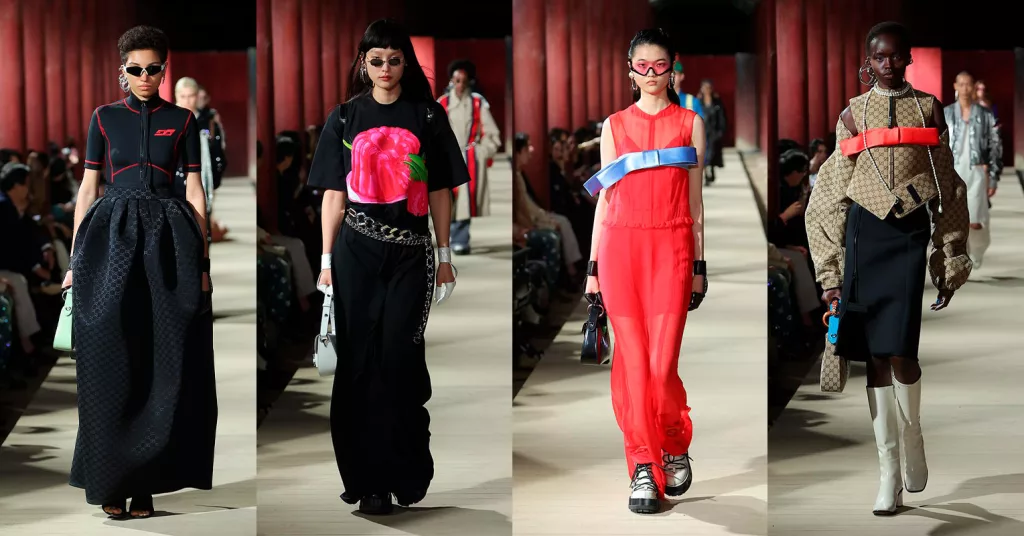 Gucci touched down in the bustling city of Seoul to present its Cruise 2024 collection. The show took place in the historic Gyeongbokgung Palace, gathering la crème de la crème of global entertainment on the front row. The first-of-its-kind event introduced a cruise collection that blended tradition and modernity through Gucci's signature codes and Korean-inspired aesthetics.
Landing in Seoul
The Italian luxury brand Gucci is no stranger to taking its presentations around the world. Following presentations in cities like Shanghai and Puglia, Gucci arrived in Seoul on May 16 to showcase an off-season collection. The show honored the strong ties between the brand and the Asian country and celebrated a partnership between Gucci and Korea's Cultural Heritage Administration to assist in the conservation of Gyeongbokgung Palace.
Marco Bizzarri, CEO of Gucci, described the brand's presence in the country as a "journey" that kicked off with the opening of its flagship store in Seoul and grew through the countless associations with local talent. Bizarri added, "Gyeongbok Palace is one of those wonders of the world that made us feel an instant connection with Korean culture and the people who created it — Florence and Seoul, Italy and Korea, so far away on the map but so close in the creation of wonder. This is why we are honored to present our Gucci Cruise 2024 collection here: celebrating the past, as inspiration for the future."
Gucci Cruise 2024
Although Gucci's direction under Sabato de Sarno — newly appointed creative director — is yet to be revealed, Gucci's design team put together a collection that mixed flawlessly the brand's DNA with elements that evoke South Korea's culture. Past and present blended in pieces such as sports jackets, floor-length maxi skirts, and coats that borrowed details from Korean traditional clothing such as the chima skirt from the hanbok and goreum-like oversized bows.
The dialogue between past and present was also evident in the silhouettes, details, and textiles. Detachable sleeves contrasting with Gucci's monogram and riding boots, wetsuits paired with long skirts, and horse riding pants matched with sports shoes, were just a few of these juxtapositions. The looks featured an equally varied range of materials including neoprene, wool, chiffon, and leather.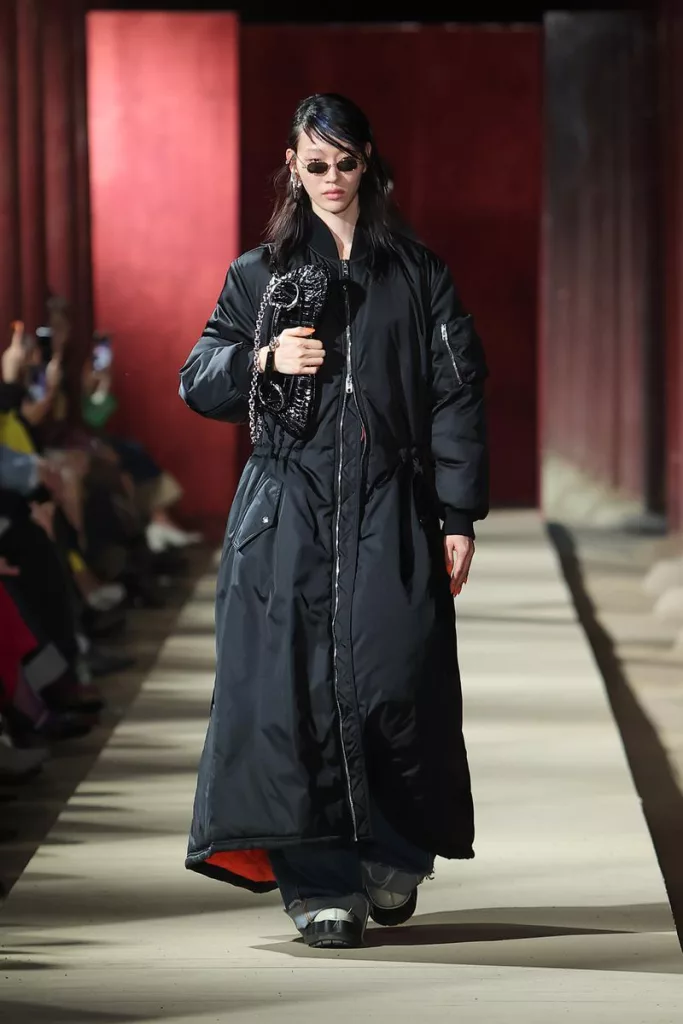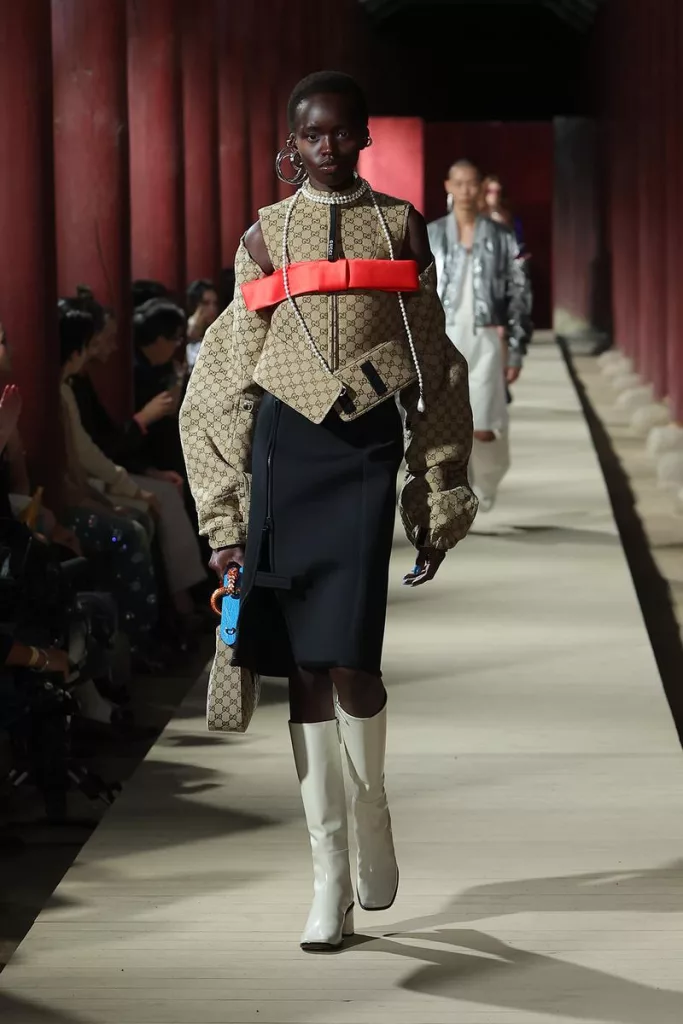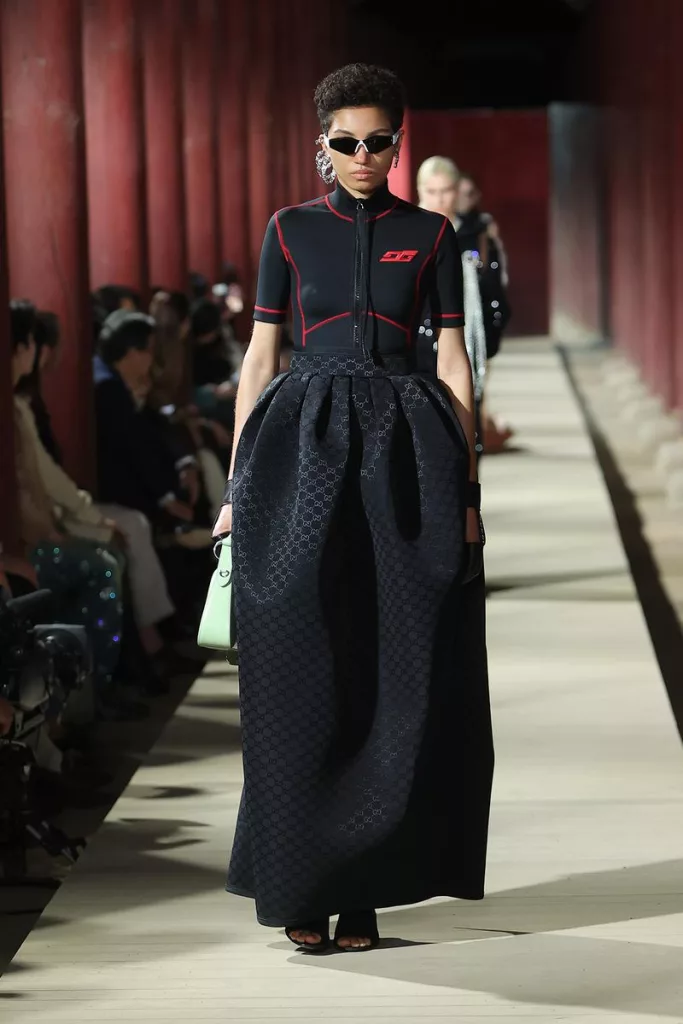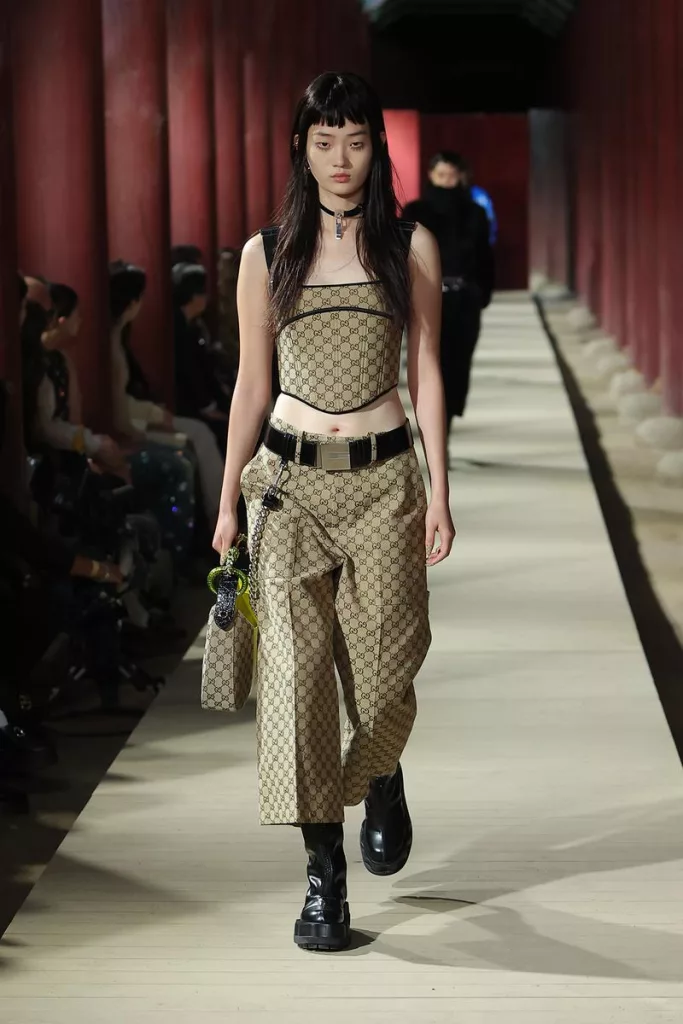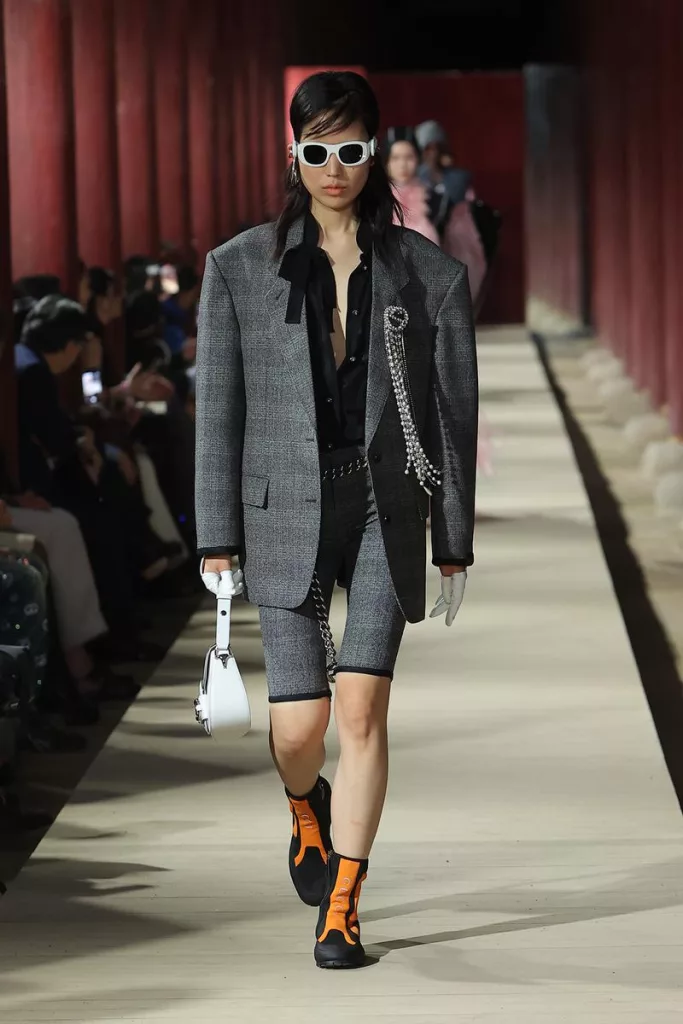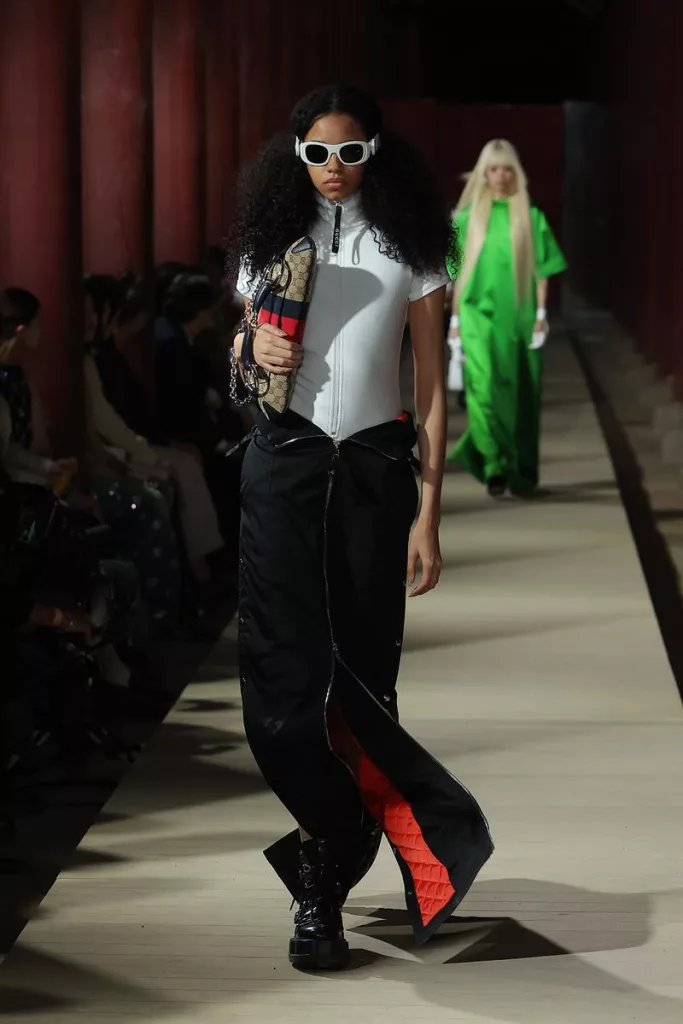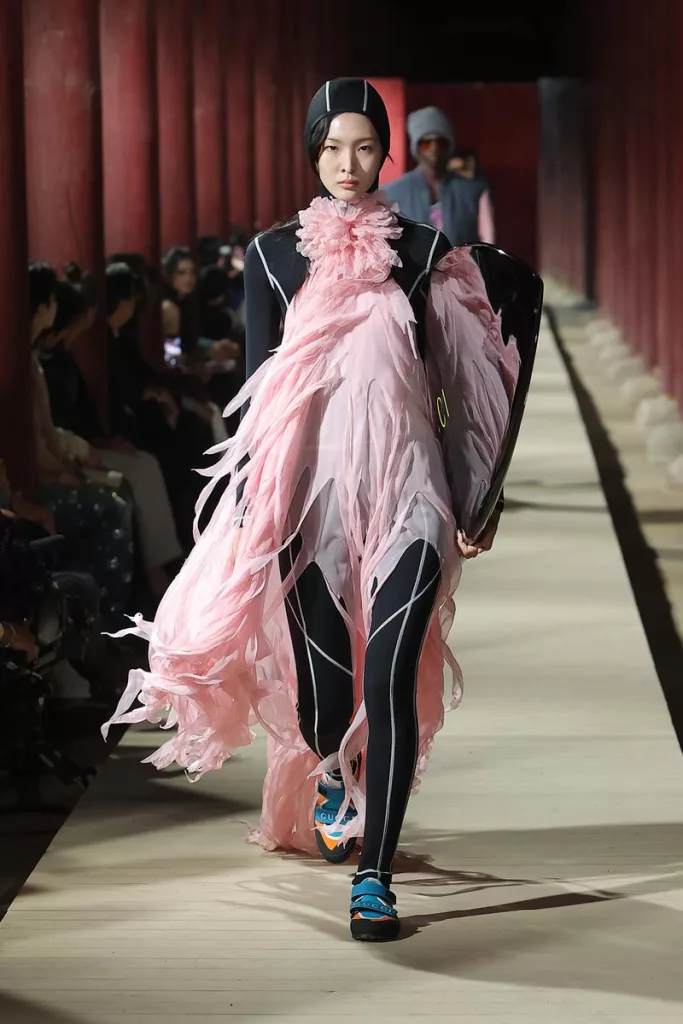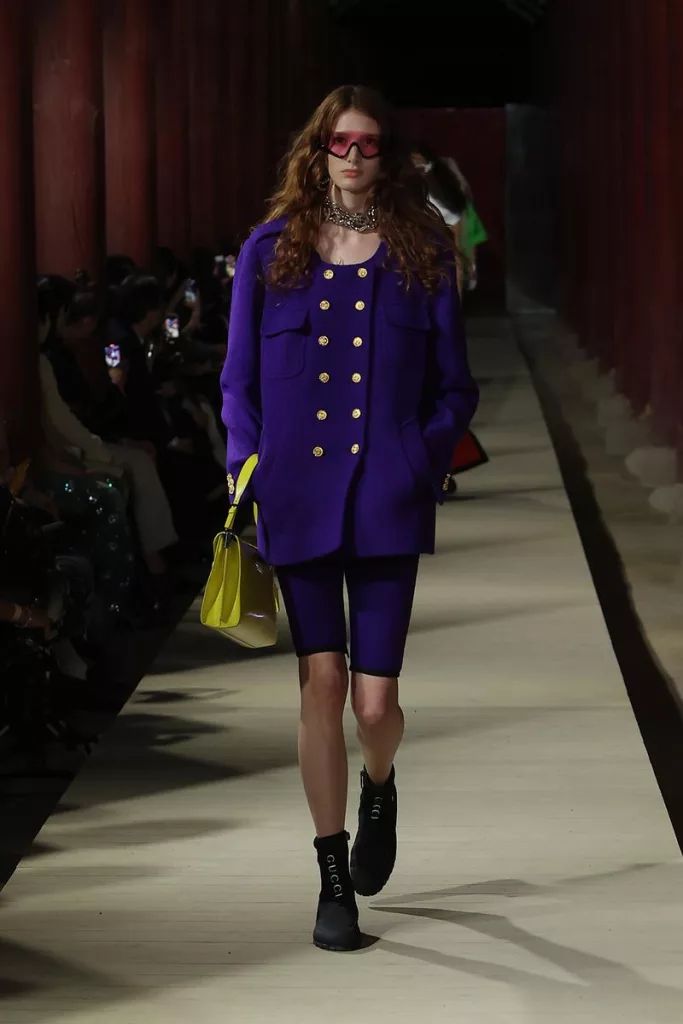 Photos courtesy of Gucci
Prints created by visual ASMR artist Ram Han, who designed the invitation for the show and has collaborated with K-pop stars including Red Velvet, also took center stage on pieces like dresses and tops. Similarly, heavy embroideries and accessories like oversized chain necklaces added an edge to ensembles that channeled the street style that modern Korea is recognized for.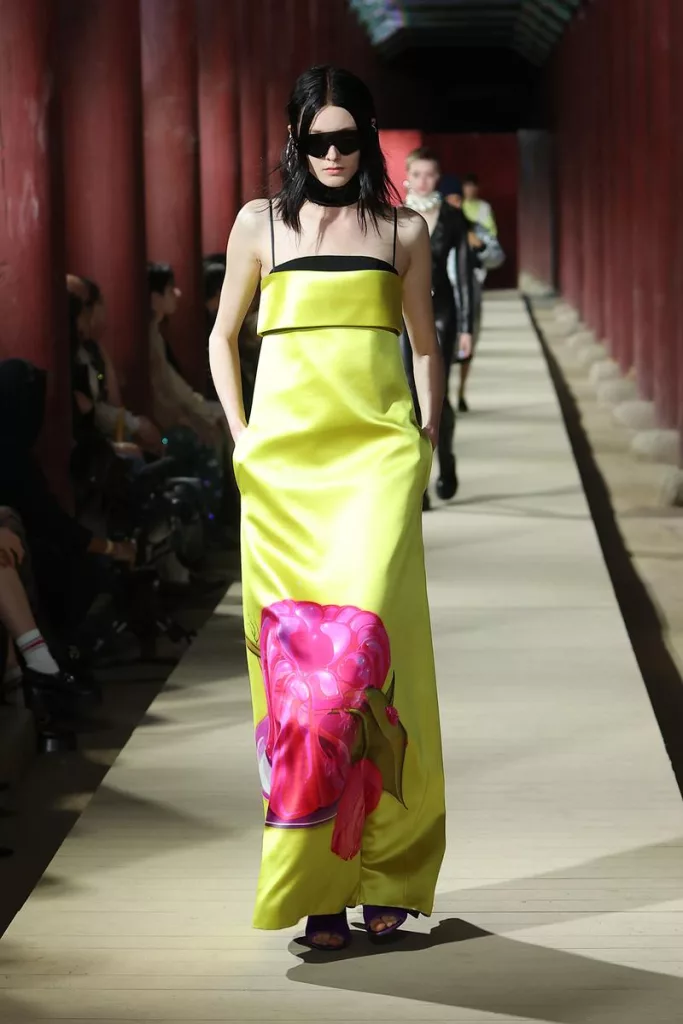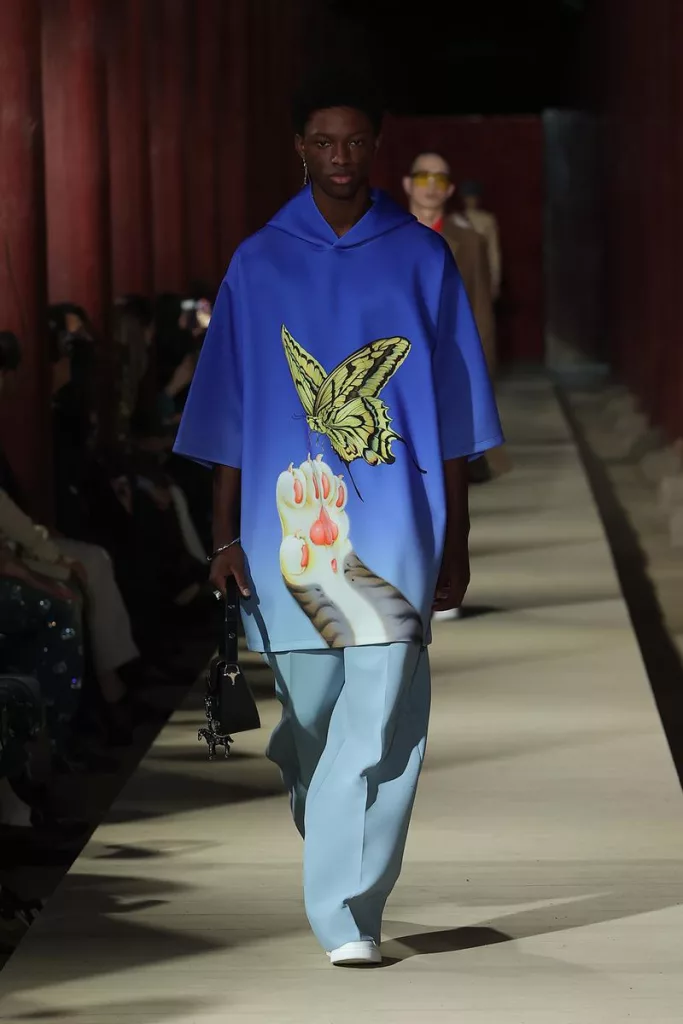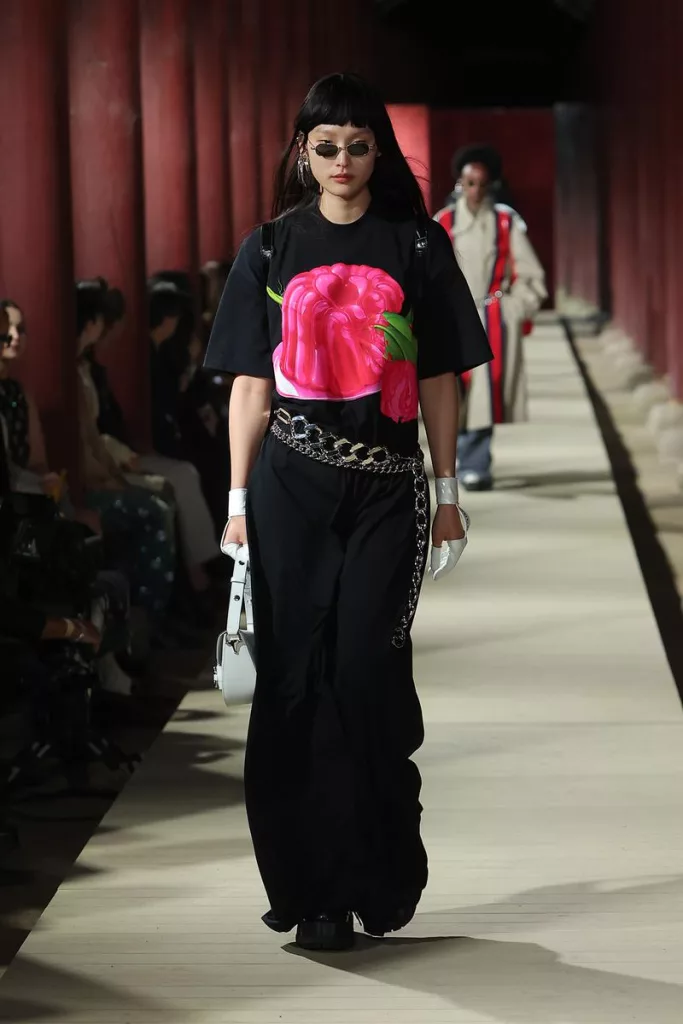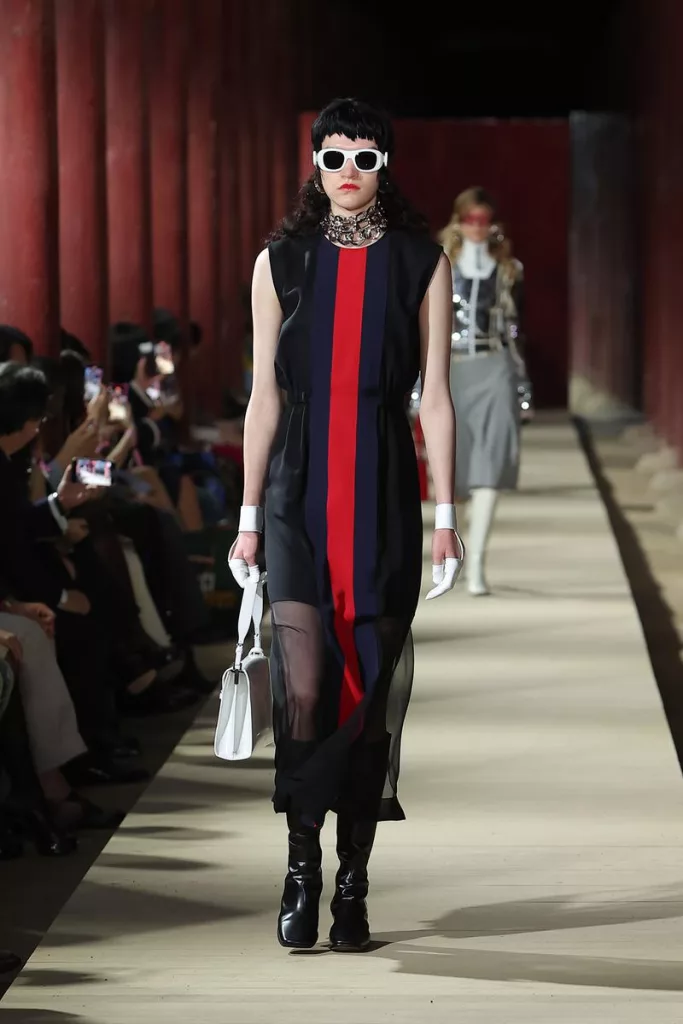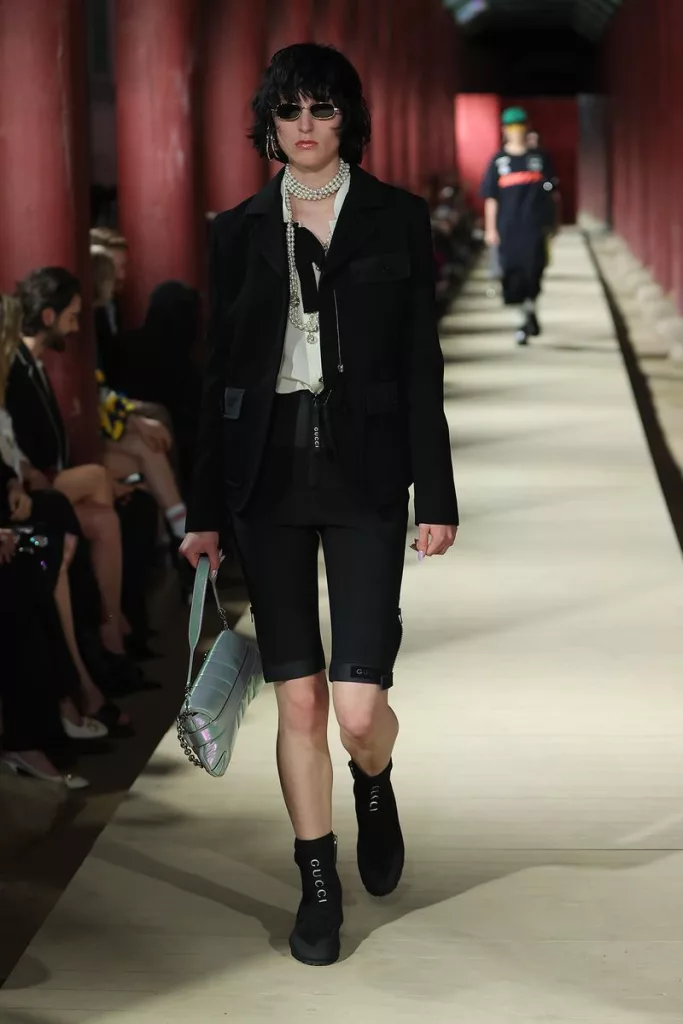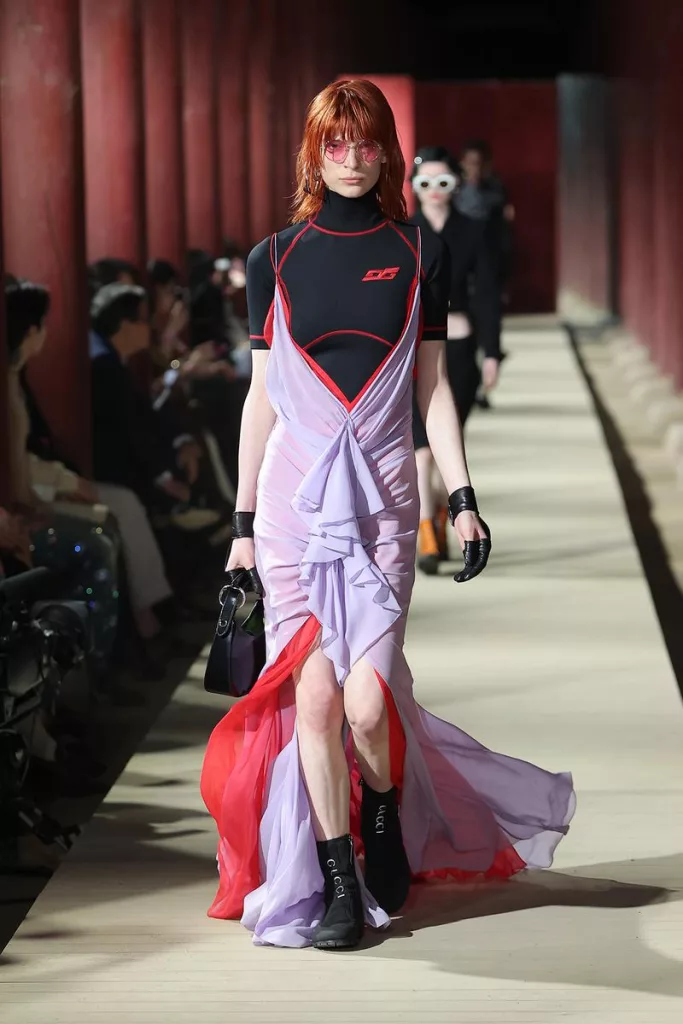 Photos courtesy of Gucci
The Guests
As an epicenter for entertainment, Seoul welcomed several world stars and Asian icons for the fashion show. Among the parade of A-list celebrities were brand ambassadors IU, Lee Jung Jae, Shin Min Ah, and Hanni. The Bollywood star Alia Bhatt made her way to South Korea for her first brand event since her appointment as Gucci's global ambassador. Likewise, debuting his new association as Friend of the House in Vietnam, the V-pop star Sơn Tùng M-TP arrived in Seoul to attend the fashion event.
Other K-pop and K-drama names like THE BOYZ' Younghoon and Juyeon, ITZY's Ryujin, aespa's Winter, IVE's Leeseo, and The Glory's Lim Ji-Yeon were also present. Additionally, Gucci's international friends and ambassadors such as Dakota Johnson, Saoirse Ronan, Elizabeth Olsen, Fumiya Takahashi, Davika Hoorne, and Kanawut Traipipattanapong — better known as Gulf — traveled to Seoul for the event.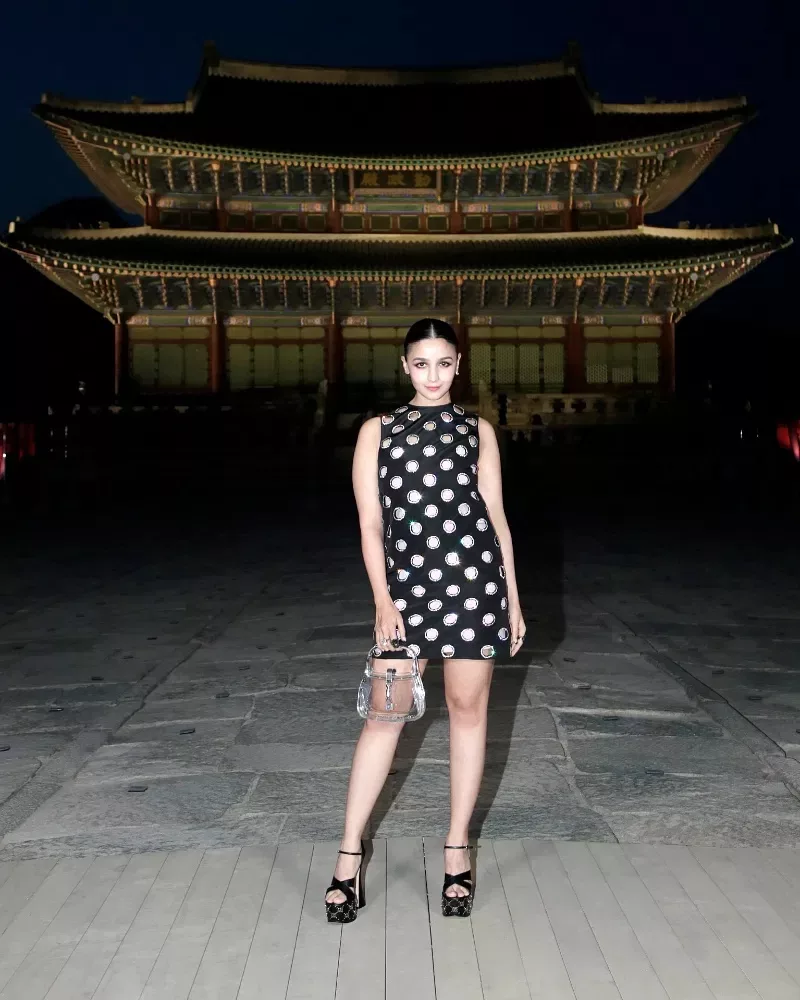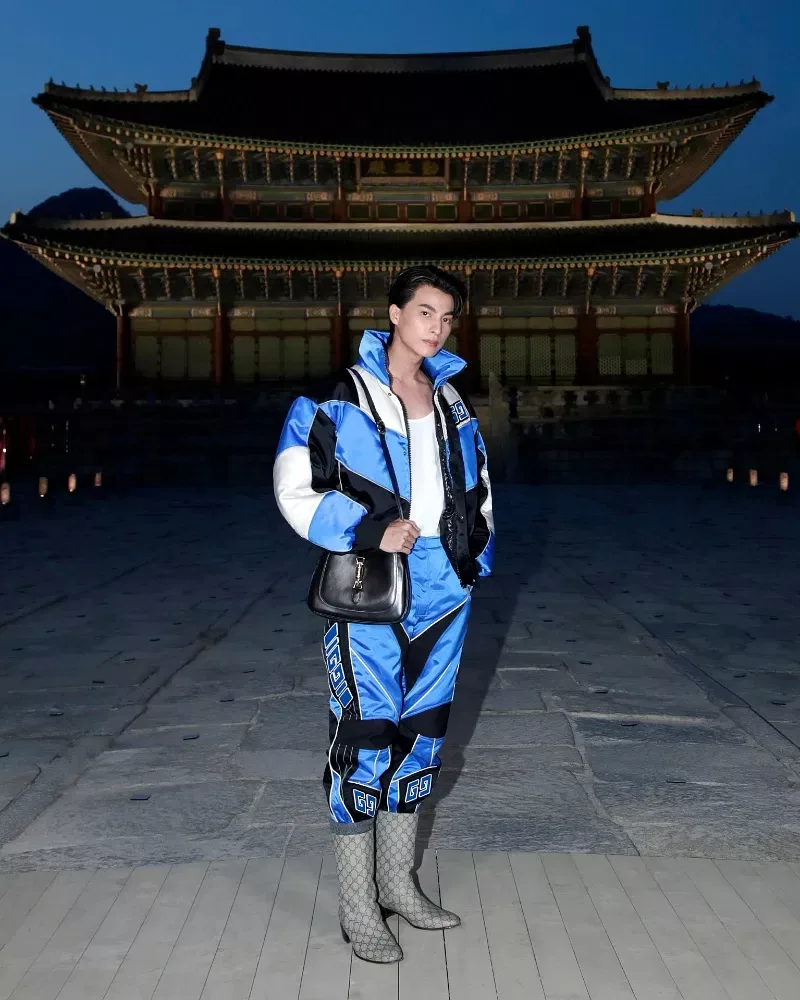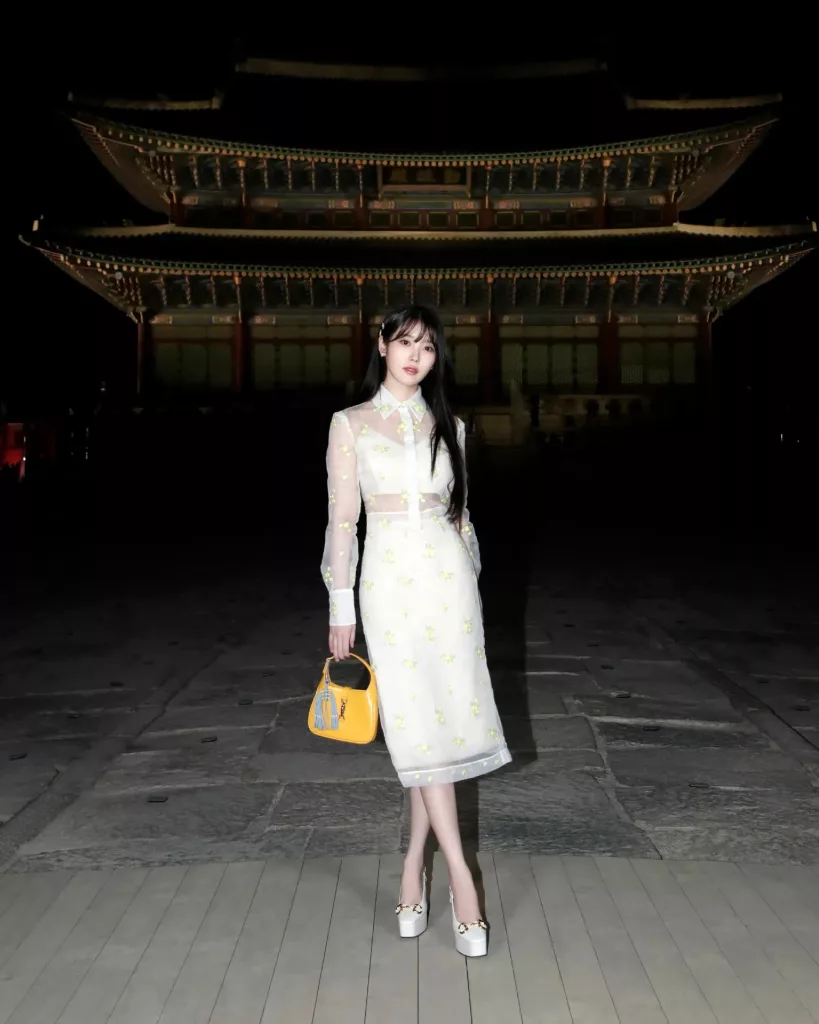 Gucci also honored their long-time association with EXO member and solo artist, Kai, by presenting him in a series of teasers filmed ahead of his military enlistment. Despite not being present, the star's name trended on social media, alongside the VIP personalities attending the event.
Gucci's Seoul-ful Connection
Gucci had originally planned to host a runway show in this location last year — prior to Alessandro Michele's departure — to present their Cosmogenie collection. However, these plans were decidedly put to a halt following the Itaewon crowd crush tragedy. Now, perfectly timed, this runway show was also scheduled to commemorate the 25th anniversary of Gucci's first flagship store in Seoul.
Over the years, South Korea has been a steady market for luxury brands and the numbers attest to this growing influence — between 2018 to 2022, the market has grown by 30%, and in 2022, South Koreans spent an average of $325 per capita on luxury goods. It is no surprise then, that brands are flocking to the country to host fashion shows and continue to bet on the South Korean market. Luxury houses are also tapping the most popular stars in Korean entertainment to promote their brands.
Gucci has been no exception. The brand has invested in garnering the biggest names in Korean pop culture to represent their brand. One of Gucci's most prominent star associations is EXO's Kai, who has been working with the brand for a long time and even hopped on board to design a limited capsule collection in 2021. Gucci also handpicked singer IU, actress Shin Min Ah, and veteran actor Lee Jung Jae as ambassadors. Most recently, the brand called upon Hanni from K-pop sensation, New Jeans to be a global ambassador and poster girl for its Gucci Horsebit 1955 campaign.
Gucci is not the only brand touching down in Seoul for fashion shows. Louis Vuitton also took its Pre-Fall collection to the city. Read everything about the star-studded event here.