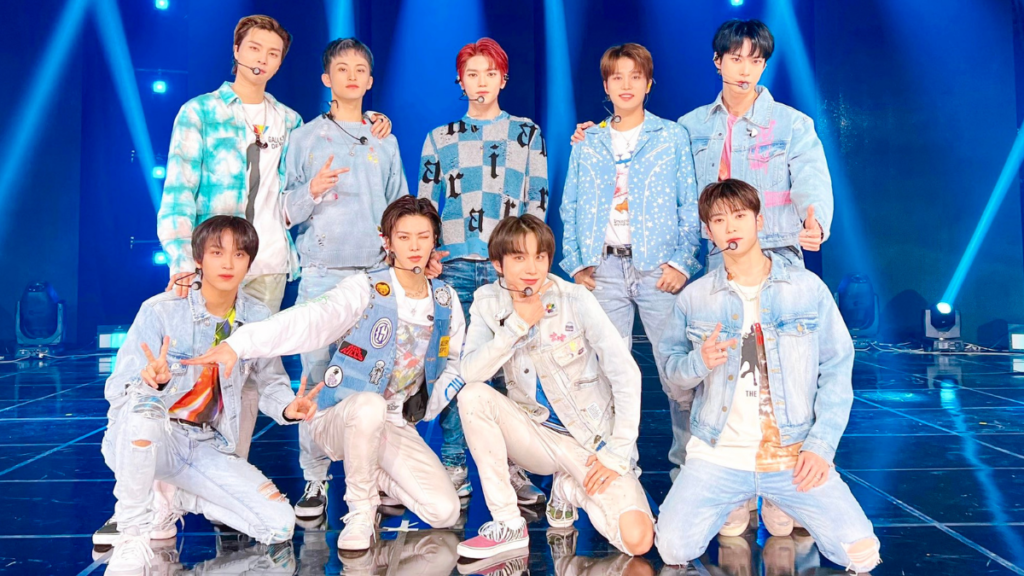 NCT 127 has already proven themselves versatile artists, actors, models, and fashionistas. Although the nine-member group is known for striking poses, hitting high notes, and creating music, they are also appreciated for their skills working with video cameras and MCing. Simply put, NCT 127 were born to be YouTubers.
To celebrate 127 Day and the group's original content through the lens of their activities and antics, EnVi compiled some of our favorite NCT 127 YouTube moments. From touring adventures and parodies to iconic performances and behind-the-scenes clips, EnVi takes you on a trip through some of NCT 127's most memorable and meme-able moments on screen.
NCIT House: Our Share House with Full of Joy and Love
NCT 127 dusted off their acting caps in this comedy skit and introduced us to the NCIT house and the shenanigans that occurred in it. The members had to deal with multiple dilemmas such as finishing homework before the deadline and figuring out whether their close friend, Mark, was secretly Spiderman. This video showcases 127's quick wit and improvisation skills as they manage to create funny moments throughout without a script. The typical cheesy sitcom format topped with fake audience laughter also creates a really fun atmosphere that 127 flourishes in.
TAEIL X HOUSTON: MOON🌕Meets Giraffe (Feat. 텐데즈) | NCT 127 HIT THE STATES
In the Hit the States series during the North American leg of the NEO CITY: The Origin tour, each member was an ambassador for a different city and visited landmarks recommended by fans. Taeil was joined by Doyoung and Jaehyun, at the Houston Zoo and Houston Museum of Natural Science. They get temporary tattoos, feed animals, and even take selfies with giraffes. There's a sentimental moment at the museum's moon model, where "Sun&Moon" plays in the background, as Taeil thanks fans for their recommendations. The series shows how NCT 127 gets inspired by fans in the content they create and how they have fun together while on tour.
Making A Mini Movie With MK | Johnny's Communication Center (JCC) Ep.
Johnny's Communication Center is a series where NCT 127's member Johnny vlogs his experiences and fun adventures all around the world. In this episode, Johnny and Mark invite fans into the process behind the creation of their very own short movie titled 'Freaky Handshake.' The video details how the duo came up with the plot behind 'Freaky Handshake,' the different camera angles they decided to use, and the dialogue for their characters. The strong chemistry between Johnny and Mark shines through in this JCC as they act alongside one another and successfully come up with scenes to keep the viewers entertained. The final version of 'Freaky Handshake' was so well received it even got it's own entry on Letterboxd and even became the fourth highest rated film on the platform.
NCT 127 엔시티 127 'Simon Says' MV
It wouldn't be right to talk about our favorite 127 videos and not include the official music video for "Simon Says." The visuals provided by Paranoid Paradigm work perfectly with the futuristic and cool vibe of the track. There are a bunch of interesting moments in it such as "NCT we are so sexy" lyrics, 127 sitting around a huge conference table, and of course, the bridge featuring Doyoung, Jaehyun, Haechan, and Taeil. The fashion in "Simon Says" also shows how NCT 127 is able to pull off a variety of daring outfits. The inclusion of things such as high-top Vans with laces wrapped around their ankles, hauntingly beautiful masks, skirts, and blazers ultimately creates a sequence of fashion moments that are striking and memorable.
NCT 127 BKLYN BOYS
The members of NCT 127 take on Brooklyn in this mini-series filmed during their 2019 US tour. We follow the group as they arrive at their AirBnB and in normal 127 fashion, immediately dive into fierce competition. From cooking challenges to beer pong and karaoke, NCT 127 gives us a glimpse into the inner workings of their friendship and how they spend time when they're not performing at sold-out concert venues across the globe.
NCT 127 엔시티 127 'Sticker' Camerawork Guide
This video is a helpful guide on how to properly capture the energy and intricate choreography for 'Sticker'. As the members passionately sing and dance across the set, the cameras provide a range of sleek angles and shots that compliments 127's excellent performance and leaves viewers enthralled.
[Un Cut] Take #5|'Sticker' Recording Behind the Scene
NCT's Recording Behind the Scenes series takes viewers into the recording booth with 127, to see the making of NCT's songs. This episode shows the behind-the-scenes of "Sticker"—from NCT 127's first listen of the song through their own recording of it. "Sticker" is a unique and challenging song, and this episode allows viewers to see how 127 approaches it—from how Taeyong immediately starts thinking of choreography, to how Doyoung starts thinking of which of the members would sing it best. It shows how the group took the song and made it their own.
❮Late Night Punch Punch Show❯ EP. 1|NCT 127 TALK SHOW
In this four-episode series, NCT 127 members run a parody of late-night talk shows. With Doyoung and Jungwoo as the talk show hosts, the rest of the members take turns playing different characters, from guests to the show's live band, Haechan's Children. Full of improv-comedy style skits, the Late Night Punch Punch Show demonstrates a relaxed and lighthearted side of NCT 127 and guarantees a good laugh.
아가들 괜찮니…?ㅣ태용이의 탐구생활
Tyong-Time is an update video that showcases the progress of the fish tank shown in Taeyong's surprise spin-off episode of JCC. In the original JCC, we witnessed Johnny and Taeyong work together to set up a fish tank. This spin-off episode kick-started Taeyong's very own corner within the NCT YouTube channel which would end up being titled "Tyong-Time." In the most recent update, the viewers are shown how Taeyong's little ecosystem has grown from the last time we had seen it and the process of him adding some new guppies to his collection. However, in a shocking turn of events, Taeyong discovers parasites on the tails of his new pets and has to work quickly to remove them. His gentleness and soothing words as he consoled the guppies touched the hearts of fans and non-fans alike, ultimately helping to create the phrase "Taeyong fish surgeon" on Twitter.
NCT 127 엔시티 127 'Favorite (Vampire)' Halloween Costume Ver.
For Halloween, NCT 127 got into the spooky spirit with a "Favorite (Vampire)" dance rehearsal in their SM Halloween party costumes. While Taeyong, Jaehyun, Jungwoo and Haechan stuck with the song's vampire theme, other members dressed as Spider-Man, a boxer, a polar bear, and anime characters Shanks and Himura Kenshin. The performance video shows the members comedically executing the choreography while holding a sword, throwing jabs and showing off their Spider Powers.
말보다는 포즈다 ✨🕺🏻✨|The Next NEO Model|개인 미션
The Next NEO Model is a three-episode improv-parody based on the reality television series America's Next Top Model. With Johnny and Jungwoo as the show's hosts and judges, the rest of the members participate as modeling contestants. They compete in a series of missions to determine the winner who will get to grace the cover of the next JOHNNYZED issue alongside the Top Super Model, Jungwoo. Much like its inspiration, this YouTube series delivers dramatic edits of contestant reactions and interviews.
👨‍💻Comment Below👇 | NCT 127 '영웅 (英雄; Kick It)' MV Commentary
If there's one thing NCT 127 loves more than hyping each other up, it's lovingly teasing one other. An accompaniment to the regular reaction video, the group broke up into trios to watch through the "Kick It" music video and leave comments at their favorite timestamps. An NCity classic, the "Kick It" commentary video gave fans gems like Mark's iconic "who messed with my daughter, yo" and has all eyes on the left side of Doyoung's chest.
NCT 127 X MIAMI: Summer Boys at Miami Beach | NCT 127 HIT THE STATES
When the group goes on a trip to Miami Beach during the Hit the States series, we see them go through local beach shops for swimwear (shoutout to Yuta's "I'm in Miami bitch" tank) while Mark is on a mission to find someone to finish the lyrics to Will Smith's "Miami" with him. Watch NCT 127 have fun in the sun while showing how down-to-earth, goofy, and loveable they all are.
NCT 127 X Amoeba Culture 'Save' MV
Whether it be their vocals, rap skills, or dance moves, NCT 127 did not mess around when making this music video. They proved that they will always go above and beyond as they sing the line, "127 till infinite time." The track "Save," by NCT 127 x Amoeba Culture is a unique collaboration with a powerful electronic beat and lyrics that echo about preserving, "memories of love." While the track was only meant to be a collaboration with Samsung for their SAVE campaign, NCT 127 made sure to give it their all and it has the group's sound written all over it. "Save," is a music video that showcases each of the members' skills while showing how versatile and well the Seoul-based unit works together.
37.5MHz 해찬 라디오 HAECHAN Radio | Neo Zone Special (1/2)
As part of the roll out for their critically acclaimed album, Neo Zone, Haechan was given his own radio show. In the two-part special, Haechan invited the other members of 127 onto the show to discuss an array of different topics, read comments from fans, and play games such as TMH (To My Hero) where they discussed who is a role model to them. Haechan's natural charisma, enthusiasm, and humor makes him a perfect radio host as he seamlessly moves through the different sections of the show while interacting with his guests at the same time.
DOYOUNG X ATLANTA: Going to Aquarium! (Feat. JW) | NCT 127 HIT THE STATES
Another episode from NCT 127's HIT THE STATES series, this episode takes place in Atlanta. Recommended by fans, Doyoung and Jungwoo visited the Georgia Aquarium and explored the various exhibits. The video is peaceful as the two are shown in front of the whale exhibit just watching the fish swim by in awe. Doyoung and Jungwoo also visited South City Kitchen, a soul food restaurant known for its 'sophisticated' twist on southern classics. The members ended the night on a ferris wheel overlooking the Atlanta skyline.
My NAILS are LONGER!!! 💅🏻🌻🙂 | Johnny's Communication Center (JCC) Ep.26
In this JCC episode, Johnny, and special guest Yuta, take us to the nail salon. The two members previously discussed getting their nails done during their "Work It" promotions. They visited a local, popular salon to get their nails professionally done. But it wouldn't be a JCC unless there was a fun twist! The two agreed to leave two nails blank, so they could give each other manicures. This JCC is a great recommendation for those who want a look into the bond between Johnny and Yuta.
Hello~ Mr. NCT!|NCT Teachers for a day
In this episode of NCT Daily, Taeyong, Jaehyun, and Jungwoo all made a special appearance at Jangpa Elementary School. Throughout the video, they were seen enjoying some special activities together as they teach the kids the "Cherry Bomb" choreography, decorate cakes, and even give out autographs after they ate lunch together. This wholesome video showed fans how the members all interact with kids, allowing fans to see a sweeter side to them.
NCT 127 Track Video #4 Lemonade
To drum up anticipation before the Sticker album drop, NCT 127 released a few short videos for some of the B-side tracks. The track video for "Lemonade" took NCTzens by storm. The two-minute snippet has everything you could want in a 127 music video: intense close-ups, all-black outfits, intricate choreography, a blazing fire in the background, and Jaehyun rapping.
육즙이 톡톡! 탤스팸동 | ✨금손 문선생의 최고의 요리비결✨ | Master MOON Chef
Continuing NCT's YouTube series of improv-parodies, Master MOON Chef introduces Taeil as the master chef of a reality-style cooking show. Each episode features different NCT members, a new recipe, commentary and tips to complete the recipe at home. The series editing keeps true to the ambiance of reality cooking shows, with a clean look, luxurious shots of the cooking appliances and food, as well as confessional shots from the participants. Taeil's witty and charismatic master chef persona has become a favorite not only amongst NCTzens, but NCT members as well.
"볼링이란, 나 자신과의 싸움" – 정재현 | 김정우의 이 사람을 찾아서
Finding A Person By Kim Jungwoo is a series in which Jungwoo learns a skill with someone who is deemed as a master of their skill. In this particular episode, Jungwoo goes bowling with his former roommate, Jaehyun, who set the record for the highest bowling score at the Idol Star Athletics Championships after only bowling for three weeks. Jaehyun mentors Jungwoo in bowling and gives him a lot of useful advice regarding the sport. While learning a new skill or attempting to master it can be stressful, Jaehyun and Jungwoo make it a light-hearted experience. Their playful friendship shows as they participate in witty banter and complement one another.
Analog Trip NCT 127: Escape From Magic Island
NCT 127 embarked on an adventure to Somuuido Island in this YouTube Originals series. Framed as an escape room-esque game with an interwoven mystery, the members are on their own as they figure out how to get back home. NCT 127 kept the semi-scripted series fresh by maintaining their specific brand of humor as they navigate the ridiculous twists and turns of the show. The members keep fans on the edge of their seats as they test their teamwork skills throughout the eight-part series.
IKEA Shopping & Assembling a shelf | Johnny's Communication Center (JCC) Ep. 3
In this JCC episode, Johnny and Jaehyun filmed their day shopping at IKEA! The two members make their way around the store, shopping for specific furniture for Johnny's dorm. The duo play and joke around throughout the store, while they contemplate which items they will be purchasing. In the video, they stop for a meal in the IKEA cafeteria, where they show what food items they ordered and share. The video ends with Johnny assembling his furniture he bought, and how the finished items look!
Cover|DOYOUNG – Falling (Harry Styles)
Though covers are a tricky business, NCT 127's vocalist, Doyoung, is a proven expert at song renditions. An adroit singer, the star has gifted fans with homages to his favorite artists throughout the years. In 2021, Doyoung blessed the internet with a cover of the sorrowful "Falling" by Harry Styles. In the 2:44 minute video, not only did the crooner make our hearts ache and showed his range, but he also displayed his fashion prowess dressed in an all-black outfit. If you haven't yet, watching Doyoung hit the right notes to a breakup song is a therapeutic experience everybody should enjoy at least once. Keep covering, Doyoung! Our ears will thank you for that.
I'm Home 🏠 | Johnny's Communication Center (JCC) Ep.27
On April Fool's Day in 2021, fans were fooled by Johnny with this JCC episode. A day before the video was released, Johnny posted a cryptic Instagram story of him holding big luggage. Speculating fans made the connection, after seeing the JCC title "I'm home" the next day. To further prove his commitment to the prank, at the beginning of the video, Johnny invites Ten to "visit" his hometown of Chicago with convincing acting. The two utilize a green screen to take fans on a journey with them and even wear matching shirts. Although they are not physically in Chicago, the duo does their best attempt at roleplaying as they pretend to show the viewers Johnny's "home" and Ten's first "trip" to Chicago.
Stick Together
In the Stick Together four part mini-series, NCT 127 spent two days and one night on a healing trip. In efforts to let loose and bond before their album release that comes with whirlwind schedules, the members find peace in a secluded, modern rental that even has a garden in the yard. Through collaborative dinners, board games, and one really intense match of badminton, the members feel refreshed and closer than ever as they head into their next era.
#NCT127DAY Gift Song (Dreams Come True)
The "Dreams Come True" track video was actually a gift from NCT 127 to their fans, NCTzens, for 127 Day two years ago (January 27, 2020). It's no wonder why this video and track is a favorite for many fans. With matching outfits, the music video is reminiscent of those done by 90s boy bands. The R&B ballad includes sentimental lyrics of pushing through the tough moments that come with life, while also spreading the ideals of self-love and encouragement for their fans. Whether you are having a bad day or want to bask in the feel-good vibes, watching this music video is bound to leave you feeling loved.
Happy 127 Day!
Want to keep celebrating 127 Day with EnVi? Check out our recreation of NCT 127 music video looks here!