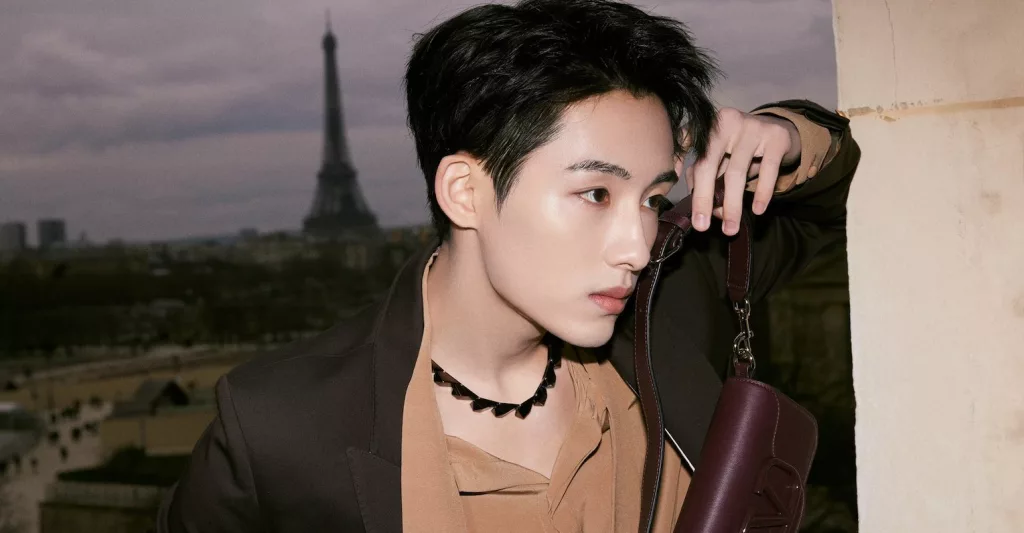 The members of NCT are on a roll and the latest to join the band's fashion takeover is none other than the multitalented WinWin. As a long-time friend of Valentino, the Chinese singer, actor, and all-around fashion darling turned up to the brand's Fall Winter 2023 fashion show in Paris. Dressed in an impeccably stylish ensemble, the star took center stage on the front row of his first Paris Fashion Week show. 
WinWin's Paris Fashion Week Debut
It is no secret that WinWin is a force to be reckoned with in fashion. The singer is a brand ambassador, go-to endorser of brands, and coveted cover star for fashion publications. Throughout the last year, in particular, WinWin also nurtured a friendship with the Italian fashion house, Valentino. The singer starred in their Lunar New Year campaign and appeared at several brand events in China. It comes as no surprise, then, that he was among the VIPs invited to the unveiling of Valentino's most recent collection in Paris.
Since his departure to France and flexing his established association with the luxury brand, WinWin turned heads dressed in head-to-toe Valentino looks. The star channeled Parisian chic clad in several total black outfits, including a coordinated ensemble for the airport. To sightsee around The City of Lights, the singer opted for a casual fit topped by a long coat and accessorized with a Loco Mini Bag. WinWin even took to Instagram to share the look as he posed in front of one of Paris' landmarks, the Basilique du Sacré Cœur in Montmartre
Meanwhile, at Valentino's Fall Winter 2023 show, "Black Tie," the singer dazzled in a dressy casual ensemble that featured an iteration of a look presented in the brand's Resort 2023 collection. The outfit included a black blazer, denim pants, and a camel silk shirt with a scarf detail on the collar. To top it all off, WinWin sported Nappa leather sneakers, a black choker, and a burgundy Loco Bag. Despite sharing the spotlight with celebrities such as Florence Pugh, Nick Jonas, and Priyanka Chopra, WinWin still stood out, proving beyond any doubt his status as a total fashion boy. 
Brand Favorite WinWin
A legit style icon, in recent years WinWin has steadily collected associations with fashion brands across the board. Making headlines with every new endeavor, the popular star has been a regular at events of brands such as Louis Vuitton, CELINE, LOEWE, and Jimmy Choo — only to name a few. This fashion season, and in tandem with NCT's emergence as "one of the K-pop groups bringing a significant uplift in brand exposure during Fashion Weeks," WinWin continues to show his popularity among fashion brands and demonstrate that the members of NCT are the ultimate Fashion Week darlings.
Want to read more about NCT's ongoing fashion takeover? Check out how Jeno graced the front row of Milan Fashion Week here.