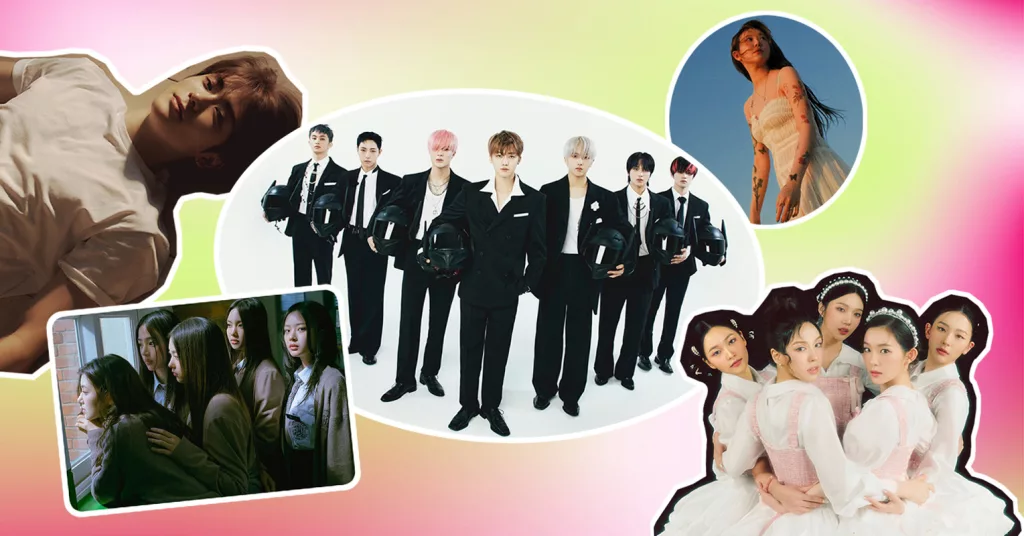 Week after week and month after month, K-pop artists made 2022 their year. Their energy and passion have delivered another 12 months of incredible music for fans. From bubblegum pop bops to groovy R&B musings, here are 22 of Team EnVi's favorite 2022 K-pop releases.
"In My Dreams" – Red Velvet
Red Velvet are one of those artists who not only have ear worm (and eye candy) title tracks, but a lush variety of B-sides. "In My Dreams" from the group's The ReVe Festival 2022 – Feel My Rhythm album closes the project, but the track feels like the blooming of a new beginning. Showcasing their "velvet" side, "In My Dreams" weaves together a beautiful fairytale with a tinge of haunting darkness through Red Velvet's gorgeous harmony and its languishing melody. 
— Sara, Junior Managing Editor
"Wild Flower" – RM with Youjeen 
Indigo may only have been released at the beginning of December, but that hasn't stopped me from listening to it and the title track, "Wild Flower," nonstop. The raw desperation is evident in both the voices of BTS' leader and Youjeen from the Korean rock band Cherry Filter. When paired with the stunning cinematography of the music video, the soul of "Wild Flower" and its emotional lyrics shine even brighter.
— Sara, Junior Managing Editor
"Designer" – NCT 127
There's a reason "Designer" clinched a number 2 spot in my Spotify Wrapped this year despite being released with just 6 weeks of tracking time left. The spunky B-side embodies NCT 127's classic neo sound and weaves R&B and hip-hop with the members' distinct vocal colors. My favorite part? Taeyong's funky adlibs sprinkled throughout the track – catch me singing along with him every time.
— Megan, Junior Managing Editor
"The Song" – BTOB
BTOB finally came back as a complete group with their third studio album Be Together after four long years of military enlistments. "The Song" is laced with bittersweet nostalgia and is reminiscent of the kind of ballads that shot them to fame. After a jarring lineup change, I loved that "The Song" referenced their previous works, almost like the members were reassuring Melody – their fans – that they're here to stay and provide the same comforting solace as before.
— Megan, Junior Managing Editor
"GingaMingaYo (the strange world)" – Billlie
Billlie's "strange" concept, catchy choreo, and quirky instrumentals of this song solidified "GingaMingaYo" as one of my top songs this year. The constant urge to get up and dance while humming this song kept my year upbeat and made my world a little stranger.
— Sarah, ACT!ON Writer
"Sucker Punch!" – Xdinary Heroes
"Sucker Punch!" was a certified screaming in the car classic for 2022. With electric guitar for days and vocals that pack a punch, this B-side from Xdinary Heroes' first EP helped to introduce the band's sound while setting up what could come next for this young band.
— Sarah, ACT!ON Writer
"BTBT" – B.I X Soulja Boy (feat. DeVita)
This single from B.I's most recent EP Love or Loved, Pt. 1 was a collaboration I didn't know I needed until I got it. The constant rhythmic drums keeping the song moving forward were the perfect balance to the lyrics depicting a love so strong it makes you stagger. While trying to move forward, having a song that makes staggering not seem so bad made the ups and downs of 2022 all the better.
— Sarah, ACT!ON Writer
"Generation" – tripleS AAA
Boasted as "the idol of all possibilities," MODHAUS' ambitious tripleS project begins with the subunit AAA (Acid Angel from Asia) and "Generation." The feel-good, funk-esque track depicts the joy of adolescence – full of energy and hassle-free. With a catchy hook and a bustling, Y2Kcore-packed music video, "Generation" truly captures the Gen Z zeitgeist.
— T. Aquila, Junior Managing Editor
"Danger" – woo!ah!
Love is like sweets — delicious and addicting. In "Danger," woo!ah! allude to the comparison: from ice cream to cupcakes to macarons. The song starts off subtly with dribbling clap beats before bursting into a sugary, bass-heavy chorus and the quintet's charming vocals. While still acknowledging the risk of falling into a passionate love, "Danger" ends on a high note: "At this very moment, we're flying up / Don't stop the thrill / We could be crazy in love."
— T. Aquila, Junior Managing Editor
"POP!" – Nayeon
For the first solo from a TWICE member, "POP!" perfectly captures Nayeon's identity as an artist (bright, poppy, and iconic) while still maintaining the clear TWICE sound. It's the perfect first venture into solo music for both the group and for Nayeon as a soloist, and definitely leaves us wanting more.
— Niamh, Creative Director
"Escape" – (G)I-DLE
In "Escape," (G)I-DLE sing about always staying by your side when you're going through a hard time. It's a great song to put on when you're feeling down and alone. Minnie starts off the song by singing "Look into the sky, what do you see? The far distant stars are like your eyes, they're so pretty" and instantly it just makes you feel so much better. It's the best pick-me-up song of the year because the sweet lyrics are so comforting!
— Jenny, Graphic Designer
"Same Scent" – ONEUS
Initially a lucky encounter on TikTok, this song immediately made it into my top list of 2022. The combination of a slow-paced intro and a fast-paced chorus just scratches a certain part of my brain that I didn't know needed scratching! ONEUS serve vocals, hypnotizing choreography, visuals, and a heartfelt message all in one song, which is also the lead single of their 8th mini album MALUS. A must listen for all fans of the earlier k-pop days!
— Sophie-Marie, German Translator
"Something Something" – ASTRO
For me, this is one of those cases where the b-side outshines the title track. While "Candy Sugar Pop" is an amazing A-side, it was love at first listen for me with "Something Something." It had such a grip on me that I couldn't wait to finish listening to the rest of the album just to listen to this on repeat. I also LOVE listening to it in late night drives. This is a total gem if you're looking for more B-sides to appreciate and add to your playlist.
— Alex, Senior Managing Editor
"Forever Only" – Jaehyun
Jaehyun's highly-anticipated first solo release disappointed no one. Aptly suited for a year where nostalgia and throwbacks reigned in pop culture, the R&B-infused "Forever Only" delves into the regrets of a breakup with poetic lyrics and a slightly hopeful tone. Despite coming from a group teeming with superstars and recognized for its experimental sound, Jaehyun masterfully strayed from NCT's style, fully showcasing his personal affinities. Singer, songwriter, actor, brand ambassador, front-row favorite, bona fide style icon… there's no limit to Jaehyun's resumé or the times a song can be replayed. "Forever Only" is the prime example of it. 
— Mayra Peralta, Fashion & Beauty Editor
"Adrenaline" – CRAVITY
After a series of dark and intense title tracks, CRAVITY brought out their bubbly side with title "Adrenaline" from part 2 of their 1st full album, LIBERTY: IN OUR COSMOS. It's a story of young love painted with a full and energetic chorus, a hard-hitting post-chorus and rap section, an addictive choreography, and a confetti-filled music video. For those who have been asking for boy groups to do bright concepts, stop sleeping on CRAVITY and get that adrenaline going!
— Carolyne (Chi), Graphic Designer
"Last Sequence" – WJSN
When I first listened to "Last Sequence" by WJSN, I fell in love with the song immediately as it captured my attention with its attractive chorus and concept. WJSN came back with this single and brought an eye-catching performance that made them stand out. I personally think that this is an underrated title track and WJSN definitely deserve the attention! Seeing this performance live at KCON was an experience, and you can see all of their hard work put into their music and performance.
— Faith Rodriquez, Video Producer
"VENOM" – Stray Kids
This song and the ODDINARY album are really memorable to me because it's what made me an official STAY! Everything about "VENOM," from the beat to the raps, is addictive to me. 3RACHA themselves said it's meant to have a "sticky" beat, which I think reflects their spider imagery so well! It was also amazing seeing this stage live in concert!
— Jenessa, Graphic Design Lead
"Fire Alarm" – NCT DREAM
The Dreamies' "Fire Alarm" is from their second full-length album Glitch Mode. The song gives me '70s disco, roller derby vibes. It's fast paced and makes me want to get up and dance! "Fire Alarm" constantly plays in my head nonstop at all times of the day. It's my ultimate car ride song. NCT DREAM did an amazing job with the whole Glitch Mode album and definitely has my top 3 favorite songs of 2022.
— Eemaan Mahmood, Podcast Editor
"Love Phobia" – Onew
Emotional, deep, and addictive would be the right words to describe Onew's "Love Phobia" from his second mini album, DICE. The easygoing melody of the song contrasts with its lyrics, which question the ways of love. This is just the type of song I listen to, and ten seconds in, I already knew it was my favorite. It finds balance between being a bit of a sad song and being the type of song that you listen to on a calm morning.
— Mafe Morales, Features Writer
"Blessed-Cursed" – ENHYPEN
ENHYPEN kicked off the year with the explosive title track "Blessed-Cursed" for their repackage album DIMENSION: ANSWER. The song carefully follows an infectious guitar-driven melody, paired with lyrics addressing how the members feel when faced with the rules of society. It's a song that I've constantly had on heavy rotation and has definitely stuck with me throughout the year.
— Kaia Morrison-Burks, Graphic Designer
"The Loved One" – Yerin Baek
If you are thinking about curating a playlist for your life, you should consider adding Yerin Baek's bittersweet ballad, "The Loved One." This gem is the third and final track of Baek's single album, Pisces, which was released in the summer. The track captures the pain that we feel when we yearn for the one thing we desperately crave – true love. With Baek's honey-like vocals and the touching instrumental at the end, the track feels like the "end credits" of your life's movie.  
— Marvin Eunice, Public Relations Contributor
"Ditto" – NewJeans
To end the year and this list, monster rookies NewJeans teased their anticipated first comeback through pre-release "Ditto," with writing credits from member Minji. With pop and Baltimore club music influences, the track is a dreamy, almost eerie breath of fresh air perfect for the cooler, more nostalgic season that comes with the month of December. Speaking of nostalgia, the "Ditto" music videos, featuring rising young actors Park Jihu and Choi Hyunwook, include a nod to 1990s-style filming and wistful memories of high school puppy love. The quintet sing about longing to have their affection reciprocated, and it seems that it has been, if the charts are anything to go by.
— Ally, News Writer
Interested in more recent K-pop releases? Read about STAYC's new album here!