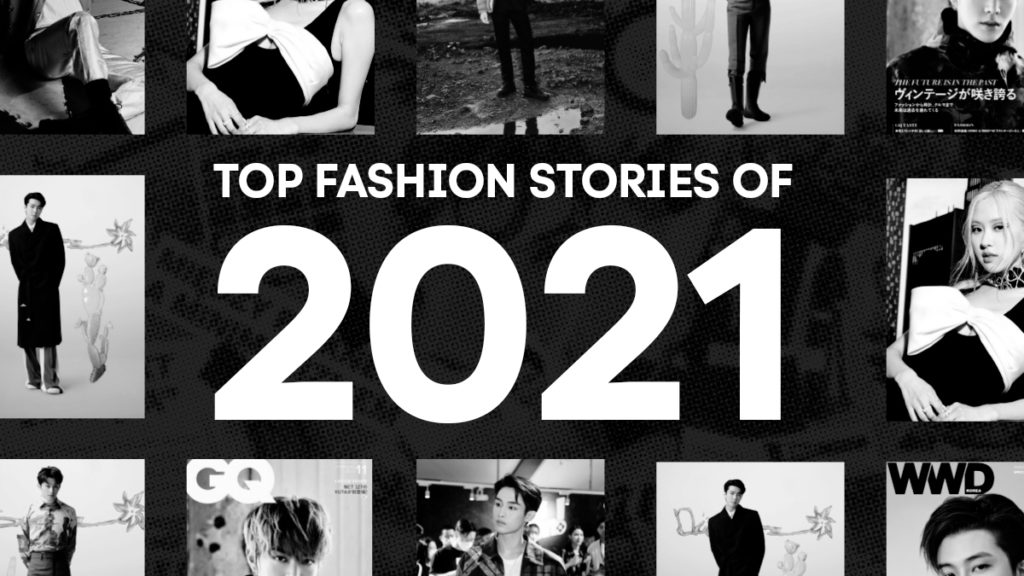 The worlds of K-pop and fashion have always been closely intertwined. With the genre's international growth, this relation has evolved over time. In their journey to the mainstream, K-pop idols have starred in plenty of noteworthy sartorial moments that made it to the headlines. 2021 was a particularly prolific year as it saw Korean celebrities cement their influence in the fashion industry. Whether it is through their style dexterity or their commercial power, these stars have undoubtedly become the new faces of fashion in the international scene. If there's something we've learned over these past 12 months, it's that we'll never get enough when it comes to K-pop celebs and their news-worthy fashion exploits. Looking back on 2021, here's a recount of EnVi's most-read fashion stories.
15. Blackpink's Lisa Becomes the Face of Celine's First Haute Parfumerie Campaign
By: Mayra Peralta
Adding a new chapter to the brand's history, CELINE unveiled the first campaign for Haute Parfumerie on December 1. To the delight of many, BLACKPINK's Lisa became the first-ever model of the fragrance line. With several brand deals and links to industry creatives, in 2021, the superstar secured her status as a modern-day fashion maven. Read full story
14. Rosé Makes a Splash at Saint Laurent S/S 2022 Show in Paris
By: Mayra Peralta
The French legacy house Saint Laurent made its awaited return to in-person runways on September 28. Other than the breathtaking location at Jardins du Trocadéro—with the Eiffel Tower in the background​​—the show raised expectations for the attendance of BLACKPINK's Rosé. The singer, who is the brand's Global Ambassador, made a splash at her first Fashion Week appearance since 2019. Read full story
13. Jisoo Attends Dior S/S 2022 Show at Paris Fashion Week
By: Donya
On September 28, in the midst of Paris Fashion Week, BLACKPINK's Jisoo attended the Spring/Summer 2022 show. Dressed in one of the most iconic looks from Dior's 2022 Cruise, the star made her comeback to the Parisian fashion scene. Though the VIP list was packed with major celebrities, Jisoo stole the attention of media and made headlines around the world. Read full story
12. Jaehyun Joins Prada's Spring/Summer 2022 Collection
By: Mayra Peralta
After the successful and much-awaited debut of Miuccia Prada and Raf Simmons as co-creative directors, Prada presented its Spring/Summer 2022 collection. Other than raising expectations for a rare outdoor event, the show stood out for its sustainable efforts and a list of remote VIP guests that included NCT's Jaehyun. Known for his outstanding visuals and clean style, the idol joined a star-studded audience. It was just the start of a promising friendship with the Italian brand. Read full story
11. NCT's Yuta Is a "Hot Prince" on the Cover of GQ Japan
By: Mayra Peralta
Among successful music releases, a radio show, and several magazine features, NCT's Yuta, had a stellar year in his home country. From becoming the most followed Japanese male celebrity on Instagram to advertising Tom Ford fragrances on Vogue, the member of NCT 127 conquered the hearts of the Japanese public. Featured on the cover of GQ Japan, Yuta added a new milestone to his resumé. Read full story
10. BLACKPINK's Rosé To Make History at the Met Gala
By: Mayra Peralta
Smashing music records was not enough for BLACKPINK's Rosé. The Australian-born star amassed impressive feats in 2021. Ahead of her attendance at the biggest fashion event of the year, EnVi reflected on the milestone Rosé would be setting by walking the legendary stairs of the MET at the Costume Institute Gala. Read full story
9. Chenle Shines Brighter Than the Sun in Elle Idol's July Issue
By: Dean Monroe
NCT DREAM started a new chapter of its sartorial evolution with the release of Hot Sauce in early May. The record-breaking album turned all eyes on them, earning the members of the group the attention of the fashion industry. Following other impressive accolades, Chenle fronted the digital issue of ELLE IDOL in July. Read full story
8. Dior Global Ambassador, Sehun, Joins the Unveiling of the Pre-Fall 2022 Collection
By: Mayra Peralta
Those who have followed Oh Sehun's career will know the Korean star has continuously made headlines for his involvement with fashion brands. In 2021, the association between the K-pop juggernaut and Dior was stronger than ever. In his role as Global Ambassador of the French luxury brand, Dior's Dearest—a new moniker given by yours truly— joined an exclusive list of celebrities for the unveiling of the Men's Pre-Fall 2022 collection. Read full story
7. Eunwoo Named Brand Ambassador of Burberry
By: Donya
One of the most popular celebrities in Korea, Cha Eunwoo is a fashion industry favorite. In 2021, his influence was nothing short of impressive. The singer and actor landed a brand new ambassadorship by the hand of the British powerhouse Burberry. For the unveiling of this partnership, Eunwoo posed for W Korea wearing items from the TB Monogram line. Read full story
6. WinWin Steals the Spotlight at Louis Vuitton's Store Opening
By: Mayra Peralta
As part of the "Zoooom with Friends" series, Louis Vuitton opened up a limited-time space in Shanghai. Located in the Jing An Kerry Centre, the pop-up store was inaugurated on July 8, with the presence of several Chinese stars. NCT's and WayV's member, WinWin, joined the fashionable group of celebrities in attendance wearing exclusive items from Louis Vuitton's latest runway. As one might expect, the singer stole the spotlight at his arrival. Read full story
5. Yuta Teaches Scent Styling in New Vogue Japan Campaign
By: Mayra Peralta
Following the successful release of NCT 127's second Japanese album LOVEHOLIC and his individual activities in Japan, NCT's Yuta proved to be a force to be reckoned with. For one of his most memorable forays into the world of fashion, he partnered with Vogue Japan to teach scent styling with Tom Ford's fragrances. As expected from NCT's loyal fandom, reactions were overwhelmingly positive. Read full story
4. Jaemin Showcases Luxurious Visuals for Tom Ford X Adam Katz Sinding Collaboration
By: Erina N. and Dean Monroe
NCT's Jaemin is one of South Korea's rising stars and in 2021 he made sure to demonstrate why. On October 6, WWD Korea revealed Jaemin as the cover star of a special edition issue. Not only did Jaemin hit this milestone photographed by the world-renowned fashion photographer Adam Katz Sinding, but he also wore looks from Tom Ford. The wardrobe included a suit that the iconic fashion designer personally styled for Jaemin. Read full story
3. WayV's Ten and WinWin Cause Frenzy at Shanghai Fashion Week
By: Mayra Peralta
During Shanghai Fashion Week, the American brand Skechers showed its Spring-Summer 2022 collection on October 13. As official ambassadors of the brand, WayV's Ten and WinWin were in attendance. Sitting in the front row, the pair caused a media frenzy at the arrival. The idols proved their versatility and star power, dressed in casual sportswear as they took the red carpet by storm. Read full story
2. How NCT Ascended the Ranks of the High Fashion Realm in 2021
By: Mayra Peralta
Flaunting their status as K-pop's "IT-Boys" in several instances, the 23 members of NCT ascended ranks in the high fashion realm at breakneck speed in 2021. In addition to commercial achievements—breaking records and dominating music charts—NCT's notoriety in the fashion industry was on the rise. Just a few hours before the clock hit midnight ushering us into 2022, EnVi took a look back at NCT's journey toward fashion world domination. Evidently, fans couldn't get enough of it. Read full story
1. NCT's Fashion Week Takeover Continues With Mark as Dior's VIP Guest
By: Mayra Peralta and Samruddhi Harve
However, with several achievements under his belt and an undeniable rise to global stardom, it is—quoting Dior—Monsieur Mark Lee who takes the crown for our most-read fashion story in 2021. On June 24, Mark took to Instagram to update fans about the exclusive invitation to Dior's Spring/Summer 2022 show. The fashion house later offered a look at Mark's—remote—front row attire. Posing with ease and confidence, the star surely stole fans' hearts. Not only is this our fashion vertical's most-read story, but overall, our second top article. With such promising first steps into the world of luxury fashion, we can't wait to see what's ahead for the talented rapper. Read full story
As 2022 unfurls, we're convinced the appeal of K-pop stars will continue to open doors for exciting collaborations and legendary style moments. Let us know what your favorite fashion story of 2021 was by tagging @envimediaco on Twitter.
Want the latest fashion news about your favorite idols? Read about Lay joining the ranks of the Hublot family here.